3 best cases of boosting Instagram conversion twice

Kos Morris
Head of Content managers
Dozens of pages have been creating on Taplink every day. The quality of the page affects how many business sales will rise. Taplink's difference from website constructors is that on Taplink everyone can create a perfect working Instagram landing without any special skills or spending lots of time and money.
Today we'd like to share with you the most conventional pages in 3 different areas to show you: any good Taplink page can bring leads not depending on a work area. We will also explain the secret of their success and will teach you to create such lead generating page by using these tricks for your business. Every Taplink page is gonna work if you use these methods for your business right.
The first page is a wedding planning agency "She said YES". Before setting Taplink their Instagram account had in average 1-3 leads/a week (without counting ads campaigns). Taplink installation in bio increased the number of requests to 6-8/a week! Let's figure out why this Taplink page is loaded with success.
The target audience is brides that want to have a perfect wedding, so a page description should be catching and trustable for them. The wedding company made focus on the ability to make any bride's wishes come true and to organize a dream wedding. They supported this promise with numbers of organized weddings to strengthen loyalty to the agency, and they made it well.
Then there is a focus on the unique selling proposition on the page. Right is chosen and shaped USP can dramatically increase conversion, and in this case, there is the attractive low starting price and a bonus - free photograph, that helps to save on a wedding no less than $1000. This offer cannot be ignored! A timer showing left time to the end of the proposal stimulates potential clients to not delay clicking the button and to leave contacts to the agency.

At the bottom of the page are not just social network links. Stated that there is possible to view realized wedding projects. This information might be fascinating for potential clients even if they are not going to marry right now, and they will follow the agency. In perspective, they turn to the loyal audience that will use this agency service.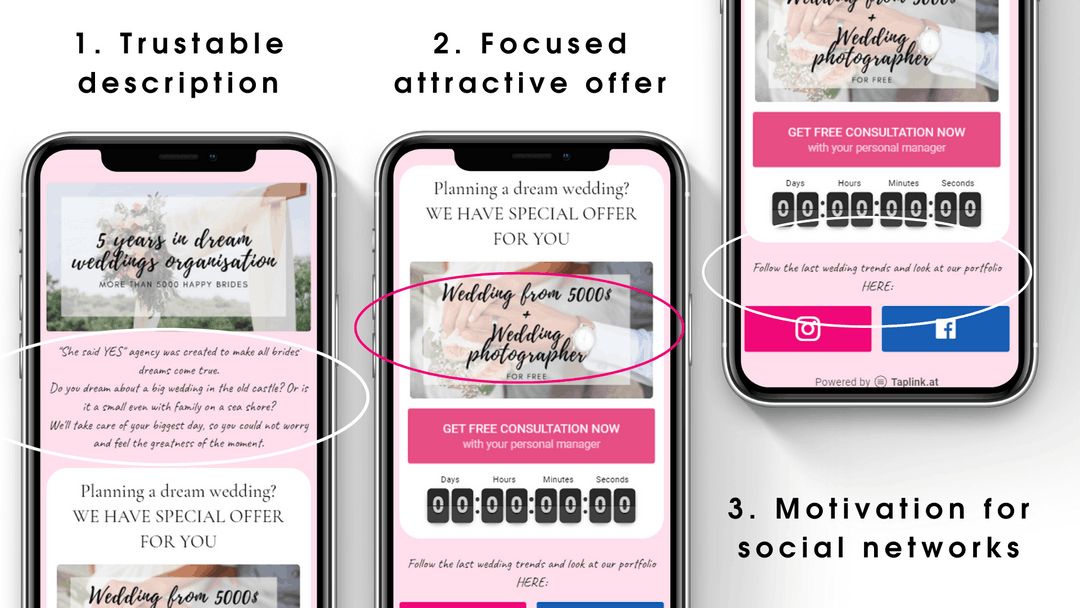 The second page sells building company services. This Taplink page has increased leads 3 times! Let's look at its straights that attracted potential clients.
Again we see here a strong headline explaining that potential customers their advantages over other building companies. This raises visitors' loyalty in the first seconds being on the page. There shouldn't be a lot of text, just a few key points to motivate visitors to stay on the page and to view it.
Relevant and attractive lead-magnet that into audience interests. For new clients, the cost of the house is important information they want to get. And for the company it is an opportunity to work with a client personally, to turn a warm client into hot, and to rise trust level to them.
Right after the proposition, there is a photo gallery as additional attractive visualization motivating page guests to contact the agency. It also puts aside doubts and confirms team professionalism.
Down the page, there are social network contacts, so clients could follow the company news. This not only brings new followers but also opens new channels for leads generation.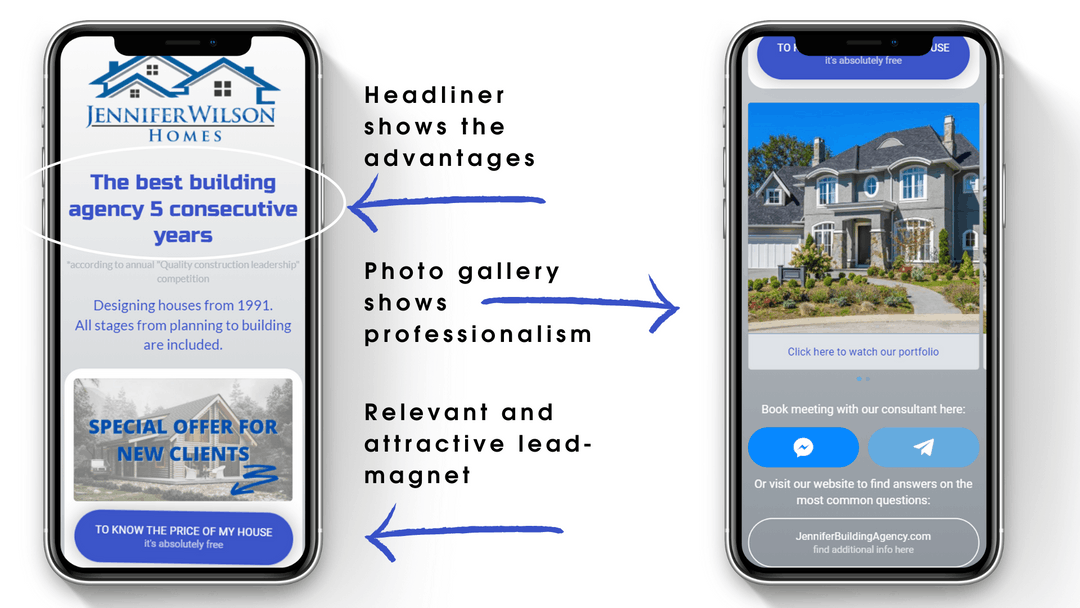 Our last example is marketing courses that increased the lead number from 10 to 20 per day. Here are also the same techniques that were used on other pages:
01. Catching headliner with numbers, telling about the company's achievements.
The focus is on the main offer: there is a marketing company selling a new course.
Lead-magnet is the first lesson for $1, and it delicately involves clients into the sale funnel. It helps the company not only receive contacts, but also to show their expert skills.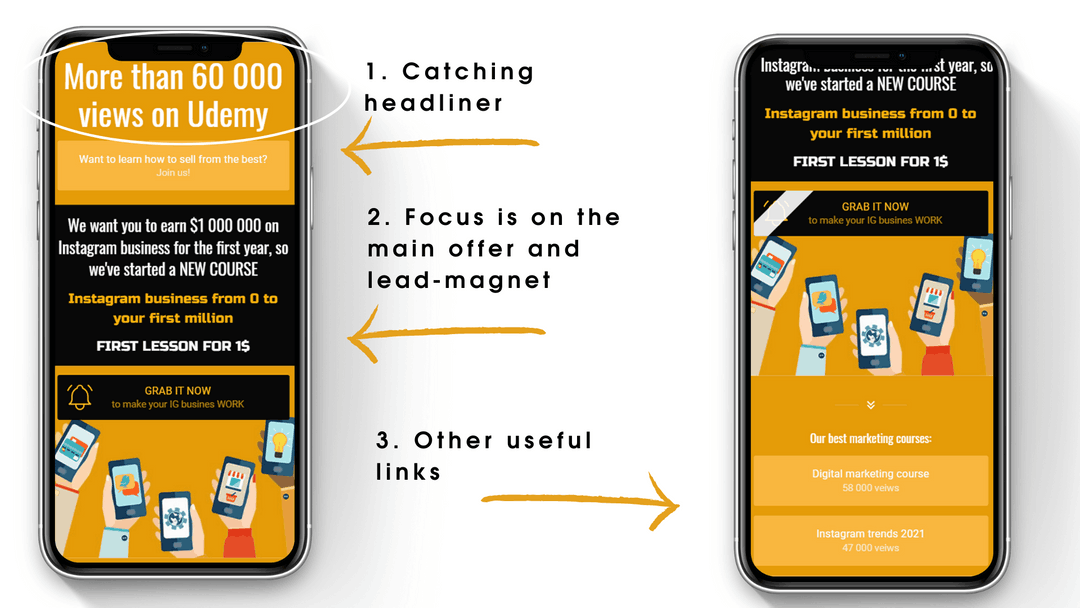 Summing up there are 3 main points that have any page with a high conversion rate:
1. Correct and clear page structure: place links in order of importance for you and the client.
2. Catching headliner that increases trust from the first seconds on the page.
3. Relevant lead-magnet and the greatest focus on the useful USP.
Using all these points on your Taplink page is what you can do for your business RIGHT NOW without advertisement or expensive website investments. Double sales with the landing for a cup of the coffee price is a perfect option for your business. Click HERE to start.