5 biggest mistakes for business in Instagram account

Kos Morris
Head of Content managers
Do you know the feeling when you've created a perfect Instagram page for business, spent some budget on ads and designers but still the result isn't so good as you expected?

When you want to create an excellent selling Instagram account each piece is matters. Today we are telling you about 5 the most common mistakes that spoil your Instagram sales (video version is HERE). Each of the users has made at least one of these mistakes.
Instagram name is matters because it's the name your potential clients are typing in IG trying to find you. That is why it should be easily readable and memorable. The name must represent your name or blog topics, line of business, specific service or product. So if you'll place the name of your account on your business card or spell to somebody it wouldn't be hard to find it.
The Instagram username is not less important than the login. There are 3 reasons why you should hardly think about creating a perfect name for your business account:
The name is the first line in your profile's description. It should be clear and informative for your page visitors.
The name is also the first thing people see in a notification when you send them a message. If they consider your message as worthy to open or not depend on it. So try to make it as attractive as possible.
Possibility to find your account in Instagram search also depend on your name. Think about what people would type to find your services and include that words in your account name. If you are selling teeth whitening strips, put "Teeth whitening". If you are an English teacher, write "English online". When you are focusing on a local market, state the region. And try to avoid clichés such as "customized approach", "your coach" etc.
Keep in mind that the "Name" field is restricted to 30 symbols.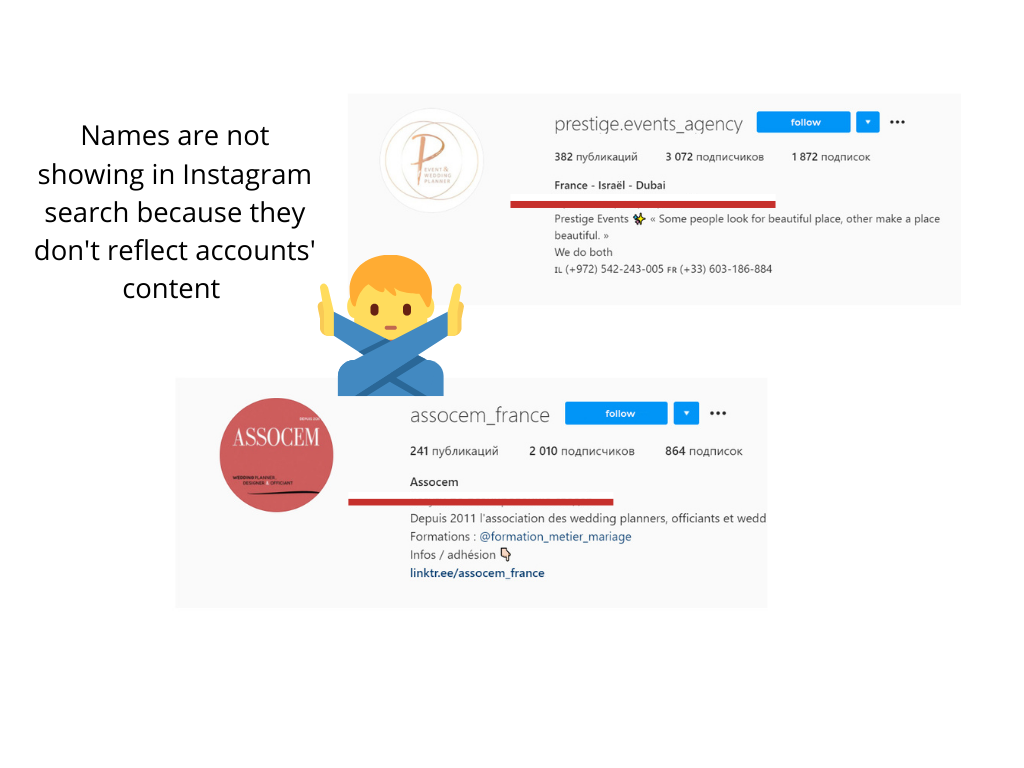 The "About yourself" field is restricted to 150 symbols so place there the most important or catching information. This is a really short presentation of yourself, your brand, your product, or your service.
Try to stand out from your competitors: your bio should have key advantages of your product to keep the potential clients' attention on your page. But also don't forget that this field influences your appearing in google search, so it also should contain keywords that your Instagram name doesn't have.
The best option is to finish your bio with a convincing call to action to send your auditory to the link below. This is how you can drag your client into sells funnel or just to introduce to him your business better.
The fourth common mistake is placing a phone number or email address right in bio. That makes it for your clients hard to reach you because this information is not clickable. So to call the number typed in bio your client needs to close the Instagram tab and open the phone tab several times. That is how some businesses lose their leads.
But even if you placed address and website in the proper tab there is one more issue: these two links stay close to each other, that is why sometimes instead of clicking on the website from the phone screen you click on the address and opposite.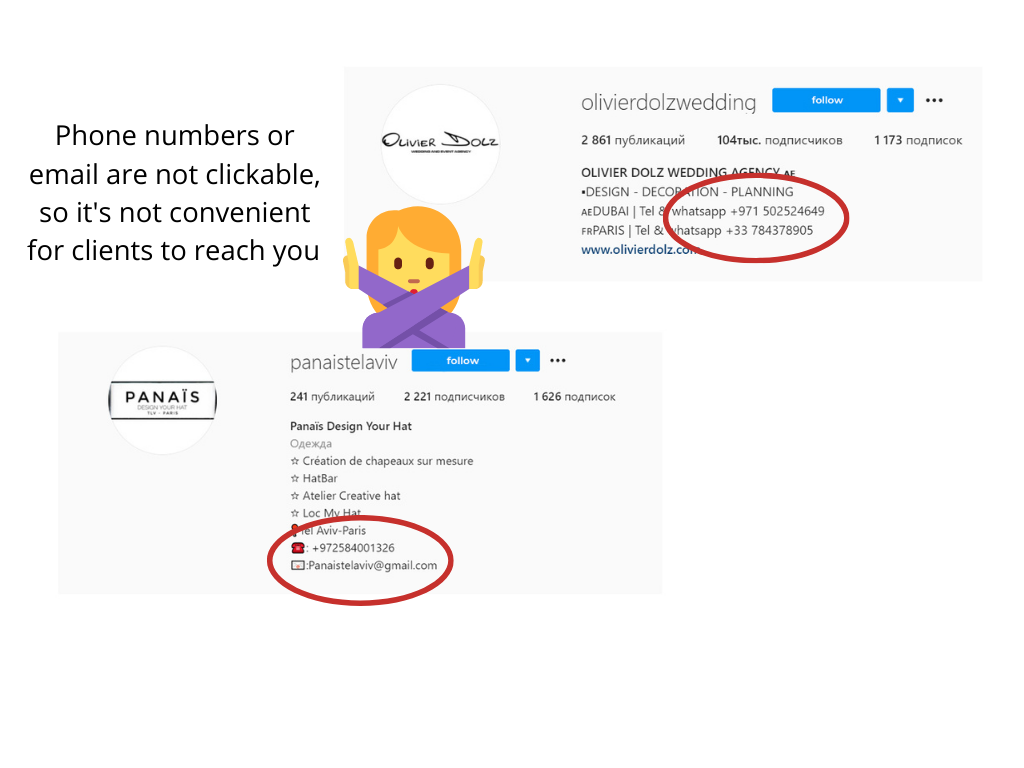 The last moot point we want to discuss it what link leave in bio. There is only one chance to set a link to hold your page visitor interested into your business.
Several years ago most people chose to set their website link. But now not many people do it. Why? Most websites are heavy and open slowly. They consist of much information and if your client doesn't have time or patience he won't find the required information. Also, websites are expensive to create and to support, some businesses just have no use for their own website.
Setting messenger in bio seems the fines option, but in this case you lose the opportunity to tell more about your product, to motivate a potential client, answer its questions or set a website link.
That is why we believe that setting a landing service Taplink in bio is the best option. Let us explain why:
In Taplink you can place as many links as you want, but that it not the main argument. More important for business is that with effective landing you can build relations with your client, make a way to purchase easier for him.
Tell him more about your product to increase loyalty, on your landing you are not limited with symbols number. Lead him on the most important links and highlight your main proposal with effective design. By the way, one of the greatest things about Taplink is that you can change page style without any special skills. It allows making changes any time you need and create a perfect page for your business.
If you have more than one offer that's fine! Place all your proposals on the page in order of importance and highlight the main offer with colors and design.
If your clients have common questions answer them on FAQ block, to resolve their last doubts before making a purchase.
If you have more than one offer that's fine! Place all your proposals on the page in order of importance and highlight the main offer with colors and design.
Some clients want to contact you through FB messenger, but for some more convenient to use WhatsApp. So let your clients choose: on the landing you can set links on different messengers to not miss even 1 client!
To create a perfect landing for your Instagram sales click HERE. It is always free.