Social media strategy:
the best way to create it
02.16.2020
Social media marketing, also known as SMM, plays a crucial role in business promotion and branding. No wonder more and more companies realize the importance of having an account on Instagram and other popular platforms. However, posting random pictures in the hope of likes is just not enough. Success requires a strategy.
What is a Social Media Strategy?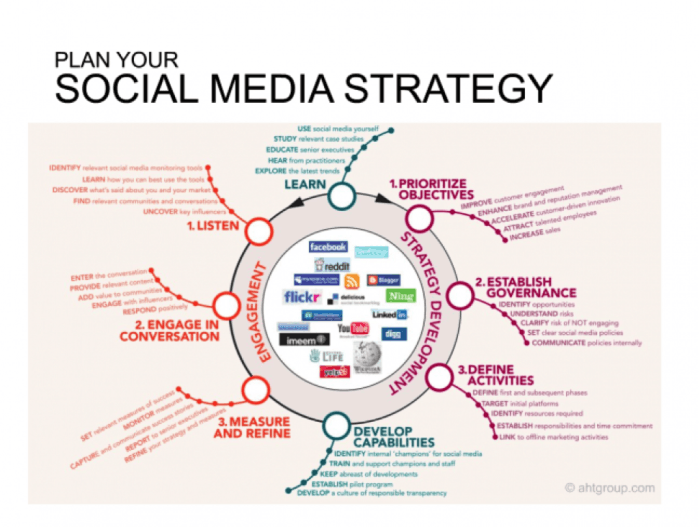 Nowadays promotion by means of social media is not as simple and plain as it used to be years ago. The competition has intensified and winning potential costumers became more complicated. The only way to build your brand's visibility and find more clients is to develop a complex plan with plenty of steps and clear perspectives, in other words, a whole strategy.
Contrary to beginners' popular belief, social media strategy goes far beyond chaotic postings and getting more likes and occasional followers, some of which may turn out to be accidental passers-by. Content creation is just the tip of the iceberg, a small piece of work everyone can see. But even this part should be a well-designed one. This is the essence of the whole process.
A social media strategy is a detailed and well-thought-out plan based on never-ending analyzing and strategizing. It also includes immediate objectives, ideas, opportunities and certain ways of dealing with these or those problems.
So a good marketer never takes a step without understanding what aim should be achieved, why they need it and how to do that.
Creating a social network presence, therefore, is frequently compared to a long winding and forked path to a goal. And any road leads nowhere without a map, way stations and a final destination in the traveler`s head. This means you should not only think carefully about small aims and means to reach them but also have an end-game in mind from the very beginning.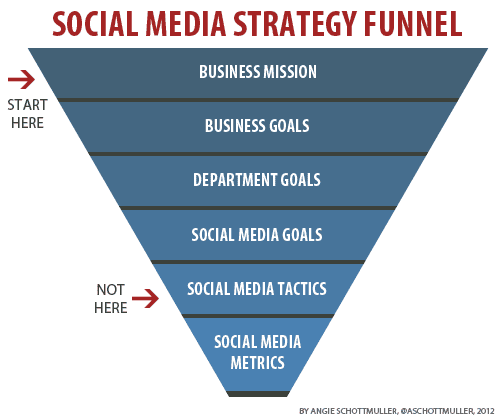 However, the strategy is not simply a matter of theory. Being a key ingredient of social media marketing, it includes working with your audience as well. Do not forget that successful business development cannot go without an understanding of the audience.
Learning public opinion on your products, company as a whole and dealing with it is an important part of developing a strategy.
As we can see, social media strategy is a highly sophisticated and multifaceted thing. It consists of many aspects and takes enough time and effort. But it does not prevent ambitious brands from creating and following them very precisely. Some of them devise new strategies for each platform and even each campaign. This helps to make them even more effective.
Why every business today needs a social media strategy
Most of the markets are full of different firms and offers, even overloaded with them. So users all over the world can easily find goods they are looking for by a simple Google search. The first things shown to users will be of course the most famous brand shops, which have existed for many years. There is a pretty good chance that people will choose companies they know or just click the very first link.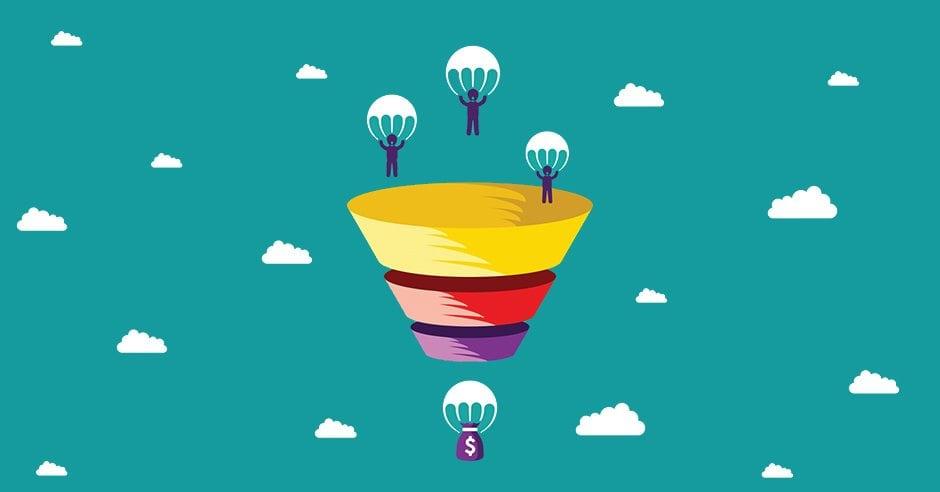 This makes generating new leads and growing brand awareness especially difficult for young companies. But it should not discourage your intention to present your creation to the society. Just be clever and use the most up-to-date means of promotion and do it wisely. Never forget that many companies do the same. And the more participants the fiercer competition.
The good news is that not all the competitors have a certain plan and some of them are not ready for active strategic actions. Many teams just entrust their SMM tasks to junior staff members so that the company could get some feedback, learn clients` attitudes towards their work and give the impression of their presence. But it is a very passive and not too efficient way.
Content that was not thought well enough by its creator is barely able to attract and retain potential customers. Even followers who once bought your product might lose their interest, just because they do not feel really engaged.
It is extremely difficult to turn your audience into clients in such circumstances.
The problem can be solved by means of a well-planned social media strategy. Such an approach has many advantages:
Audience development. The more useful posts you share the more active followers you get. But you never know if your information is demanded without tracing users' reactions.
Targeting. Instagram like some other social media platforms is the right place to search for real people who are most likely to buy your goods. The system shows your pictures and videos as recommended content to users if their interests coincide with yours. This makes your marketing more focused and helps you to find potential clients.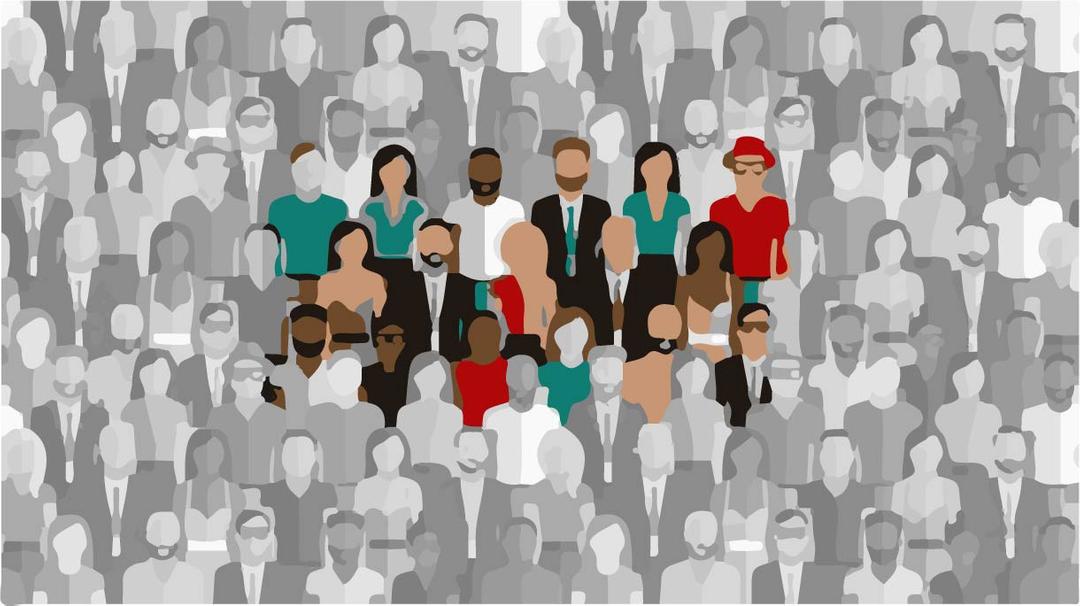 Enhancement of the credibility of your organization. Seeing your work, transparency and positive customers` comments, convinces potential clients that you are a reliable brand they want to deal with.
Clear results. Each post and action on social media should serve some purpose, designed to lead your company to its goals. But how can one do it without intermediate results? That is the only way to stay on course and see how much you achieve.
Focused improvement. Minor miscalculations are almost inevitable. But it is important to find and fix them in time. A detailed SMM strategy and analytic tools help to understand what went wrong and make improvements as early as only possible, which minimizes the consequences of a mistake and prevents you from repeating it.
Thus, social media strategy makes your brand more visible and reliable in the customers' eyes. It also helps to learn their preferences, set priorities, and goals, track progress and, more importantly, achieve your business objectives much faster.
How to create a social media strategy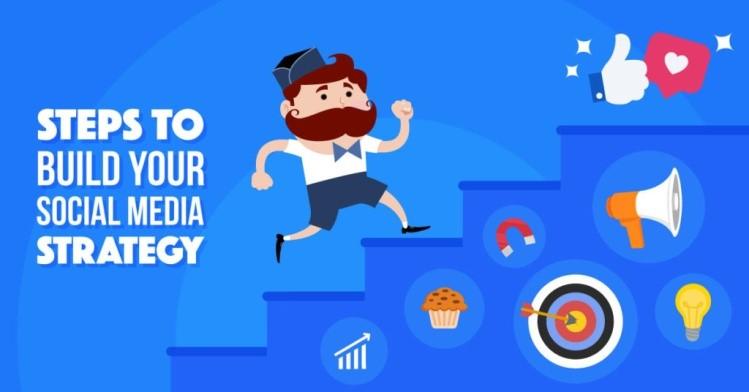 Developing a strategy is a complex and time-consuming process. It also requires some social knowledge, market understanding, common sense, and foresight. However, the task is not that hard if taken step-by-step from the very beginning.
Step 1: Set realistic SMM goals aligning to business objectives
A common problem faced by many brands is that they do not know why they are there, in social media, or their plans are unrealizable. There is no need to be vain. You should reconcile what is desirable and what is possible. Otherwise, the strategy will be too vague and just will not work. Choose only goals fitting into your business plan and leading you to overarching goals.
Make sure each and every one of them is SMART:
Specific
Measurable
Attainable
Relevant
Time-bound
Establishing this framework cuts off false goals, which could only waste your time and confuse things. The rest is what you really should focus on.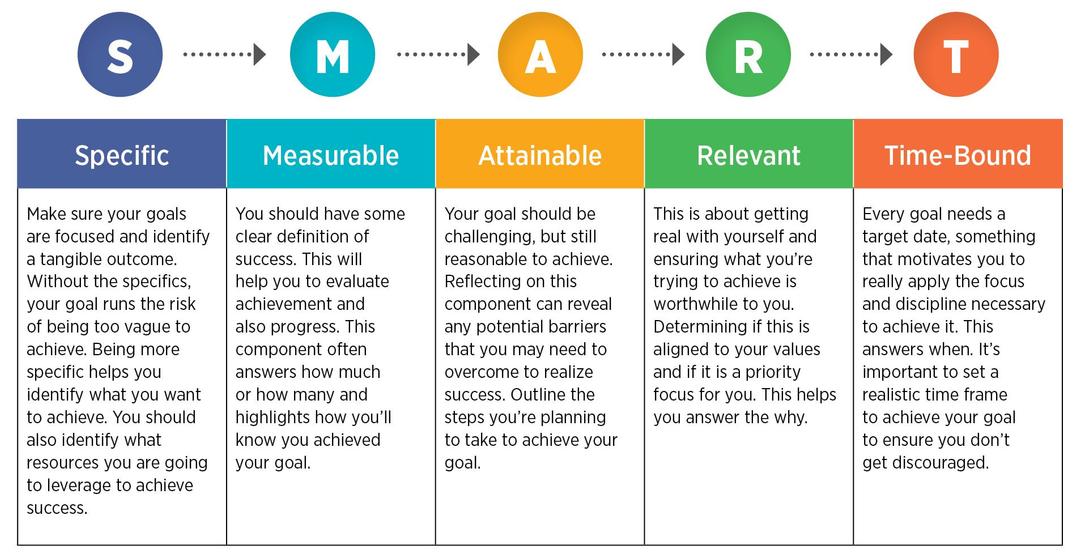 Step 2: Get to know your target audience
An impersonal approach does not work so good these days. Trying to sell your product to all men or all women around the globe makes no sense if you are not Apple or Microsoft. Imagine your possible clients. Who are they? What are they like? Where they live? What do they desire? Make sure your expectations are correct by checking Instagram analytics and your firm data.
Knowing the target audience gives you a hint at types of content you should share to attract potential buyers and motivate them to use your services. Besides, Instagram offers users to check your posts based on demographic data, their interests and liked photos. The others may never find you in their Feed. So turning a blind eye on the target audience is a strategic fiasco.
The main reason people spend hours on Instagram is socializing. They want to share views, discuss news and brands, learn expert opinion. That makes how-tos, reviews, polls, and surveys a brilliant idea. You can even just take a beautiful picture of several goods of yours and ask them about their preferences.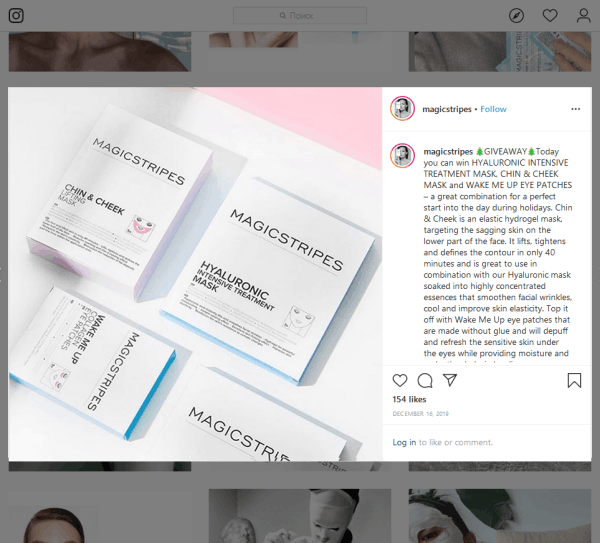 Remember that a loyal audience may be very effective in growing your account and growing brand awareness, especially for a reward. Giveaways, contests with prizes and discounts for sharing your content work miracles. This is much better than ordinary advertising because many find references by friends more reliable.
And finally, do your best to answer every question and respond to comments at least by means of likes. Do not make followers feel unwanted and neglected. Whatever strategy you developed, silence might scare off your potential buyers and leave you high and dry.
Step 4: Research the competition
Whatever market your business is related to, some of your competitors almost certainly are already using Instagram. And that is not too bad. You can analyze them and learn from their fortunes and mistakes. It lets you know what is expected in the industry. Never copy the best pieces. Let these ideas inspire you, but make it your way. Do not hesitate to find a new angle on the hottest topics.
Step 5: Find your own voice and be creative
Original photos provided with eloquent descriptions, relevant news, jokes or stories attract attention. But if you would prefer to keep your audience you should develop your own style and stick to a certain theme. You can be witty, cute, soulful, childish or daring, depending on what kind of audience you are going to reach. Add thematic hashtags so that people could find you.
Step 6: Track important metrics
Today counting likes and followers is mostly a waste of time for brands. There is plenty of bots and like-for-like staff in social networks that lower these rates value as a metric. Pay more attention to a number of clicks, leads generated, return on investment, conversion ratio and web referrals.
Step 7: Develop a content calendar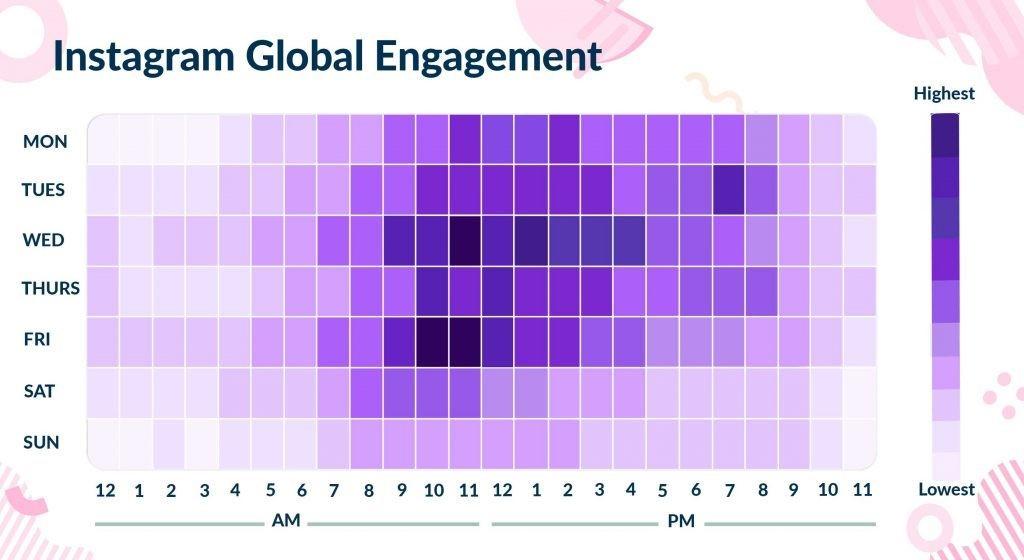 Leaving posting to chance might ruin even the best of your ideas. Instagram Feed is constantly updated and shows the newest sharings first. So if you post a picture when most of the followers are offline they may never even find it. Try special scheduling tools to set up the best time for your content, indicate themes and establish multiple posts at a certain time.
Step 8: Track and evaluate the results, adapt your strategy
Any strategy may have both strengths and weaknesses. But there is no sense in holding onto ineffective ways. Analytical tools enable you to identify the most and the least useful strategies so that you could correct your course.
Examples and templates
It is always better to develop a relative social media strategy special for each business. However, some plans may be similar in most cases. In addition, seeing an example always simplifies work.
Social media strategy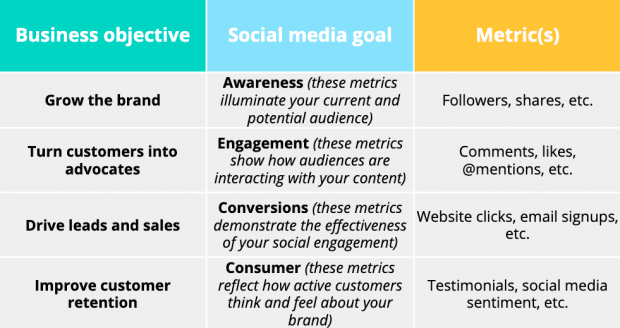 The general strategy is common for most of the entrepreneurs. Companies usually want to be more famous and win more clients. Here are steps and tools to achieve the main business goals. But things may differ, depending on your needs and the industry.
Social media content calendar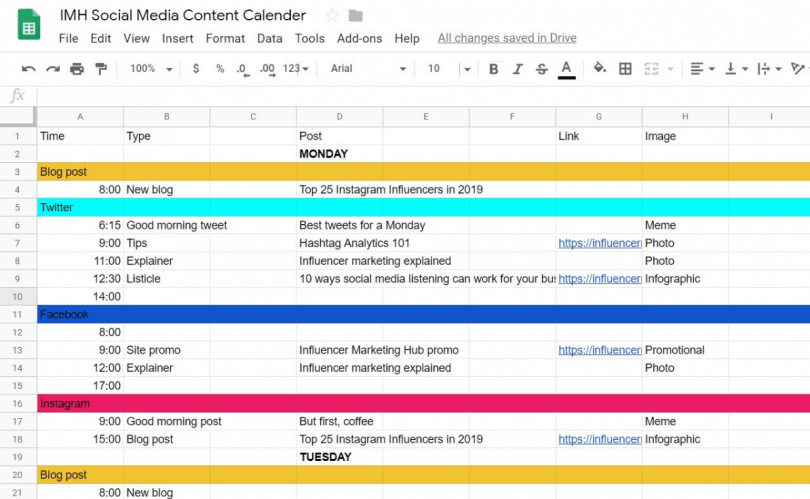 There is a lot of ways to create a content calendar. On the template, you see the most common decision. It was developed in Google Sheets. You can also choose MS Excel or special online services.
Social media audit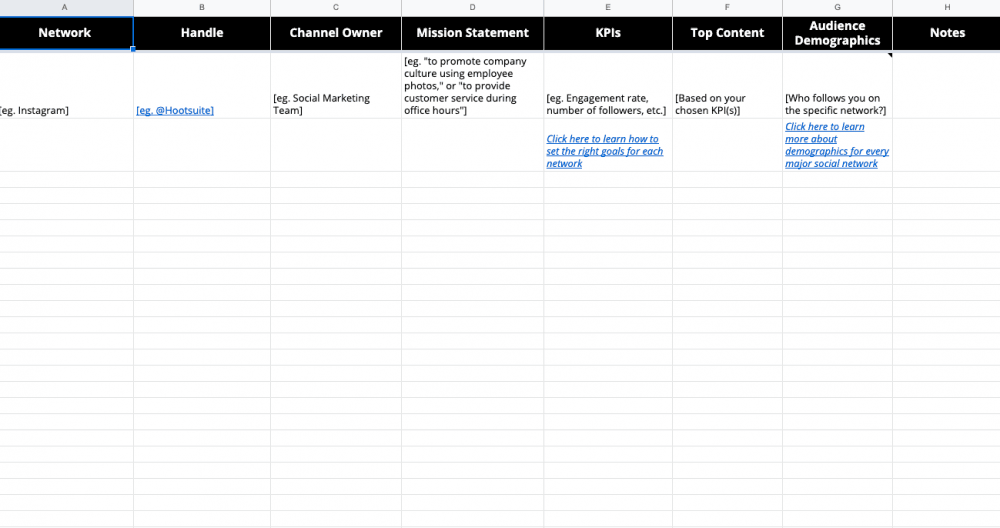 This is an example of analyzing efficiency. It helps to find out what really works and adjust the strategy.
Is it possible to create an effective strategy on your own?
Many big companies prefer to hire an SMM specialist. However, there are lots of businesses developing their social media strategies themselves. So if you have enough time and, most importantly, desire to figure it out, there is no reason to hesitate. Just take it seriously and work on your brand promotion on a daily basis. You have all the chances to succeed.
Are you ready to start planning? What business tool do you find the most effective? Reply and share to learn your colleagues' opinions.