How and why you should delete inactive followers on Instagram

"How to remove followers on Instagram?". This question sounds strange, since everyone strives for awe-inspiring statistics on social networks. Mostly, it's made for personal reasons or for increasing coverage and engagement. But in some cases it doesn't work and can be fatal. Let's take it one step at a time.
Whichever way you turn it, but many Instagram users still use mass following for their accounts promotion. This is the reason why a bulk of online shops and bloggers constantly follow us. Due to a huge amount of followings, mass followers don't flipping through the Instagram feed, rarely give likes and leave comments to their followings.
Reason №1. Most followers find if followers less interact with their content, Instagram will start putting down their posts. Allegedly, using this way Instagram determines your content as less interesting. Therefore, If you delete ghost followers, coverage will increase.
The real story is: Instagram feed is personalised, so your new posts will be shown to those users, who oftenly interact with you. i.g. giving likes, commenting, story viewing. Even their interaction with you on Facebook is crucial . That means having bots or mass followers don't influence the way in which order users see content of other users.
Reason №2. If the amount of ghost followers is on the rise and engagement is on the same level, ER will decline unavoidably. Thus, many users remove a bulk of masfollowers to retrieve an ideal level of engagement.
The real story is: Followers deleting can enhance ER (the ratio of likes to the amount of followers). If the number of followers declines and likes quantity leaves the same, ER will rise. But truly, coverage will hardly change because the amount of users interacting with your posts will remain the same.
If you decide to get rid of ghost followers, we advise you to act wisely and manually, avoiding using special magic apps.
Technically, there is now way to determine bots. The point is, an account with 0 followers, without avatar, posts but with an odd name can't always be a bot. May be someone decided to create an IG account for following others anonymously. So that's why such accounts can be excluded from your followers by mistake, and you will know about it only after engagement breakdown over time.
Back in April 2018, Instagram blocked a possibility to parse followers using legal methods. Thereby, all of these magic tools for bots bunning work illegally (they ask you sign up with your Instagram login and password). As a result, you can lose your account or be punished for breaching of social media regulations and using automatic action service.
Indeed, it is conjectured that ghost followers deleting can exacerbate the situation with coverage. Instagram, noticing the sudden followers reversal, may think that your content isn't interesting for users, therefore, they unfollow you. Analyzing that, Instagram can start lowering your posts in the feed of remaining followers. That's the reason why it's important to get rid of followers slowly and in small batches.
If you have a Personal, Creator or Business Account on Instagram, go to the "Followers" section and click on the "Remove" button next to the right follower.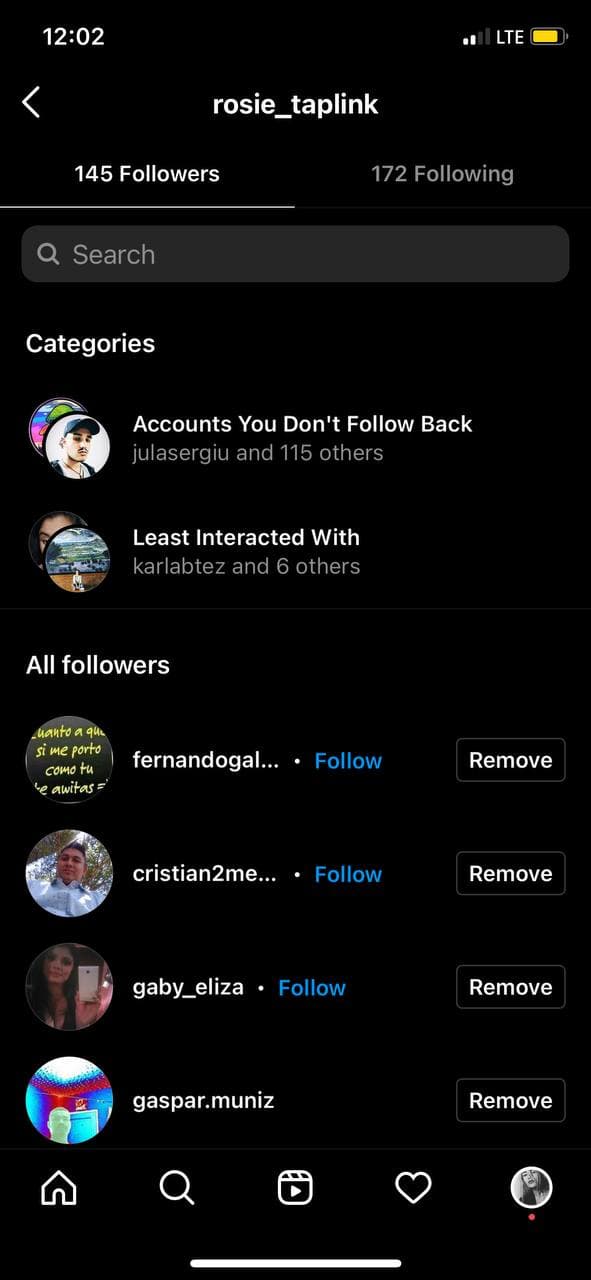 If this method doesn't work, there are two more options:
Switch your account to the Business type. For that, open "Settings" — "Account" — "Switch account type" — "Switch to the Business Account". We don't recommend you to choose "Personal Account", because if you change Instagram account type, you'll lose all the statistics. It starts collecting again from the moment when you switch to the Business or Creator Account.
Follower blocking. In this case, this user won't find your Instagram page, and neither will you too. You can immediately unblock it, while the follower will remain unfollow you. If you decide to block someone, go to this page, click on the three dots in the right corner and press on the "Block" button.
Deleted/blocked users won't get a notification in any case. Only if they don't decide to check it by themselves.
No matter which Instagram plan account you have, on Instagram web-version you're able to delete followers through blocking/unblocking. Open a follower account which you want to delete, click on three dots in the right corner and choose the "Block this user" button. Then, press again on three dots and pick on "Unblock".