How to make Instagram sell

Kos Morris
Head of Content managers
Instagram was developed as an app for sharing photos and visual content. With auditory growth and spreading it started to be used for business and marketing goals. But there is an issue: Instagram service still stays on photo-video app-level which doesn't allow effectively promote business.
Only recently were finally made some changes and additions like a business profile, but still, Instagram has a lot of limits impeding entrepreneurs' growth. Among them are restricted symbols number in bio (which is limited by 150 symbols), only one clickable link in bio, bad systematization of content on Instagram (story highlights were a partial solution of it). Instagram is not a messenger so contact with followers and clients is challenged because of DMs limits and severe spam filtration system.
All these factors together can be a serious problem for those who use Instagram in commercial goals. But still, the platform is important for sellers, agencies, entrepreneurs due to its huge and diversity auditory.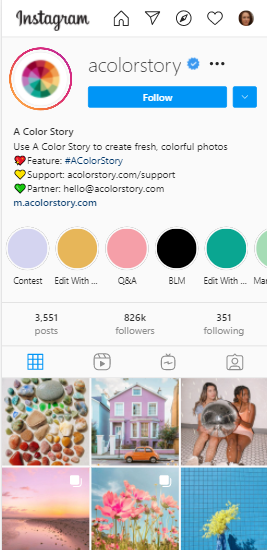 To solve these problems, we've created Taplink – a tool helping not only to cover some of the issues but mostly to unite business and clients on the Instagram field. This tool quickly helps to understand your customers' needs and to define approaches for turning auditory into leads.
Setting multiple links allows you to direct clients where they need (or where you need) and put other social network links. A landing page structures your offers and gives all the required information to your followers. Adding smart links to messengers lets your customers easily and fast (in one click) reach you directly in WhatsApp, Viber or Facebook messenger and start a conversation with you.
It simplifies the client's way to you and therefore you get more hits and requests from followers. These functions help to lead a business in Instagram easier. But Taplink is not just a multilink page, but a full-fledged service helping to raise business more effectively.
Every auditory is different and every client differs with its needs and goals. It's a common situation when you give a link on your website in bio and still receive (or don't receive) a small number of applications. It happens when you don't know anything about your auditory needs. Who are these people who follow you and why do they do it?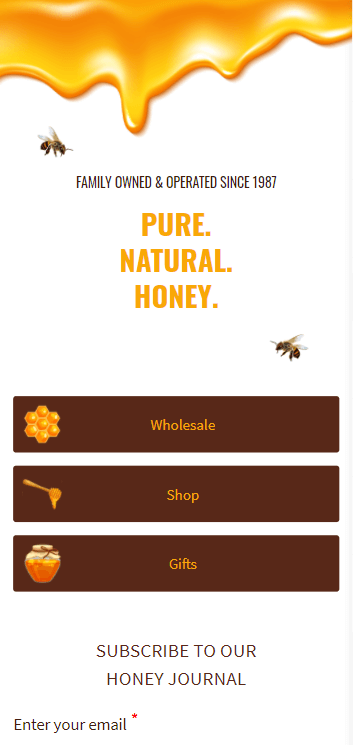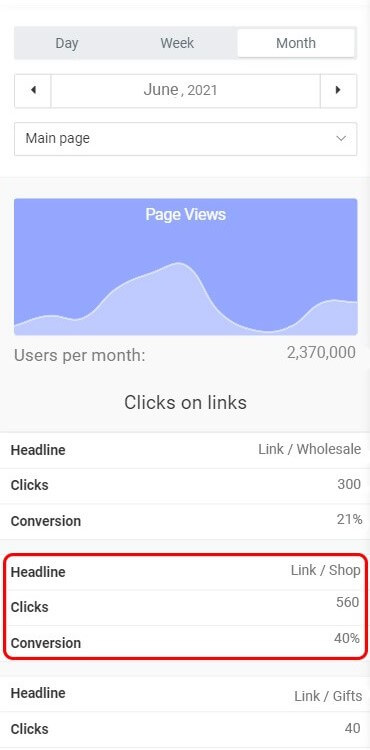 After understanding the client auditory, the shop can choose how to promote themselves and increase their conversion. As you see, it has three purchase offer lines. According to the statitic, the most popular one for its audience is Shop. Moving this button separately above all the others to draw more attention is reasonable, since this is what their visitors need.
When you began to understand your auditoria's needs and objectives, you can concentrate on your own goals and business tasks. For example, you want to sell video production services, but no one clicks on this link. What to do? It's significant how do you formulate this offer. To faster understand which offer would be the most effective you can create 2-4 offers on the same topic in one multilink. And then choose one with the best statistic.
A good marketing tip: offer description should be not just a service description, but some benefit. For example instead of "sing up for our call" (0.5% conversion) can be used "receive prices and layout" (12% conversion). One more tip is to set color priorities in buttons. You can highlight your offer link by making it as bright as possible.
Do not forget to set blocks on Taplink page in a logical order. The most significant elements should be placed higher on the page, for example, your company description and your offers. A potential customer should easily find all the required information regardless of their needs.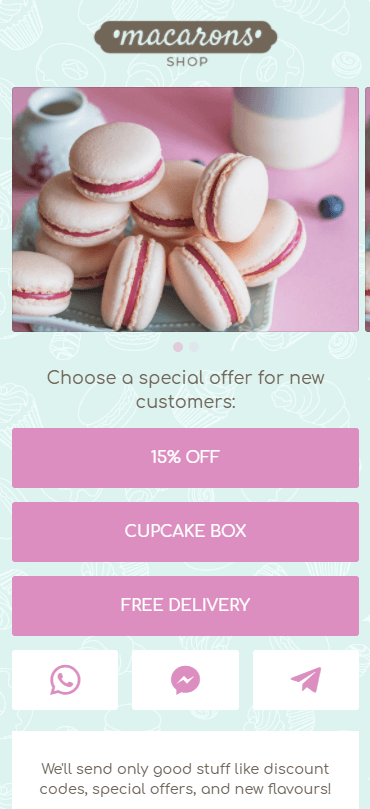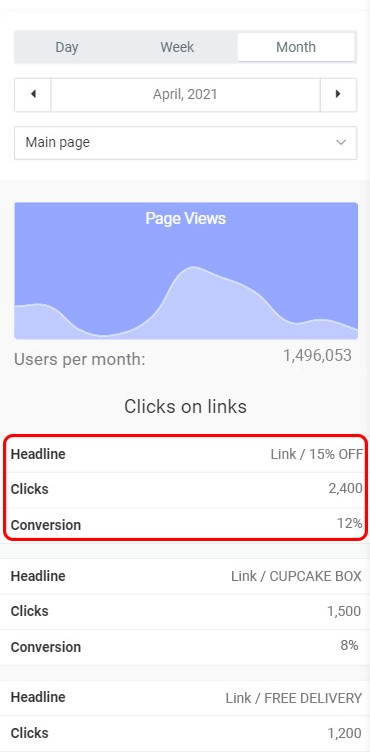 In Taplink there are several ways to get in touch with a client or potential client. One of them is messenger links. Contact in messengers is much more comfortable as for sellers as for buyers than reply in direct messages. One of the most obvious reasons is that contact on Facebook or WhatsApp more familiar and convenient and allows to receive an instant reply. Such a short way from a seller to consumer increases requests number.
When customers contact you in WhatsApp you also receive their additional contact such as phone number. And again: remember, that you will receive more reactions if your messenger link is accompanied by active offer caption. For example, "know the best prices", "get my marketing strategy" etc. instead of just "write me in WhatsApp".
Of course, as we've said, every auditory has its own features, according to statistics some more often write in WhatsApp and some likely fill application form. To understand which approach suits you better test all the options and check your own statistics.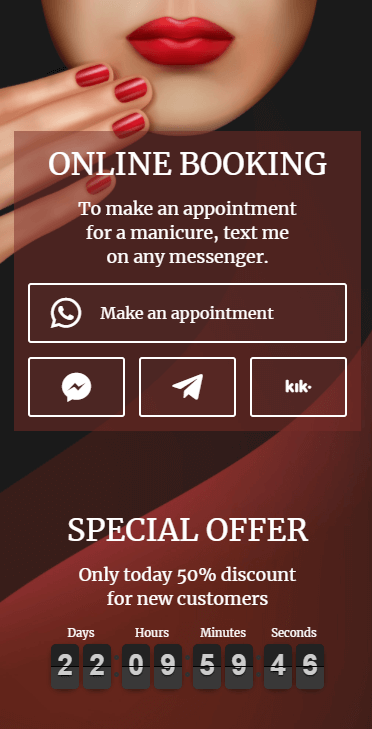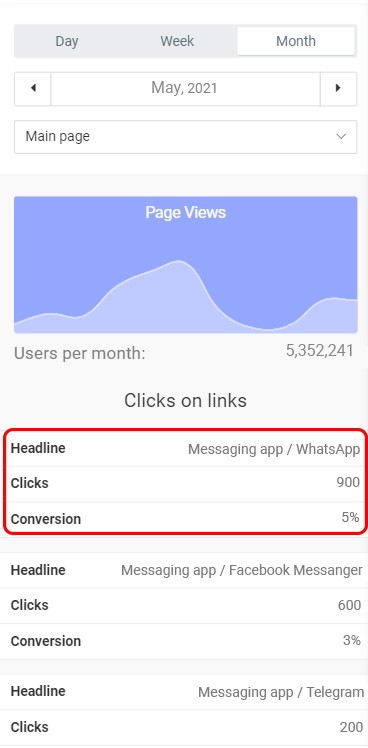 According to statistics of a manicure salon, its auditory uses WhatsApp more often. The button consist an offer which is marketingly beneficial. The messanger button is palced on the top of the page which also increases leads number. Both the factor influence on high conversion of the customer.
If you have big traffic, mass offer, a lot of applies or just want to get your clients' contacts you better try application form tool. It allows to automate the process of communication and save yours and the client's time. The application can be one more contact channel as a tool for receiving leads. You can choose what information client will enter depending on your proposal (name, email, number, checkbox or anything else).
One more way of using application form is making a sales funnel, where after the client's action (for example after making a payment) it leads him to another Taplink page with some other marketing offer.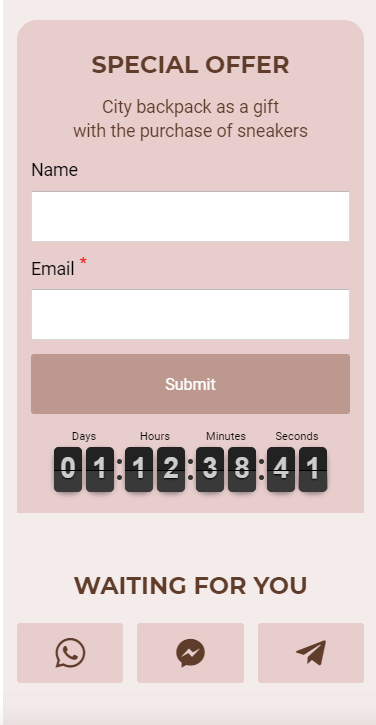 From tool allows to select all the required information from customer quickly and easily. You can choose the date type client need to fill. Payment from directly on your taplink page helps to make a payment fast and comfortable from paypal, stripe, paddle and other payment gateways.
Numbers speak clearer than words. There is no one universal way for everyone to create a good selling page. As we've written above everything depends on your auditory and it's needed. Checking your statistic gives you understandings which buttons are useful and which offers are interesting for your clients. Do not ignore the results –change button description, create different forms, experiment with a page if the statistic is bad to reach your auditory and receive higher conversion.
Start here to optimize your Taplink page.