How to pin comments on Instagram

In July 2020, Instagram firstly introduced an opportunity to pin comments under your posts. Nevertheless, most brands and bloggers have no clue how to use this feature and why it can be handy. If you know how to opt and pin necessary comments, you can level up brand reputation, increase numbers of coverage and engagement, and even save your time by stopping answering the same question over and over again.
The new function is available for all the Instagram account types: Personal, Business or Creator Accounts. But there are some nuances. Now it works only in the app, so you can't pin comments and see them in Instagram web-version. You can pin solely users' comments, not yours and comments with hashtags. In the range of comments, the first one can be pinned. As soons as you pin someone's comment, its author will get a notification about it. All in all, you can pin 3 comments under one post. They will be displayed in the top section of all the comments, independently from the date and time of its publishing.
1. Open the post, where you want to pin a comment, and choose the necessary one.
2. On iOS, swipe this comment to the left and tap on the pin icon. On Android, click on the comment, keep it till you see the panel with icons and tap on the pin icon.
3. The pinned comment automatically appears on the top. A pin icon with the word "pinned" will be shown under there.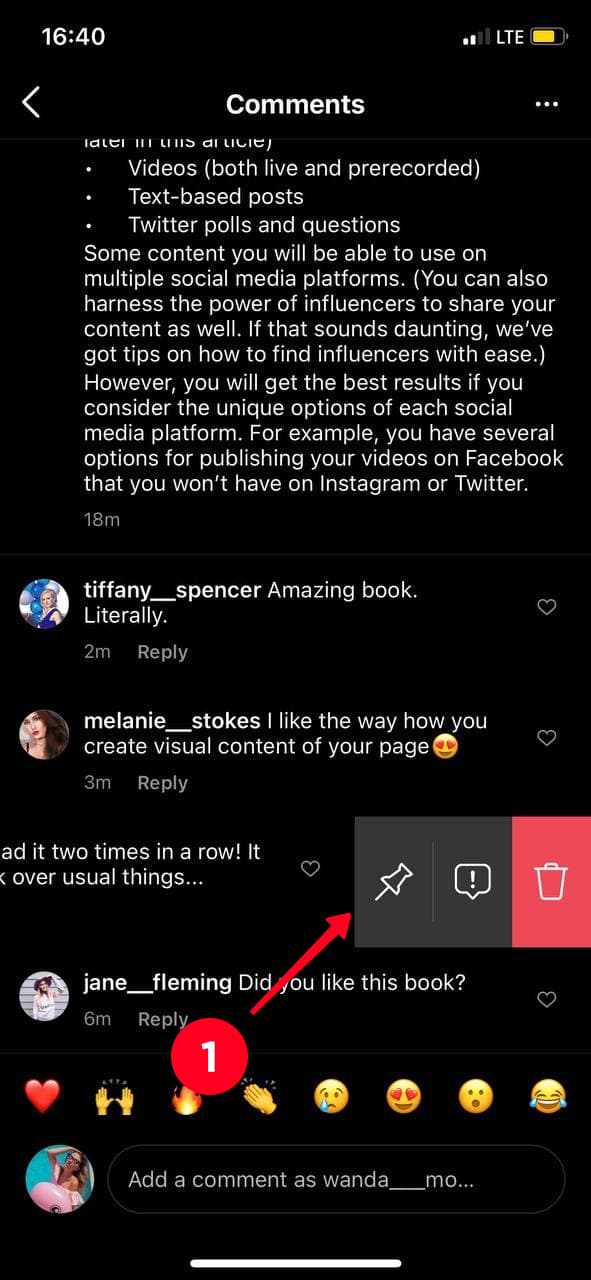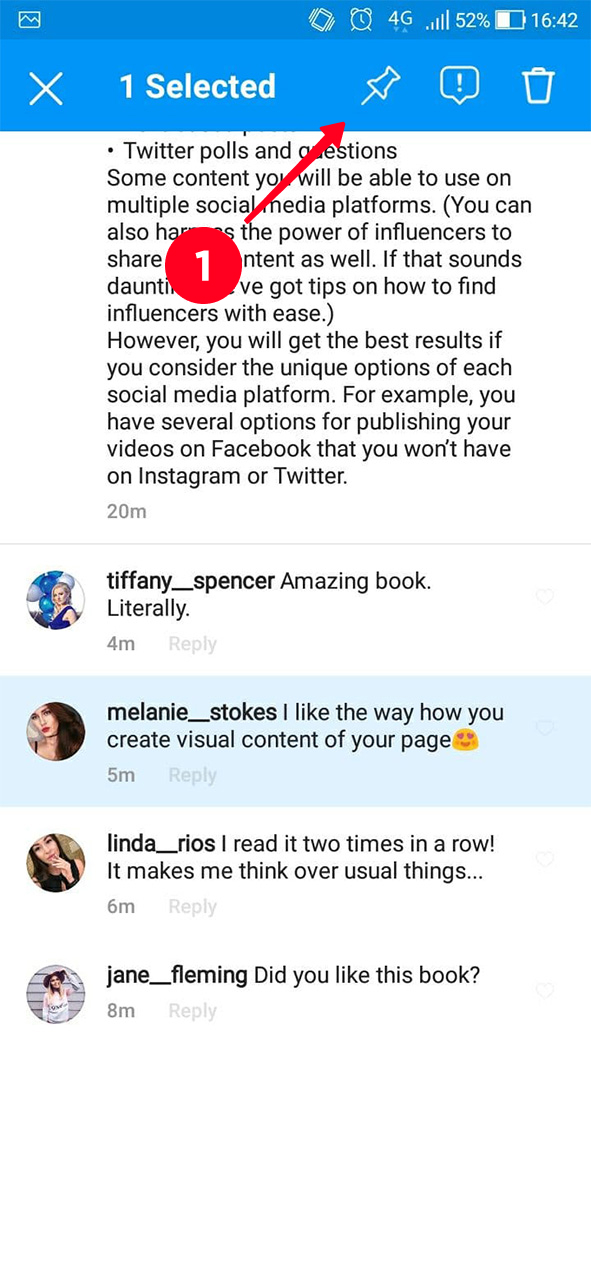 Here we suggest 3 viable ideas for using pinned comments.
(For business and bloggers)
Make a publication on any topical theme for your followers or just post no ordinary photo from backstage. Suggest your audience to share their advice, tell a funny story, write an unusual comment, etc. Mention that you will pin 3 the most useful/amusing comments. Or even more! Ask your followers like the best comment amid these 3 ones.
For business, it's better to choose a format of prize competition for motivation. It increases coverage and engagement of your followers. For bloggers, try to interact with your audience. Each of them will be over the moon, if their favourite blogger notices or mentions his or her.
This way helps natively enhance the credibility of the company and potentially increases sales. For instance, a cosmetic brand made a post about lipstick. One of the brand's followers left a comment that she's thrilled by this lipstick in N colour as it's highly permanent and rich coloured. Basically, the brand merely responds to this comment. But if they pin it, more people see it, and some of them want to buy this product too. As an ordinary user wrote it with sincere appreciation, the review inspires trust.