Instagram hacks for business everyone must know
02.22.2020
Each year it gets more and more hard to find Instagram growth hacks which really work. Some experts even say that organic growth is dead and we all need to pay Facebook to make ads. But let's be optimistic and try some tips and lifehacks that can help us to grow our accounts.
General Instagram hacks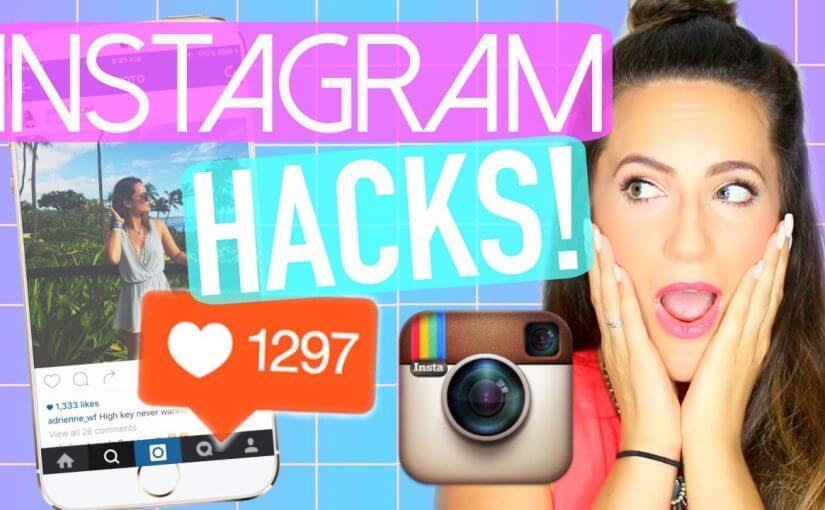 Everyone is concerned about the followers, their quantity and quality. People need involved target audience that:
gives likes;
writes comments;
saves the posts;
shares posts and Stories with friends or in other social media and messengers.
So we are all looking for some secret ways and magic tools to make people follow our accounts. But these things work only in the system. No wonder growth hack. No more fairy tales about rapid growth by mass following or mass liking, fake likes. Forget it. Use only efficient and official hacks that will help your Instagram.
Instagram Story hacks
Stories became a great tool to increase your followers' number and involve them by gamification, videos, GIFs and other content tricks.
Post live videos
If you want to increase engagement in your Stories you have to post there live video content. Nowadays business paradigm is so-called P2P - people to people. You can increase your ER if you show your personality.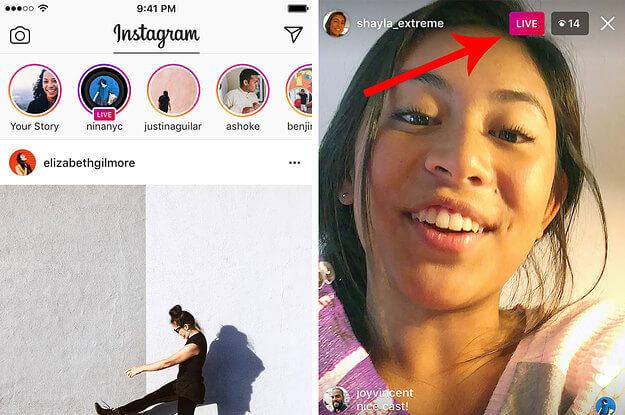 Make 1-5 videos about your deals, work, family, pets, sport, fun or whatever. You can even make a kind of a movie or TV program from every day Stories. Live video shows that you're open, friendly and sincere with no hypocritical mask. Don't hide your face and life!
Put GIFs
GIFs in Stories attract attention and show your emotions and sense of humor. Instagram tries to add to its collection the most relevant GIFs. Show that you stay in touch with the last news and fun choosing the popular themes.
Ask for reaction
Stories are a great tool for the easy engagement of followers. Don't be selfish. If you only give content but don't ask for a contact you'll never get a popular profile! Ask questions, make quizzes, let people ask or write you something using Instagram features in Stories.
Use questions before you give information
If you need to involve followers in discussion or to increase their interest in your new post so ask questions like "Would you like a post about…?" Or ask their opinion about the topic.
Share new posts in Stories
You can show your followers a new post by sharing it in your Stories. When a new post is done you can tap a message sign and choose "share in Stories".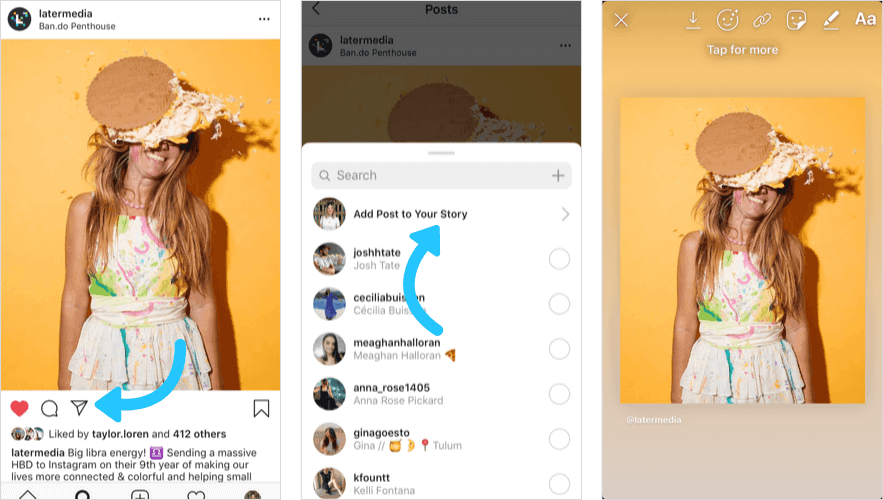 Then you can use a GIF "tap here" to make people come and read your post. This method helps to attract people who don't read posts to do it and increase the engagement this way.
Make several themes
Your Stories should become a kind of Youtube channel. It could be more interesting if you give different information about your life or a person. A personal brand is a real power so try to make several themes or categories in your Stories.
For example, if you're a store you can post videos about your day, product, the place you're living, your children or pets.
Use your @nickmame in Stories
More than 40% of Instagram users don't read posts but usually watch Stories. If you need to make them read, save and share your posts, you need to put in Stories a text with your @nickname. So people can tap there and come to your profile.
Make subtitles on videos
People usually watch Stories without any sound. So if you don't make subtitles on videos in Stories they see a fish opening its mouth.
You don't need to write all that you say but some key points. This shows your respect to followers and makes more people watch a video against swiping it out.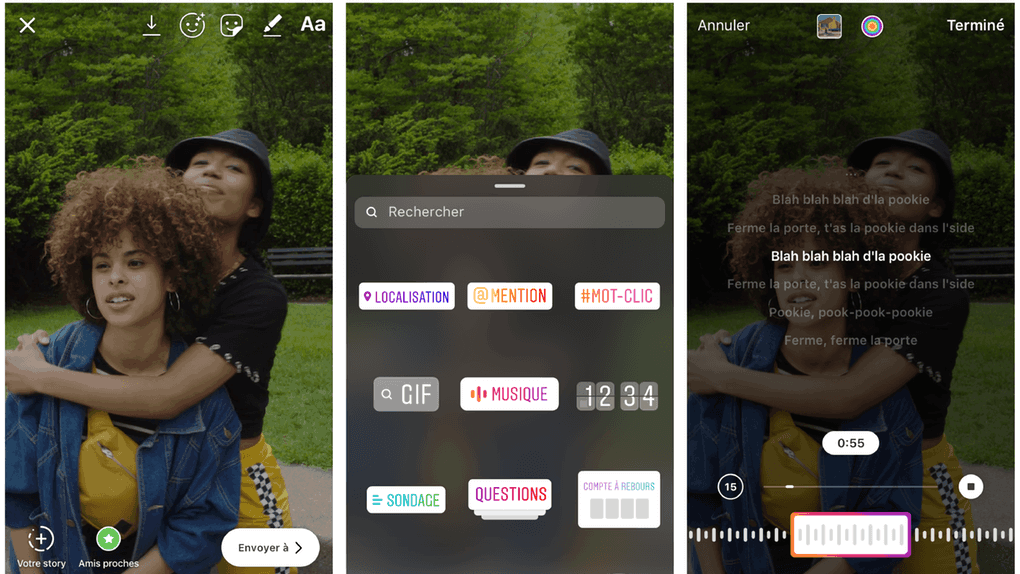 Hide hashtags
If you need to make new people find your Stories, use hashtags. But sometimes you don't want to show them there. This way you can hide them by GIF or make a text with hashtags the same color as some area on photo or background.
Try to make unique Stories style
Just imagine how many Stories people get every day. If you don't want to waste your time so find your own unique style. You can use a Mask tool or special effects in video editors. Your own colors in texts or some personal GIFs can add popularity to your style.
Instagram bio and profile hacks
You've got only 3 seconds to make users decide whether they want to follow your profile or not. Clear and attractive bio is a cool instrument to make increase a number of followers.
When people get a quick look at your bio and they understand who are you, what are you doing, what can be a benefit, they tap to follow. What lifehacks can help?
Make a short and clear nickname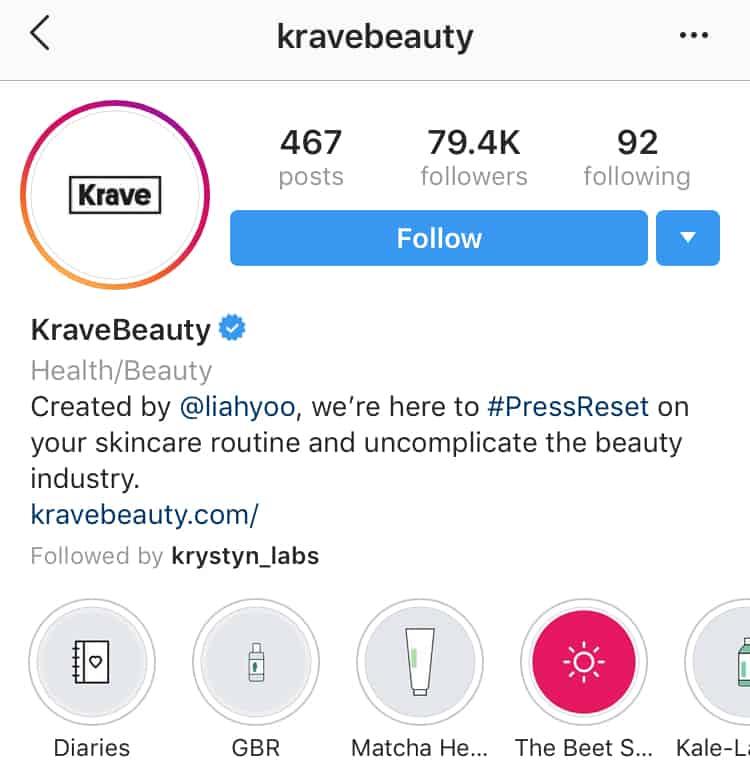 Remembering and clear nickname is very important. If you choose your image, followers may lose you but they can find you back by your nickname. Someone can see your nickname in comments or in someone's Stories and get interested to see your account.
While they'd like to find you on Instagram, they can fail if your nickname is difficult, full of strange sounds like scht/zh/yii or many symbols like _ and ..., etc. Don't use numerals. All these Krisss567 or ty_you_1997 are a way to be lost forever.
Use the name line for your product or service
You definitely need to write your name but not in the name line. This line should contain words that people can search on Instagram. There you'd better put keywords about your product or service. The name itself can be mentioned in the next block.
Write your business offer in 150 symbols
You get only 150 symbols and 3-4 seconds to make people understand your brand, your offer or your reason to have this account. You must introduce yourself, write down an offer or whatever that can show users who are you, what is your product or service, why do they need to follow you.
Make a test - show your bio to a child or granny. If they are able to understand it - so it's good! Don't make it typical or too sweet.
Use taplink utility at a link line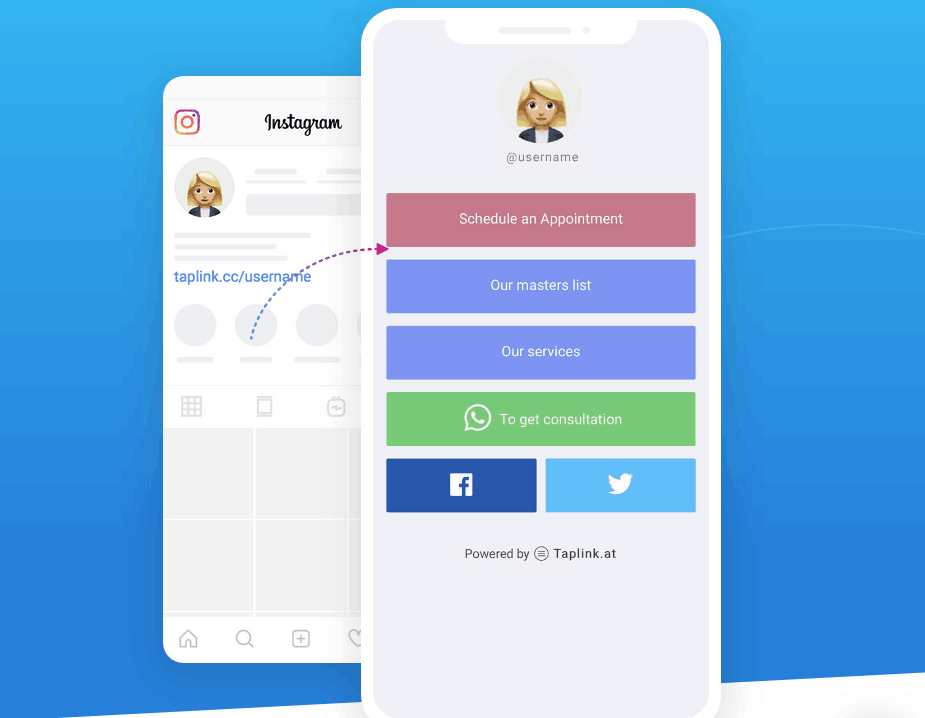 Of course, you need more than 150 symbols to contact users. Use a link to your website or other social media. But remember: Instagram isn't friendly to links. You can show only 1 link. However, you can hack this system showing only 1 but multiple link utility!
There's a great tool - multiple link. It's called Taplink. The utility taplink.at can be used to show users as many other links and information as you need. Using this multiple link you can add links to messengers like WhatsApp, to a Facebook profile, website, Pinterest, YouTube, your shop or Etsy, Ebay store, and etc.
Highlights
Now you're able to make your profile look like a website using highlights - Stories that are saved and put below the bio. It seems like navigation on a website but it doesn't lead you anywhere. When you tap such highlights, you just open a saved Stories.
You can make Stories with information about yourself, your trips, hobby or even use as a business instrument to show people how to order, what's about shipping or the prices.
Instagram hashtag hacks
Well, the bad news is that hashtags don't work as they've worked a year or two before. But you can still use them for navigation in your profile and take a part in some flash mobs.
Hide hashtags in the first comment
Users don't want to see the list of hashtags. Hide them in your first comment and forget about posting 12-20 and more.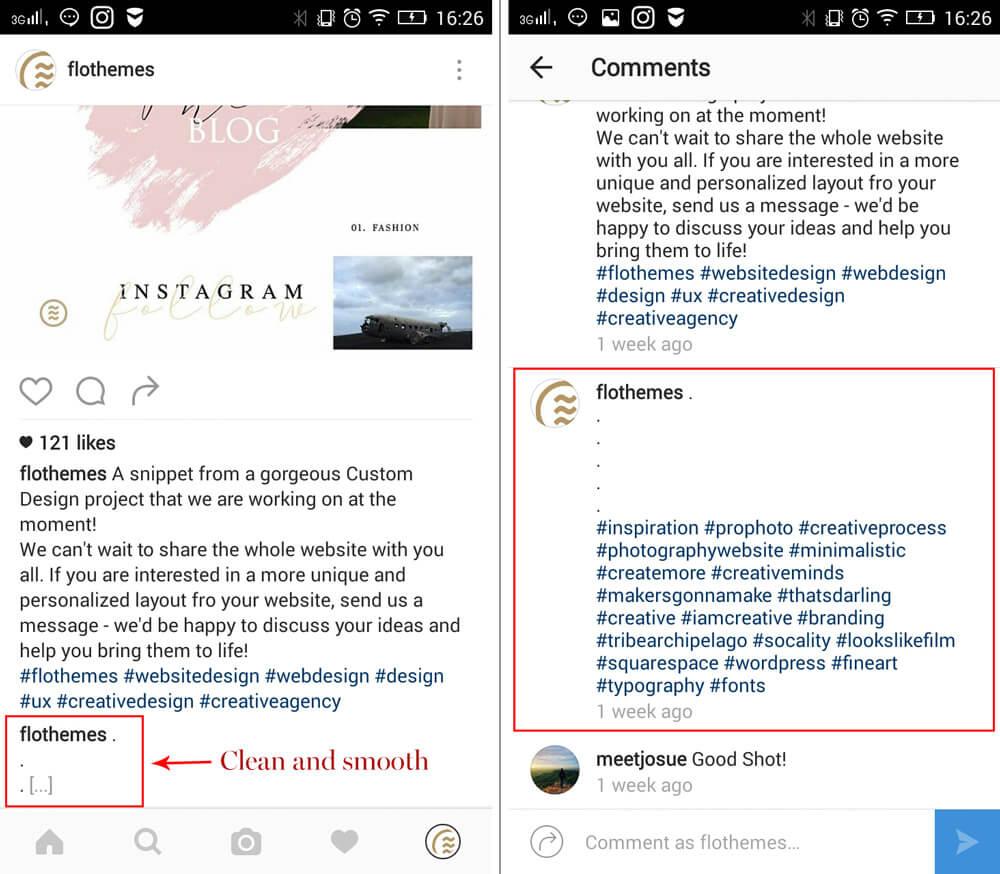 Most of the bloggers even stop writing hashtags because this works only for navigation or some special cases. But you can write 3-4 personal or categorical hashtags.
Use middle and low rate hashtags
Million rate hashtags don't work. Forget it. If you need hashtags so use middle and low rate ones. Or change popular hashtags using emos.
Make navigation with hashtags
If you make categories in your profile, make it interesting to your followers.
For example, someone enjoyed your post about diets so he can search using personalized diet hashtag in your account and read all your branded posts about diets.
Start flash mobs using hashtags
Flash mobs still work and taking part in them still can push interest to your account. So if you found some activities about flash mobs, go on and put hashtags connected with it.
Instagram marketing hacks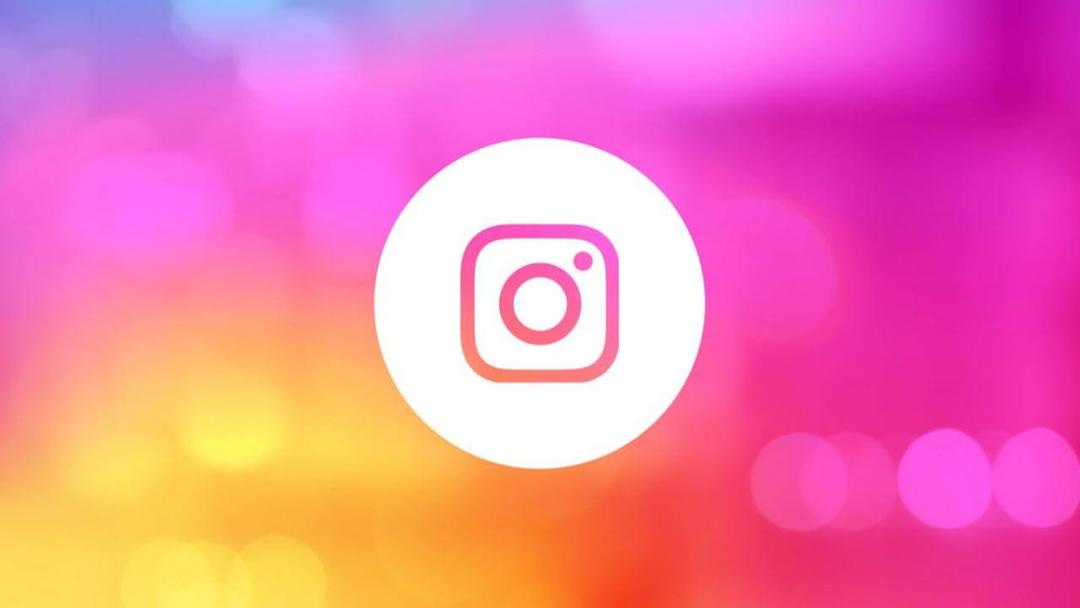 Instagram hacks for more followers
Each year it becomes more expensive in time and money to get new followers on social media. It's a very popular market. People are tired of information mess, everything is stealing their attention so they become picky. And ads are doing bad work too. Too many ads. What are the methods to attract users?
Giveaways and takeovers
All these giveaways, takeovers, training, mass following ways are officially dead. They don't work, they take risks and just have become very annoying. Besides they don't give you a target audience.
Networking and cross-promoting
Remember the people-to-people trend! Networking, collaborations, partnership. All these instruments work really well and encourage your profile's growth.
But firstly, you need to study how to use them. You can analyze some successful cases in your sphere or others and try to repeat it. Give benefits and exchange it with the alike target audience profile.
Personal brand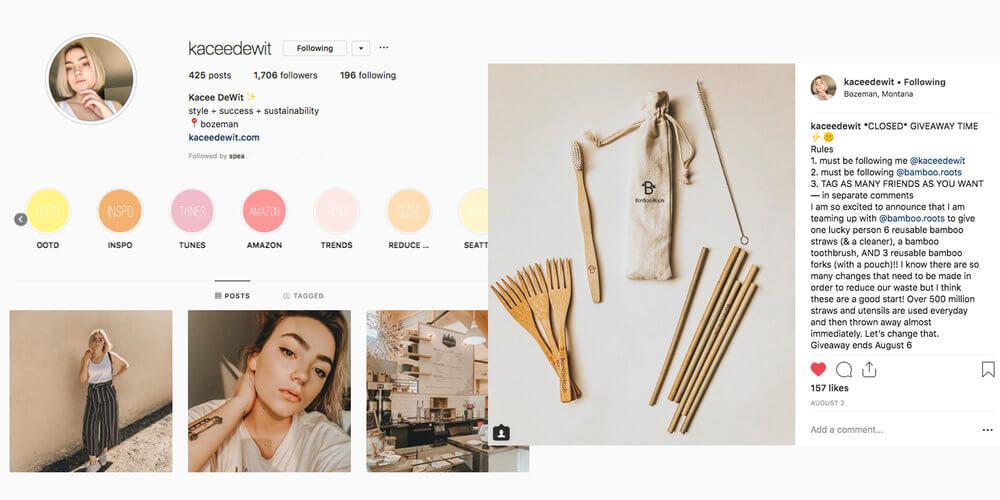 The people-to-people trend helps to convert users into followers using the personal brand. Show your personality, share your views, give benefits not for money so people start to get interested, trust you and contact you and your profile.
Targeting
Ads rules! Instagram wants our money. So it makes ads instrument working for your growth. But it's not an easy way to get new followers. It's better to pay a professional than to waste money.
Instagram hacks for more likes
Instagram hides likes but they still matter. They are a measurement instrument for IG algorithms. Of course, great photos give likes! It's a more a rule than a recommendation.
2-3 photos per post
You can get more likes on one post if you post two or three photos. This way Instagram will show your post twice to the followers.
Geotags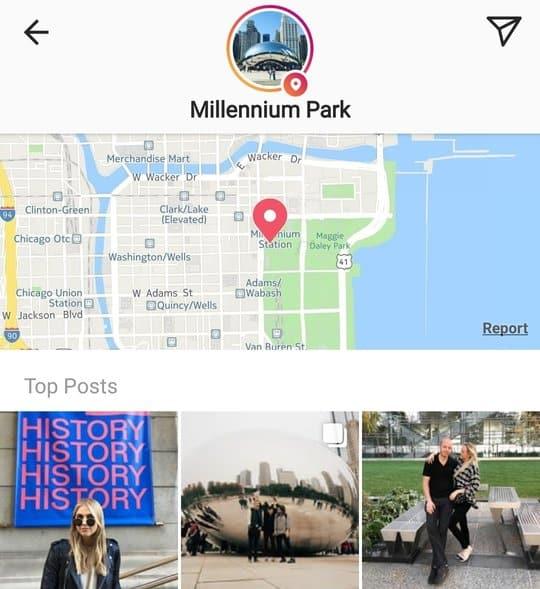 Put geotags in most of your posts and you'll get more audience and likes. It's an easy but efficient tool.
Wow captions
Think of great captions and people will contact more with your posts and give likes. It works well, but you need to study how to do it.
Call to action
Yes! Users will follow your request if you just ask to give likes. Don't forget to ask them in posts to like, share or save your publication because it's a free and easy instrument to increase the ER.
Instagram hacks for business
Brands want to sell on Instagram. And the platform tries to help businesses to do it.
Business account
Firstly, switch to Business Account if you want to sell more. You'll get statistics and a new line in bio - forms of contact with you.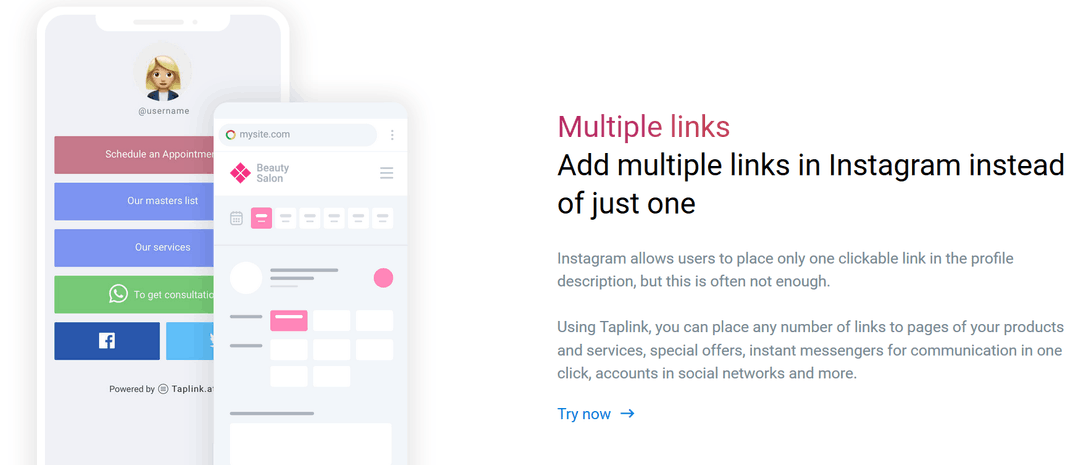 Taplink is a great utility to multiple your link. You put one link in your profile but get an instrument to lead users to your messengers, other social media, website, place there some information, photos, and videos or even make a store or website right there.
Put more information in the location line
You can not only show your address in the location line below the bio but even write your offer there. Use more symbols to write the offer, call to action or whatever in this place.
Instagram photography hacks
Marketers say that all you need in this visual social media are great attractive photos. This is the best hacking tool. You can study yourself or pay a professional photographer but you just need good visual content. The last trends in IG photos are:
sincerity, fewer filters, show truth;
animated photos;
not so white presets;
photos should be styled for your audience.
Summing up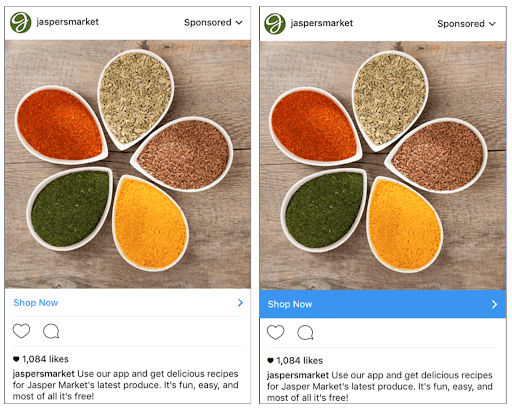 Instagram isn't a photo or lifestyle story anymore. It's a great business instrument and it started to make money on users. It shows great changes in algorithms, in politics and in the ways of getting growth there. Organic growth doesn't work, hashtags don't work much too.
Businesses and bloggers are fighting for users' attention. But some tips still can give you more followers. Share with friends or colleagues if you've found ones here!