Instagram insights:
learn more about your audience
02.08.2020
Having a business account on the trendiest social platform Instagram means a half-way to success. Its evolution over the last few years has been remarkable and it has affected the way people receive the content. One of the latest novelties in the social platform is 'Insights'. This tool enables users to see the analytics calculating the performance of the content, and know their followers well.
This guide will reveal some facts about Instagram Insights: its meaning, how to use numbers to develop your own Instagram policy and boost engagement rates.
All about Instagram Insights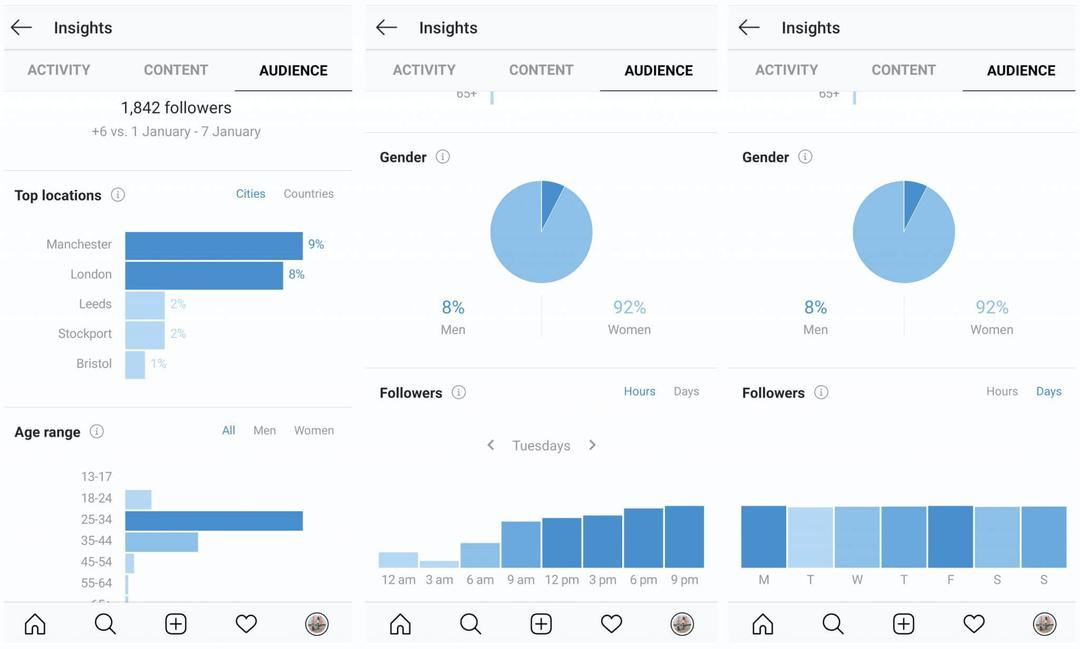 What Do Instagram Insights Mean?
Instagram Insights is a crucial tool for estimating the promotion of a trade or personal brand. It shows records on posted content, rating, and subscriber demographics. These numbers help you assess your followers, compare posts, measure giveaways, and view how specific posts and promotions are functioning.
Everyone likes to analyze the influence of their promotional efforts across various channels to see if there's something you have to change in your actions – the target audience of different interest, publish at a certain hour of the day, or test a novel content format. It is vital to monitor the efficiency of your activities and indicators of visits regularly.
Interested in assessing your Instagram activities? Instagram statistics help to identify ways of targeting the relevant audience, posting eye-catching publications, and attracting more viewers to stories.
Monitoring Instagram statistics periodically enables you to discover and develop a content policy that helps your business grow.
By assessing the analytics of such involving data as clicks, comments, or likes, you'll understand which type of promotional tactics works best. Sellers craving for more statistics currently has a possibility to use the creator profile to evaluate the viewers. This option was presented at the beginning of last year as one more option to a standard business profile.
Who is the creator account on Instagram for?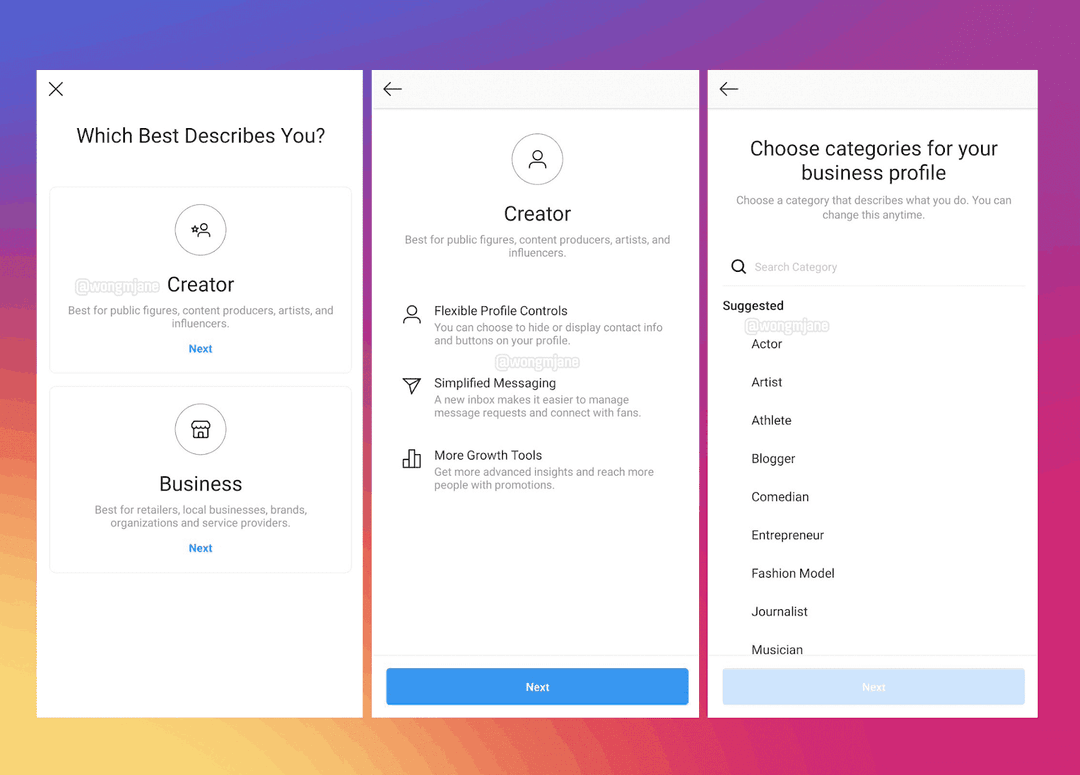 Originally, the features of this kind of account were offered to any account with over 10,000 followers. It is written in the app that creator profiles are perfect for artists, creators, and public figures. The platform is making individual owners of creator accounts with special offerings its target.
It is obvious that influencers play a crucial role in Instagram. Hence, the app developers aim to raise the number of influencers and provide more tools to draw their interest. Over 80% of market specialists report that Instagram is the best platform to share content. In contrast, these profiles contain tools and characteristics that explicitly cater to managers who do not follow the customary business setting. They have various requirements concerning social marketing.
Are Instagram insights accurate?
To make the right decisions, it is necessary to rely on all the statistics mentioned above. You can't select the necessary or unnecessary ones among them, because only comprehensive account information will allow you to make an accurate strategic plan for development. At the same time, do not forget that your subscribers are real people, not dry facts.
The assessment of Instagram statistics should not be hurried. It is better to compare user activity on weekdays and weekends. Many various factors affect user activity including non-obvious factors such as the weather. To build a promotional plan, we recommend using the data collected for at least a month, so that you get the most reliable figures within a year.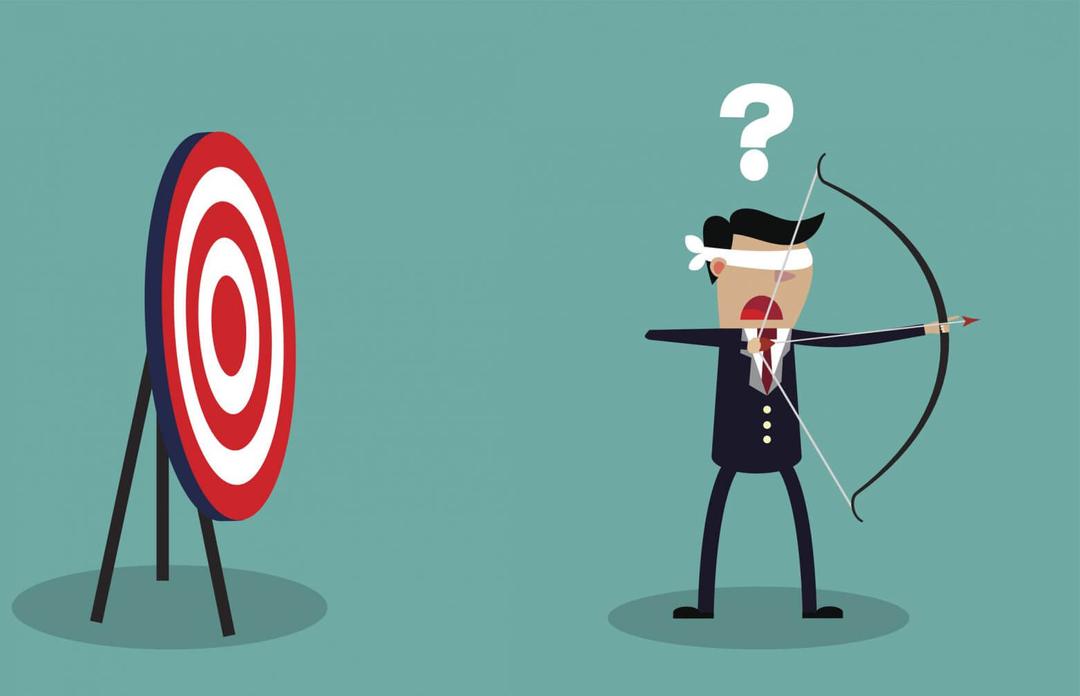 There is a tendency to decline in summer and spring and to increase in autumn and winter because, in good weather, many people opt to have vacations and relax. So do not rush to act if you notice that coverage has peaked during summer. It is vital to remember the approaches that you used for promotion, to compare them with statistical data.
This will help to organize mass following, cheating, advertising, and other promotional tools accurately. For instance, using the figures about the hours of the highest activity, you can pick the time for publications. Usually, the highest activity takes place after 6 p.m. Therefore, it is recommended to share posts during that period. This indicator is related to your target audience.
Compare the way changes in your content plan with the advertising method have influenced your statistics accurately.
Let's say if your profile offers service and previously posted just images of your work, but then decide to sell something, then monitoring and checking the analytics you will notice how justified the planned spending is.
How to View Insights on Instagram
Business profile owners are able to use the Insights feature on Instagram. Making your account a business page will let you access the statistics for any publication on your page. In case you shift the account to personal, all the analyzed records will be lost.
To reach the section of Insights from your app quickly, just tap a bar graph icon, which is on the screen's top right corner.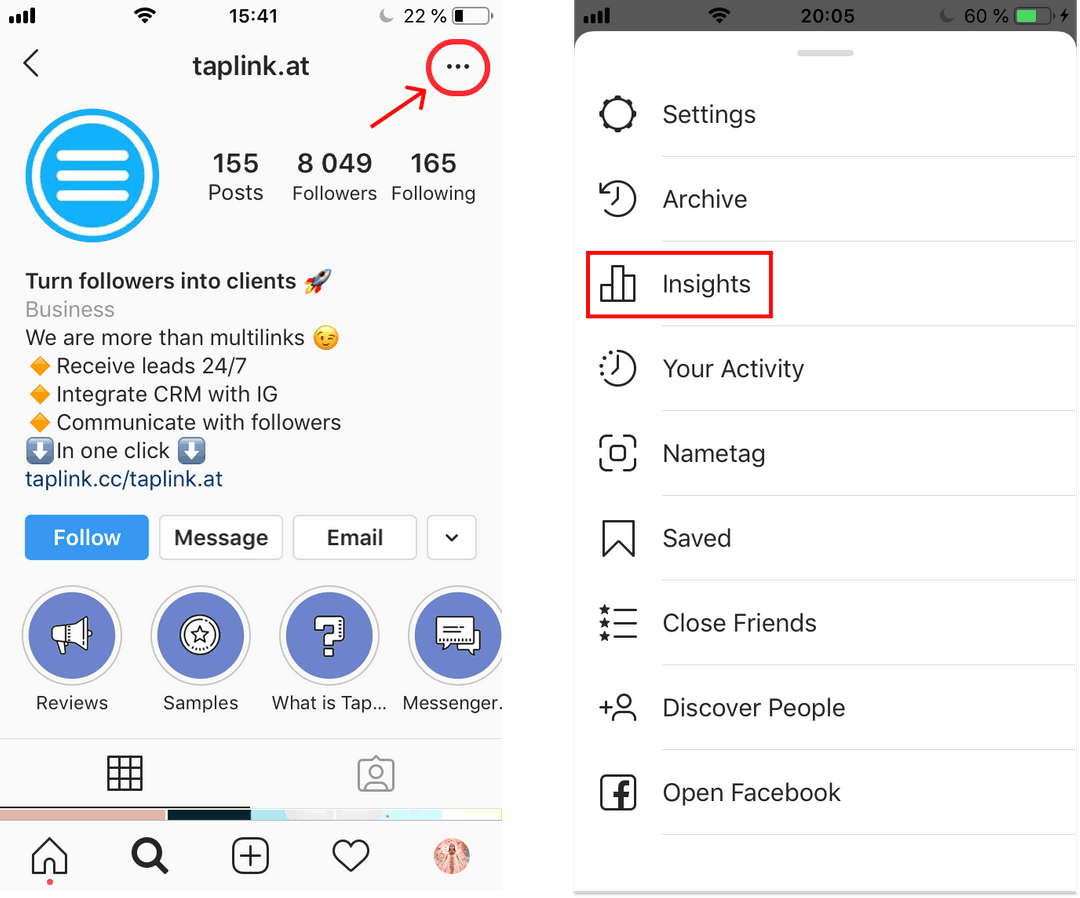 To check statistics for a single post, go back to content and tap View Insights, which is in the bottom-left corner.
The Insights displays the records of publications during the preceding 7 days. In the upper section, you may track the growth of your subscribers' list and check the proportion of new readers, who joined in the last 7 days.
Swipe to see button clicks for call-to-action and webpage clicks.
If you scroll down, you can find a sequence of bar graphs that show the page views, the reach, and total impressions, for the earlier week.
To check statistics for a single post, go back to content and tap View Insights, which is in the bottom-left corner.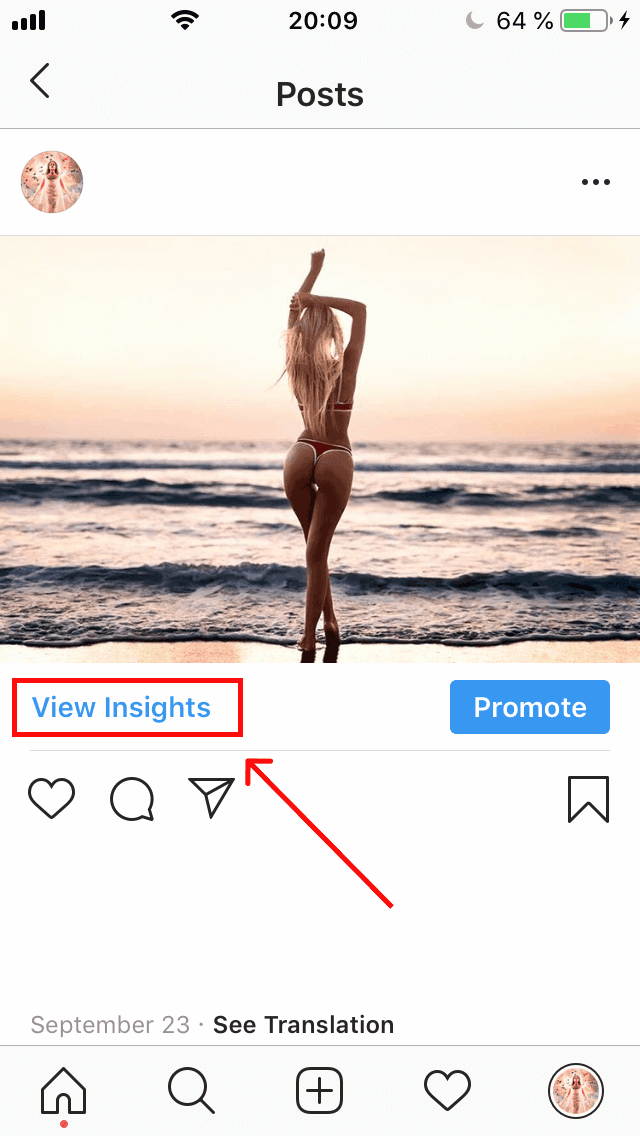 Furthermore, the total quantity of posts can be seen on your page and you may observe the number of publications you shared throughout the last week.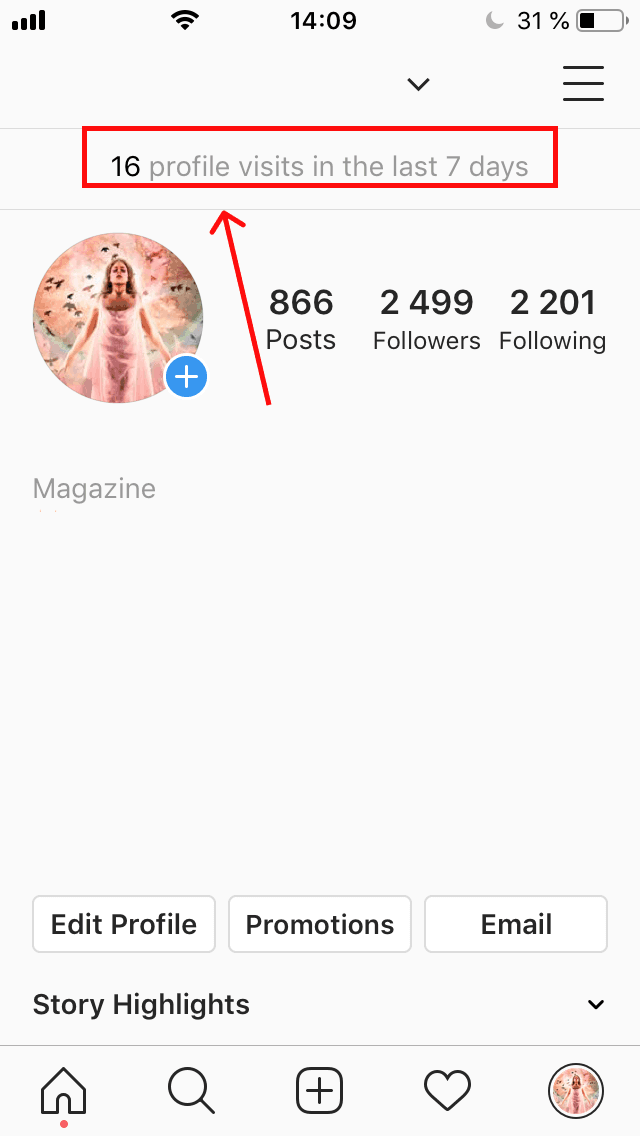 Please note that now the Instagram algorithms that form the news feed are very sensitive to who and how the user interacts with. To promote your webpage effectively, you must now establish relationships with your subscribers.
Instagram Insights Meaning - What Does these Data Actually Mean?
Besides the ability to display likes, the built-in Insights analytics service has many other metrics that make it possible to track the efficiency of a marketing campaign. Using this data, you will be able to adjust your posting policy to users' preferences, know what content they find most interesting and when users have free time to view the feed. This is essential in promoting your account.
It is easy to use statistics, but only if you are well versed in what information is displayed by certain numbers. Prior to analyzing statistics, you should read the full list of basic metrics.
Instagram statistics for your profile:
Posts: the total amount of all published content.
Profile views: statistics of clicks made to your main page.
Subscribers: the users who have subscribed to you.
Reach: shows individual users who view your content.
Impressions: the history of all your publications.
Link clicks: the clicks made on the link in the page description or in posts.
Mentions: how many times a link to your profile has appeared in other publications.
Brand hashtags: the calculation of posts in the social network that contain brand hashtags.
Clicks on calls and emails: how many times the specified links have been clicked for contact.
Stories Analytics: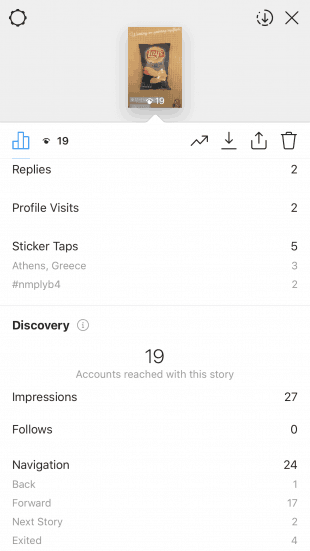 Reach: the number of separate users who are not included in the number of subscribers who viewed your story.
Impressions: the total number of profile views to users.
Responses: the number of responses to your posts from users.
Logouts: the number of viewers who closed your stories.
Publication statistics:
Likes: the number of user approvals can be seen here.
Saved: viewers who saved the photo and the number of times it was saved.
Impressions: the number of times the post was viewed. One user may view the record several times, so this feature is always greater than the previous one.
From hashtags: number of clicks made on a post from hashtags.
Reach: how many single users saw the published post.
Profile visit: the number of times users logged in to your profile via this post.
From the main page: views in the feed.
From the account: views made from passing to the page.
From others: all other traffic sources to the publication.
Audience Analytics: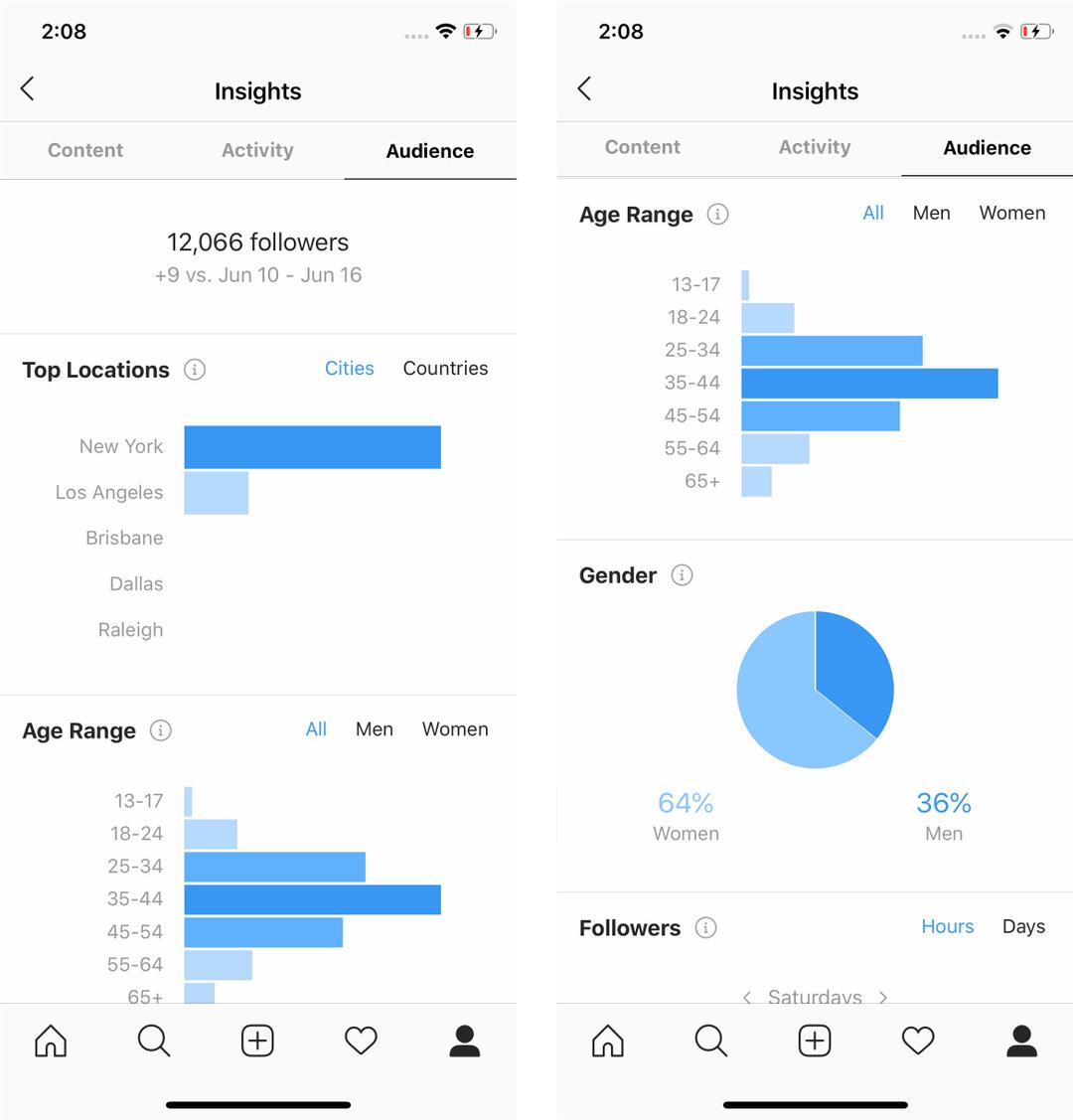 Age: grouping of the subscribers by age category.
Gender: a graph displaying the ratio of males and females subscribed to the account.
Activity: the time when subscribers are the most active.
Geography: the five cities/countries where the largest number of subscribers live.
Live broadcast data:
Viewers: the number of all visitors who saw the broadcast you made for no less than a few seconds.
The indicator of viewers at a time: the number of users who are currently watching the broadcast.
More Instagram Insights: apps and tools
The tendency of using platform Instagram for advertising is getting viral. It's essential to adjust an Instagram page to your specific product or service, yet, it is hard to understand if you are truly productive. With the correct statistics, you'll know what actions to take to engage your viewers more. There is a number of analytics tools made for you to analyze your page and indicate what needs improving.
Among the most widely used free analytics applications are:
Iconosquare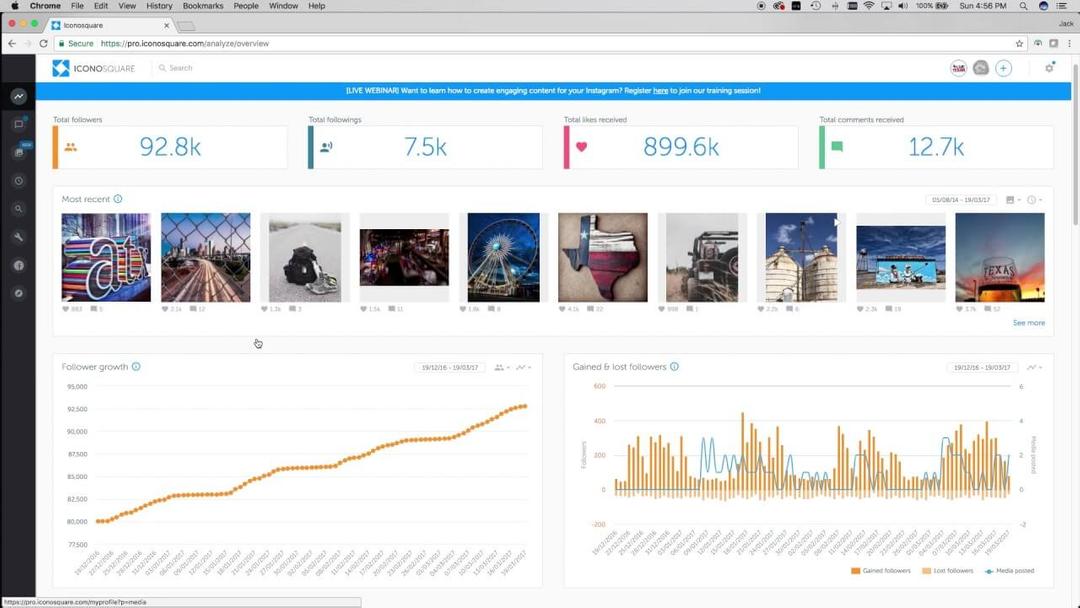 With this powerful app, you may program your posts, track viewers' comments on your service, and display the insights. You can observe competitors by comparing their statistics to yours. The analytics also reveals trends connected to reach impressions, the content engagement of your post, along with how successful your Instagram Stories are.
Instagram Insights
Business account owners on Instagram have this built-in free analytical tool. This app shows you when your audience is online, your profile's reach with impressions and which posted content is the most attention-catching. This feature can be used in the application only, it's simple-to-use, yet it displays an accurate insight of your Instagram statistics for specific posts and all content.
Crowdfire
This application allows users to plan posts, assess how they perform, and observe any references to their service, with date connected to their trade or service throughout the net. The tool sends the image and post mentions from different pages. This helps sellers increase their visibility while selecting what content to add to their Instagram policy.
How to improve your statistics?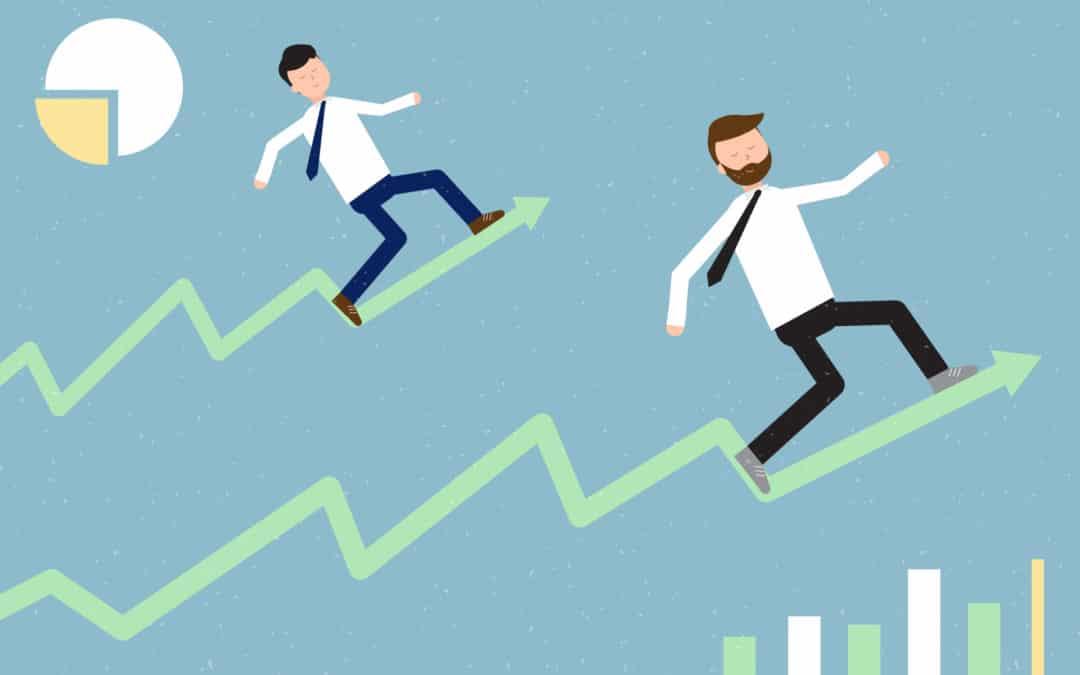 Page statistics generate comprehensive information about its demand among users. Insights reflect any change: increased activity or loss of traffic. Several solutions guarantee to help boost your overall performance:
Try to connect mentally with readers. Call the audience to action: generate contests, surveys, and then reply to comments. This basic method can considerably boost the number of likes with comments.
Identify the most productive time to publish. Like Facebook, Instagram uses an algometric feed to display posts, but posting time still plays an important role. Choosing the right publication time can multiply your subscribers' engagement, and this will activate the algorithm to start promoting your post more actively.
Tell interesting stories. Short stories are ranked almost the same as posts, but they occupy a more favorable position above the news feed.
Experiment with videos. According to statistics, photos receive more likes and at first, a glance may seem to be the preferred content. However, research conducted by News Whip found that videos are twice as likely to be commented on. Instagram's algorithms take into account comments and likes. In addition, viewing videos requires more time from users, so such posts will be ranked higher.
Publish less. Work on quality, not quantity. Remember the main rule – one good post is better than 10 second-rate ones.
Post user content. Brian Peters, a Buffer marketer, managed to boost the number of subscribers for business by 500%. His secret weapon was posting the subscribers ' creativity content.
Instagram Insights Keeps Abreast with Progress
Success in business is closely related to having a working Instagram account. Having read about Insights and the methods for boosting your content statistics, you have some food for thought. We hope this article has been insightful and you will find ways to become an expert in analytics and discover your secret tactics in 2020. Please share this post with your friends. We will be glad to know your thoughts on this topic.