A full guide on Instagram Shopping posts, tags and analytics
02.22.2020
Instagram is a huge social platform with more than 1 billion monthly users. They're not only target audience to share your photos and videos, but also potential customers for businesses. With 500 million everyday users IG is a perfect place for any company to get traffic and convert it into paid customers.
Now it's more simple than ever to promote your brand and engage visitors, cause you can use Instagram Shopping posts and stories for that purpose. Let's find out how does this feature work and what benefits it can deliver.
What are Instagram Shopping posts?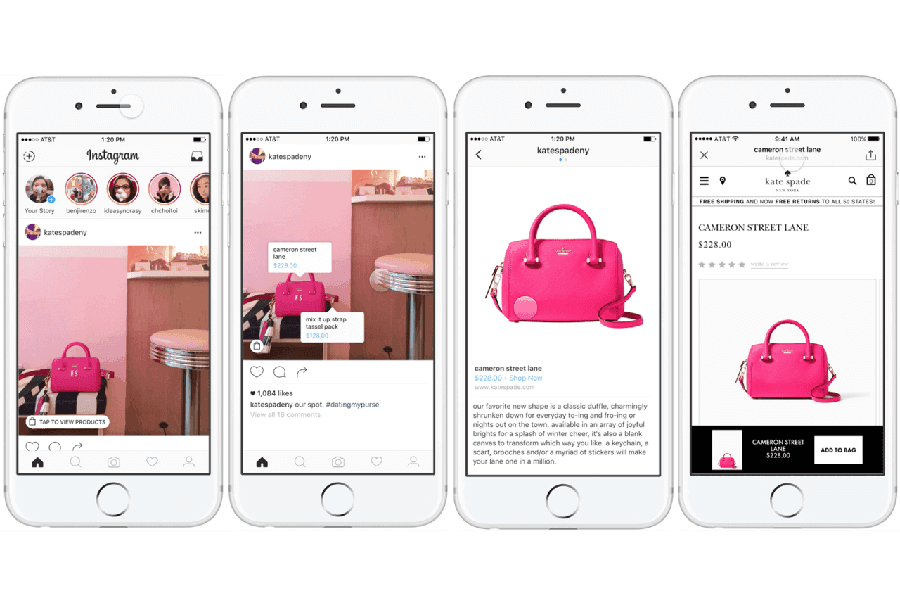 First things first, it is a way to use your feed to promote and sell products. It gives you the ability to tag them on your posts, making your feed shoppable.
You can tag up to 5 items from your store catalog in a single-image post and 20 products in a multi-image one. Such tags are clickable and they'll direct your followers to the product page of the related item. The conversion flow was newer so simple.
Tagging items is as easy as tagging people. Just choose the product and create a short caption with description and price (if necessary).
Place the tags wisely, so that the whole image wasn't oversaturated. Instagram Shopping posts will be labeled with a white bag in the right up corner.
Example: let's presume your brand sells accessories and regularly posts images on IG to increase user engagement and customers' loyalty. When you use your business account to create shopping posts, you give them a more convenient way to interact with your catalog and get information about hot picks. That keeps them more engaged and increases your conversions. It'll attract lots of new customers too.
You can also use stories to promote your products. This way your followers will be able to shop just from the app. See how to create shoppable posts and stories later on this guide.
Why to use IG Shopping?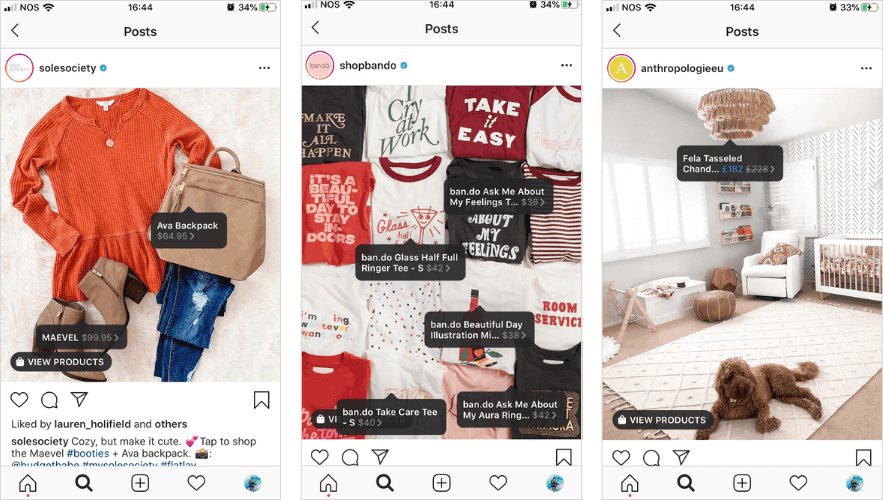 When the market gives you an opportunity, you'd better pick it fast before others will do that. IG is a platform with an immense target audience. It's already engaged in a certain way and you can benefit from it by using Instagram Shopping posts and stories.
Here's what you can expect from using the feature:
There will be tools to increase your traffic significantly.
Current users will be more engaged and loyal to your brand.
Conversion flow will become more efficient.
You can expect a decent increase in sales.
It's a perfect tool to establish your brand.
You can showcase a new product line using tagged posts.
It's an efficient way to sell featured products together with the main item.
All these moneymaking opportunities are supported by the promising statistics data. Business profiles are visited by 200 million users per day and more than 30% of all most viewed stories come from commercial accounts.
Recent researches state that every third IG user says business posts help them get new information about products they'd like to purchase.
This is a sign for any company to start promoting products on Instagram. More than 75% of US businesses are going to do that in 2020 and you'd better use IG Shopping too.
How to set up Instagram Shopping for your account? Step-by-step guide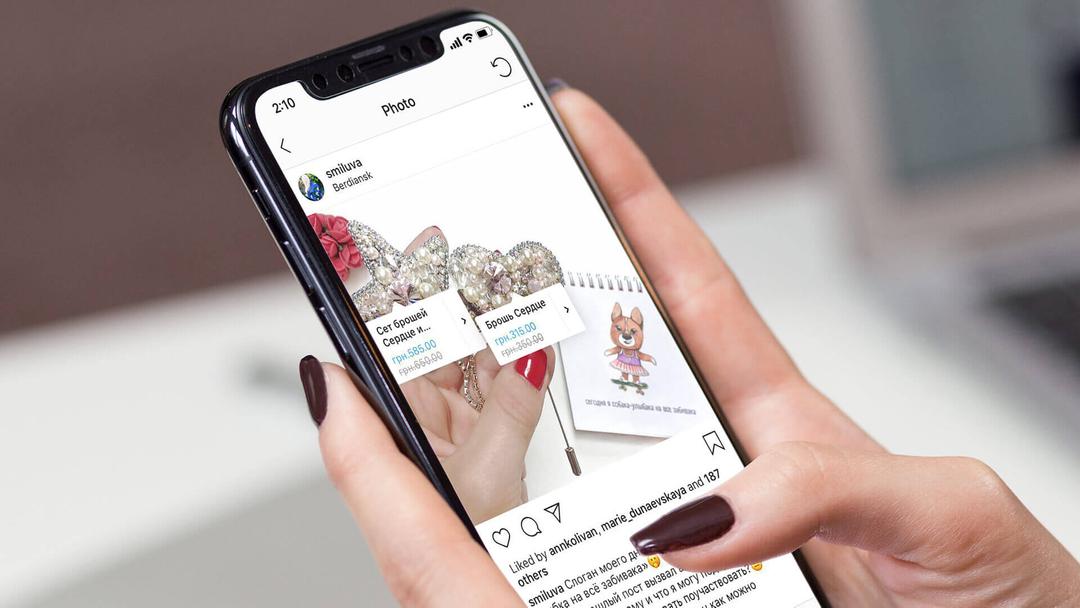 Follow the steps below to set up IG Shopping for your account:
Make sure you have an Instagram business account. If not, create one.
Check whether you're eligible for IG Shopping. Your business has to be located in the supported market (there are more than 50 of them now) and it should meet the company's commerce policies.
Connect to a Facebook catalog. There are several ways to do that. You can add a shop section on your FB page, use Catalog Manager or an e-commerce platform like BigCommerce or Shopify.
Sign in (make sure you have the latest app version) and then go to profile settings, choose Business. Select Instagram Shopping and follow all the steps required. Submit your account for review. When you're approved, you can start using the feature.
The next step is to create the first post. Let's find out how to do that.
How to create IG Shopping posts with tags?
Create a feed post using the appropriate images or videos. Feel free to use effects, edit, add captions and hashtags.
Tip: Keep it all-natural, so that the post corresponds with the style of your account. Your goal is to engage more people and not to push sales with obtrusive content (it'll have the opposite effect). Also, remember that hashtags are important to attract new followers.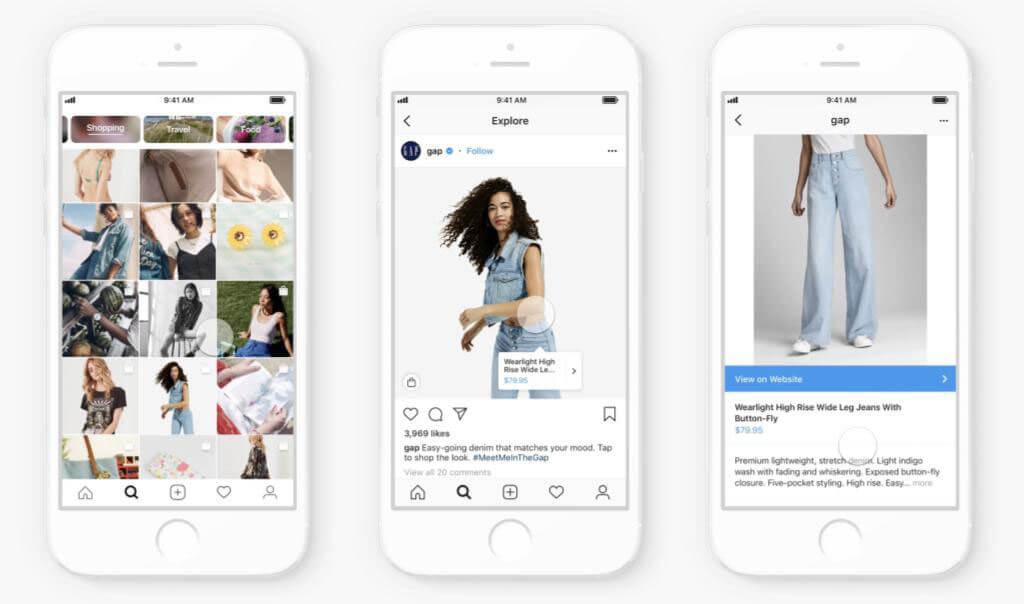 Tag products. This is as easy as when you tag people. You'll find the appropriate option on the share screen. Just start to enter the name and you'll see items from your catalog. Chose the one you need for the post.
Remember that you can tag up to 5 products in a single-image post and up to 20 products in multi-image one. Place the tags wisely. If there is no suitable place for the next tag, you'd better use it with other images.
At last, just tap done and see the post to appear in your feed.
Tip: Don't use too many tagged posts in the feed. You want your followers to become more engaged and not to hate you. Make it organic. The main thing is always the content you deliver and it's quality.
Shopping stickers in Instagram stories
You can add IG Shopping stickers to your stories with a few simple steps: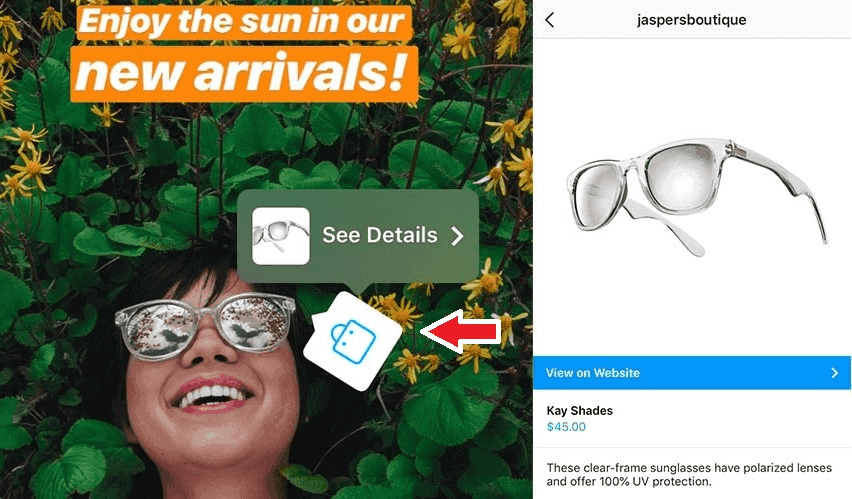 Note: you cannot change product name right in the stories. To do that you have to alter it in your catalog and save changes. Then go to IG and add it to your shoppable story.
How to get approved for Shopping on Instagram?
Companies and brands have to meet certain requirements to get access to IG Shopping. Here is what you need to know about it:
The Instagram business account is a must to use the feature.
Your profile has to be connected to the Facebook catalog.
It all works now in more than 50 countries, including the USA, Canada, Germany, Italy, the UK, Japan, Brasilia, Spain, France, etc. Check whether your region is supported.
You have to comply with the business agreement and the company's commerce policies.
You can enable Instagram Shopping only if you sell physical goods. There's also a list of prohibited items, which include drugs, tobacco products, nutrition supplements, alcohol, gambling, etc.
If you meet all the requirements, you can apply for Instagram Shopping. In most cases, you'll be approved in a few days, but sometimes it may take more time.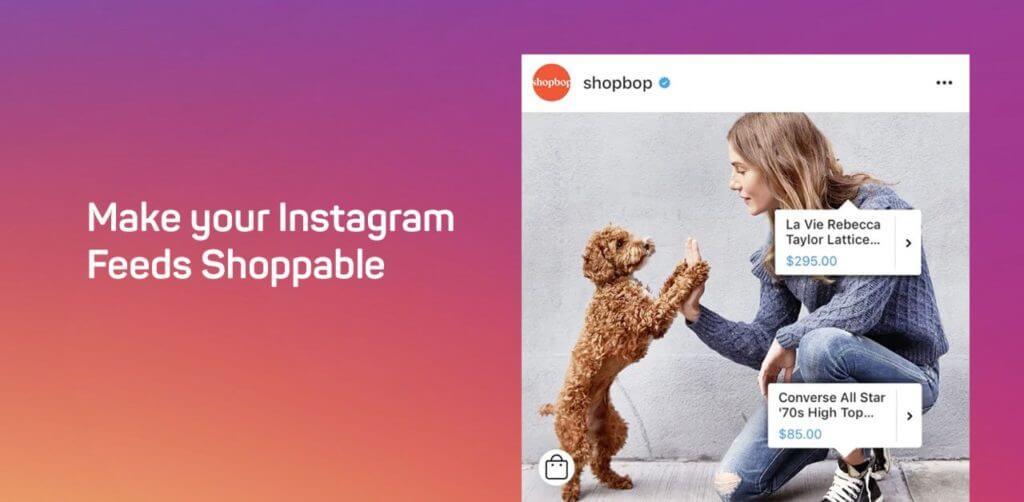 In case you were disapproved for any reason, you can make an appeal using a special form to review your application. Make sure your account meets all the company's requirements before doing that.
Using your shopping post as an ad
IG constantly develops its business tools. Now you can run your shopping post as ads. That'll help you reach a wider audience and use precise targeting. You can create such ads in Ads Manager. Just follow a few simple steps:
open Ads Manager;
go to +Create;
select an object;
choose the target audience;
go to Edit Placements and choose IG feed;
select Use Existing Post;
choose the appropriate post (single-image);
tap Continue.
As with any other campaign, you can track performance to see how it all works.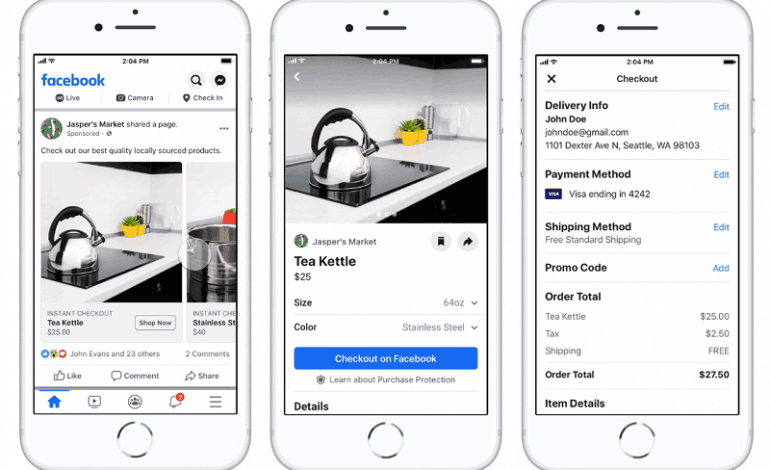 How to measure the success of your Instagram Shopping posts?
Tracking and optimization are among the most important stages of any marketing campaign. This is the only way to make your business really successful and efficient.
If we talk about IG Shopping, it's crucial to understand how your post has performed. Was it useful and increase your audience, users' engagement, and sales? Or maybe it had the opposite effect and you have to change things immediately.
The data collected from tracking will help you make all your future posts more efficient. The idea is to note what has worked best and use it for the new shopping posts. It includes image types, filters, tags placement, caption, hashtags, etc.
There are two main ways to track the performance of your posts:
Insights
It's an inbuilt tool that allows you to learn more about your followers and to figure out how to do your shopping posts and stories with shoppable stickers work.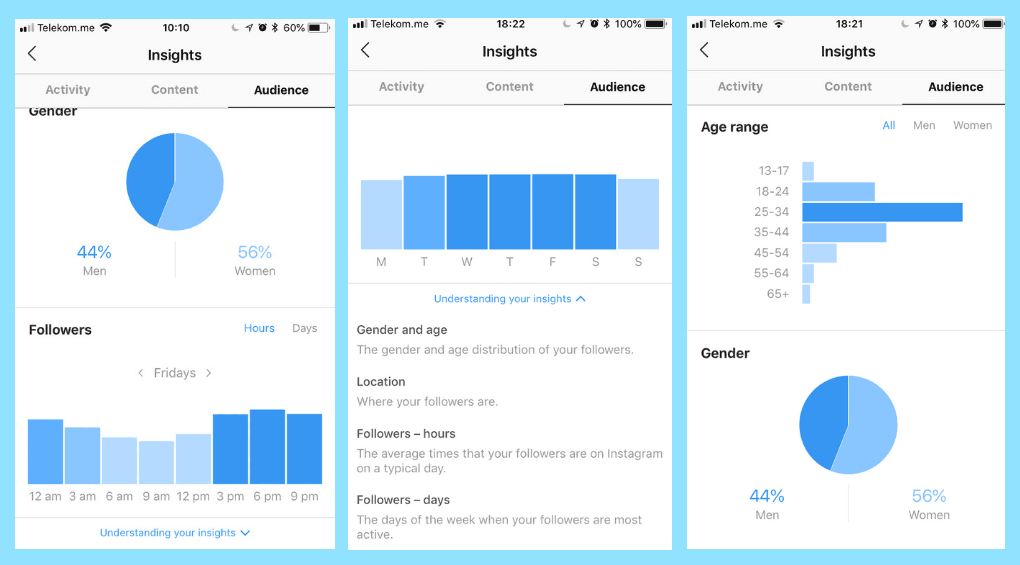 Instagram Insights will provide you with such information as the number of followers and their growth in a chosen time period, account activity (the number of profile visits, statistics on views and users' source of content), information about visitors (age, gender, etc).
There are also tools to find out how many people tapped on your tags in feed posts and stories. You can learn the number of taps on the purchase button on the product page.
It's not always easy to cope with all the information you have, so it'll be wise to use Instagram analytics strategy tools for that purpose.
Google Analytics
You can use UTM trackable links to gather all the data required about your followers and their activity. The idea is that a special piece of code is added to the product page link on your IG shopping post tag.
Together with Google Analytics inbuilt tools, it allows you to track what post in the feed and what tag brings you the biggest amount of traffic and how does that traffic converts.
UTM trackable links setup is not an easy thing, but it's worth your efforts. The information you'll receive will be your key to Instagram Shopping strategy optimization.
If you see that some posts or stories don't work, you can easily disable them by deleting or removing shopping tags. Just go to the appropriate post or story. Open the editing menu and delete the unwanted tags.
A few more hot features from Instagram

One of the most interesting new features the social network has for businesses and all other users are Instagram Checkout. It allows people to buy products not leaving the app at all. You just have to enter certain personal data and billing information when you make a purchase for the first time.
So, IG users will be able to just select the product they like and simply buy it in the app in a few taps. Moreover, they can track delivery in their Instagram profile.
It all gives incredible business opportunities for e-commerce on IG. The conversion flow becomes as simple as it can be, and users' engagement level reaches its upper edge. For now, it's a beta feature for a limited number of countries and businesses, but be sure it'll spread wide soon.
A brief conclusion
Instagram Shopping gives companies and brands incredible opportunities to promote their products to millions of everyday social network users and to create a highly engaged audience ready to convert into paid customers. All you need is to follow the company's e-commerce rules and to build your IG campaign wisely.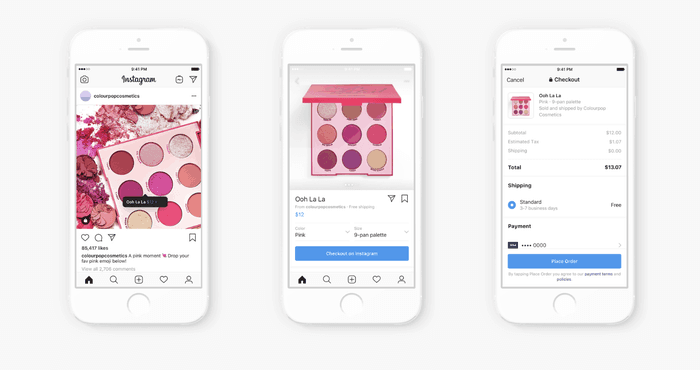 Don't hesitate to use IG Shopping. It's not a brand new niche now, but it's still very young and fast-growing. Don't miss an opportunity to build your business successfully with it.