Is Taplink alternative to Linktree?

Kos Morris
Head of Content managers
We often receive the question: «Are you a copy of Linktree?». Therefore, we decided to write this article and finally answer this question (spoiler: the answer is NO!). Now let's talk about differences between Taplink and Linktree.
There are a lot of tools that solve the problem of limited Instagram BIO. One of the most famous is Linktree, which appeared on the market in 2016. This tool allows the user to place several links in BIO. It is a useful service, but over the past few years, Instagram has changed significantly, especially in terms of business goals. It is no longer enough to place links to your store, nowadays entrepreneurs need to tell the world what their business is all about. To do this, you need texts, images, videos, marketing features, in other words - a full-fledged landing page.
Taplink solves this problem by allowing you to create a full landing page, not just a set of links. The main goal of Taplink is to help small businesses grow faster and more efficiently, in other words, to receive more orders and increase conversion rates. There are also smart-links on messaging apps that redirect your customers directly to the chat with you. That is just a small part of the Taplink features. Here is a rough example of how average Taplink and Linktree page looks like: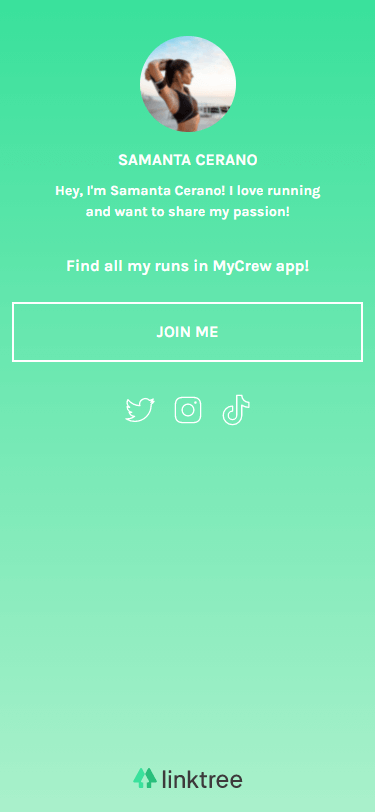 Here are the main features that will help you increase sales on Instagram.
Text solves the problem of limited symbols on Instagram BIO. Now you can tell the whole world what your business is all about. Describe your products, services, sales, whatever you want! :)
Photos and videos allow you to showcase your products or services. You can also announce a sale, promotion, or any other event with a bright poster.
Smart-links for messaging apps is the best option for a one-click connection. When your client clicks the messenger button, it automatically redirects him/her to the chat with you. It increases your conversion at least twice.
Set a payment system on Taplink and receive payments from your customers 24/7. Connect Paypal, Stripe, Paystack, Paddle, etc. to make it easy to buy from you.
Application forms will help you to drive more leads and collect your customers' information. You can integrate it with CRM and receive notifications in messaging apps.
Connect your Taplink page to other significant systems. Integrate it with CRM, Mailchimp, Analytics systems to optimize your business.
Add several linked Taplink pages to place even more information.
Let's compare prices on Linktree and Taplink.
Linktree has two plans - free and PRO – $6 per month. Taplink has 3 types of plans: free, PRO, and BUSINESS. 3 months of PRO plan is $12 which is cheaper than 3 Linktree months. A year with Pro plan equals to 3 months with Linktree, but still with more functions. It's the price of a couple of cups of coffee and a good investment in your business. A year on BUSINESS plan costs $54 which is cheaper than a year with Linktree PRO plan, and this plan gives you all the features of Taplink.
Here is a table showing differences between Taplink and Linktree functions:
| | | |
| --- | --- | --- |
| | Taplink | Linktree |
| multilinks | + | + |
| chatting app links | + | |
| texts blocks | + | |
| images/video | + | |
| payment forms | + | |
| custom icons | + | + |
| user page design | + | + |
| button design | color, animation | animation |
| several pages | + | |
| free tariff | + | + |
| PRO tariff/month | from 4$ | from 6$ |
Everything depends on your needs. In general, both Taplink and Linktree are quite cheap, but Taplink has more functions. Try them out here.