Is Taplink alternative to Linktree?
07.11.2019
Sometimes we receive a question "Are you copy of Linktree?" "Are you the same with Linktree?" We've written an article to answer these questions (spoiler: the answer is "No!") and explain in detail about similarities and differences between Taplink and Linktree.
There are a lot of apps trying to solve the problem of limited symbols and links in bio. One of the most known is Linktree service which appeared in 2016 and allows Instagram users to add several links in one in bio which seems very useful for navigation. For the last few years, Instagram has changed a lot, business goals and needs changed and expanded as well: showed up new requirements to Instagram like more places for the text, fixed posts, selling photos and videos and tools for increasing conversion. Some of them were particularly solved and some still hinder Instagram entrepreneurs' development.
Taplink's main goal is not only to improve navigation but to help businesses in Instagram grow faster and more effectively. Every Taplink tool is created that way to allow owners to receive more applies and leads. The service also allows to put several links on websites and uses smart links on messengers. But it has a lot of other functions and here starts the difference. Average Taplink and Linktree pages look like this: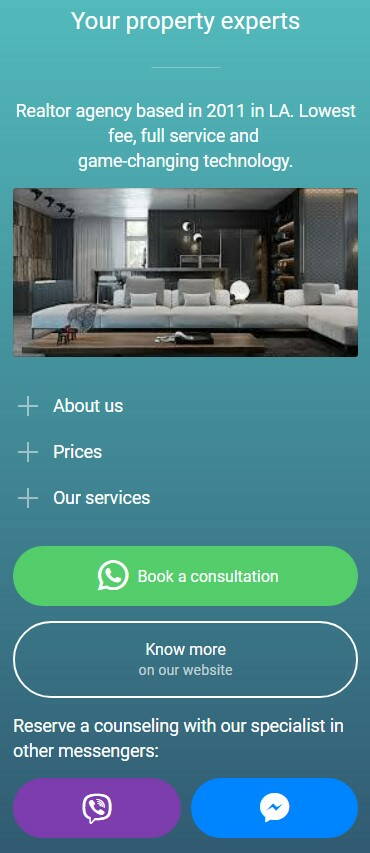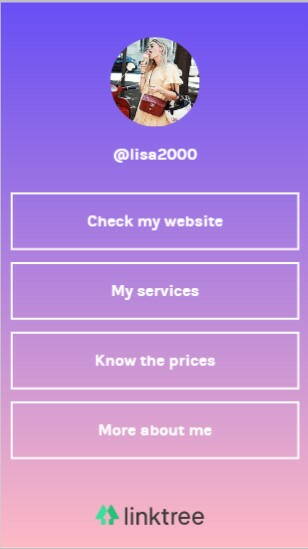 Here are some general Taplink functions which will help you to sell more on Instagram:
Adding text solves the problem of Instagram bio which is limited by 150 and its small size doesn't allow to place clear introducing text about company/services/goods.
Visual content such as photos and videos creates a clear product image. Place one or several photos in the carousel to give a sense of your product or to announce an event with a bright poster.
We have smart messenger links for one-click connection. It means when your client clicks the messenger button immediately opens the relevant application on his device (not in the browser). Fast access to popular messengers increases your conversion at least twice.
Set payment system on Taplink and receive payments from your customers 24/7. Connect Paypal, Stripe, Paystack or Paddle to reduce client's way to purchase.
Create application forms and receive leads from your customers. Add any number of fields of any type. You can also integrate it with your CRM and receive notifications in your messenger.
Connect your Taplink page to other significant systems. Integrate it with CRM, Mailchimp, Analytics systems or connect notifications to keep in touch with your customers.
Add several linked Taplink pages to place more information and to divide different sections or to make a sales funnel.
Let's compare prices on Linktree and Taplink. Linktree has two plans - free and PRO – 6$ per month. Taplink has 3 types of plans: free, PRO and BUSINESS. 3 months of PRO tariff cost 12$ which is cheaper than 3 Linktree months. A year with Pro tariff costs like 3 moths with Linktree, but still with more functions. It's the price of a couple of cups of coffee and a good investment in your business. A year on BUSINESS plan costs 54$ which is cheaper than a year with Linktree PRO tariff and this plan gives you all the functions of Taplink: from multilink to another service integration.
Here is a table showing a difference between Taplink and Linktree functions: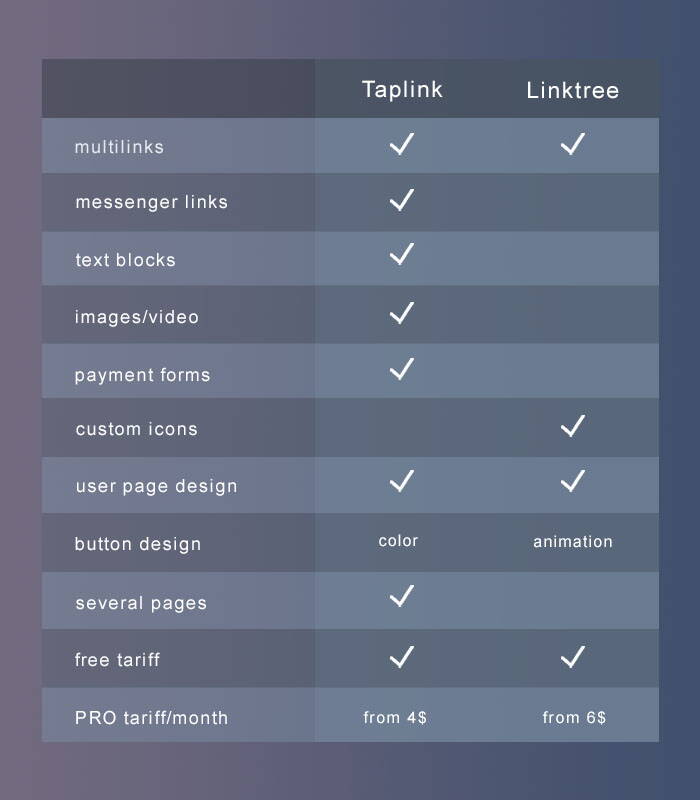 In general, both Taplink and Linktree are quite cheap, but Taplink has more functions – still, everything depends on your needs.
Setup takes from 5 to 10 minutes and dramatically increases your revenue.