Ready-made content plan for social networks of travel agencies

There are plenty types of travel agencies. Some of them are concentrated on excursions lasting 1-2 days in vicinity of the your place or to nearby cities. Others offer to go for a vacation for 2-3 weeks in other countries with exclusive entertainment programs. Both of them need stunning accounts on social networks to attract more client and make them trust. What to post if only descriptions of certain tours come to mind? There more effective post formats, you can pay someone to do it for you, or you can simply read our article and get to know all the ideas for free. We have prepared a ready-made content plan for travel agencies with posts examples and recommendations for instagram account promoting. All you need is to read and implement this information in practice.
Reading time —
10 minutes
In order for the social network to bring customers, and not just likes and comments, it is crucial to adapt to the target audience and show them that you do your best at the job. Three components are vital for this: a good visual content, a sense of comfort and clear suggestions.
A good visual content isn't about a vague photo of a ticket or a stock image of a bag at the airport. It's about real pics of sea shore or the view from the hotel balcony. Show the places where you offer to go to, and when people look at the photos, they will already be there mentally. The more photos in one post, the more your audience may want to get to the place where the pictures were taken.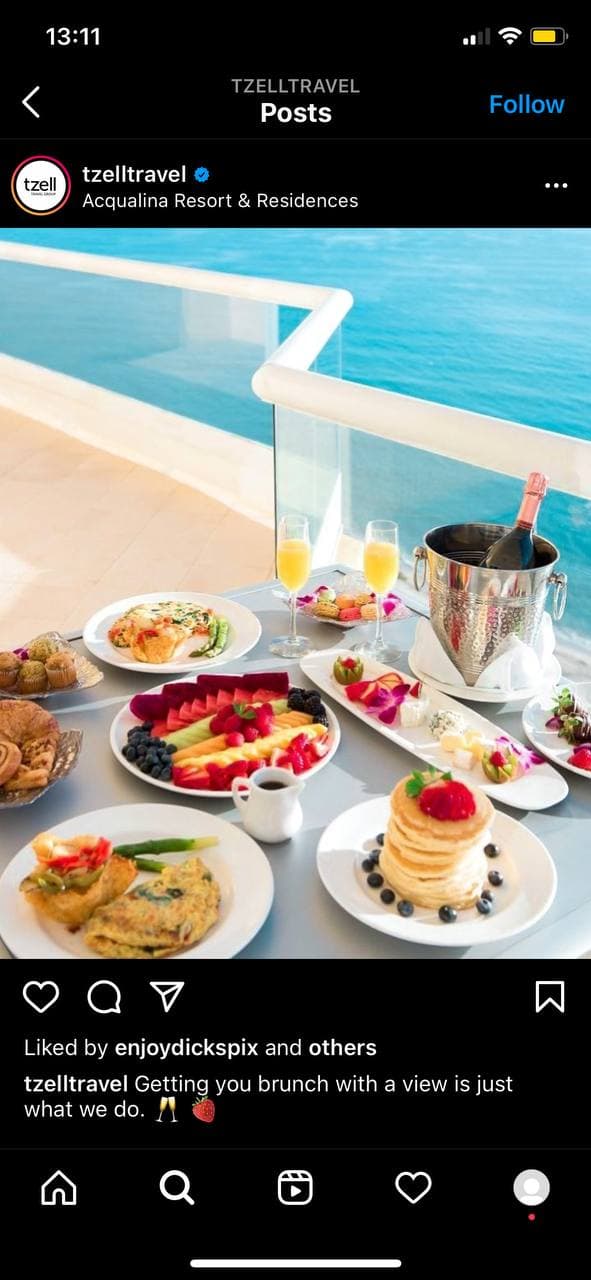 The feeling of comfort is what people expect from vacation. All what they want is to buy trip tickets and relax without thinking about self-registration of life insurance, entertainment payment, collecting a bulk of documents, etc. Try to tell in the posts that you take care about every nuances. All that clients need is a passport, clothes and a good mood.
Clear offer is a comprehensive story about the tour, not 3-4 paragraphs of information about the Maldives or Turkey. People don't like to read information that's not relevant for them or write to direct to clarify the tour costs. If you continue to waffle and don't mention such nuances, as cost, nourishment and accommodation, the audience will go to your rivals.
The most popular and simple post format in content plan for tourism is a particular offer description: where you can go and how much it will cost. Sometimes such content takes up the entire feed, and this is enough to receive applications from social networks. Just tell in detail about a particular excursion, so that followers have almost no questions.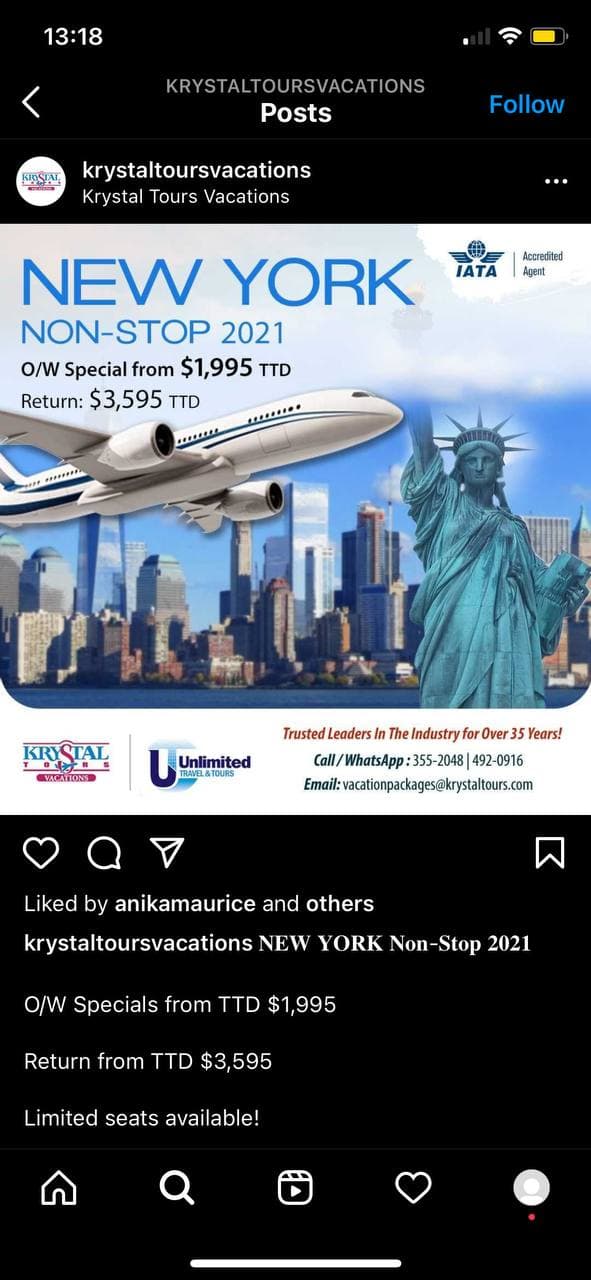 If you're about to offer a last-minute ticket, mention it in the first paragraph. Probably, amid your followers you find out someone who is ready to hit on vacation right know, or someone who's looking for a way how to save money and intentionally tracks last-minute tours.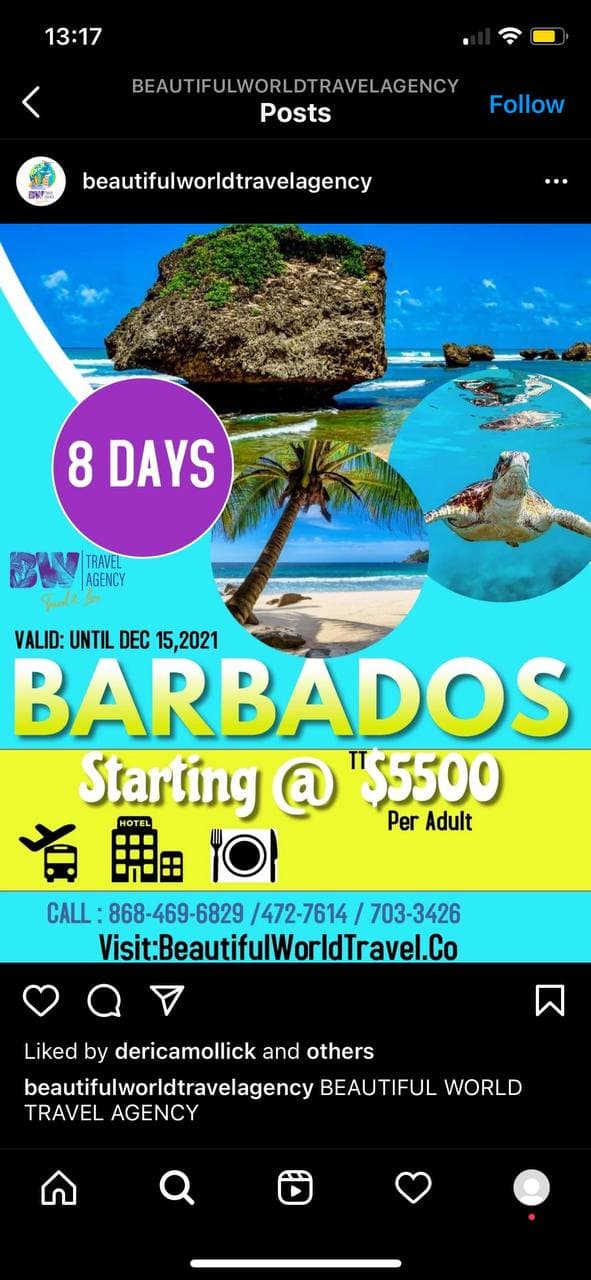 If you have a lot of offers, to avoid being tangled up, make compilations. Join together tours on some grounds and offer, for instance, weekend getaways or the cheapest tours to the sea.
Show that people tell about you. It makes your potential clients to order, as they realize that you organize good trips. So don't hesitate to post feedback. It will be perfect, if your accomplish people's opinion with photos or Instagram Stories to prove their words.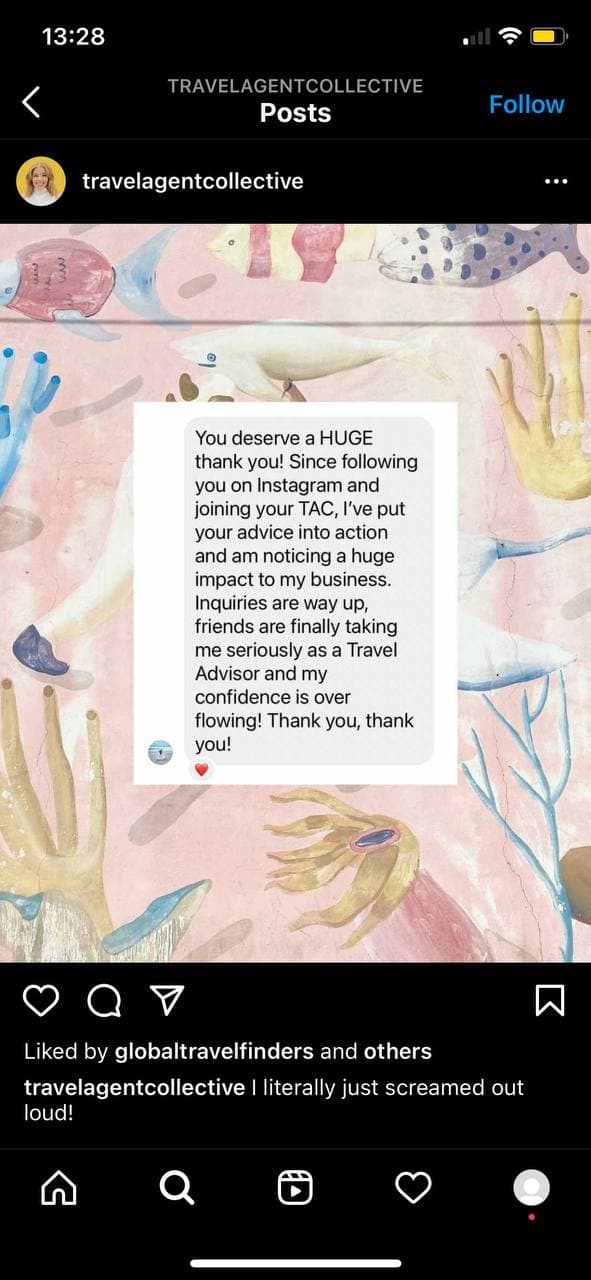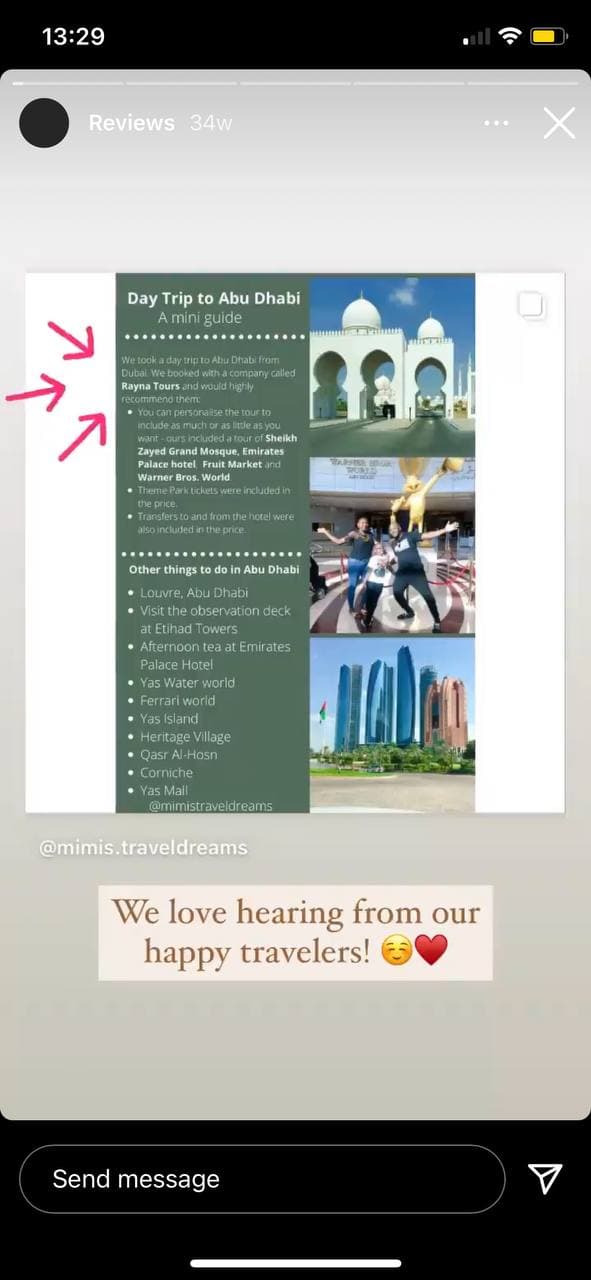 Place some feedback in Stories and add it to "Highlights", so users can trust you. Read about how to create client-attractive Stories in less than a minute here. This way, all guests of your profile will be able to see what clients are saying about you. Some of them can be added in posts. You can use any format — screenshots of dialogues, or even whole happy end stories.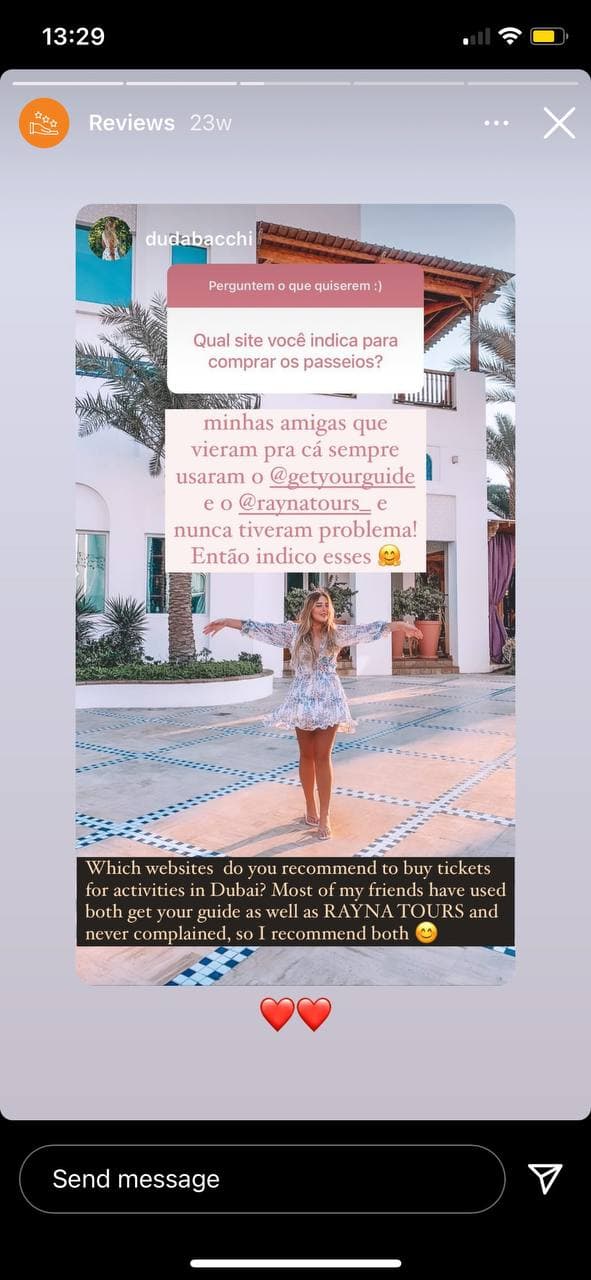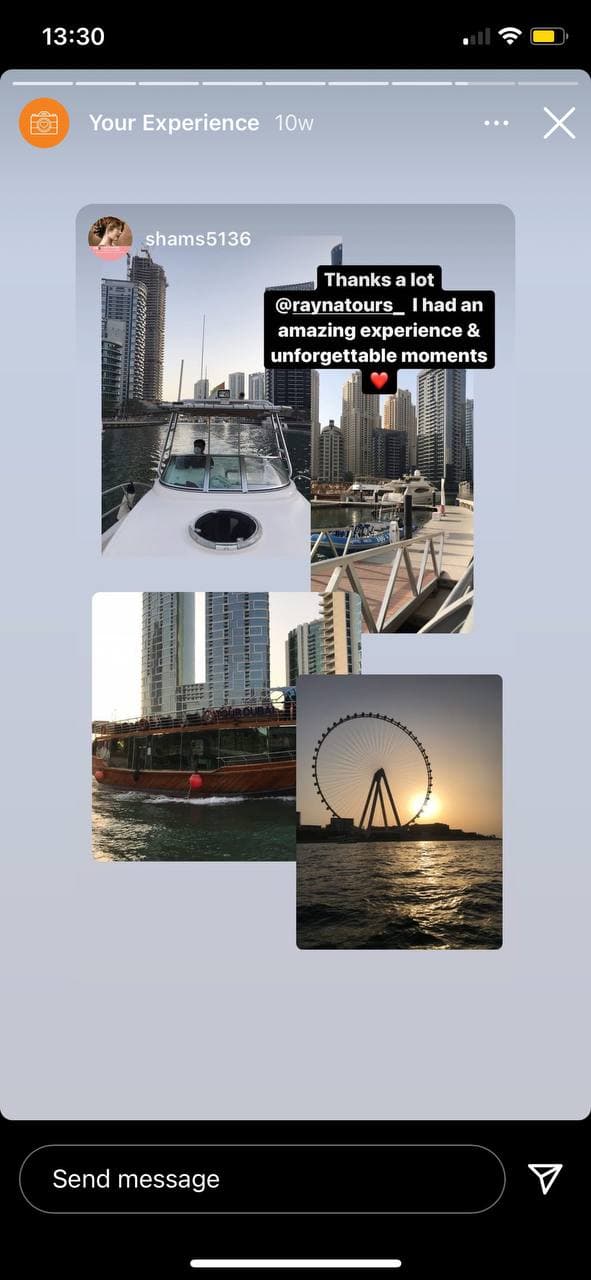 Content type: informational.
It's a special type of posts for travel agencies, stirring users interest to a specific place of rest. Tell amazing facts about this destination. Those who haven't yet decided where to go can request you an order a tour there. You can tell anything you want: for instance, about buildings or attractions located in the city or near the hotel.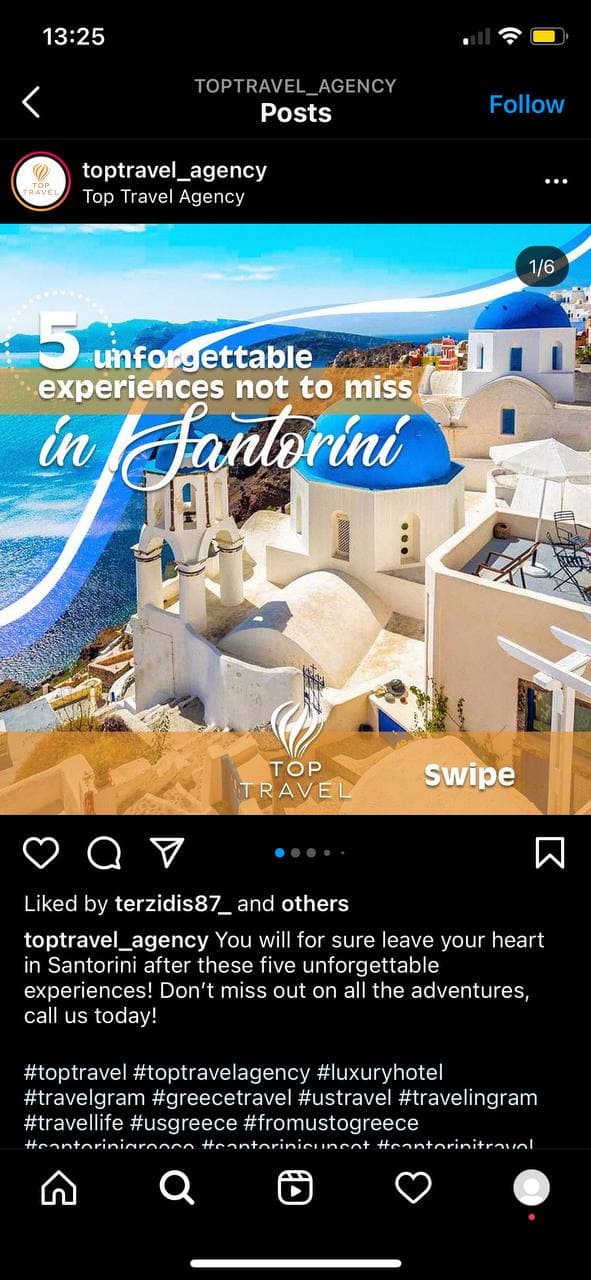 More often, this type of content is used for certain attraction or phenomenon, for instance, about grandiose Carnival in Brazil, ancient Tunisian Colosseum or incredible facts about Baikal. Additionally, use an Instagram carousel post to offer your potential clients a list of vacation spots that are worth visiting for those who're going to a particular city, or attractions, united by some attribute.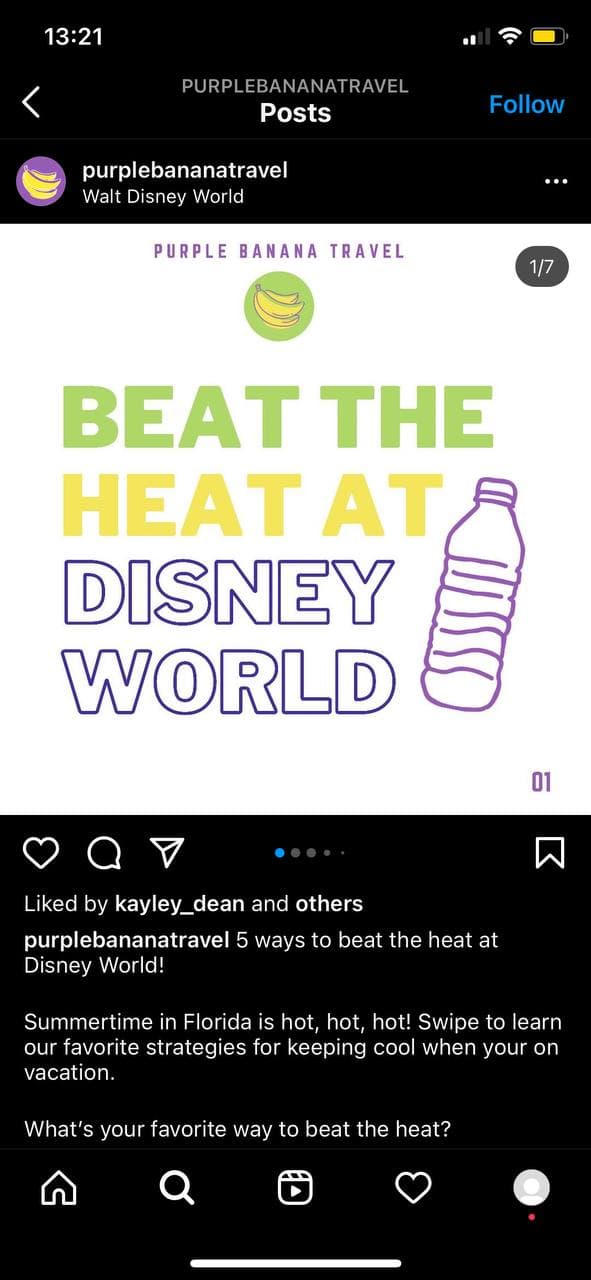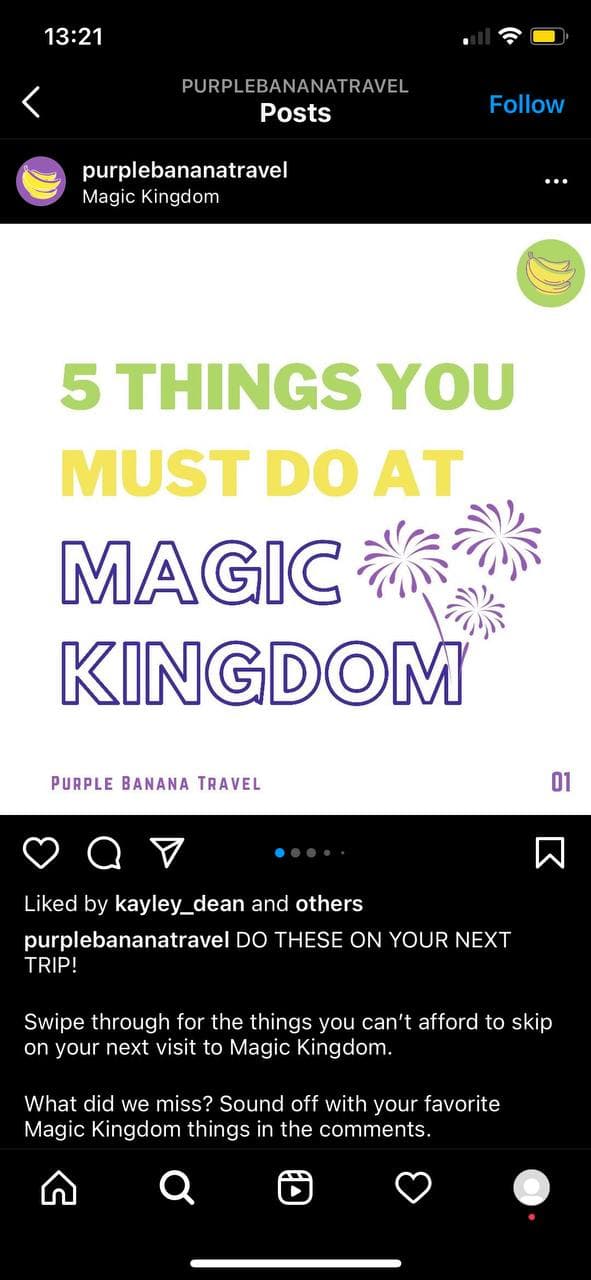 Content type: informational.
When people go to an unfamiliar place, they may unconsciously worry about how to do everything right. Or they may be calm unless some problems, for example, absolutely unknown to them rules of behavior in a foreign country and punishment for their violations. Give them helpful tips: what they should pack, what to wear so as not to shock the locals, or how to withstand the flight easily.
Warn about possible problems in advance, tell your followers how to make their vacation safe. That will show that you care about each of your potential and real clients, and your main goal is to organize a paradise vacation for them. Moreover, such content can increase the level of engagement through comments, likes and reposts.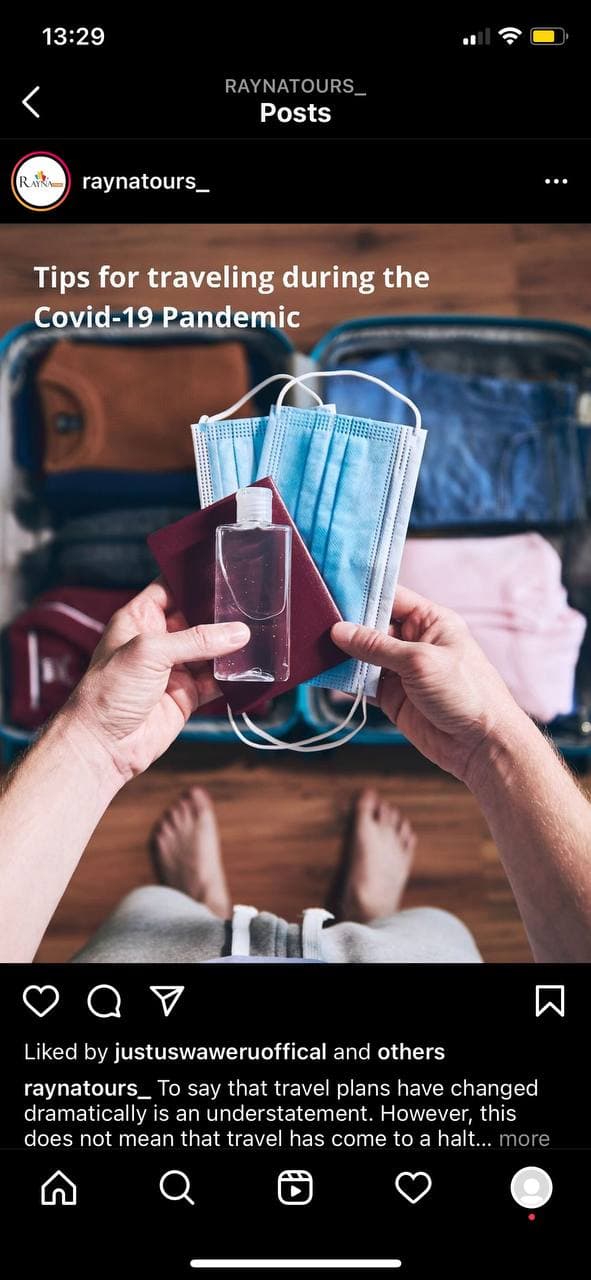 You can simply give advice about some situations, or you can serve them up in an ordinary way. Try to make humorous content. Alternatively, start a regular section in your blog — answers to questions — and on the base of followers' comments write posts. This way you'll regularly get ideas for new content, and your audience will see that you hear everyone. It will up loyalty to the travel agency.
Content type: informational.
Show what places your offer as vacation spots. Followers see photos in the Feed and imagine themselves already there on a sunbed by the pool with a cocktail in their hand. You can merely post photos or videos in Reels to bring clients to a particular tour to the place. Then showing vacation spots can be as a selling content.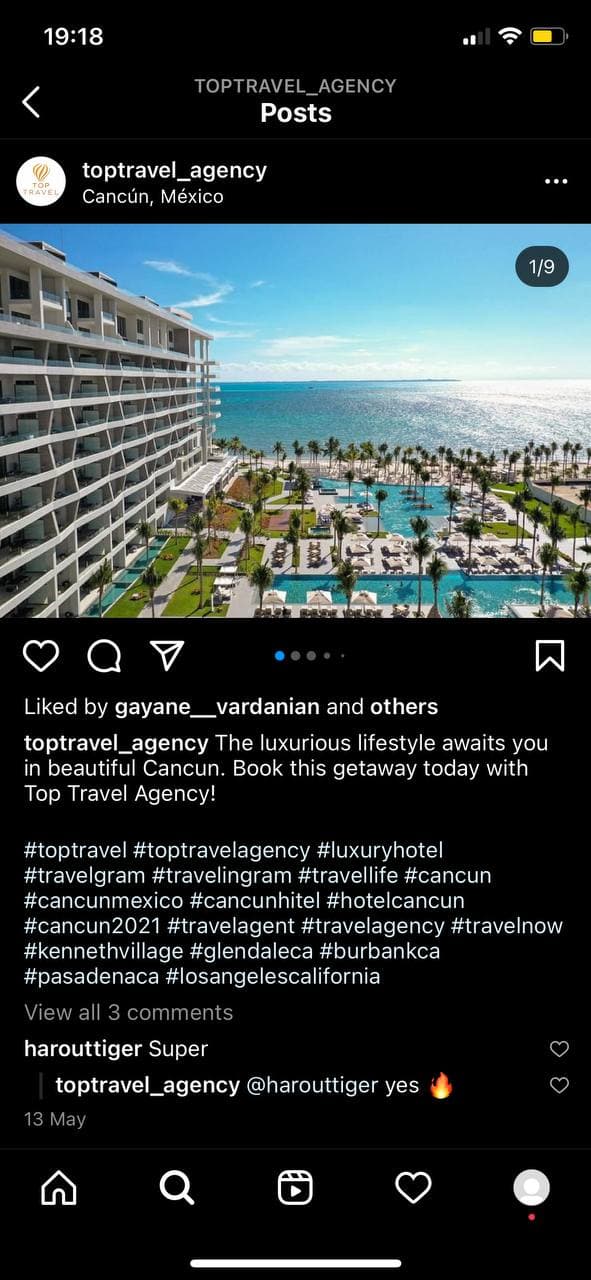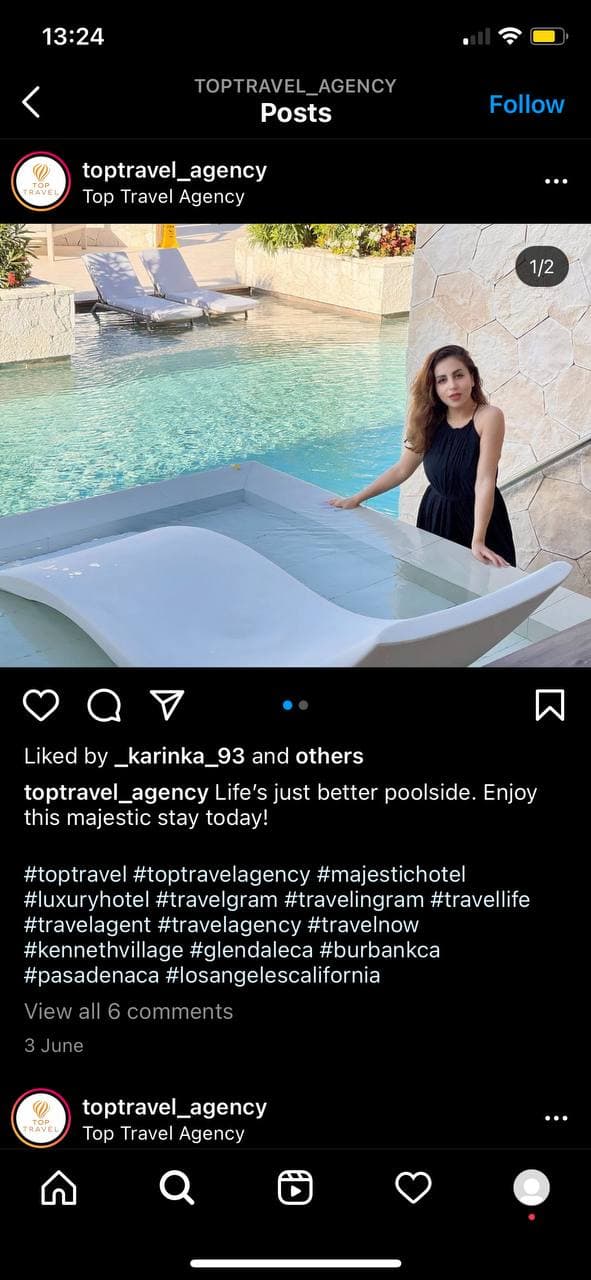 Use various types: post photos that clients send you. These are "live" photos that can attract an audience. Or tell about the conditions of living in a particular hotel and show it so that followers want to get there.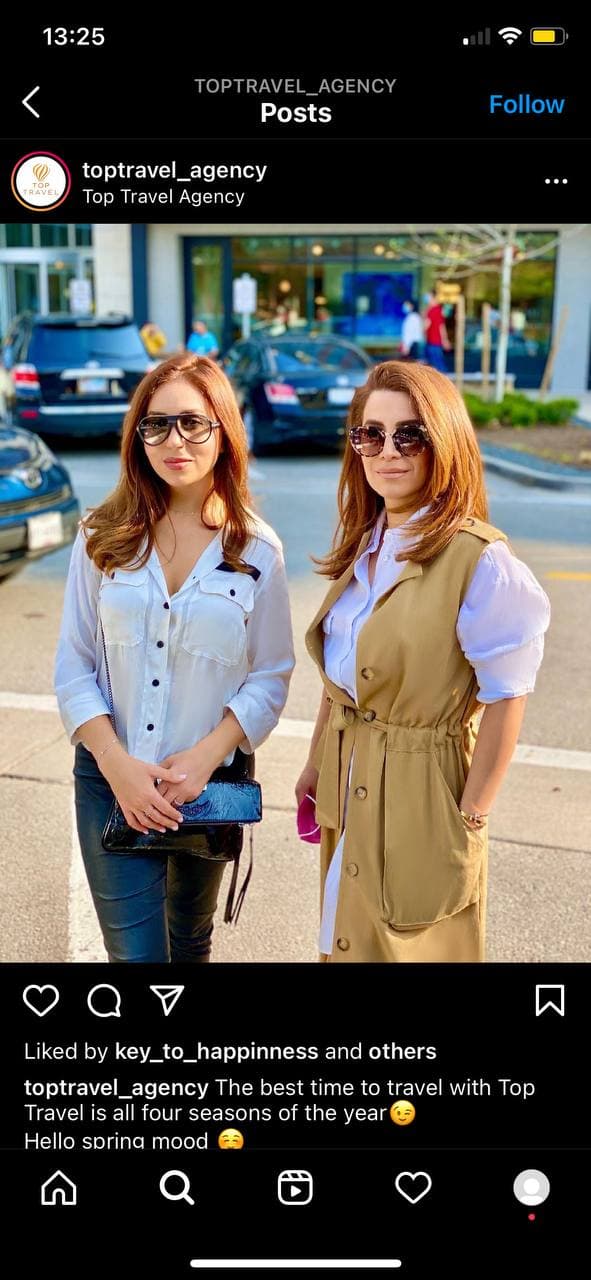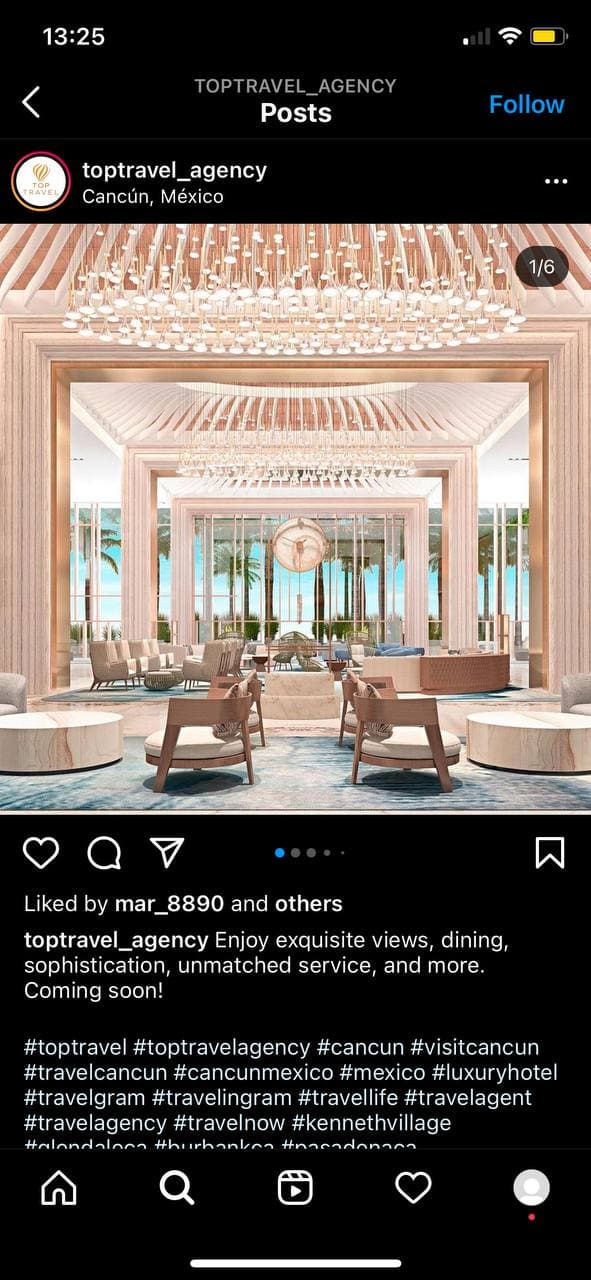 Try an interactive format of posts, when you offer followers some simple game, and they leave comments under the publication. Make a couple of puzzles, publish a crossword or something like that. Participation in such a game won't take much time for the audience, and therefore people can leave comments. The more comments, the higher the engagement and the greater the organic coverage of the posts.
Interactive is also questions for followers. Ask them which resort they liked, what they brought from their vacation or how they feel about a particular hotel. This will help not only to get comments with answers, but also to collect feedback from the audience and use the information received in marketing.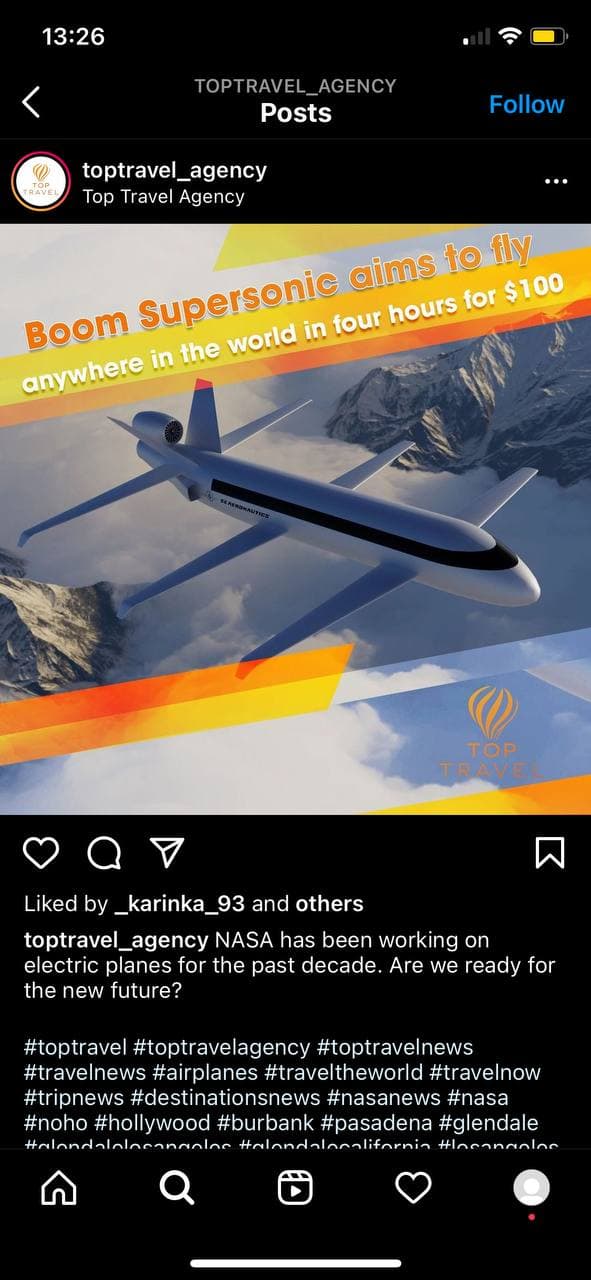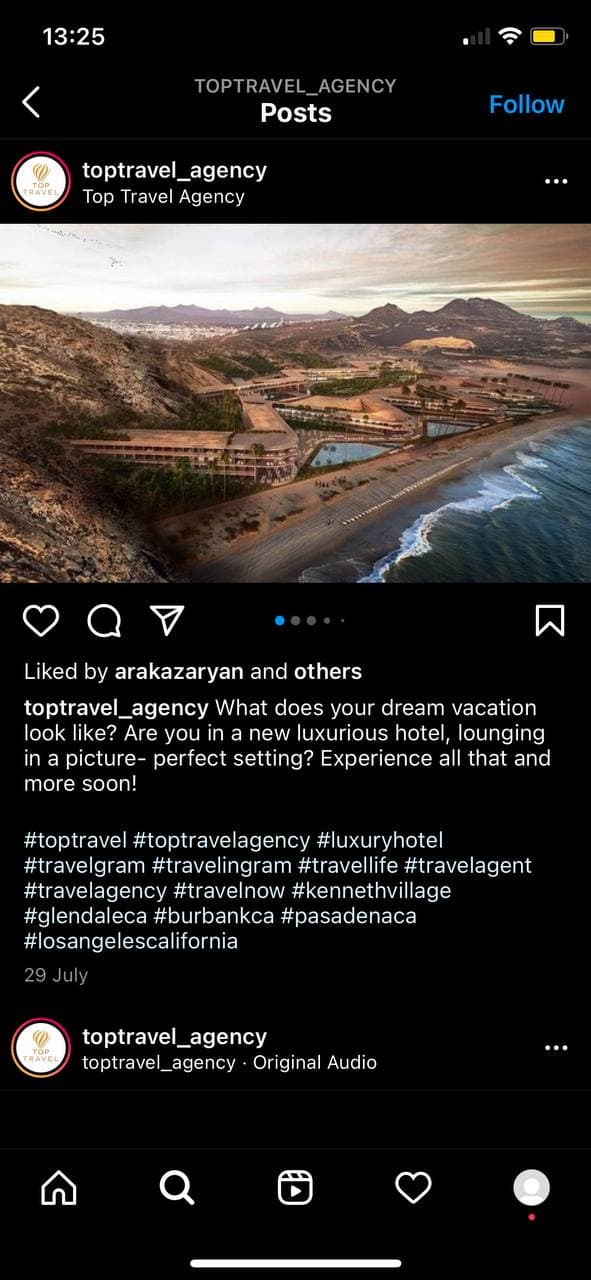 Content type: informational.
As a representative of the industry, you keep an eye on exactly what can affect it. Inform your followers about all crucial news so that any changes don't come as an unpleasant surprise to them. Now it is vital to post information about the new restrictions: tell them where it is now impossible to fly at all, and where tests or COVID-19 certificates will be required.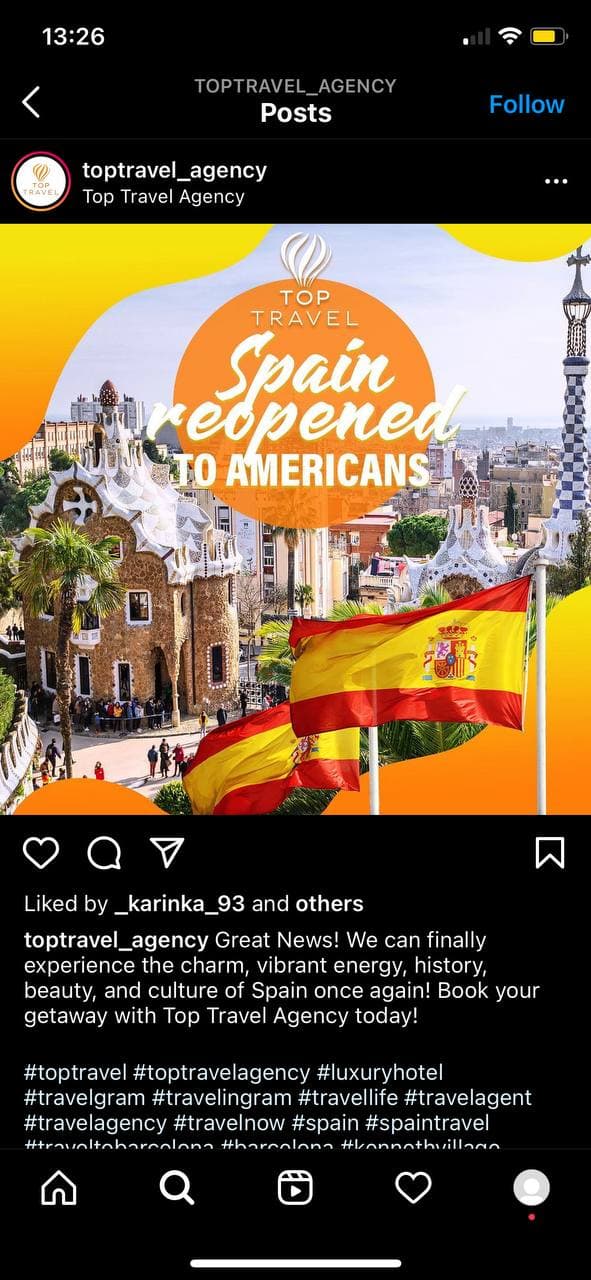 Information about changes can also act as an adjacent format. It seems that you're telling the news, but additionally it seems that you're giving useful advice on how to act now. People save and repost your publication, and you get higher coverage.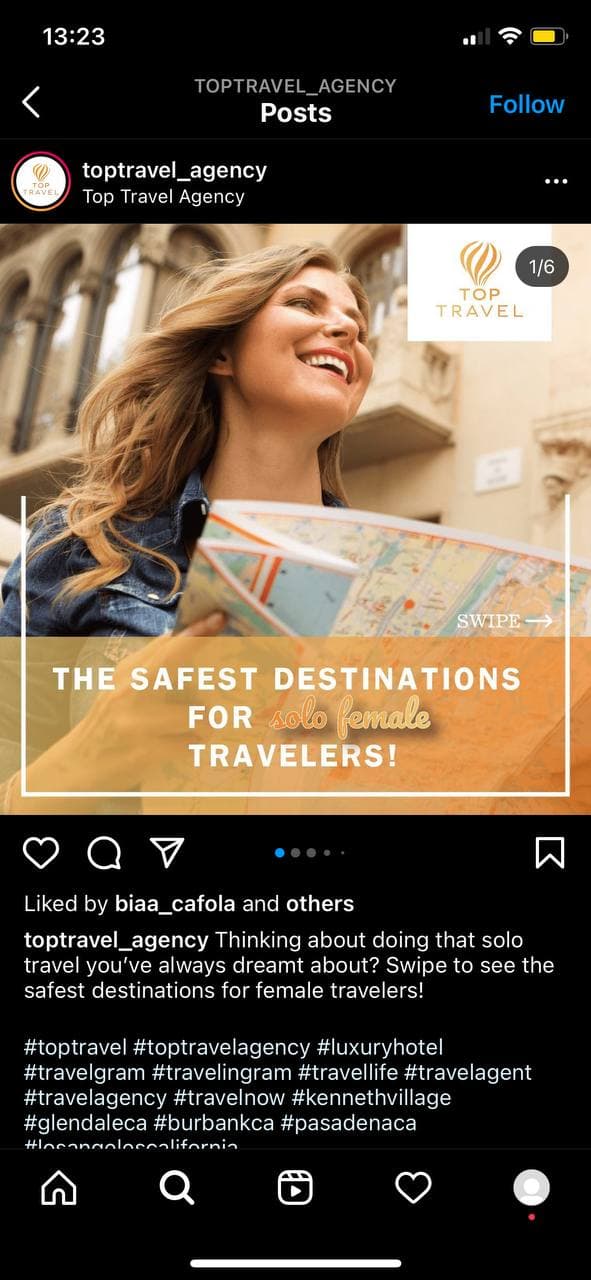 This type of content for those, who want to offer discounts or some kind of promotion. Merely tell about them on your social networks. This can motivate to contact you those who want to save money.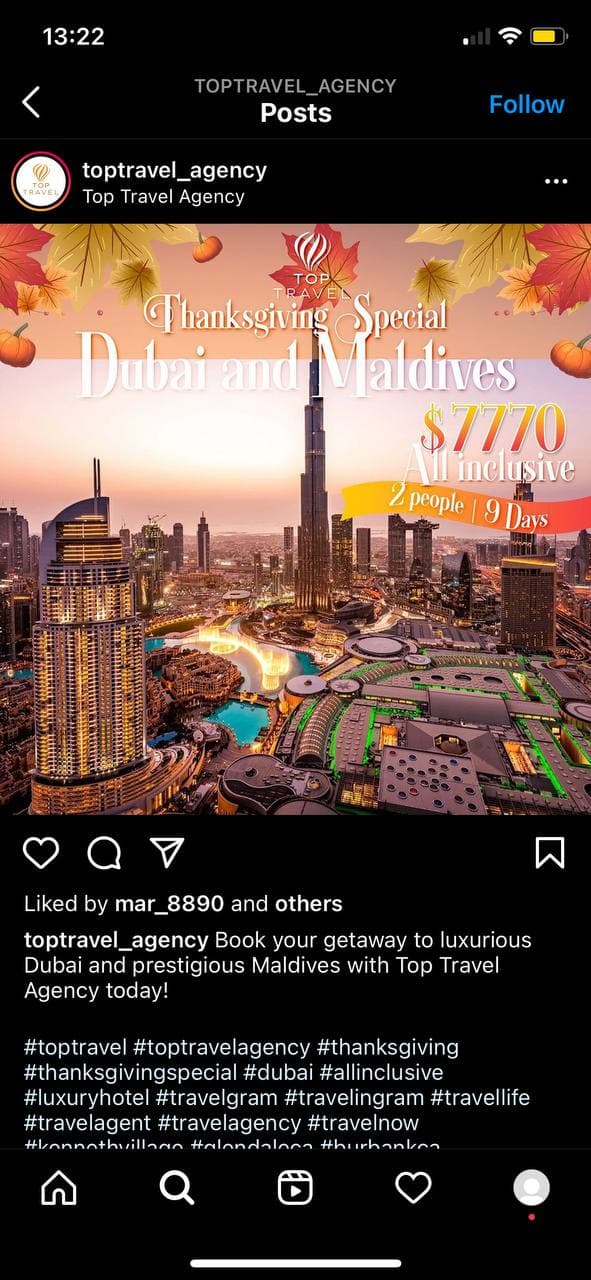 You can stop on posting only tour offers in the profile, as it doesn't influence adversely. And you can make the content more diverse, so that people visit the account not only when they want to go somewhere, but also to read useful information. Content plan made in advance will help you in that.
You can add other posts to the content plan. Due to this, you will be able to stand out from the competitors, which means that you will attract more followers and increase your sales.
Ask for permission to publish customer feedback. This is more crucial here than in other niches, as people can report confidential information in correspondence or show themselves, children, and spouses in photos. It is better to spend extra 5 minutes and clarify the possibility of using Stories or a photo, than then deal with a dissatisfied client.
Add your contacts to every (or almost every) post. This way you won't definitely lose an involved audience: people who've already decided to fly to the sea this weekend and want to quickly arrange a trip. They won't have to go to the links or search for how to contact you. They will be able to see the hotel room in the post and call you for booking.
Stay in touch always or as often as possible during the day. That's especially vital during selling last-minute tours, when potential clients want to deal with all the issues here and now. You will be silent for half an hour – most likely, they will go to the competitors.
What kind of content do you use more often? Share your experience in the comments below!