Sales funnel:
guide visitors toward a buying decision
04.02.2020
Sales funnel is an integral part of any business. It exists no matter whether you know that or not. However, only being aware of it as well as its main stages and the role it plays you can affect the course of events and your company`s success. All you need to do is understand this funneling process and create one suitable for your products or services.
What is a Sales Funnel?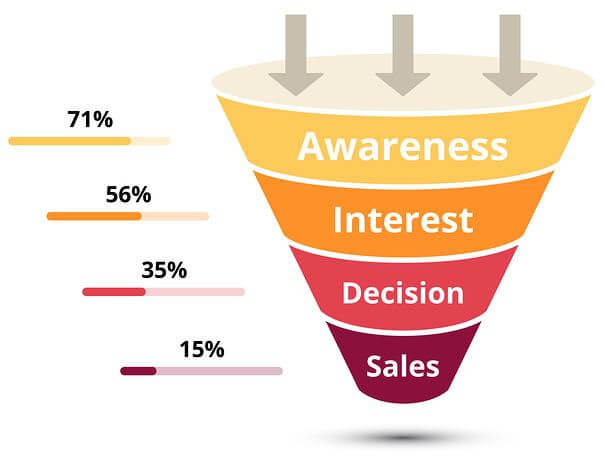 First of all, before we start reflecting on this mysterious phenomenon and all the benefits it brings, let us figure out what stands for a sales funnel. The simplest definition of this concept is the path people take on their way to purchasing your goods or services. However, in practice, things turn out to be much more sophisticated than they may seem.
Every visitor travels the path through the funnel individually and a bit differently. Some of them never leave the top, others slowly but surely pass through the sales funnel from the beginning to the very end. And then, there are those who rush straight to its bottom, skipping or even mixing up the steps other people usually make.
Fortunately, most visitors tend to act and move ahead according to a certain pattern. So you have all the chances in the world to put your potential customers on track to the bottom of the sales funnel and help them reach it if you build an applicable model for your business. A well-considered one lets you influence how many visitors turn into buyers.
But remember that this marketing concept is defined as a funnel for a reason. Quite a few potential clients may begin at the top-end of the sales funnel, but it narrows and gets more targeted with each step and only a part of all the prospects really end up making a purchase. This is how sales funnels normally look and shaping yours that way makes sense.
Why is it important?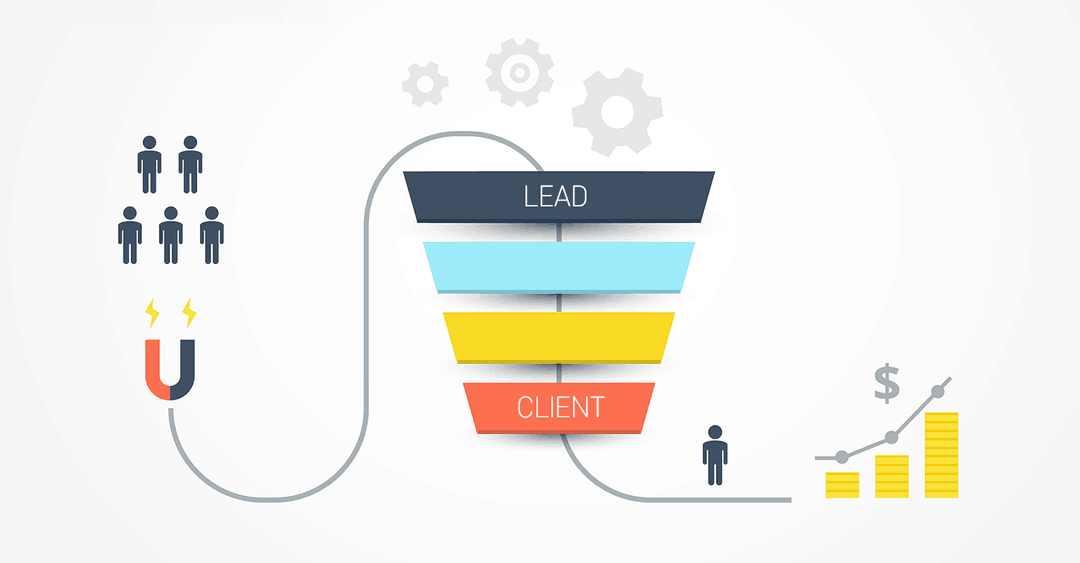 Sales funnel is far more than an interesting theory and plays a vital role in all the businesses, whether they are online or conventional. As we already mentioned, it represents the prospects' way of becoming a buyer in detail. Exploring the journey helps a marketer understand potential customers and see their triggers and barriers more clearly.
Have you ever noticed that some companies might get a lot of likes and followers on social media, but still suffer from low sales? Did you wonder why some visitors drop out as soon as they come to your website or start looking through your goods and suddenly leave empty-handed? Building a sales funnel sorts out the processing and gives all the answers.
This model shows a marketer what and when motivates an occasional visitor to stay longer, consider an offer, choose items and finally buy them. At the same time, it helps to reveal the holes in your funnel – turning points when your prospects leak away and never convert, nor even come back.
Having a defined sales funnel, you can always track your conversion rates, analyze the situation and come up with solutions, optimizing your business to give visitors all the information they may need to make a decision as well as a friendly environment.
Otherwise, you may never understand what improvements you need to reach your goals and lead the company to success.
Besides, a well-optimized sales funnel enables you to deliver the right message at the right moment. Guiding a prospect properly and helping him or her to stay focused means a lot. Everything should come in time.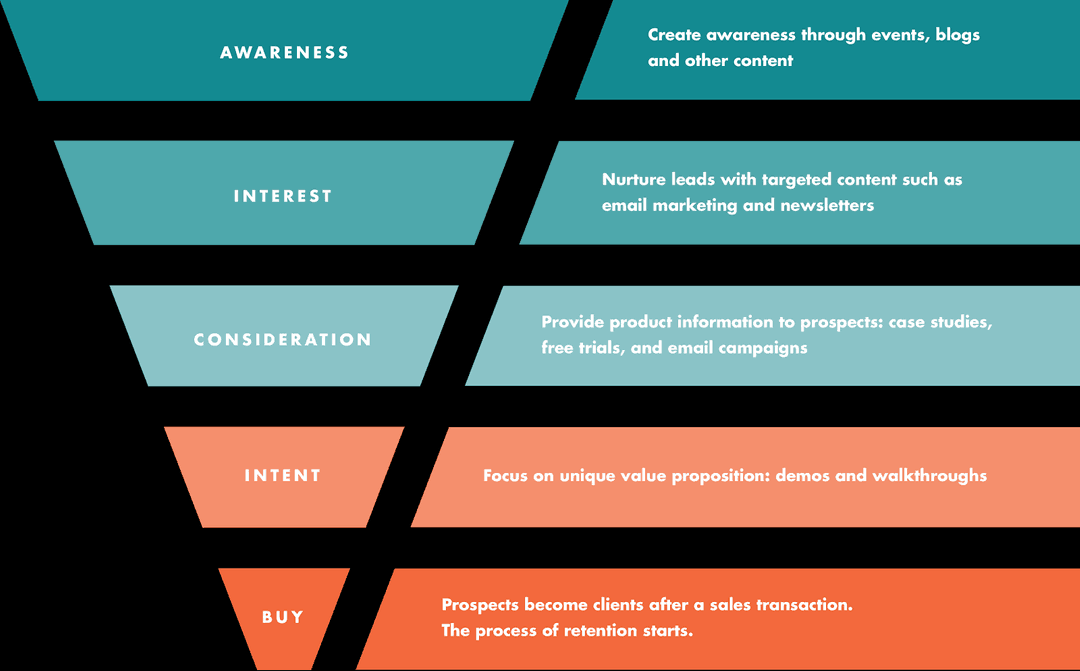 Let us imagine a common scenario. You pop into a random shop looking for a good smartwatch. You have never owned one and need to learn more about it, compare some options and main features. But the shop assistant which meets you at the entrance is so fixated on sale that talks only about the prices, discounts or persistently recommends only one model without asking what you want.
This may make you wonder if the sales representative cares about your needs and prevent not only from buying here and now but also from coming back to this store at all. Things could be different if he told you about the most wanted features of the devices and compared some models of your choice first and only then informed you about the prices. As we can see, bad timing and lack of desired information may cost you a customer.
How it Works
An ideal sales funnel follows a natural order of things. It saves people from frustrating scenarios like the one described above and helps both a prospect and a marketer attain their goals, which is of great importance, if you want to win loyal customers, buying your goods again and again. So let us analyze an ideal course of events.
A woman at the very top of the sales funnel visits a store to check out the assortment of shoes. A salesman greets her, offers assistance and lets her take a look around. The potential buyer gets attracted to a pair of pumps and the marketer helps to choose a shoe size. Then he shows her a purse to match and informs that she can get a discount if buys three or more items.
The customer likes an offer, takes the purse, selects one more pair of shoes, pays for her purchases and leaves in a good mood. Several weeks later she comes again to buy more shoes. It works just the same on your website or even social media business account, except that there you have pages to guide your prospects and the process is a bit more complex.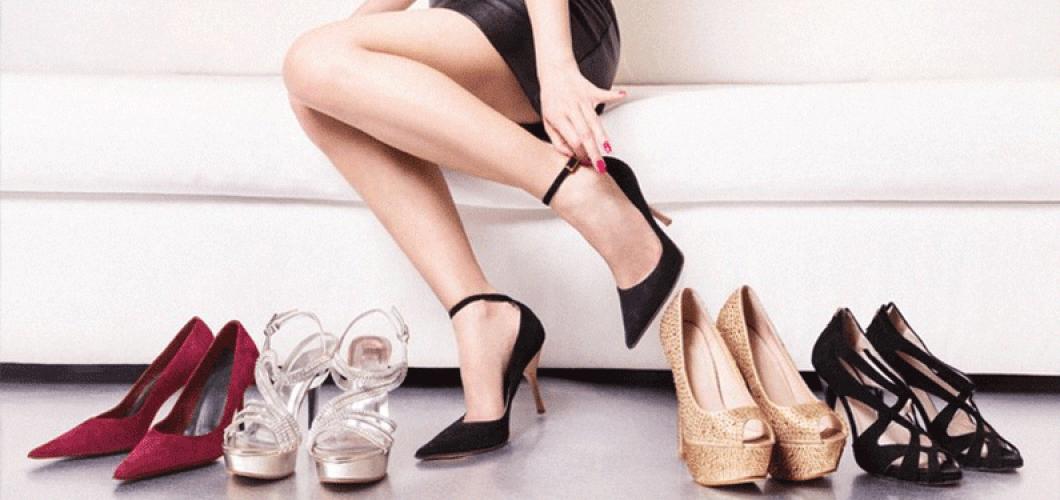 However, it is also easier to track and optimize if you view your website visitors` way as a funneled model consisting of several important parts or stages. They might differ depending on the branch, area and some other specifics, but the main stages are always the same:
Awareness
Interest
Decision
Action
These stages come in this certain order. That is how people normally move through your sales funnel.
Each stage differs from others and requires a particular approach from the marketer. So it is highly recommended to distinguish them and act accordingly.
Awareness
This stage starts when potential clients notice you for the first time. They might see your Instagram post in their feed, tweet, advertisement or just find your website via Google search. There is plenty of ways of how a prospect becomes aware of your company.
Sometimes creating awareness is even enough to win some consumers immediately. If a prospect gets fascinated by your item at first sight or has been looking for it for some time already and your offer is the most advantageous one, he or she may buy it very fast.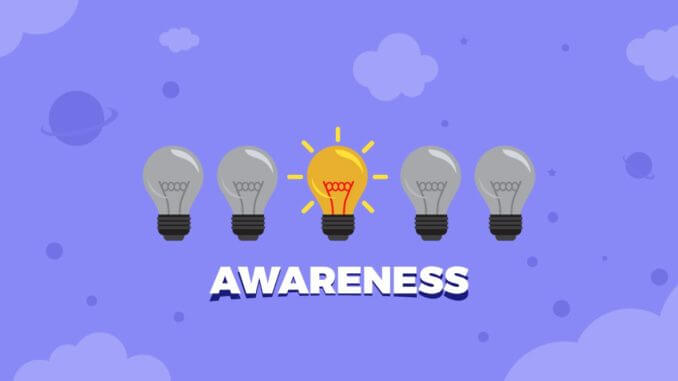 However, in most cases, this stage relates to the top of the sales funnel, which means you should attract and retain the attention of those who land on your website. You may offer them to sign up for your mailing list to get a discount on their first order or get useful information on the associated topic. As soon as the prospects fill in the form they turn into leads, which means they intend to visit your website again.
You can speed it up a bit by sending them a coupon code, special offer or invitation to a private sale. But do not be too persistent. Otherwise, you scare potential customers for good and they never reach the next stage.
Interest
At this point, your leads start to show some interest and consider their options. They may do some research and compare offers. As they already made it to this level of the sales funnel your mission here is to create useful content that will tell them more about categories they are interested in and show their advantages. Act as an expert or hire a professional to establish your expertise.
Remember, there is a lot of competitors in every sphere. Helping a potential customer to make an informed decision and answering their questions win much more respect, trust, and engagement, than pushing your product and chasing everyone who dares to visit your website. Too much pressure might scare off your audience and make you lose them to your competitors.
Decision
Now, when the research is over and the best options are found, the customer is up to the final decision. There is a good chance he or she will be choosing between you and your competitor or 2-3 your offers. At this stage, consumers pay much more attention to details, including prices, delivery costs, and discounts than ever.
It is high time to make your best and most exclusive offer, tell more about the main advantages of the products they got interested in and guarantees. If you provide some services, especially B2B, you might want to show the customer some positive reviews from your clients. It will tip the scale in your favor.
Action
Finally, your lead reaches the very bottom of the sales funnel and converts into a customer. But do not think it is the end. This stage requires action from both the client and the marketer if you want to retain your buyers and inspire them to come back to you later, recommend your shop to their friends and write good reviews.
Thank them for choosing your firm, invite to join you on social media, ask for feedback. It is also a good idea to let them contact you for tech or service support.
Great sales funnel examples and templates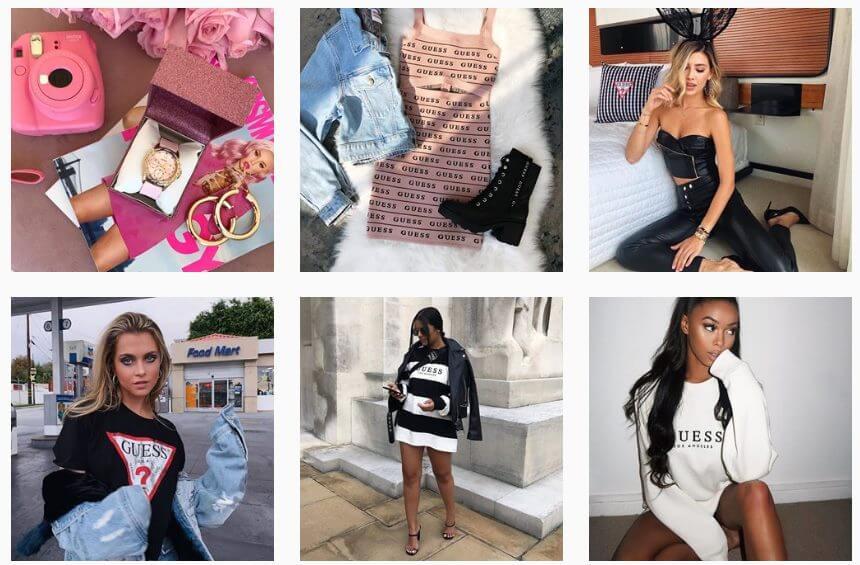 Knowing how exactly sales funnel works, we can look at a real-life template to understand how a marketer can guide a potential buyer or client from the moment they visit the website to purchasing. Let us consider the sales model of a popular clothing brand and retailer Guess.
This brand shows that a business can be fabulously famous without constant television advertising. Their target audience consists of young and modern people, mostly women, and they know exactly where to find them.
Guess top of the sales funnel includes, but is not limited to, a powerful Instagram account, where they have more than 7 million active followers. Posting beautiful photos of people, wearing their products, ready-to-wear outfit ideas as well as cute and witty content, they easily build awareness of their clothes. Meanwhile, they add a lot of stories with links to the shop.
As soon as prospects go to their landing page, they see the most actual collection best offers and the most demanded product categories, including a final sale. Looking through the items potential customers learn that they can get exclusive discounts, access to closed sales, notifications of the new arrivals and free fashion advice and turn into leads.
Finally, consumers decide to update their wardrobes and compare fashion pieces. Guess website shows every angle of the chosen product, detailed description and recommends clothes and shoes in the same style. Proceeding to the cart, one can see if there are any applicable discounts. Once the order is placed, the customer gets a confirmation letter with an expression of gratitude and all the data to track the delivery.
How to create sales funnel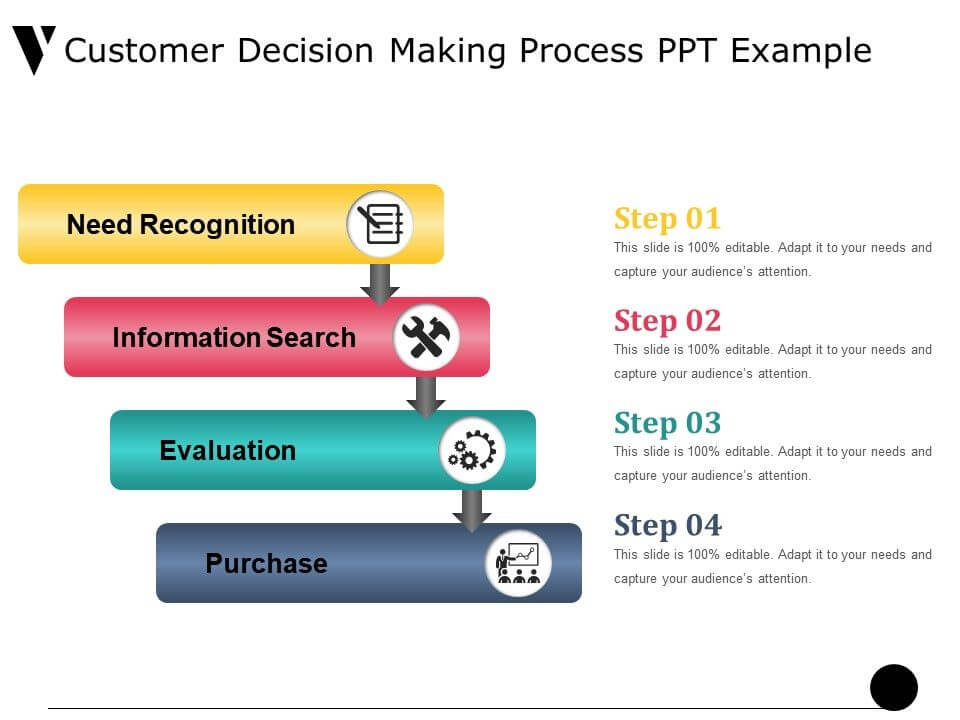 Sales funnel creation for sure takes some time and effort. It also may require special software to learn more about your consumers and optimize the website and maybe some other resources. But it really is worth it in the end, because once you created a sales funnel and understood your audience, the sales rates grow fast, making your business more and more successful.
Step 1: Research your potential customers and their behavior
You never boost sales unless you define your target audience. Marketing to every human being leads nowhere. Use special tools to learn who and how moves around your website, categorize your loyal clients and find out which people purchase more often to understand who your potential customer is.
Check out their behavior. Where do they land to your website from? What pages do they visit? How much time do they spend there? Where they prefer to click? These and many other data tell you about their interests, preferences and where you can find them to attract to your website. You can also use a CRM system to analyze how many people convert and how long it takes.
Step 2: Grow your audience
Your sales funnel works only when you have traffic, which means you should attract consumers. Check whether your website is indexed by Google and easy to find. Do not forget to add good content that people will really like and share.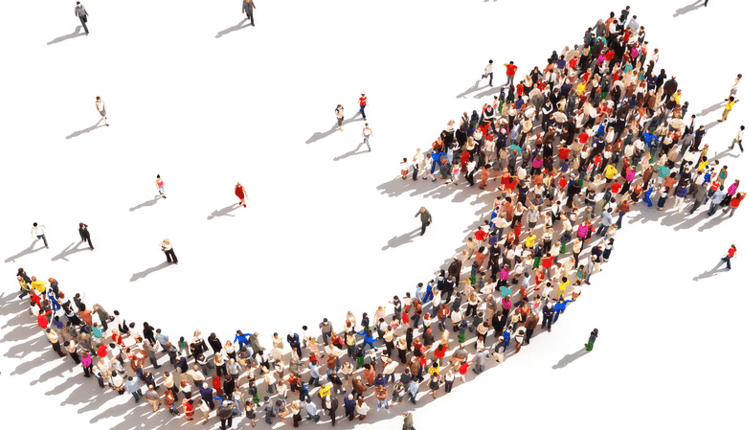 Start your brand accounts on social media and post a lot of diverse photos and videos. Provide each of them with an interesting story or description, relevant hashtags and geotags. Pay particular attention to how-to, exclusive and funny content on the topic. They magnetize people.
If you do not mind spending some money on promotion, you can take advantage of the following popular advertising platforms:
Facebook Ads
Google AdWords
LinkedIn Ads
Twitter Ads
Another great opportunity to attract and retain attention is giveaway actions, free trials, and competitions with prizes. Most people love to get something for free, even if it is something not too expensive. Acts of generosity like this motivate your potential customers to visit your website and accounts more often and tell about you their friends.
Step 3: Optimize the website and social media
You are likely to find some barriers, analyzing your pages. Try and change the pages, where most of the prospects lose their interest and leave the website. Build a landing page and provide it with the most irresistible offer.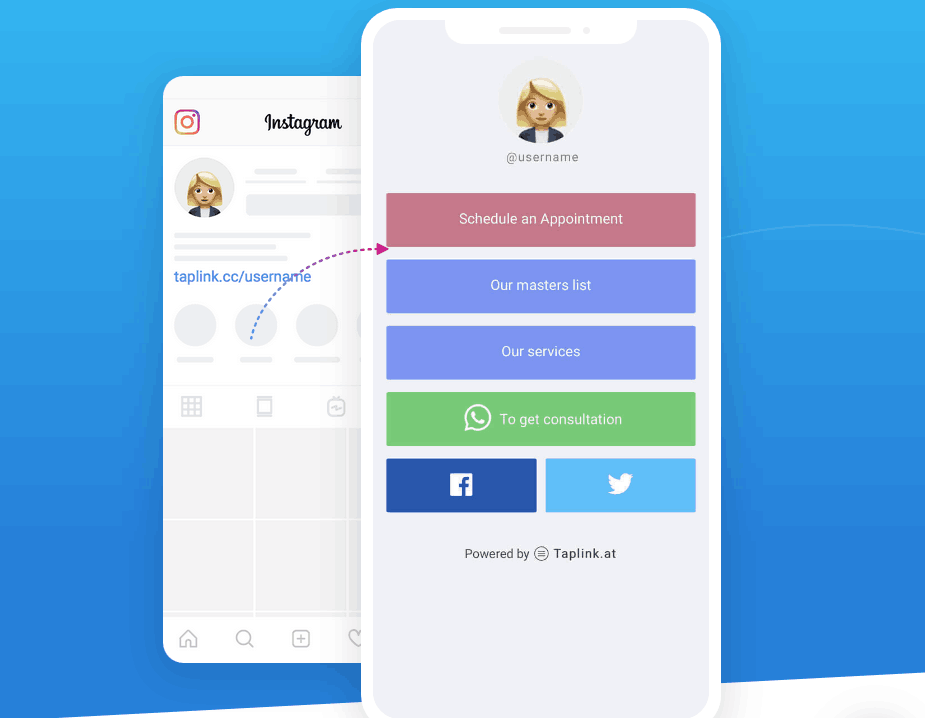 Make sure your space is easy to navigate. This concerns your social media accounts as well. Keep them active, vivid, interesting and leave catalogs with items and prices to special software like Taplink.
It helps to insert into your Instagram account everything you need for a successful sale, including a micro landing page with internal pages, application forms, links, CRM systems, and many other features. Taplink.at also accepts online payments, which means your customers can place an order and pay it right on Instagram.
Step 4: Create mailing lists
Offer visitors to subscribe to you so that they would not miss sales, discounts, new arrivals, webinars or useful tips and tricks on the topic. Establish mailing lists to send them attractive and really important content. A drip campaign should be scheduled. It is important to mail regularly but not more than 1-2 times per week.
You may also make really special and tempting offers, but they should be limited and not too numerous. Otherwise, the factor of scarcity disappears and a consumer gets immune to this approach.
Step 5: Stay available and keep in touch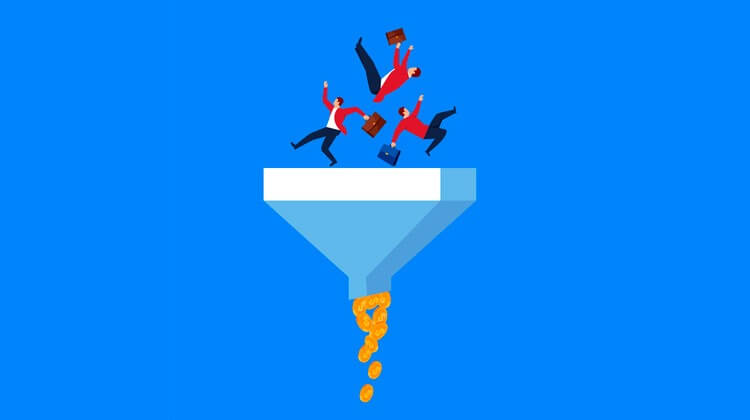 Do your best to answer all your customers` questions at all stages of the sales funnel and even after deal closure. Feel free to contact the buyers you already have to thank them for their order or invite to leave feedback, get coupons, check out new items, but do it reasonably and moderately.
How long will that take to work?
Building a sales funnel is a long process. It will not take all your time and energy, but if you really care about sales growth and getting ever more loyal customers, making it work should be never-ending. Sales and consumers behavior are quite changeable, which means there is always things to learn, optimize and improve.
Have you ever dealt with sales funnels? What stage seems the most difficult and significant to you? Reply and share to learn your colleagues' opinions.