How to add WhatsApp link to Instagram account (Clickable link in bio)?

In this article we will tell you about 3 ways to create a clickable link for Instagram bio. We will show how to add a pre-filled message to the link so that clients don't have to think what to write. We will figure out how to make the link well formed and ordered. And finally add WhatsApp link to Instagram account.
If you read this article you know it's easier for subscribers to contact account owner with a clickable WhatsApp link in bio. Yeah, no one's going to dial phone number from bio manually to call or text you in the chat app. So let's make and add WhatsApp link to Instagram profile.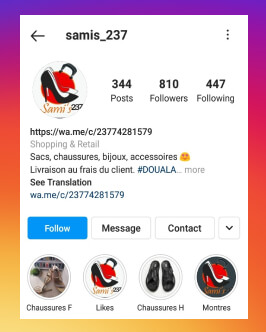 Here we are going to show you three methods to make a link to the chat app. Use two templates bellow or automatic link generation in the app.
Type your phone number in international format without "+", dashes or space.
In the U.S. the phone number link looks like this
https://wa.me/1XXXXXXXXXX
Users are always in a hurry. There is no time to make up and write text. You can add a pre-filled message and users won't have to type it themselves.
Add the text after your phone number. Write it after "?text= <…>". Think of the text to replace the dots. Pay attention — underscores are used as word spacing here.
https://wa.me/1892ХХХХХХХ/?text=<Place_order>
The second template is based on the same principle. It has the form "http://api.whatsapp/com/send?phone=<phone number>".
Pre-filled message for this template is to be added after the number too. Unlike the first template here we divide words with brackets and symbols. All the text follows "&text=".
https://api.whatsapp.com/send?phone=1892XXXXXXX&text=<Place>%20<order>%20<now>
Whatever template you choose, WhatsApp dialog will be opened with a ready-to-send message after you tap or click on it.
The third way to create WhatsApp link for Instagram is for the business account.
Go to "Business Tools" in WhatsApp.
Choose "Short link". A handy menu will be opened. You don't have to type your phone number as we did with the templates. To add a pre-filled message, tap the button on the right of the "Message" to turn it green. Then type the words in the field at the bottom of the page. WhatsApp link for Instagram will be generated automatically. You'll see it up the page.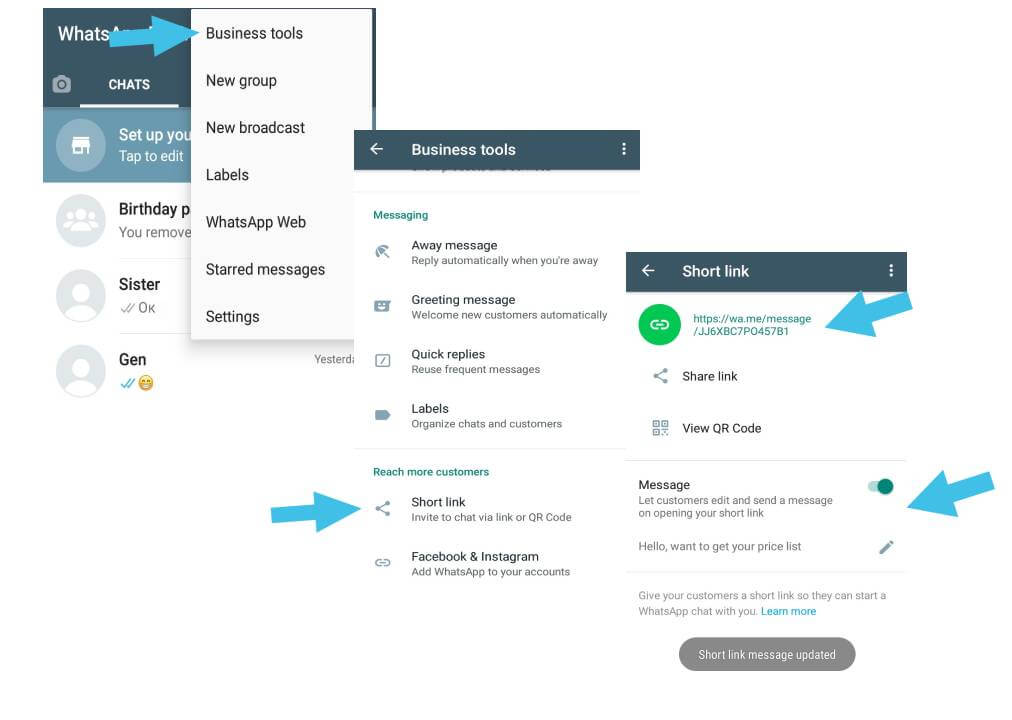 https://wa.me/message/KLOIUYCLFFWSPW
Now you can copy WhatsApp link to Instagram. Tap the link to do it.
You can create the link using Whatsapp link generator services. We recommend wa.link. Navigate to the website, put the number and text for a pre-filled message. Click "Generate my wa.link". There appears a window with your link and QR code.
You can add WhatsApp group link to invite Instagram visitors to a group chat as well. Link generation is available to chat admins only. The app makes a link automatically, just as in case of WhatsApp business account.
Open a group chat, click or tap the 3 dots at the top right of the page.
Choose "Invite via link".

In the Invitation menu you will see a link followed by available options. It's of this kind

https://chat.whatsapp.com/KoSDgiPregITbo
Choose "Copy", now the link is on the clipboard.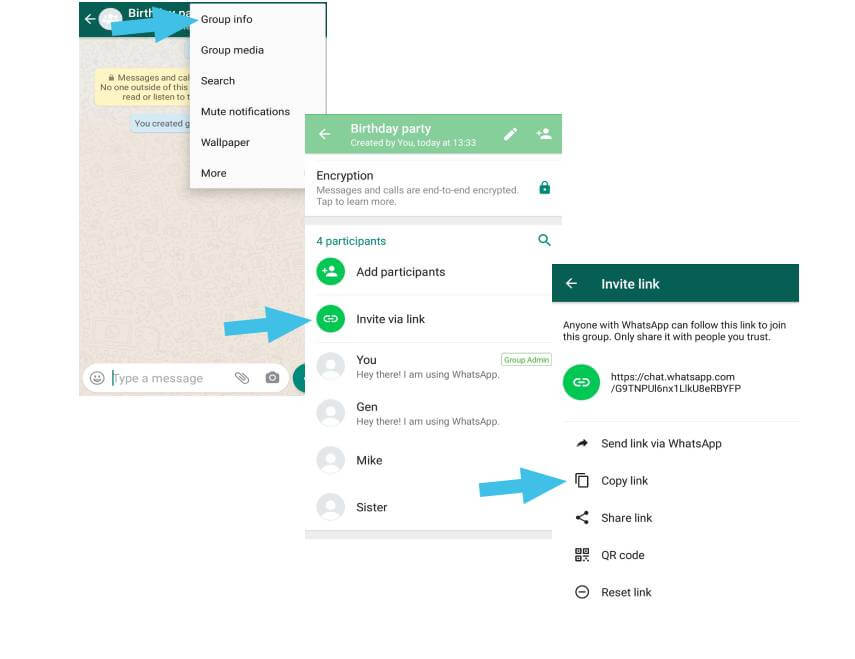 If WhatsApp link includes only a phone number, it looks ok. When we add message text or copy the link from business account of the chat app, a lot of extra symbols appear. The link looks a mess.
Use Taplink to make it better. This is an advanced link in bio tool which allows you to pack a long link of jumbled symbols into an outlined button. You can also add links to other messenger apps like WhatsApp, Facebook messenger, Telegram etc. Give your clients an opportunity to choose the most convenient way to contact you. Remember, not everyone uses WhatsApp. Buy the way, WhatsApp link is available for free in Taplink.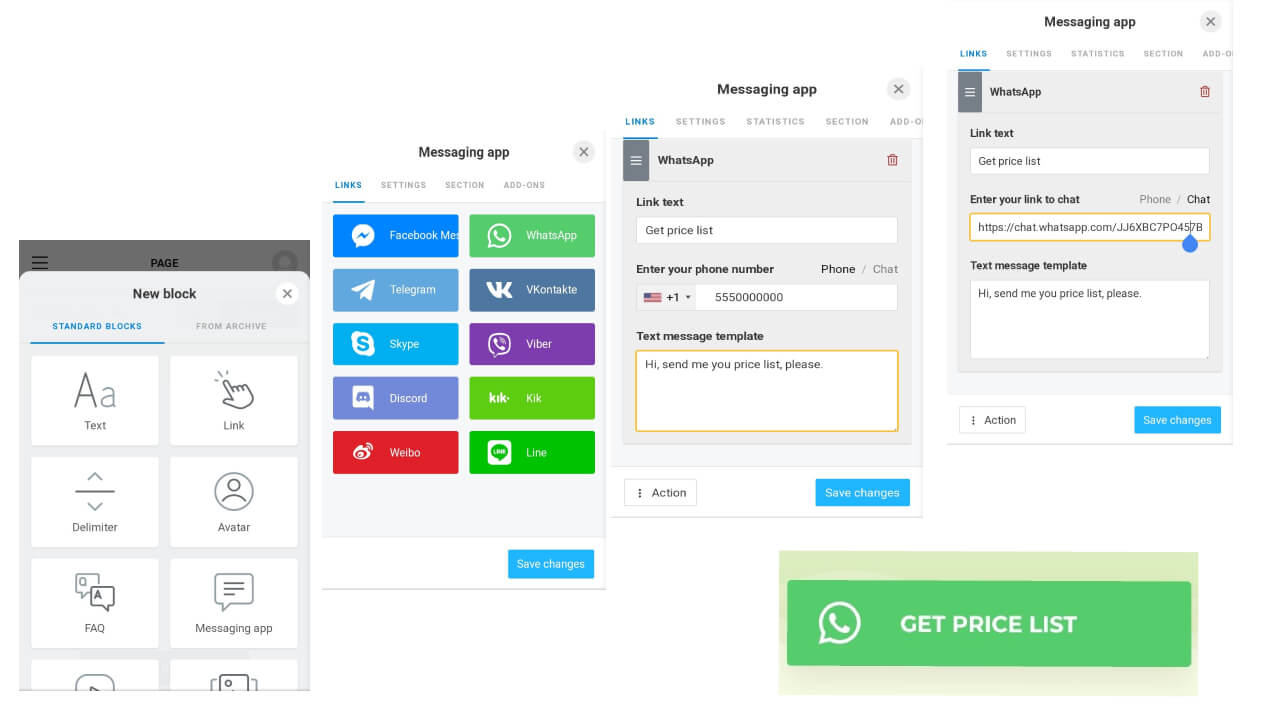 The most difficult part is over. The only thing left is to add WhatsApp link to Instagram and beautifully arrange it.
Copy the link you've got from the templates, WhatsApp business account or Taplink.
Open Instagram "Edit Profile" menu. Insert the link in the "Web-site" field to make it clickable. Save and exit the menu. Click or tap the link on your profile page to ensure it is active.
Visitors tend to follow link in bio when they know where it navigates to. Type "Buy now" or "Ask question" above. The words should match the pre-filled message. (More about how to make a good Instagram bio in the article)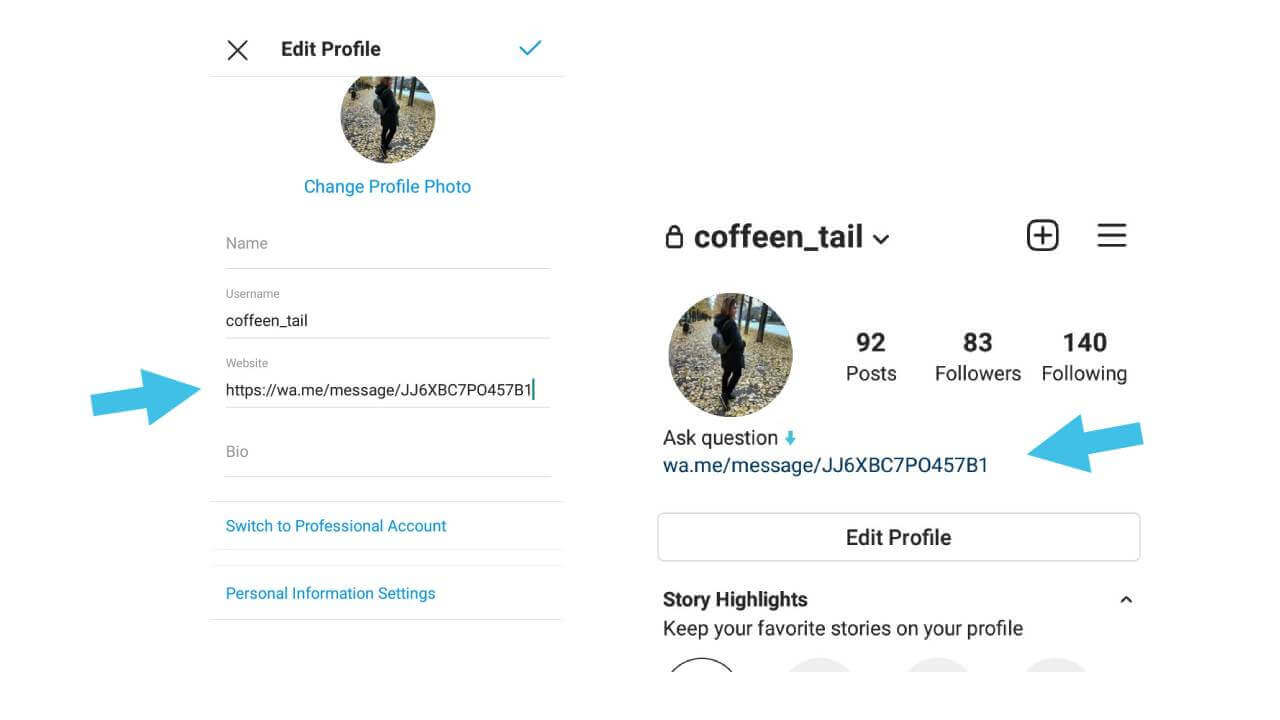 That's it, now clients can easily text you. Write in the comments which of the three ways is better for you!