02
Creators & Influencers




taplink.cc/exotic
taplink.cc/oliver.sean
taplink.cc/mycomfort
taplink.cc/matt
Spa in city's downtown. Rejuvenate your body and soul.
Last releases and upcoming concerts at the link below.
Premium furniture and decor from Denmark. 12 showrooms.
Photographing architecture, landscapes and people.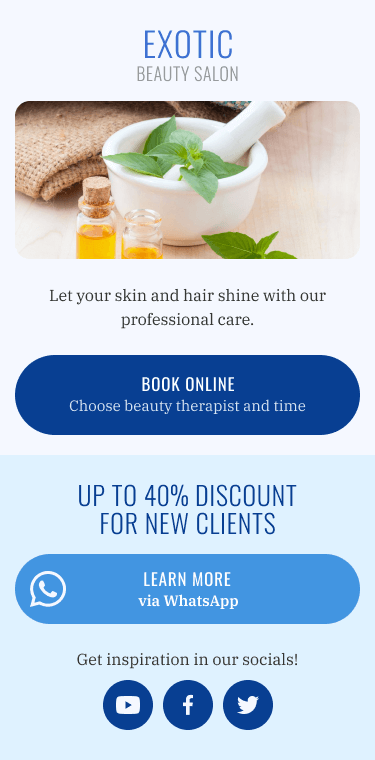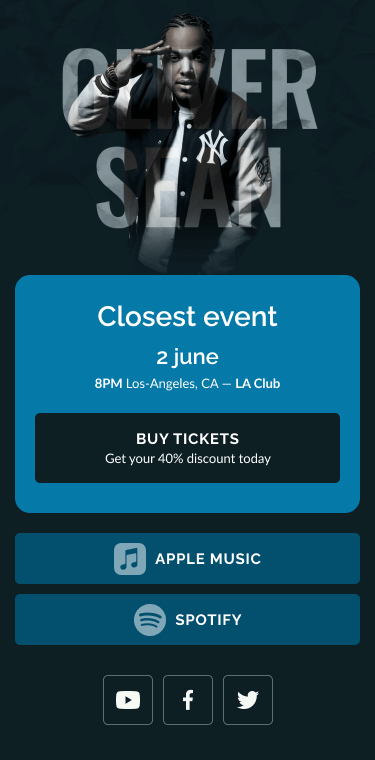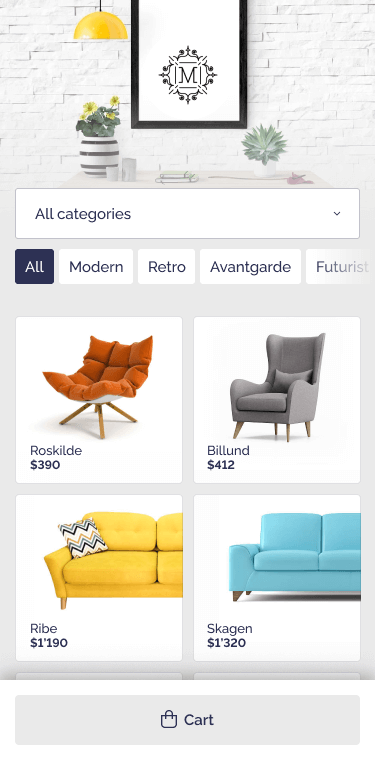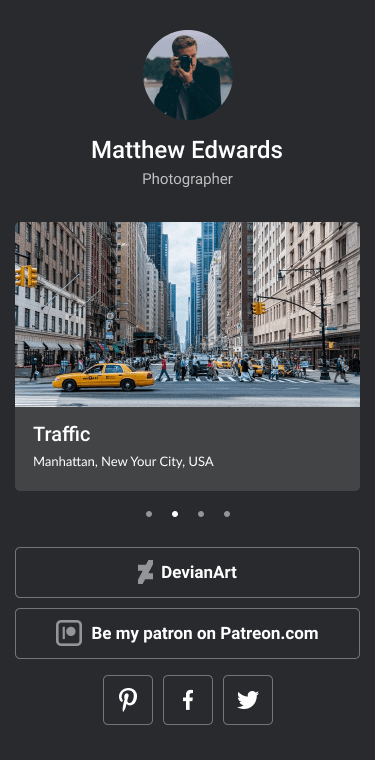 Taplink allows to
Taplink allows to
Tell more about yourself and your products
01
All social networks have limitations. The Instagram BIO is limited to 150 characters. Create a micro-landing page, that tells your audience about you and your product.
Create special offers nobody can not refuse. Add enticing texts, pictures, and videos to engage your clients. Use FAQ section and start a time-limited promotion with a countdown timer.
Place multiple links instead of one
03
Instagram and other social networks allow posting only 1 link in a profile. With Taplink you can place any number of links to your products, services, special offers, messengers and social networks.
One click to get in touch
04
Create smart links to online messaging apps, SMS, or social networks that allow starting a conversation at the click of a button. Get more hits from potential clients.
Receive requests and payments online
05
No manual payment and request processing anymore, let Taplink do it for you. Receive instant notifications of new orders in messengers or email Export leads to any popular CRM or use our built-in CRM.
Easier
than you think
Create your Taplink in a couple of minutes.
Without designers and programmers
No skills required
From smartphone or computer
Get started for free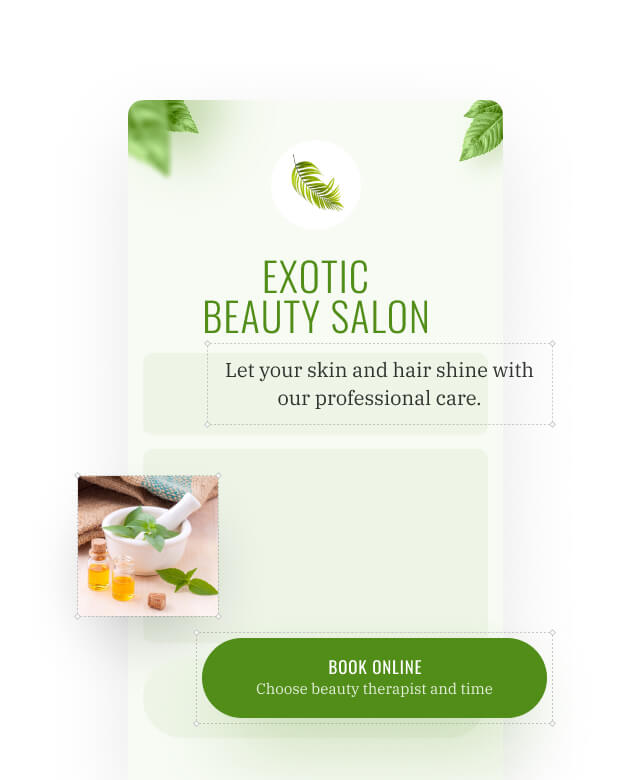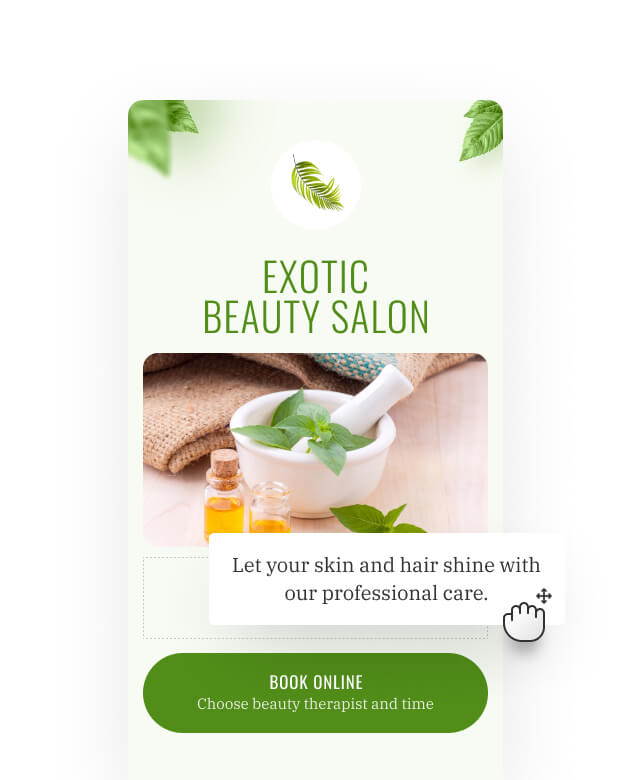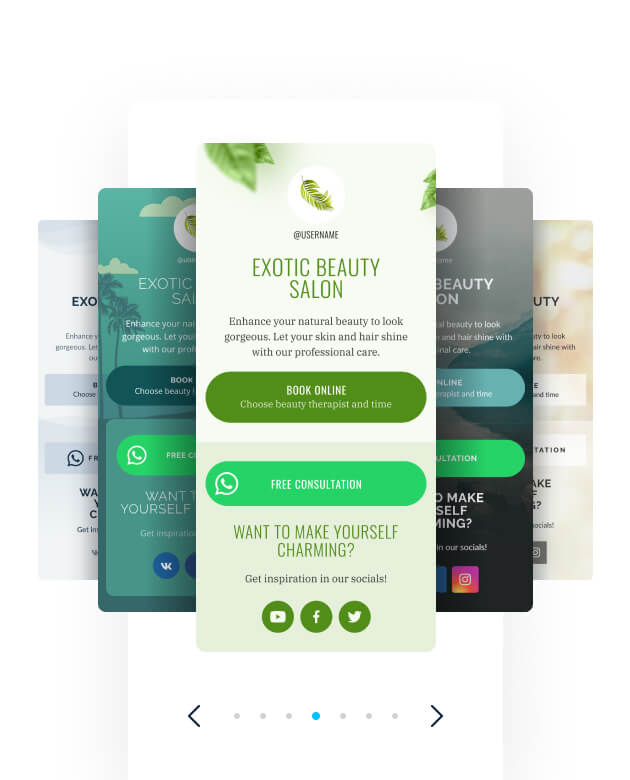 Features
Over 30 tools to create a beautiful and effective page.
Text and FAQ
Create attractive headlines and texts. If there is too much text, roll it up using FAQ section.
Links
Place any number of links to your products, special offers, messengers, socials, and many more.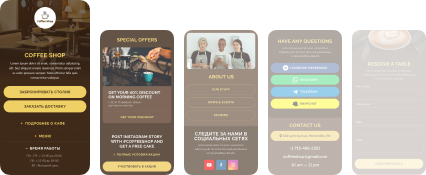 Pages
If one page is not enough for your content, create as many pages as needed.

Pictures and videos
Use pictures and videos to interest your audience. Make your page unique and high-converting.
Online messaging
Create smart links to online messaging apps that allow to start a conversation at the click of a button and get more hits.
Forms and payments
Create any kind of forms and accept payments via any popular payment system. Make the checkout and purchasing process convenient.
Design in two clicks
Choose one of 300 ready-to-use templates or make a unique design
Plans
Core features are available on a free basic plan. To make your page more effective use PRO and BUSINESS plans
Unlimited links
Text blocks and headers
Question and answer blocks
Pre-designed themes
Pageviews statistics
Shared access
All BASIC features
Scheduled display of blocks
Link clicks analytics
Customize your own design
Smart links to messaging apps
Smart links to Social Network apps
Using pictures and videos
Using map blocks
Using HTML blocks
Facebook Pixel
Most popular
All PRO features
Creating internal pages
Countdown timer
Remove Taplink branding
Connect your own domain
SSL-certificate for your domain
Capture leads with Application forms
Notifications to instant messengers
Accept payments
CRM system
Taplinks created
4'972'119
See how others use Taplink
01
Creators & Influencers
Enhance your Instagram profile now
Create your Taplink in minutes. Without designers and programmers.