Become an affiliate partner
You like Taplink and want to share it with your audience? It is easy! Share information about Taplink, create unique promo codes and get paid for each client
Get started
Who can participate in the affiliate program?
Coaches and authors of courses that include classes on Instagram
Social Media Marketing Agencies
Freelancers working with promotion on Instagram
Famous people, bloggers, and Influencers
Owners of forums, blogs, websites with traffic
Partner networks
How does it work?
You create promo codes or affiliate links using your account and get reward for each client who followed these links or used promo codes.
Choose the most convenient way to share Taplink: social media posts, blogs, YouTube videos, forum threads, or just advice – feel free to do it your way!
Conditions for participants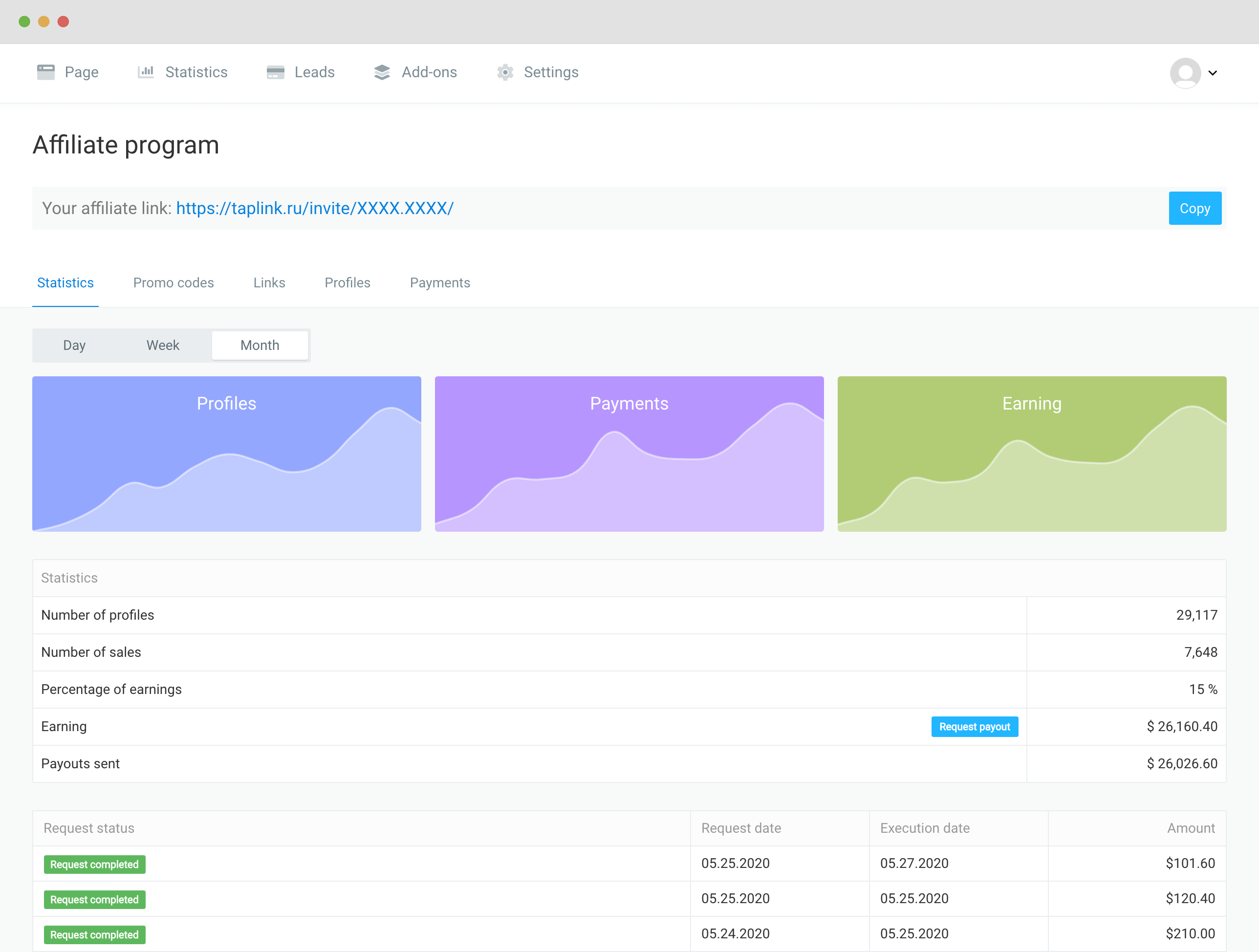 The amount of reward
is discussed individually.
Fill out the application
and we will get in touch with you to discuss the conditions.
Payments are made via payment systems of your choice at any convenient time. No holds and minimum payout amount.
Affiliate account
has convenient interface that includes all the important information. You can create promo codes, track clients, monitor their payments, and request reward. To get access to the affiliate account please
fill out the application
.
Two types of promo codes 10% discount or 7-days trial period.
If you have a huge audience and a great influence on the local market, we can consider you as our local representative. For exclusive representatives, there are different conditions. To become our representative and learn more about opportunities, please send an email to [email protected]
Why Taplink is better than others?
Numerous instruments to earn. A profitable and up-to-date affiliate program with a convenient interface.
Reliable partnership. During the affiliate program over $350,000 were paid out to our partners.
Different languages. Taplink is translated into 7 widely spoken languages. It will be convenient for your clients to work with Taplink.
Low prices. Taplink is cheaper than other services.
Significant functionality. Taplink has unique features to drive more sales for hundreds of thousands of clients. By sharing Taplink, you help your audience to increase sales and engagement on Instagram.
Constant updates and refinements. Our product is constantly updated to maintain leading positions in the global market. At the same time, we do our best to keep it simple and clear so that everyone could use it, both amateurs and professionals.
How to become a partner?
To become a partner please fill out the application and tell us more about yourself. We will get in touch with you!