How to clear Instagram cache on your iOS or Android

Updated July 04, 2023
Julia Moore
Content Marketer and Writer
If you noticed that Instagram doesn't load feed or Stories, often crashes and stops updating, it's high time to clear cache of the app. It also frees up your phone memory, which is especially vital for smartphones with small memory volume. Keep reading to know how you can do this on your iPhone or Android smartphone.
Cache is a folder in a smartphone's internal memory, where temporary files and page copies are kept. These are mostly user's settings, saved passwords, cookies, earlier downloaded content, reports about the completed activities. All these allow to speed up the device and the Instagram app.
Cache is important for instant content display and saving your cellular data use. The Instagram app loads some pages from the cache instead of loading it from the network via the internet. That's why the app seems to work fast.
But once the memory is overloaded, the Instagram app may not work or it works slow, gives errors, crashes, stops updating or loading content. Updating the app may be a solution. But it often happens you need to clear Instagram cache to get it working well again.
To make it short, the data from Instagram that was downloaded automatically will be deleted. This is mostly the photos and videos you saw while surfing Instagram. They will be removed from your phone memory.
Your messages, photos and videos in profile remain. That's because they are kept on Instagram servers, not on your device.
You can clear Instagram cache in an iPhone only by reinstalling the app. After that, most part of the cache will be deleted. Account settings will be kept, so the only thing that you need to do is log in.
You can delete the app and clear IG cache on iPhone in the settings:
Tap General.

Choose iPhone Storage.
Tap Delete App.
Please note, if you tap "Offload App", the application deletes, but its cache, contrarily, remain.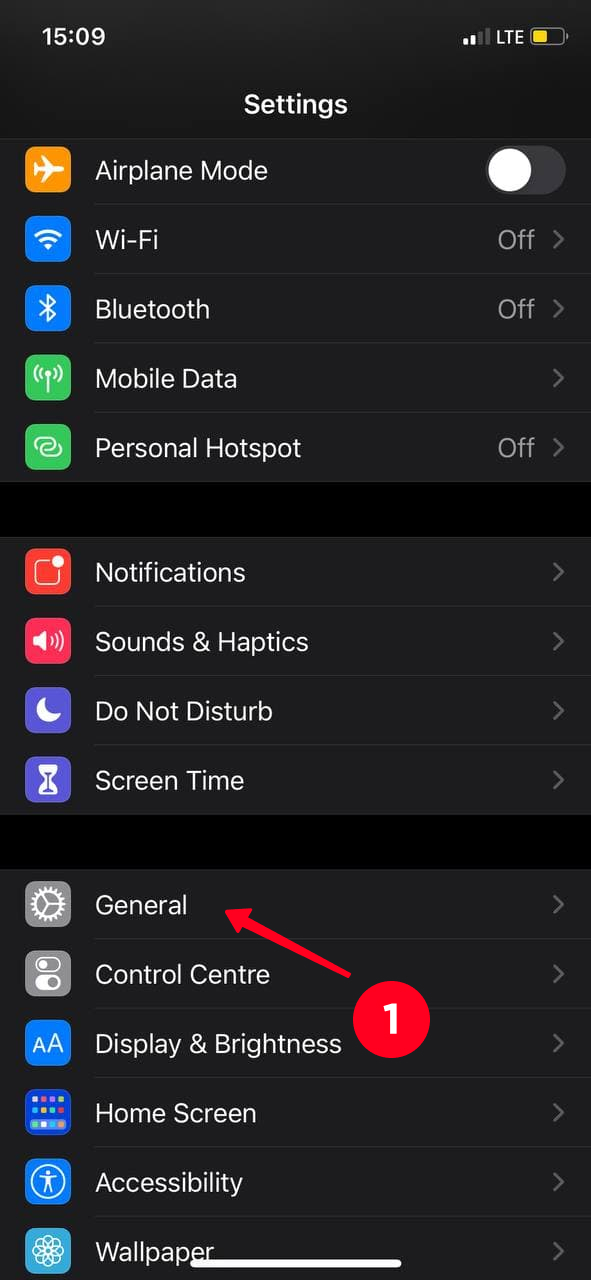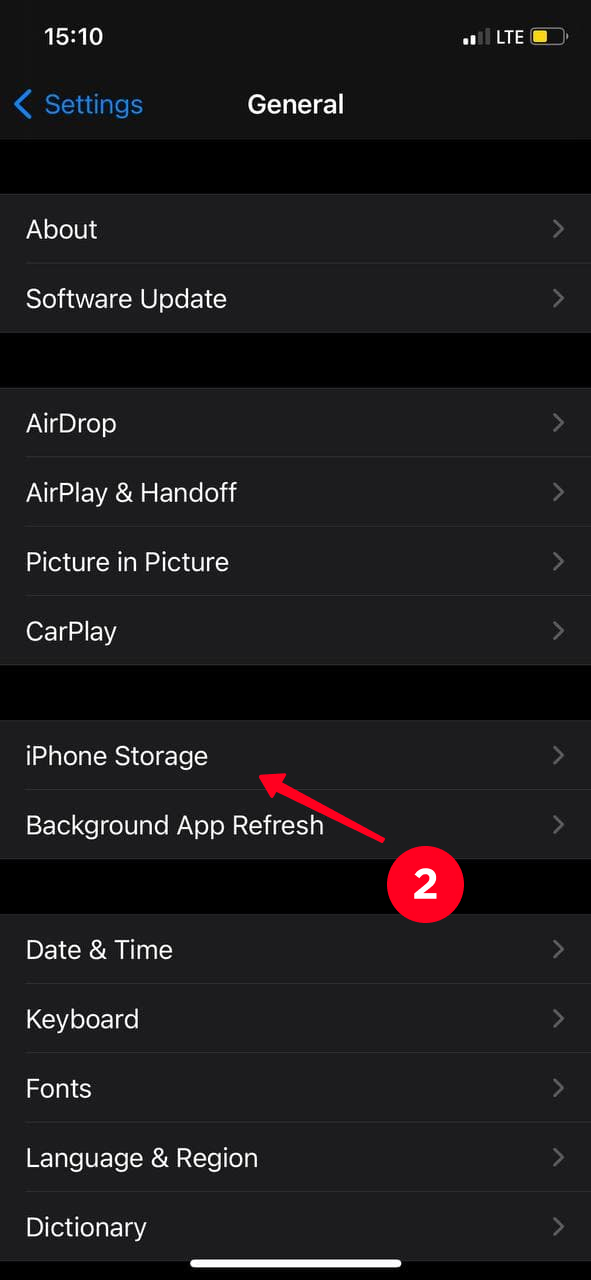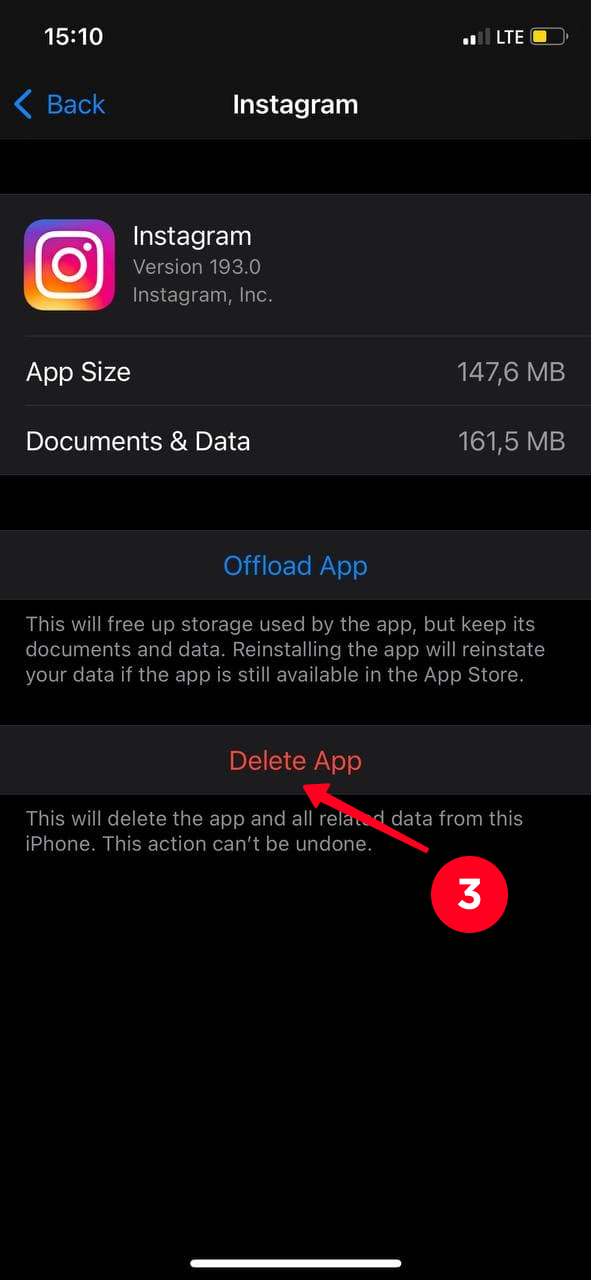 Don't forget to install the IG app again after you delete the cache.
Android users are more lucky since they don't need to delete the app as they would do on an iPhone to clear Instagram cache. If you are one of these fortunate men, you can clear the data in your phone settings.
Here is how you can clear Instagram cache on Android:
Go to Apps & notifications.
Disclose the full list.
Choose Instagram.
Go to Storage & cache.
Tap Clear cache.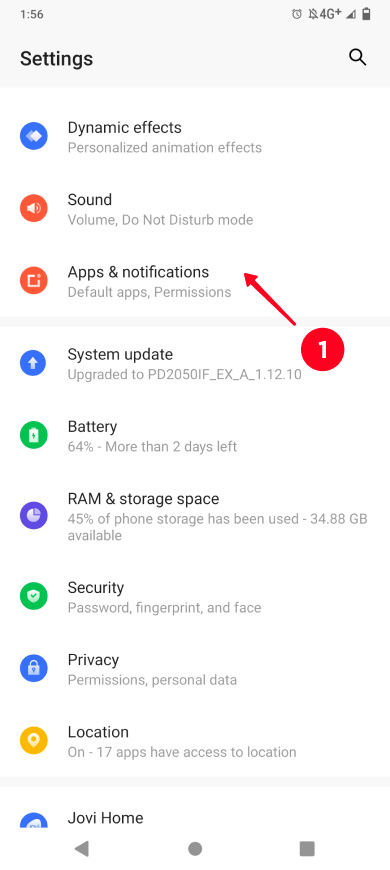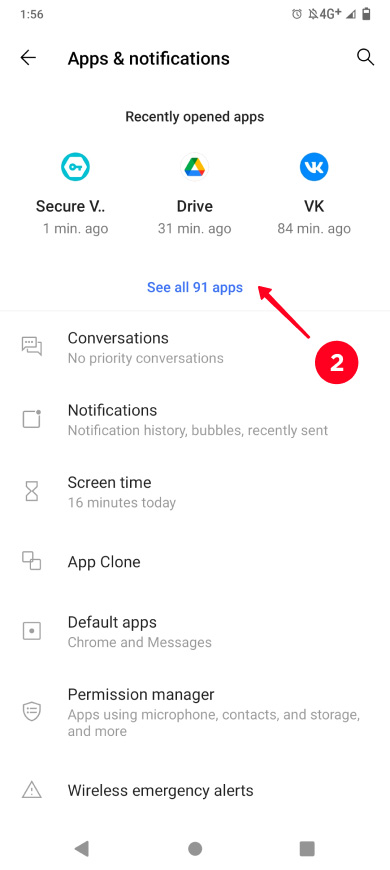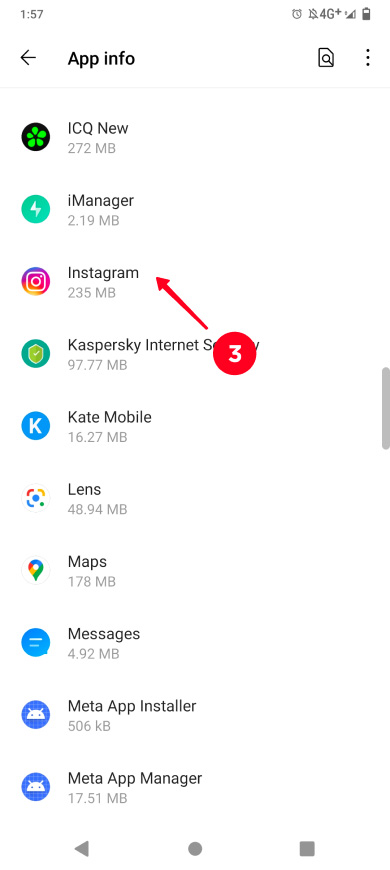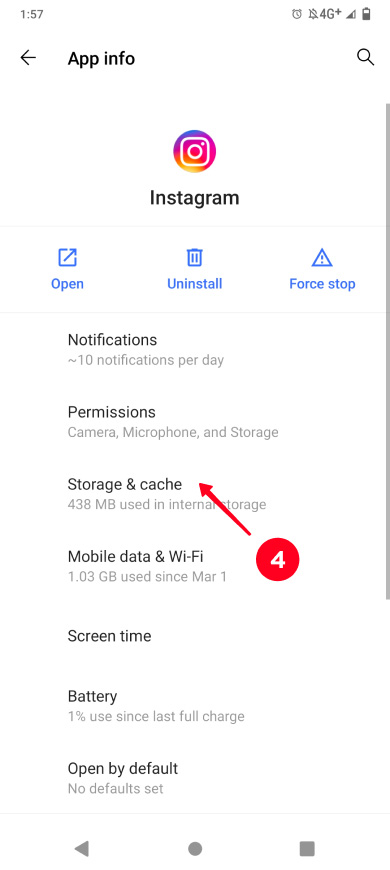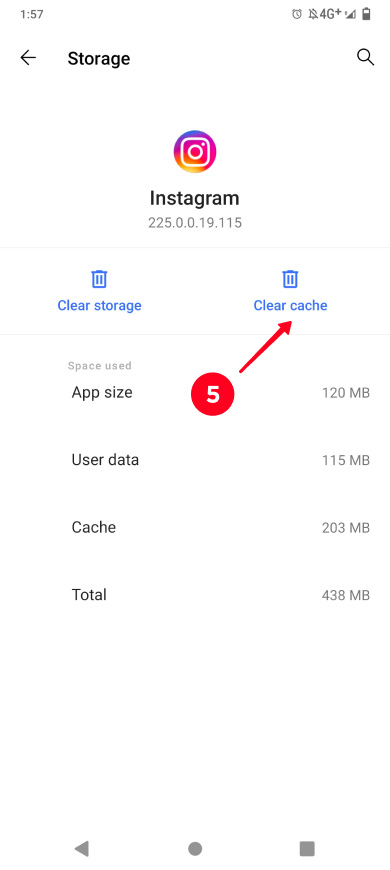 There are many applications for clearing memory storage on the phone. They remove unneeded and temporary files. But we want to warn you they only remove duplicates in contacts, unnecessary photos and videos.
They may clear Instagram cache partly. It means you can use the apps to free up the memory storage. But they won't help you with errors and the app freezing, if it's your problem you should reinstall the app.
You can find the apps for clearing the cache in the AppStore or Google Play. There you should search for "Instagram cache cleaner" and choose the app that appeals to you more. Don't forget to check up its rating and reviews!
Another data that you may want to delete is your Instagram search history. This may make the app work faster and free up the memory storage a little. However, the main purpose of clearing is privacy.
There are two ways to delete the history on Instagram. They are different in the ways you get to the list of queries. But the result will be the same in both cases.
An easy way to clear the list of queries is to do it from the Explore page. You can do it on your iPhone or Android smartphone, and even from the computer browser.
Here is how you can remove your search history on Instagram:
Tap the magnifying glass icon in the lower menu.
Tap the search field, you will see the entire search history.
If you want to delete the entire search, tap See All.
Tap Clear all.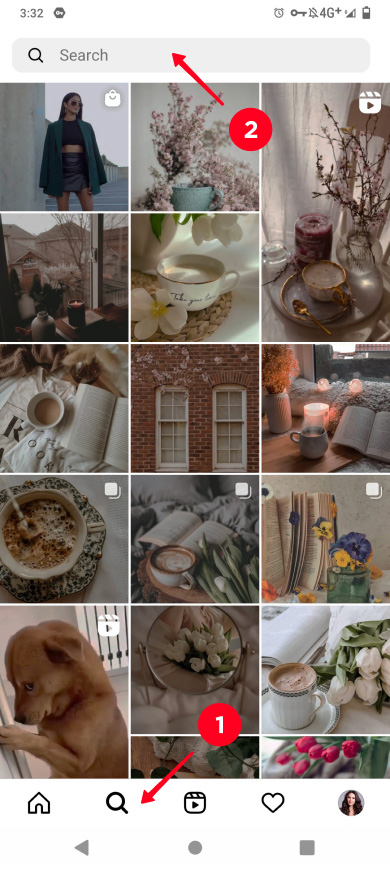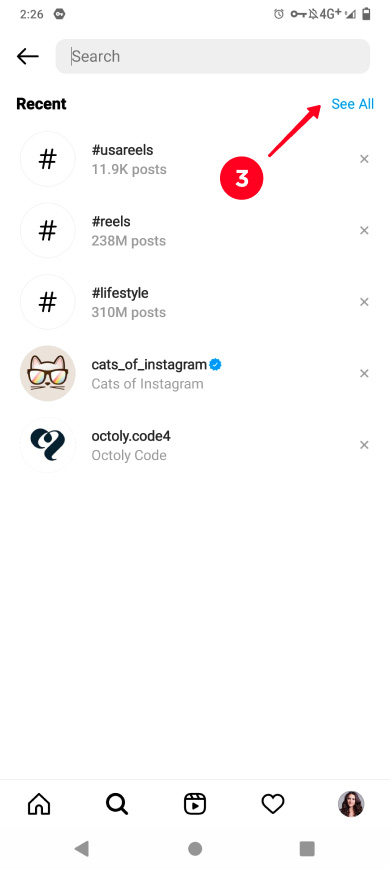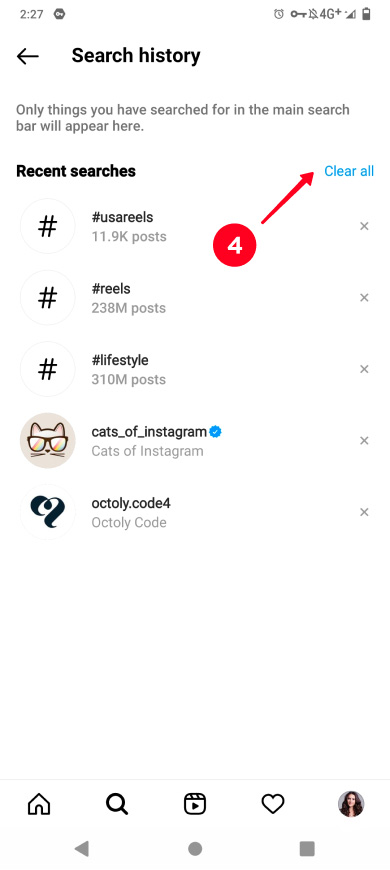 You may well remove a single search query by taping the cross near it.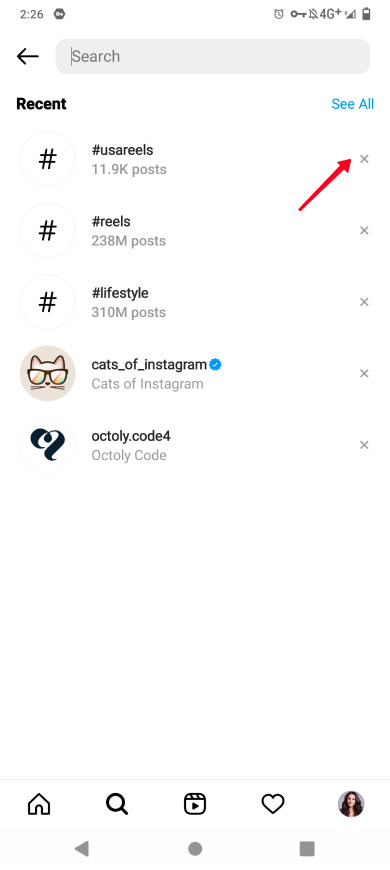 The list can also be found on your profile page. You can remove all the history or a single query there.
Tap the three lines.
Go to Your activity.
Choose Recent searches.
Tap Clear all.
Here you can also remove a single search query by tapping the cross. Check the previous instructions.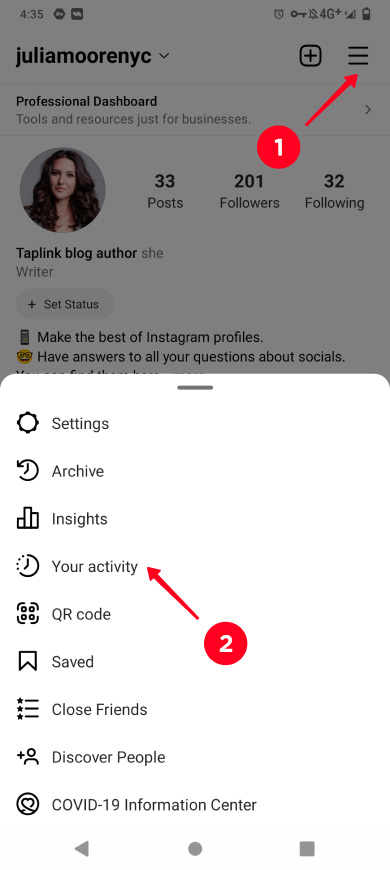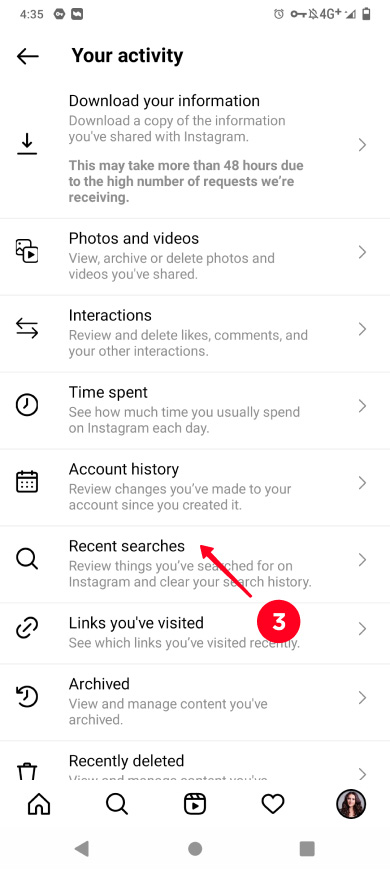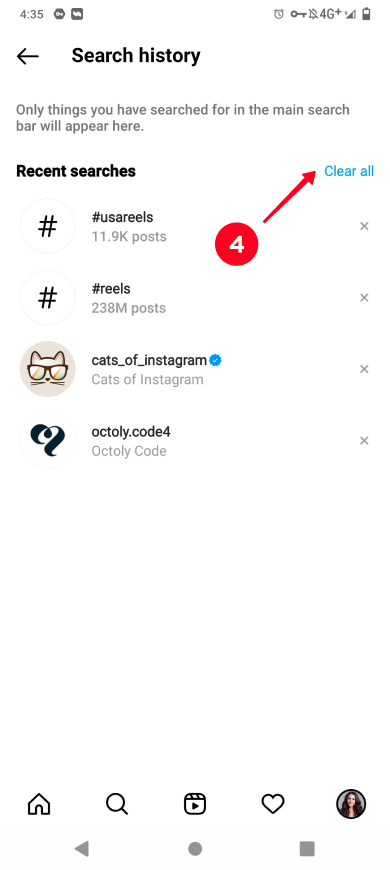 If you are an active user, data from the Instagram app inevitably accumulates on your device again and again. And you have to clear cache repeatedly to speed up the app.
But you shouldn't go to the extreme and delete Instagram data every week or month. It is better to clear it as necessary, it means when the application has become much slower to work or crash.
If you worry that some data may be deleted when you clear cache on Instagram, you may want to download it before the clearing. Here is our guide on how you can do this.