Instagram filters:
how to get them and use
04.08.2020
Instagram is primarily a visual platform. Here people look at the image, and then at the content. No matter how interesting and relevant the post is, it will not be noticed if a bright catchy photo does not accompany it. Currently, there is a wide selection of filters on Instagram. Selecting the right filter for your photo post can help attract followers, encourage everyone to like your post or leave a comment under it.
Instagram filters are used to enhance photos, give them an extra edge, or simply set the mood. Each filter puts a special effect on the image, thanks to which the photo becomes stylish and interesting. To stay in the trend, explore the stunning ways to process photos, which will be popular in 2020.
The most popular Instagram Filters
To make a simple photo bright and lovely, one should use filters correctly. Therefore, if you learn to use filters correctly, the result may surprise you. This section shows the latest built-in filters provided by the social network. These tools allow you to change the color palette of photos and emphasize details, which make the images more attractive to other users. Instagram allows you to edit photos using:
Clarendon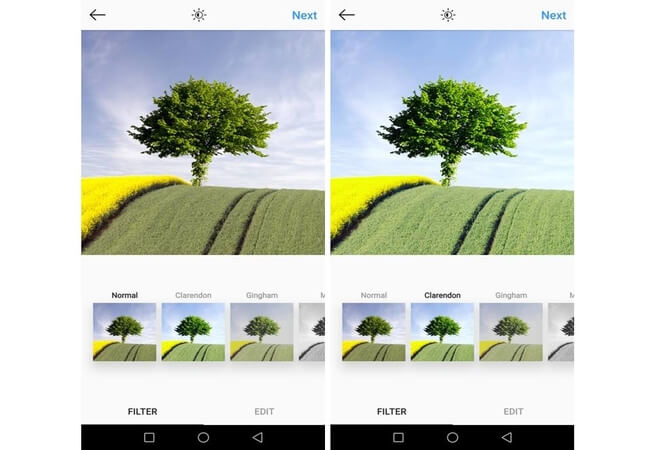 Clarendon is the trendiest filter on Instagram. It is a filter, which adds brightness to lighter areas and a dark shade to darker tones. In this way, it raises the saturation and contrast levels slightly, but later adds a blue tint in clear light areas and cools dimness and highlights the image.
Juno

Juno is indeed one of the most widespread filters for Instagram. If you wish to highlight the hues in your photo, Juno will do that for you. Juno enhances the brightness and contrast of photos by adding colder shades of blue with green, amplifies red and yellow colors making them more noticeable than blue.
Ludwig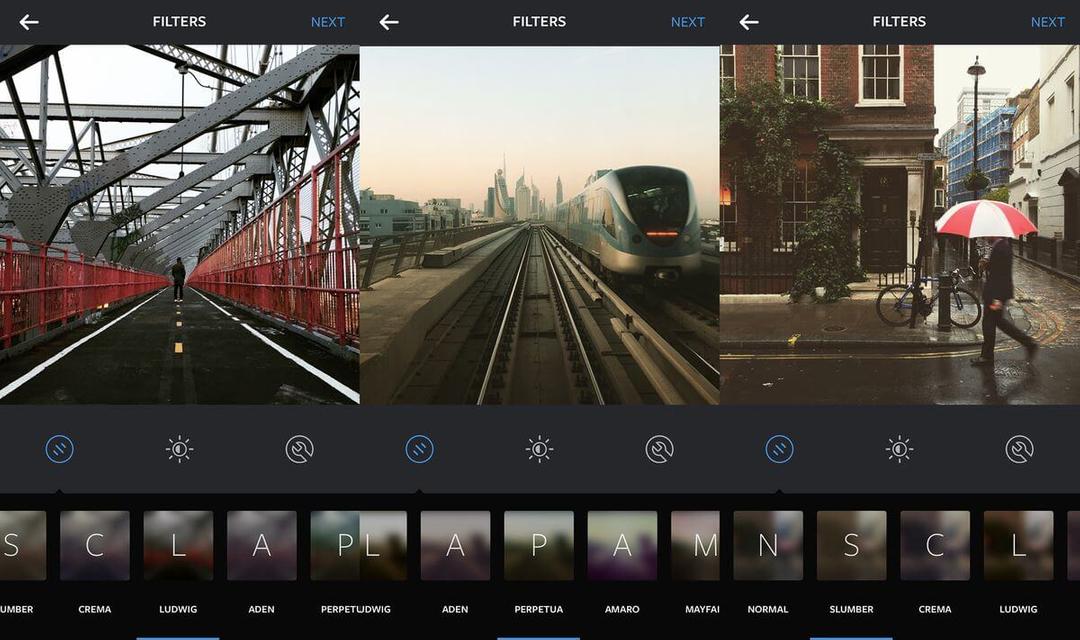 Ludwig is a tool for highlighting red hues in your photograph. This is a common filter among users, who need to make a nice red shade and give the photo a warmer and brighter look. This type of filtering reduces the saturation and brightness of yellow, green, cyan, and blue, except color red, which essentially becomes more saturated.
Lark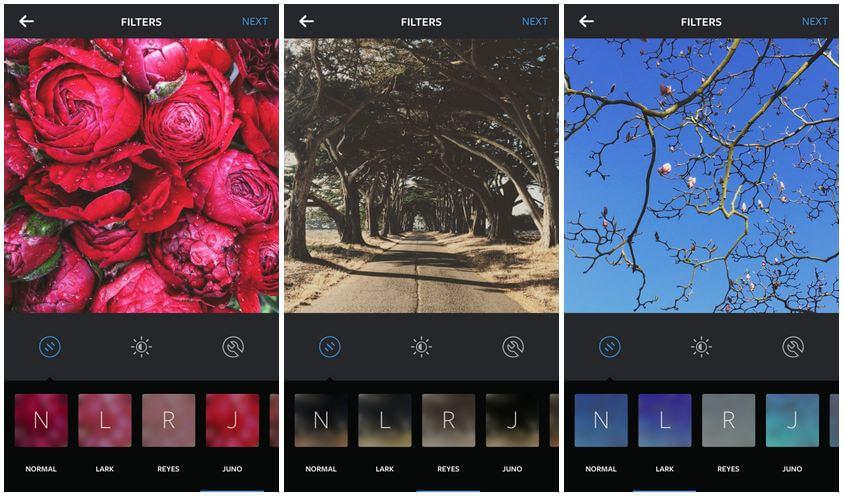 Lark is an editor that gives the photo a sufficient amount of brightness while maintaining a cooler appearance. Lark reduces the red color saturation and enhances blue and green colors, which adds a little blurry effect.
Gingham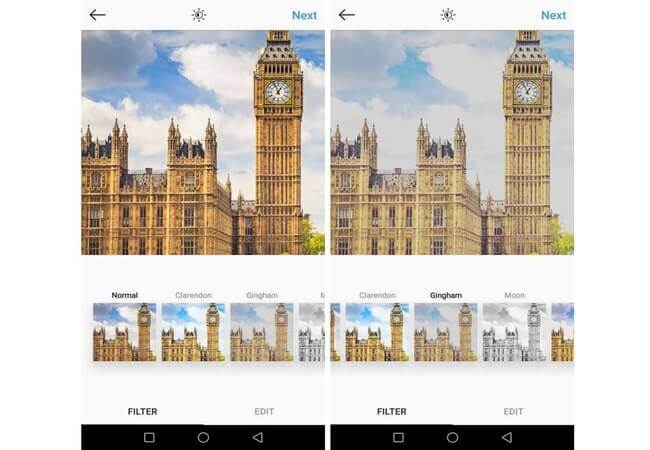 Gingham is an Insta filter for creating a sophisticated vintage image without completely distorting the natural coloring of the image. Gingham is a tool that gives pictures a vintage effect, as it removes a little tint from the photo. Note that the stated filter reduces glare and color abundance.
Aden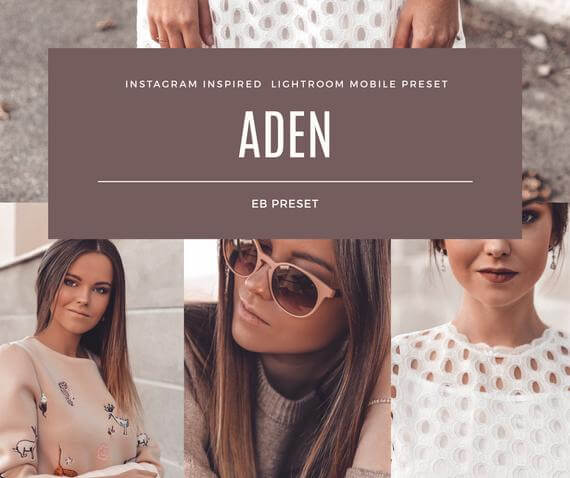 An Aden is a filter that absorbs the brightness of these bright colors, by softening them. The highlighted areas are also softened to create a less sharp effect, but still nice to look at. Aden gives photos a retro pastel shade that works great if you want to soften harsh shades.
Paris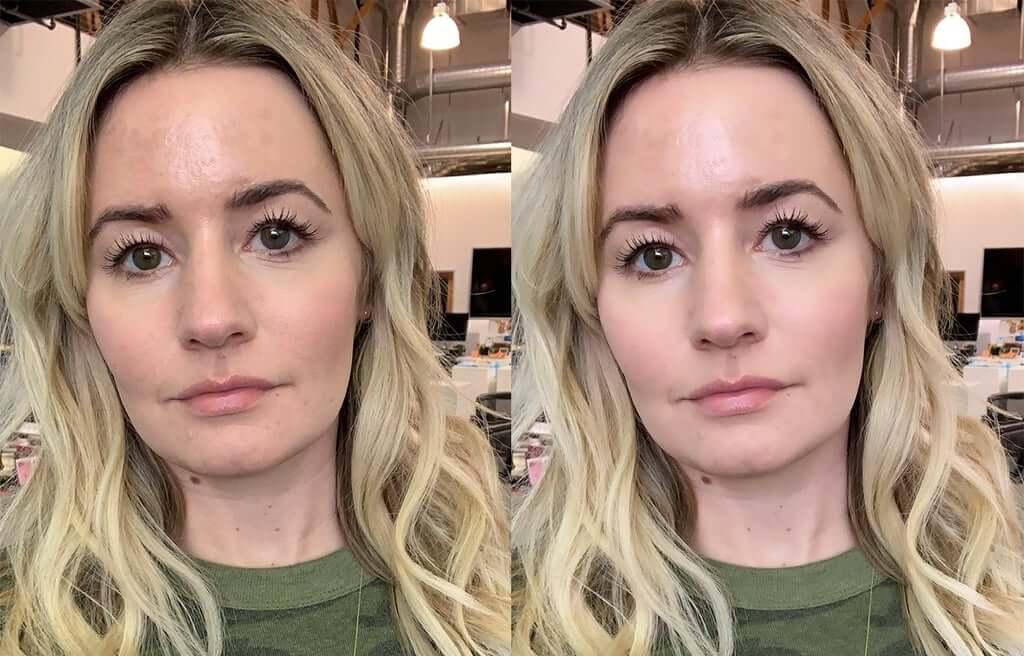 The Paris filter is available only in Instagram Stories. It smoothers the image removes sharpness and generally makes the photo softer to perceive.
Jakarta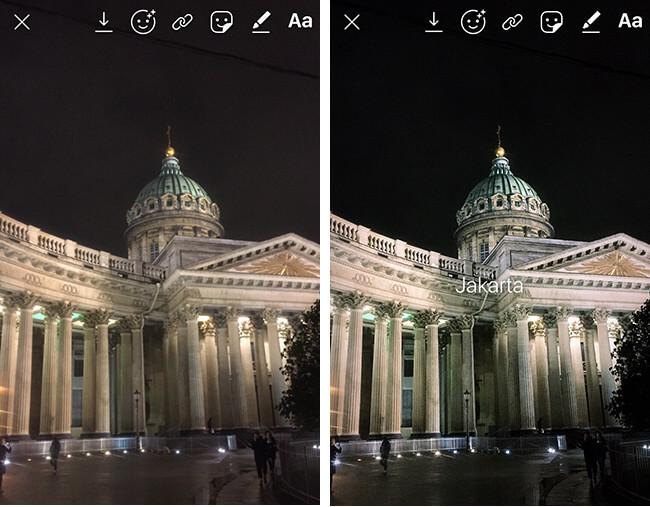 Another popular effect for stories is the Jakarta filter. It highlights all the objects in the photo well, but it also adds a greenish hue, so you should use it very carefully not to make the photo look too unrealistic. Remember, the trend in 2020 is genuineness.
Inkwell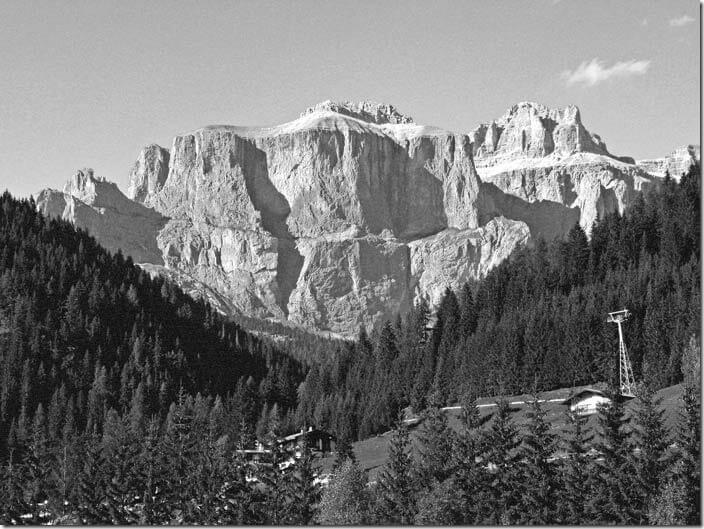 The main and best monochrome filter on Instagram. You can use it to turn a color image into a black-and-white image. Highlights deep shadows make light objects brighter and it is very contrasting. Black-and-white solutions always look very stylish, besides, they can be used to rescue pictures that are poor in color.
Nashville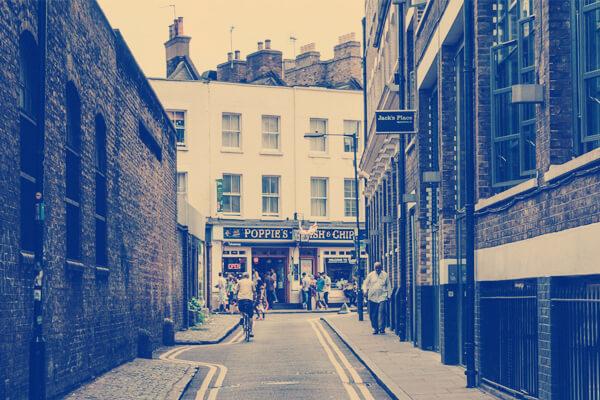 Retro is a filter that lightens the picture and lays a pink shade on top of the photo. That's a great solution for vintage and vanilla themed shots.
Reyes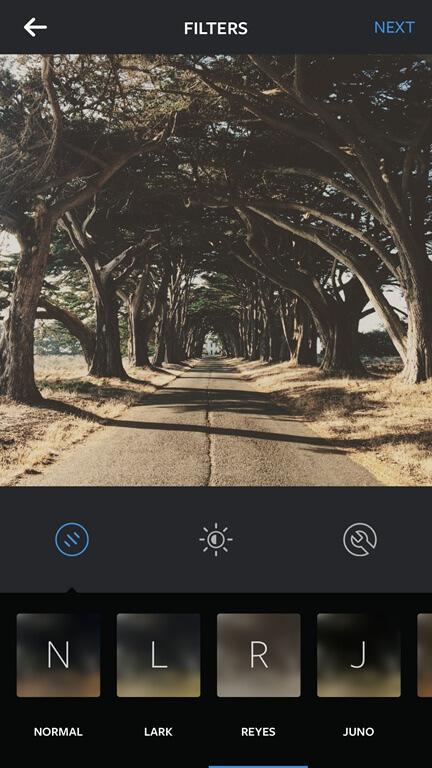 Reyes is quite a vintage shot. Thanks to its ability to highlight an image, its usage helps you quickly retouch faces in portrait images. Use it if you wish to get not a very bright, muted photo.
Where to find the Filters?
Why aren't there any filters on Instagram?
By default, users only see part of the filters. If you scroll the ribbon with them to the very end, you can see the "settings" field. After clicking on the tab, all available filters will open. Just scroll down and put a checkmark where it is not placed.
Configuring filters in Instagram
You can also uncheck unused filters so that they don't appear in the General effects feed so that they don't complicate the search. It is possible to place filters there in a convenient order. To do this, tap a filter name, hold it down, and as soon as it is highlighted, drag it to the preferred position.
Popular Instagram filters
The Instagram app has its built-in editor with a small set of tools for correction and filters.
To see the correction tools, open Instagram, select "add photo" by clicking on the plus sign in the lower center corner, find the photo you chose to post in your profile, and click "next." The filters will appear directly below the photo.
Story filters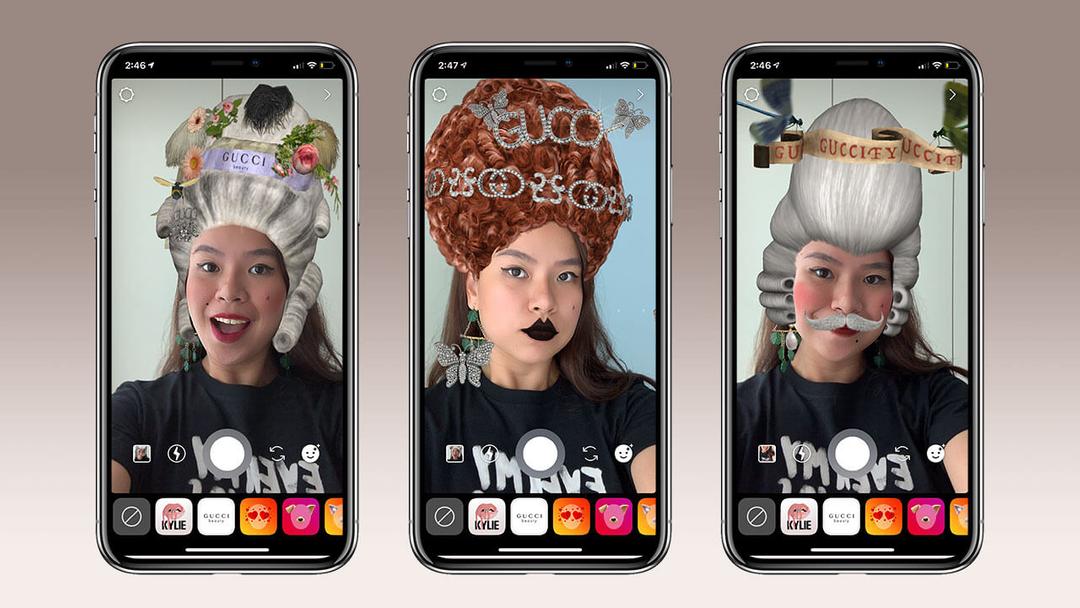 If you would like to try out one of those common filters that your friends have used in the Stories, it gets tricky. The Instagram filter does not pop out effortlessly. Luckily, there are certain simple ways you may use to find the filters.
If you want the filters to function, the first thing to do is check if your Instagram app is updated. The most uncomplicated way to find a needed preferred effect is by visiting its creator's profile.
To do that, you should find out who made the filters. Some examples of well-known ones are listed below:
Celebrity Look-Alike filter by @juliataskaeva
Disney filter by @arnopartissimo
2020 Prediction filter by @filippo.soccini
'Friends' filter by @natali.zmi
Once you've chosen the best correction tool, you may open your app to begin.
Find a tool via the creator
Look for the maker of the preferred filter to get to the account.
To view all available Story filters now, tap icon with the smiley face over their grid.
Pick the filter, then, in the lower left-hand corner find the button, then tap "Try it."
To apply the filter, press and then hold down the record button in the Camera. After that, you will be able to save and send it to all your subscribers.
You may save the filter for further use by tapping the filter's title at the screen's bottom and choose the "Save Effect."
Get your friends' help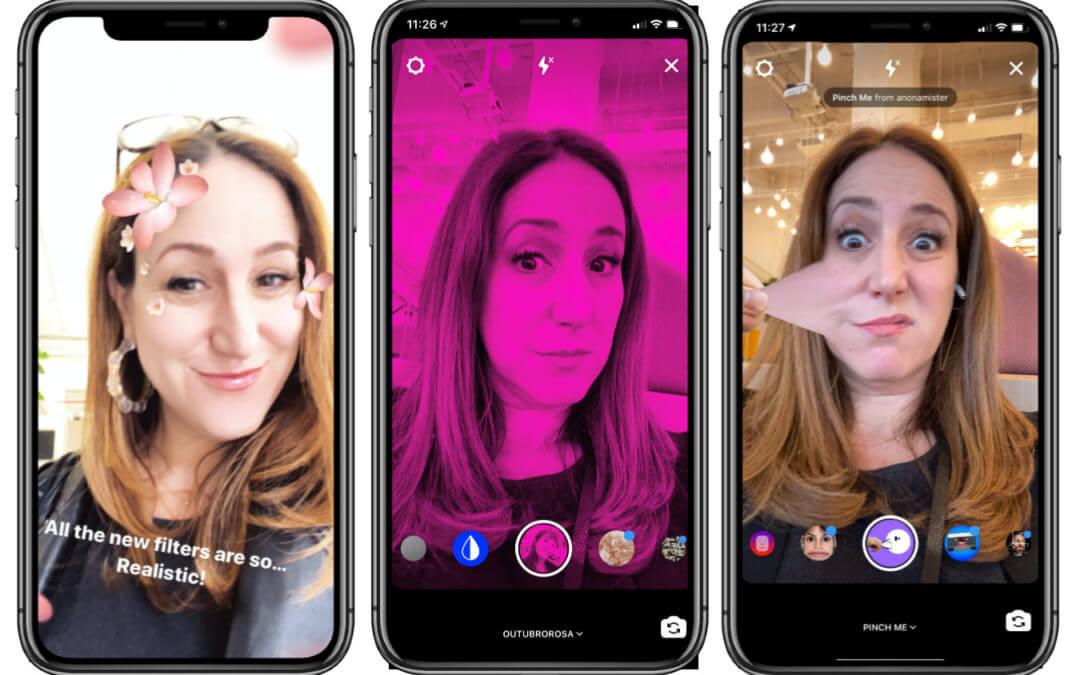 Another way to find a filter is to access it from the accounts you follow.
Once you see somebody applying a filter in their Story, notice that it will show the filters and inventor's name written at the top. If you want to try it, you need to tap on it. Besides, you can save the tool to your Camera.
Moreover, if your friend has saved a correction tool on their camera, they may share it with you. To do it, it is necessary to open the tool in the app's Camera, tap on preferred filter style at the bottom, and then tap "Send to."
It seems the filter trend is going away soon, so it's high time to start searching filters for your Stories and posting them.
How to Use Instagram Filters
Most likely, you already know how to work with filters for processing selfies. So, how to use correction tools?
How do I add new filters for stories on Instagram?
Have you noticed a filter for stories, where diamonds of different sizes spin around your head? The Instagram team has come up with a cool way to attract new subscribers to your account. Now, a developer or sponsor can create a filter for their account that will only be available to them and all those who subscribe to it.
You can create a set of cool filters, link them to your account, and attract many subscribers who want to use them. If the account has its filter, then when you open this account, a notification will appear at the bottom - "Try the effect." You can use this filter once by clicking on the notification.
Below you can see examples of who can subscribe to use a particular filter.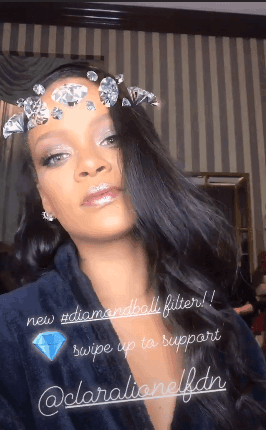 Singer Rihanna (@badgalriri) and her diamonds
If you subscribe to Rihanna, you will be able to conduct your broadcasts with a halo of diamonds rotating around your head.
Model Kylie Jenner (@kyliejenner) and its filter to match the lipstick
Kylie Jenner has been selling her brand of cosmetics. Moreover, for its subscribers, it has developed a thematic filter that will help you choose the color of lipstick for your image.
How to Use Snapchat filters on Instagram Stories
Open the app on your mobile device.
Open your Instagram camera (tap the camera icon in the upper-left corner).
Click on the smiley face icon in the lower right corner.
Tap one of the templates at the bottom of the screen.
To view all the faces, swipe left and right on the screen.
Raise your eyebrows or open your mouth to activate some masks.
Press the shutter button to take a photo, or pinch to shoot a video.
You can use the buttons in the upper-right corner to add stickers, pictures, or text.
Click the Save button or the plus sign to add a photo to your history.
Filters work with both the front-facing and main camera of the mobile device. You do not need to touch the display to make the face lighter or to activate the function. After saving a photo in the gallery, you can add it to Instagram like any other photo.
Apps for Instagram filters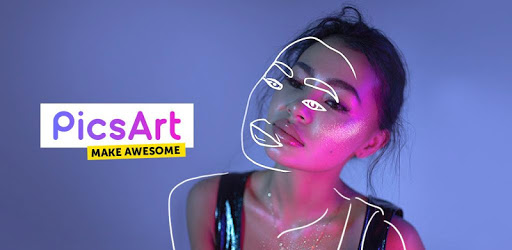 In addition to its filters, Instagram has many applications that are not inferior to, and in several ways superior to, the functionality of editing photographic images. You may use the applications below to create lovely images and post them on Instagram. You can get all of them for free, but there are professional versions of the software, which may be bought.
Trendy apps
PicsArt Photo Studio
PicsArt Studio is a highly widespread app. This is an image and video editor, and collage maker. This tool is a perfect one for amateurs because of its understandable interface. Various filters, stickers' effects, and free clip art collections to the pictures can be found here.
PhotoDirector
The app is well-known as a multi-purpose app. It is easy to use. You can get a lot of live photo effects for your images with this editor. The main pluses of this app include: it contains all the features you may need to add effects to your images; allows you to enhance your image by fun photo effects; fast white balance correction, it allows you to instantly increase the accuracy of color rendering.
AirBrush
This is an astonishing, easy-to-use app for creating photographic effects. AirBrush: adds fun photo effects to images; edits, add skin tan to give the perfect look removes pimples or blemishes on pictures you clicked on with a single tap; whitens teeth to make a perfect smile on photos.
AfterFocus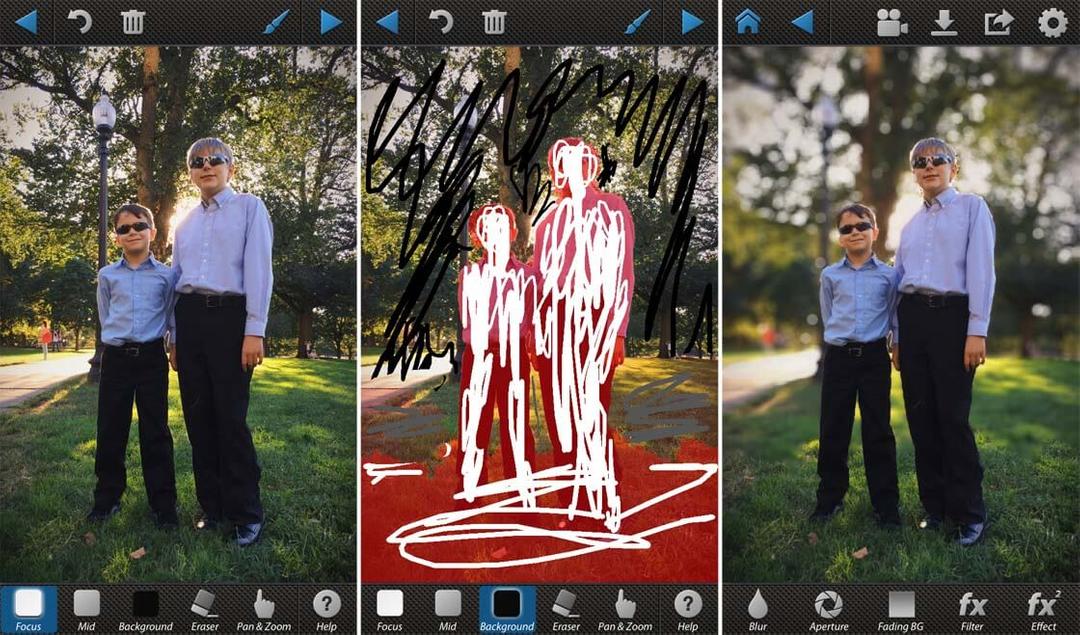 This application is a great tool for creating effects. AfterFocus is fully functional for creating blurry pictures by simply choosing the focus area. Various kinds of filters allow you to create very authentic photographs. The app helps achieve the finest quality for images clicked on your mobile device; edits videos; illuminates the shaded areas of your pictures using the "shadow Enhancement" option.
Apps and services with filters
The editing tools built into Instagram are only a small part of the modern processing capabilities. Top bloggers make images brighter and more original using special mobile apps.
Lightroom
Adobe Lightroom is a comprehensive photo editor. This is another popular application for processing. This is where the so-called "presets" are used, in other words, saved settings templates in the photo editor. Presets are created individually, in fact, it is the unique filters. Also, the app has a lot of ready-made filters that will help you breathe "new life" into your photos in a matter of minutes.
VSCO Cam - photo editor and video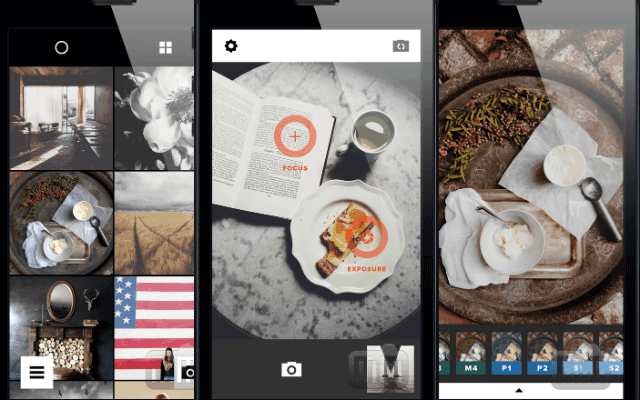 This is a legendary application for high-quality processing. VSCO has all the necessary tools for fast and high-quality work with images. An updated version of VSCO contains a very high-quality HSL tool for working with individual colors.
There are filters for every taste and color. The most popular ones are:
HB2-improves the image quality and adds a good contrast to it. The result is a better image. Use the filter if the original is too pale or slightly "faded".
Making deep and rich dark shades. It corrects the shortcomings of highlighted and dim images well.
A filter with a nice vintage effect highlights the image and applies a pleasant brown tone to the eye.
Pixlr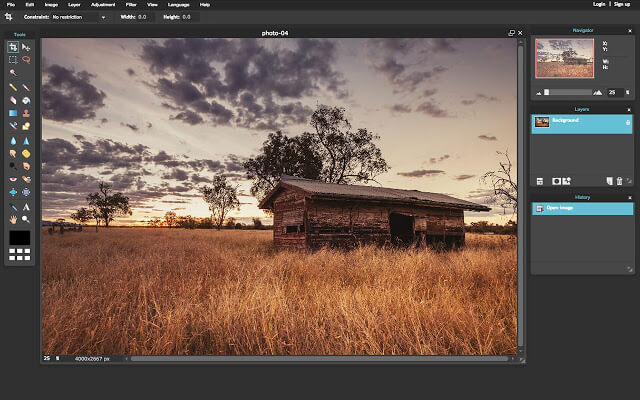 This is an easily operated app with interesting functionality. You may use the built-in effects to create a special atmosphere here. Some filters help you set the main hue for the entire composition, for instance, green, pink, or red.
A black-and-white filter with a grainy effect gives the images an effect of mystery and antiquity.
A stylized filter makes an oil-on-canvas drawing out of an ordinary photo. With a skillful approach, the app can be used to create real photo pictures. While most of the filters in previous apps are available by subscription, in Pixlr all the functionality is free.
All of them help to add unusual light to the photo and correctly arrange color accents.
Create your filter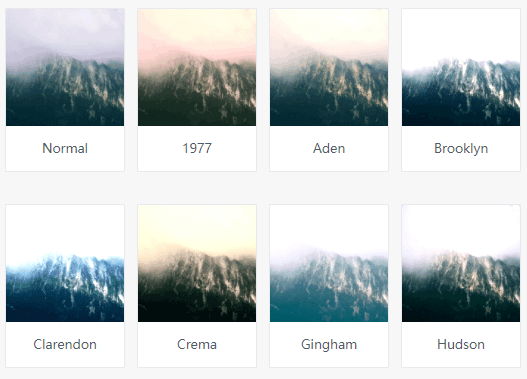 Modern people can't imagine a day without social networks. A large number of new, different tools for creating interesting photos and videos attract users, giving full rein to experiments and imagination.
With photo ideas and rules on how to make beautiful Instagram images, you can effectively promote your blog. Now, thanks to special applications for professional photo processing, each publication looks very interesting. The main thing is to use your imagination and not be afraid to experiment.