How to Boost an Instagram Post:
quick ad launch on social media

If you believe your photo or video deserves more attention, you can launch ads on social media. Boost an Instagram post, and it will be shown to hundreds of people interested in your content. It means you will get not only high reach, but also many likes. All you need to do is to follow the instructions from the article.
Reading time —
14 minutes
Boosting feature on Instagram allows you to set and launch ads for a single post quickly. You can boost a photo, video, and also a carousel. You can do it only from Professional accounts and only in the app.
People will see your boosted posts in their feed, Stories, and on the Explore page with the Sponsored mark and a link.
On the first screenshot, you can see how a boosted post looks in the feed and on the Explore page. On the second one, there is how it looks in Stories. As you see, this is one of the ways to add an active link to your Story, it takes money though.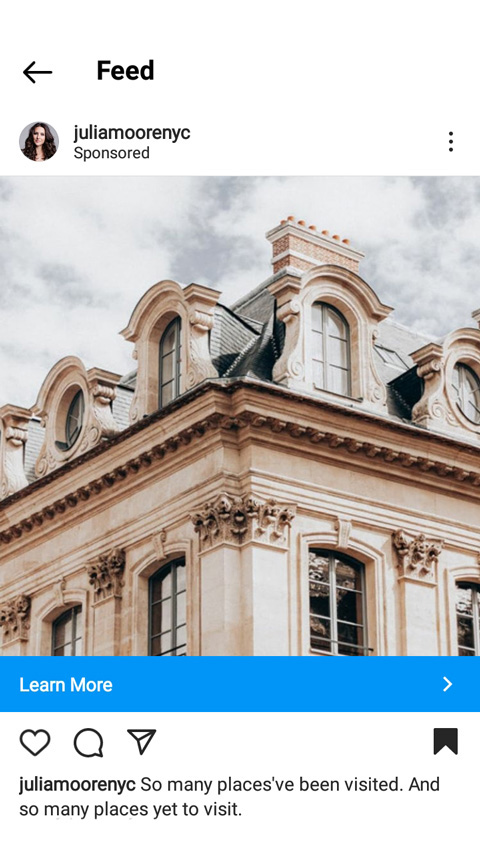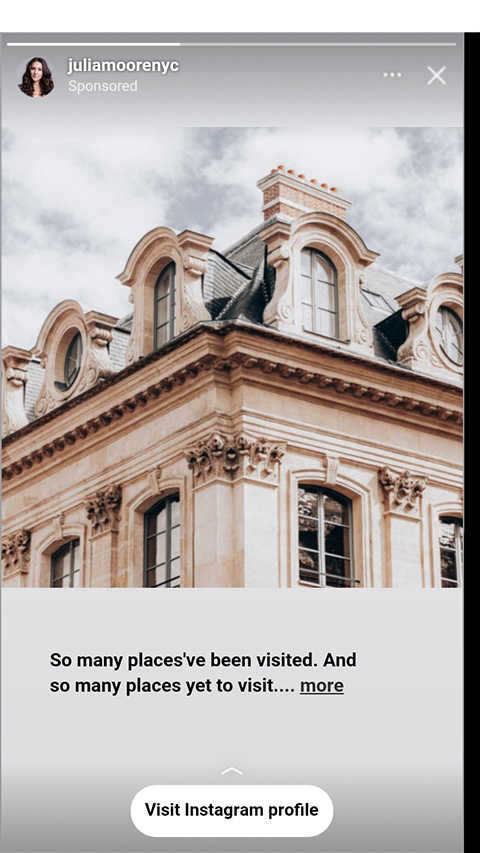 The advantage of promoting content using the IG feature is that you can launch it quickly. You don't have to adjust many settings and study social media marketing. There is also no need to link your Facebook page or grasp the Facebook Ads Manager. You can set the promotion in just 5 clicks.
This absence of accurate settings, on the other hand, is a drawback for advanced marketing managers. Because advertisements won't be that effective without the variety of parameters like on Facebook.
Promote posts with photos and videos of high quality. Their width should be at least 1080 pixels. As for color parameters of a good photo, you can read about them here.
A post you boost should also be good from a social media marketing point of view. It should catch attention right away, so that it gets attention even of those who scroll their feed at a fast pace.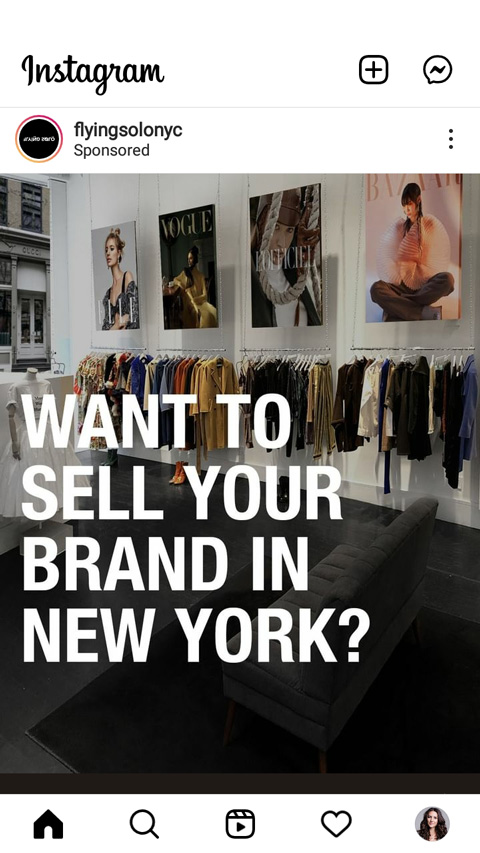 Tap the Boost Post button under a publication to promote it.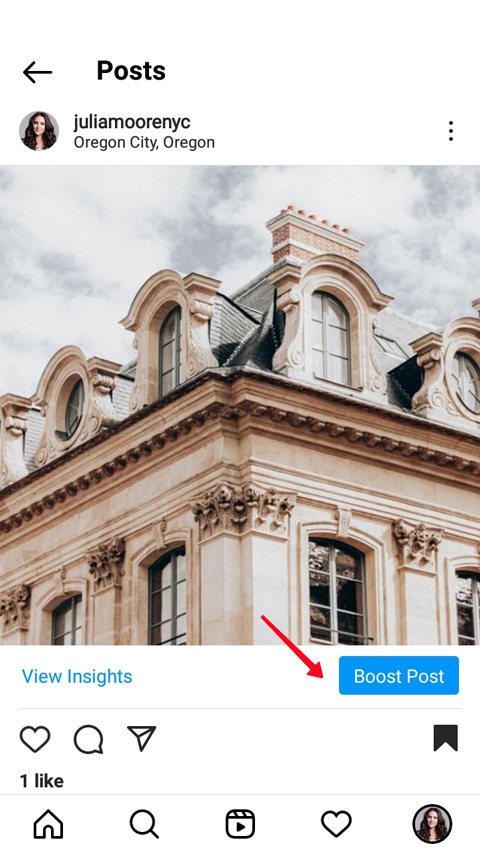 Before you boost your post, you need to decide on what you expect from the ad. The app offers three options.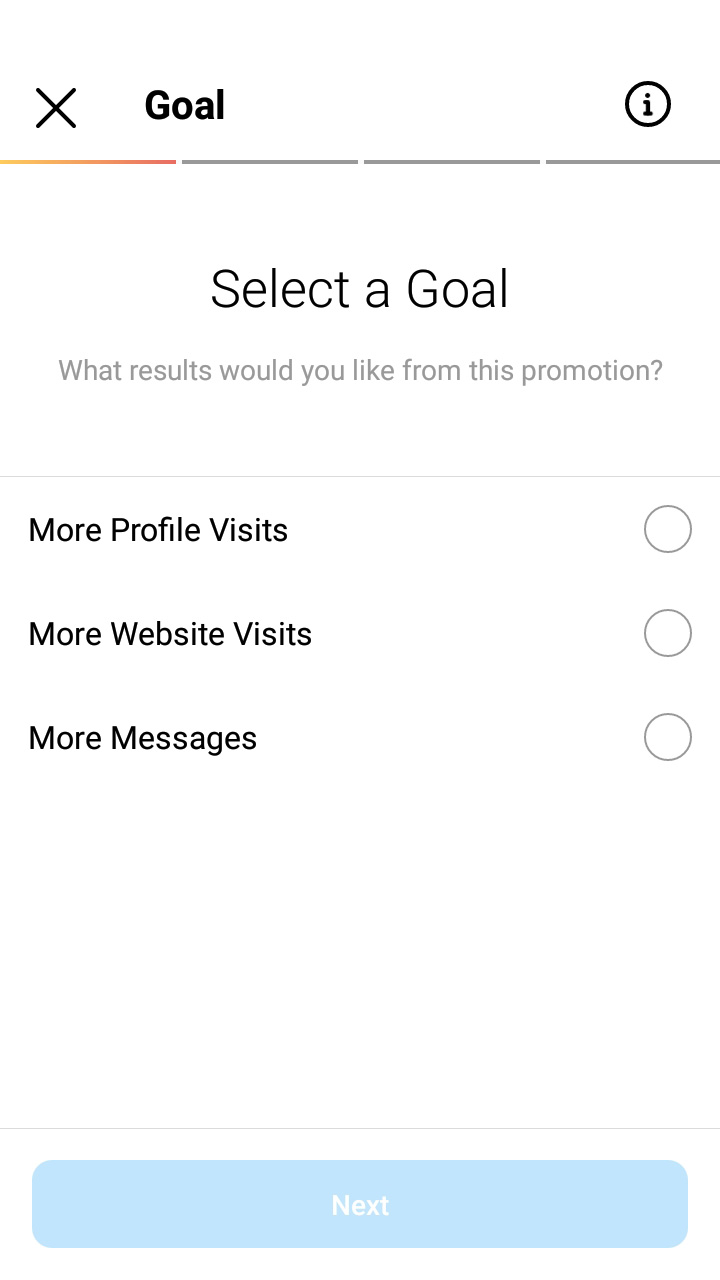 More Profile Visits. Use it for gaining followers. If you post products in your profile, it will also help to show your assortment to new potential customers.
People will go to your profile. If they like your stylish blog or a shop with good offers, they will definitely subscribe.
The first screenshot shows how your post will be displayed in the feed or on the Explore page. The second one shows how it will look in Stories.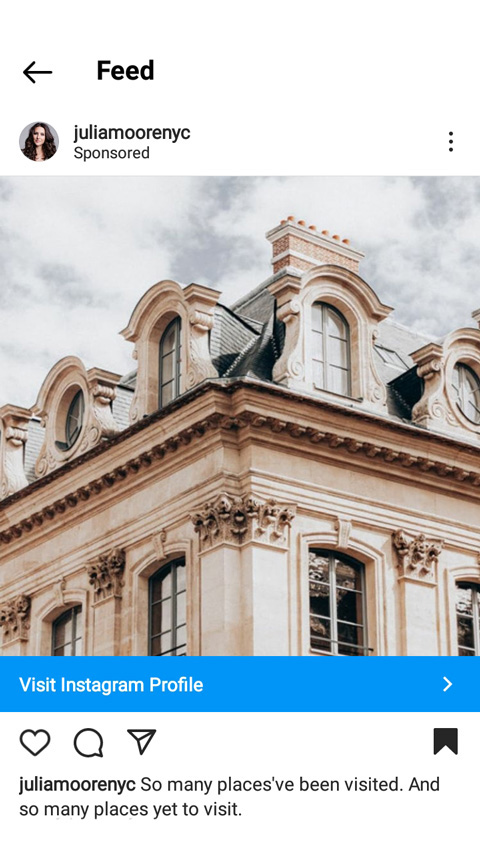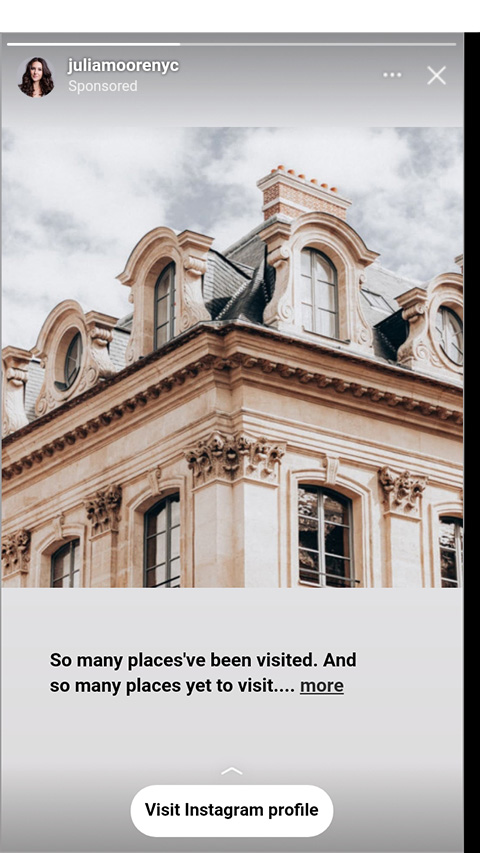 More Website Visits. This goal will bring more customers to your website with a catalog. Instead of a website, you can also put a link for downloading a manual or a checklist. This way, you provide a promo of your products or services.
When you select the goal More Website visits, there opens a window. You need to put a website link and choose a button text in it. The link is copied from your bio by default. You can change it. Below, you can choose text that will be displayed in the link button.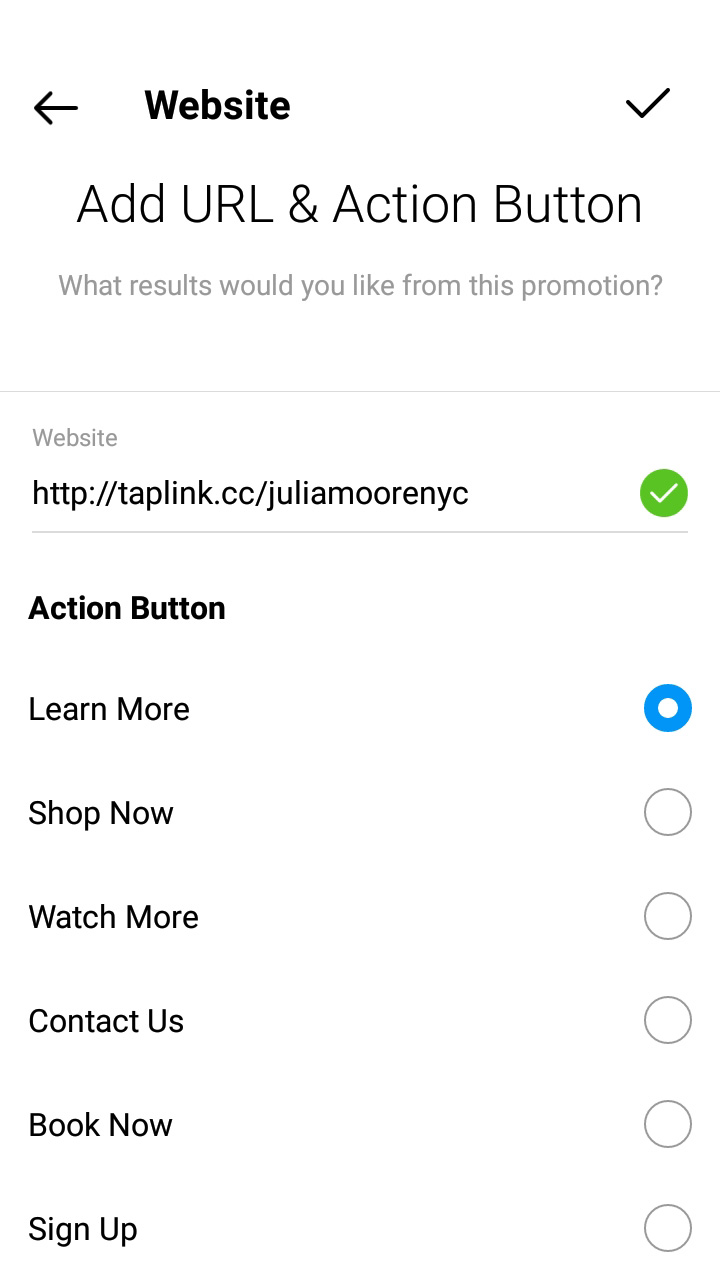 Here is how people will see your boosted post.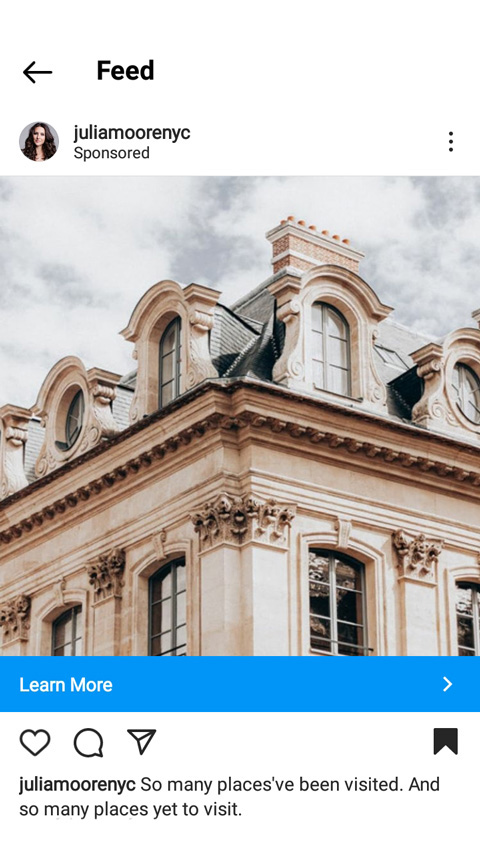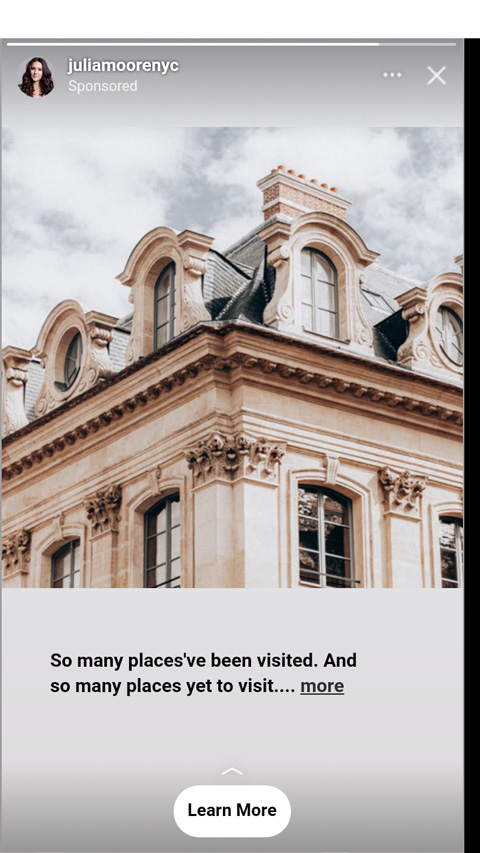 More Messages. The goal helps to get to know your audience. Ask a question so that people will answer by the link. You can also increase your sales using messages.
For example, boost a post with one of your products and let users know they can order it just by writing "Want it" in Direct by the link. Or, say they can get all the purchase details in Direct — and here is the link.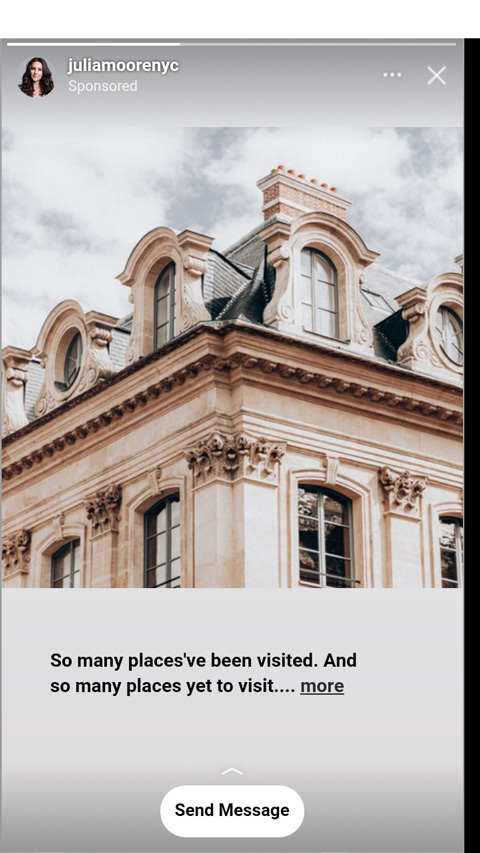 Tap Next after you select a goal.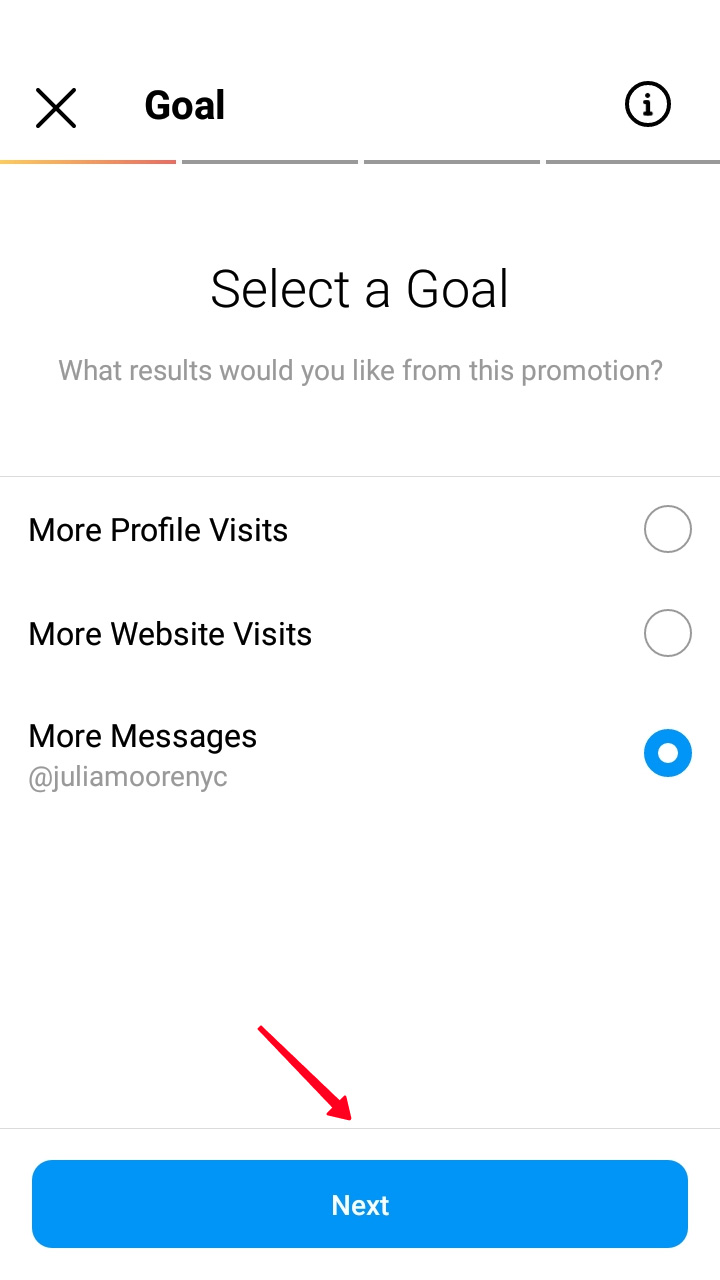 Now let's set who will see your ad.
Pay attention to the Select Ad Special Category menu. When you boost a post about finances and money, employment and career, real estate and all the associated things, you must mark it in the menu. If your post contains social issues or topics close to politics, you must state it too. But the ad like this can be set only in Facebook Ads Manager.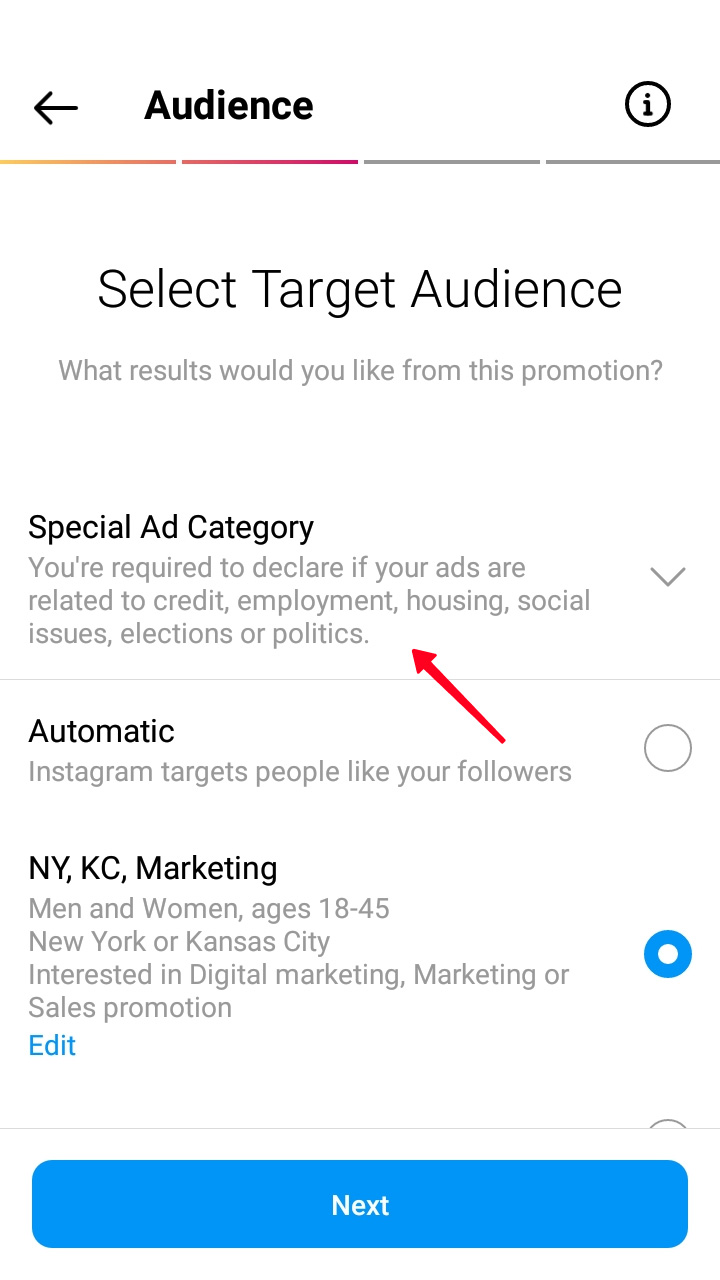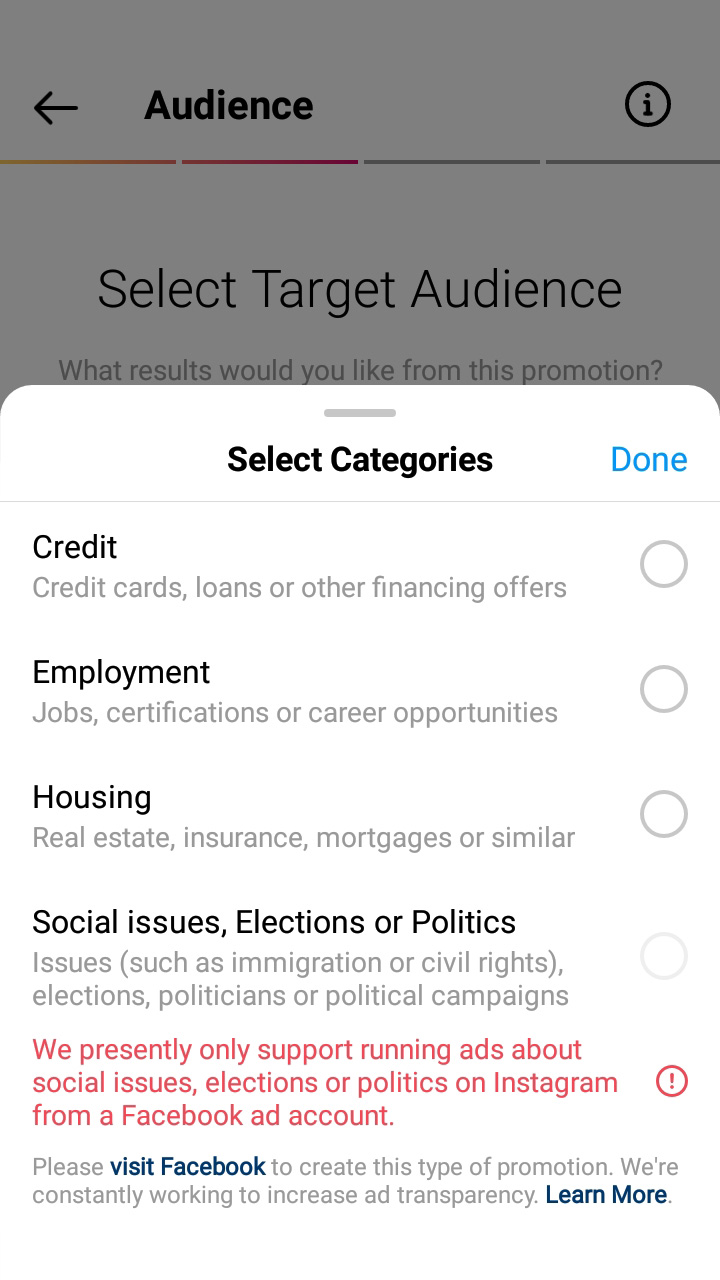 You can allow the social network to make up a target group of users for you. It will find people similar to your followers on the social media network. If you are not good at advertising so far, or if you want to launch a promotion as soon as possible, then, this is your option.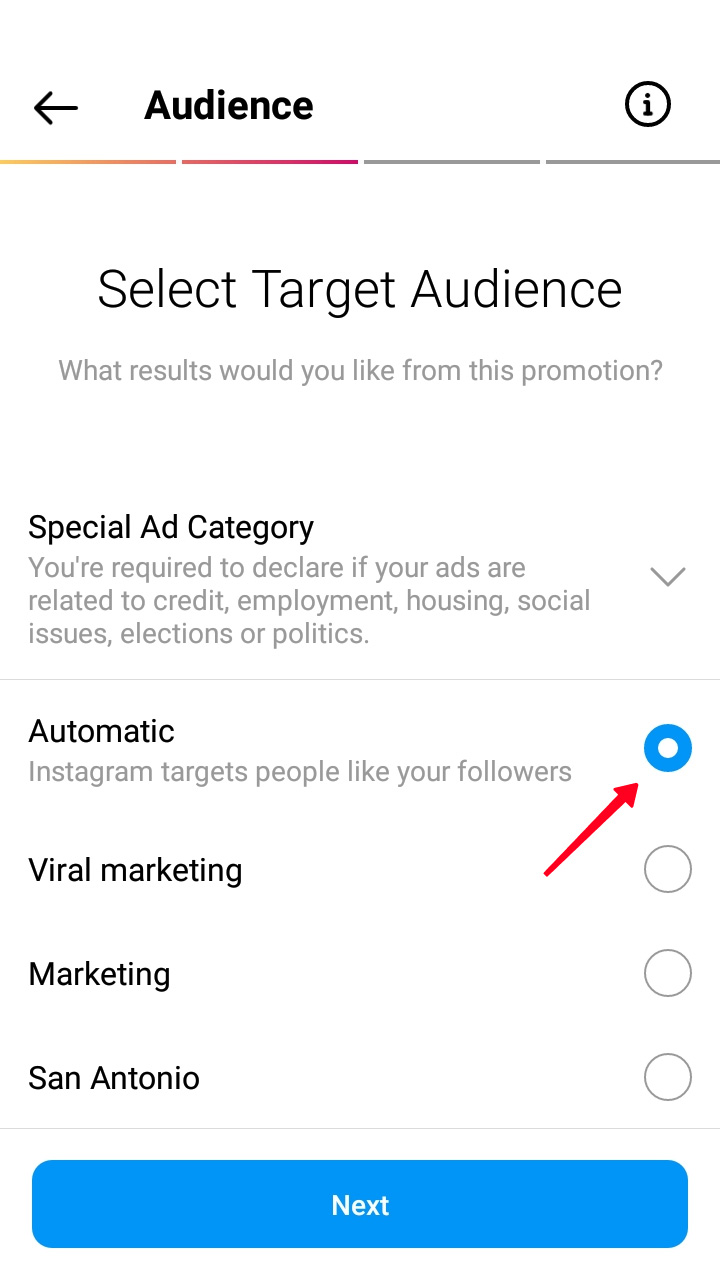 Don't use the automatic list if you bought followers or cheated gaining them in another way. Most of them will not be interested in your content. It means Instagram will find those who are not interested in you too. The money will be wasted. So, instead, set your custom audience using the instructions below.
You are free to decide what kind of people will see your post. If you know your audience pretty well, or you are targeting specific users, you'd better create a custom group. In the future, when you boost other photos and videos, the groups you created will be offered here.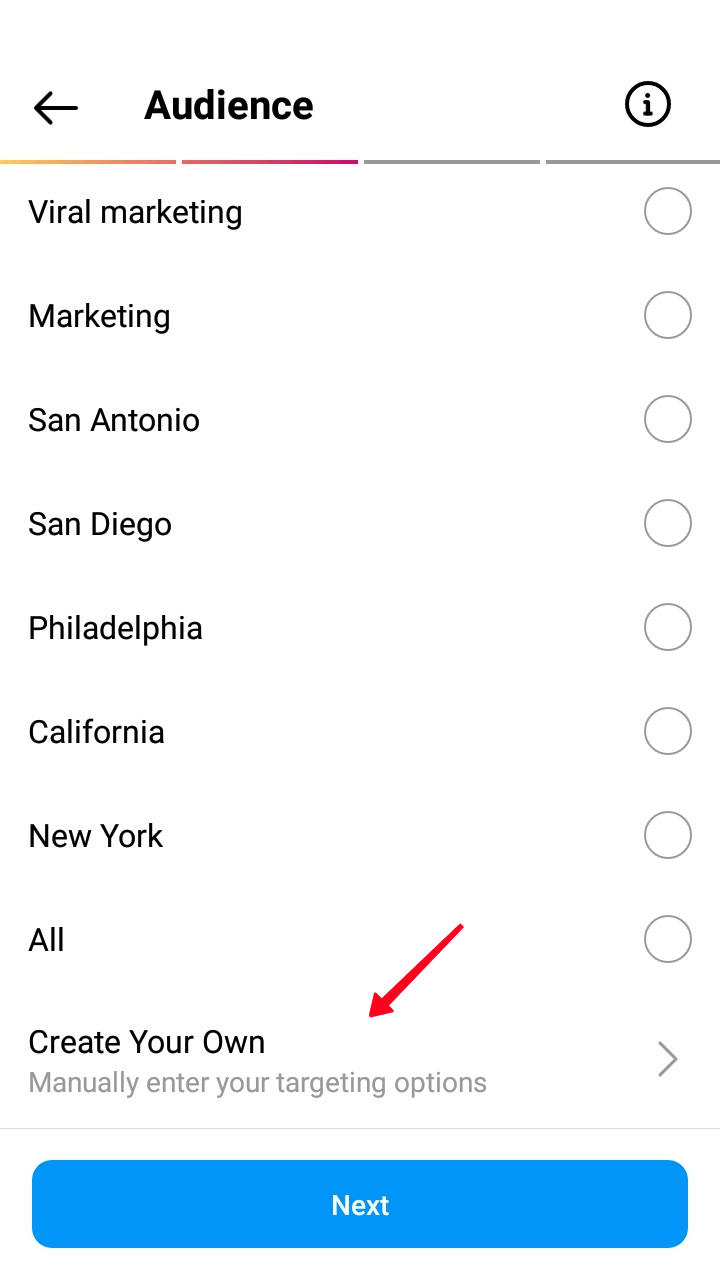 Give your group a name. You need to choose locations, interests, age and gender. Let's look at the latter settings in more detail.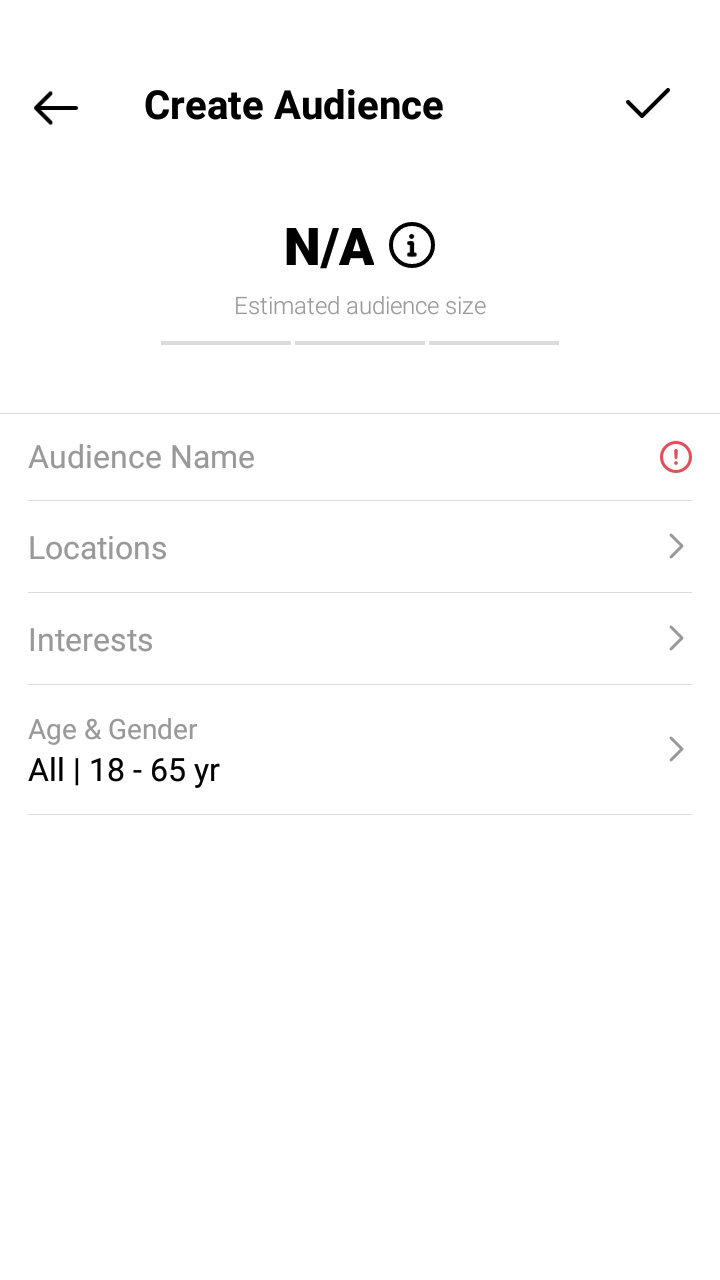 Locations. In the first tab, you can add several places from any part of the world. Type the name of a place in the search bar to find and add it. In the second tab, you can change a radius, your local region is set by default, but you can change it. In this tab you can add only one location.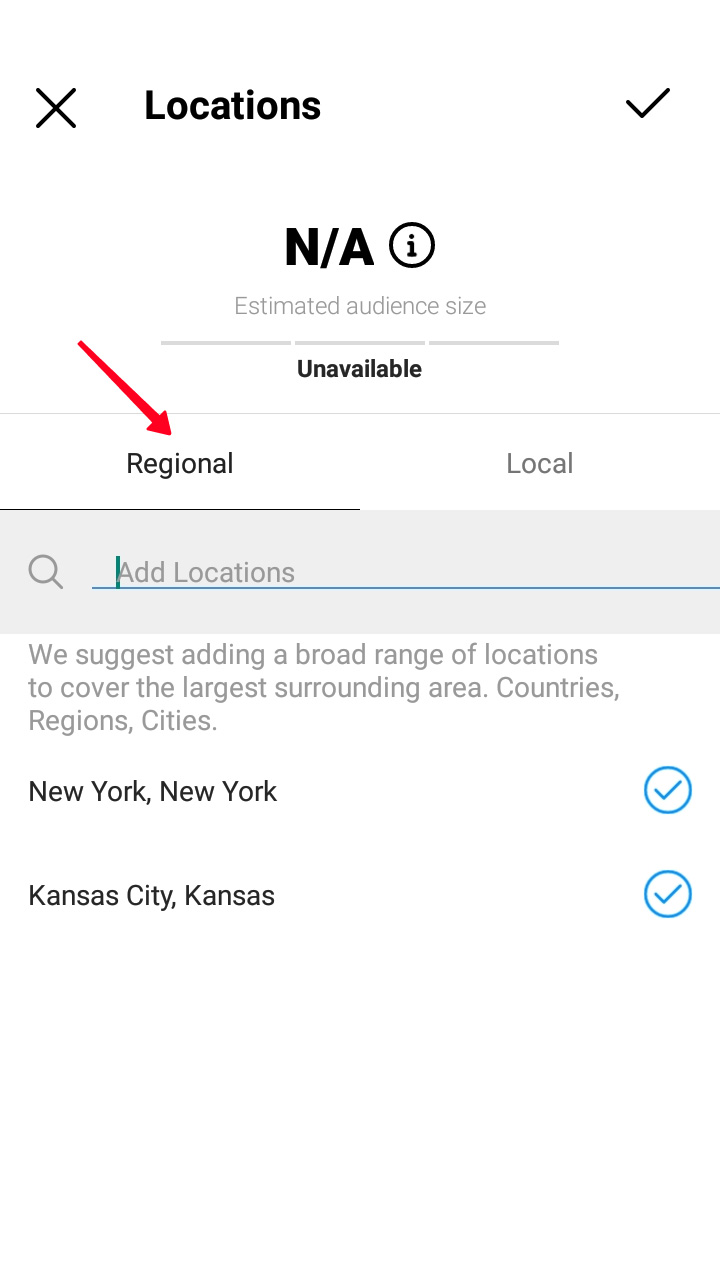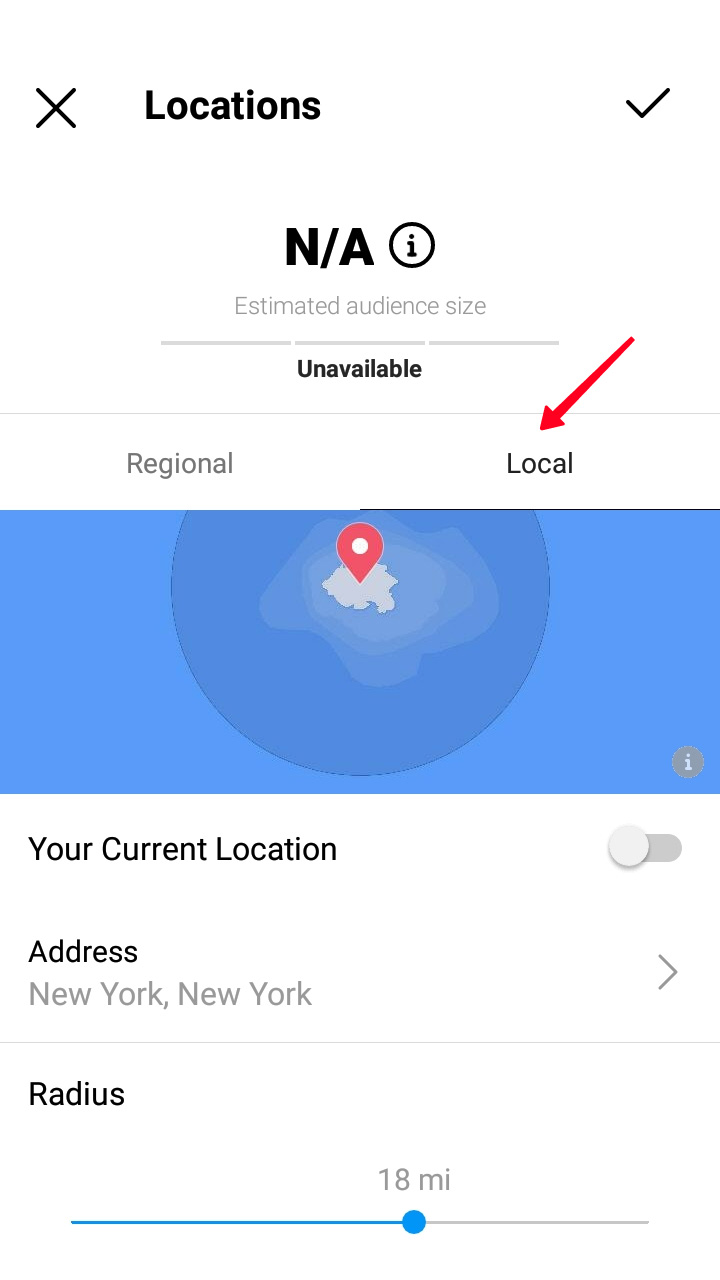 Interests. Set interests by which Instagram will find users. Start typing one of them in the field. You can add numerous interests to expand your potential audience.
For example, choose computers and gardening, and your post will be shown both to those who are into computers and who are into gardening. A user doesn't have to like both things to see your sponsored post.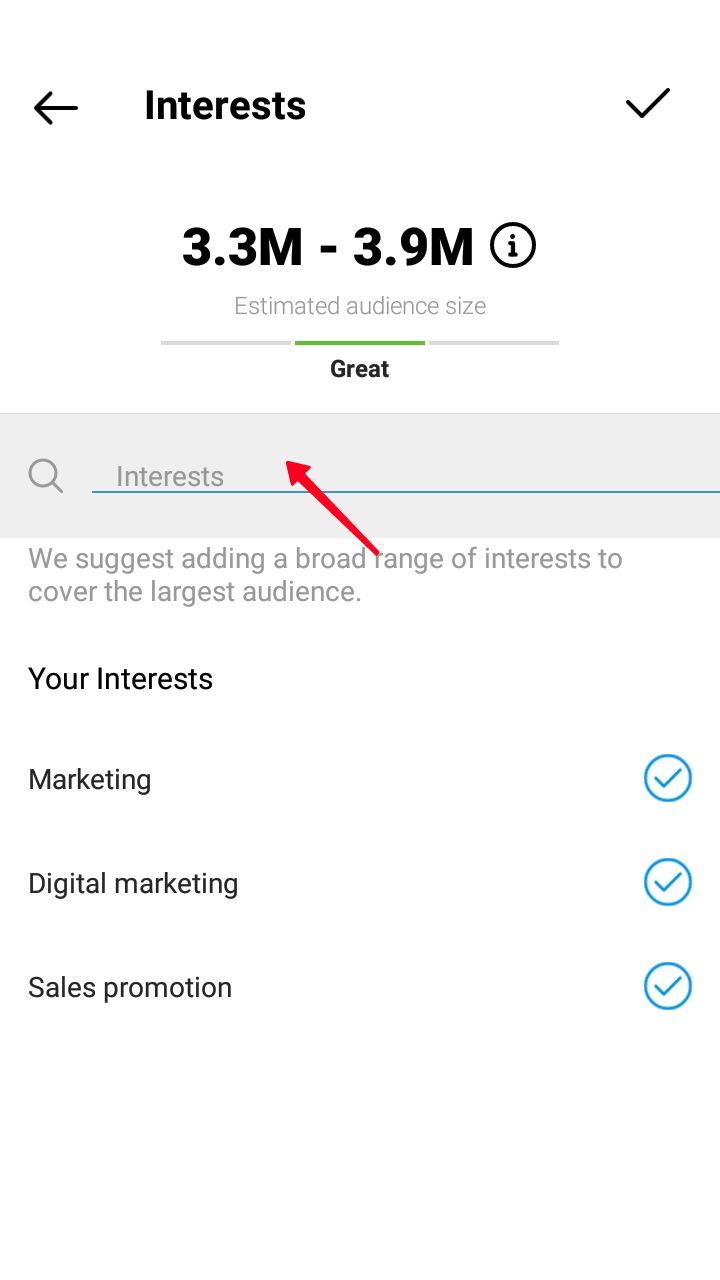 Age & Gender. You can set any range of years from 18 to 65. Add to that, you can include or exclude people of a particular gender by tapping a tick near them.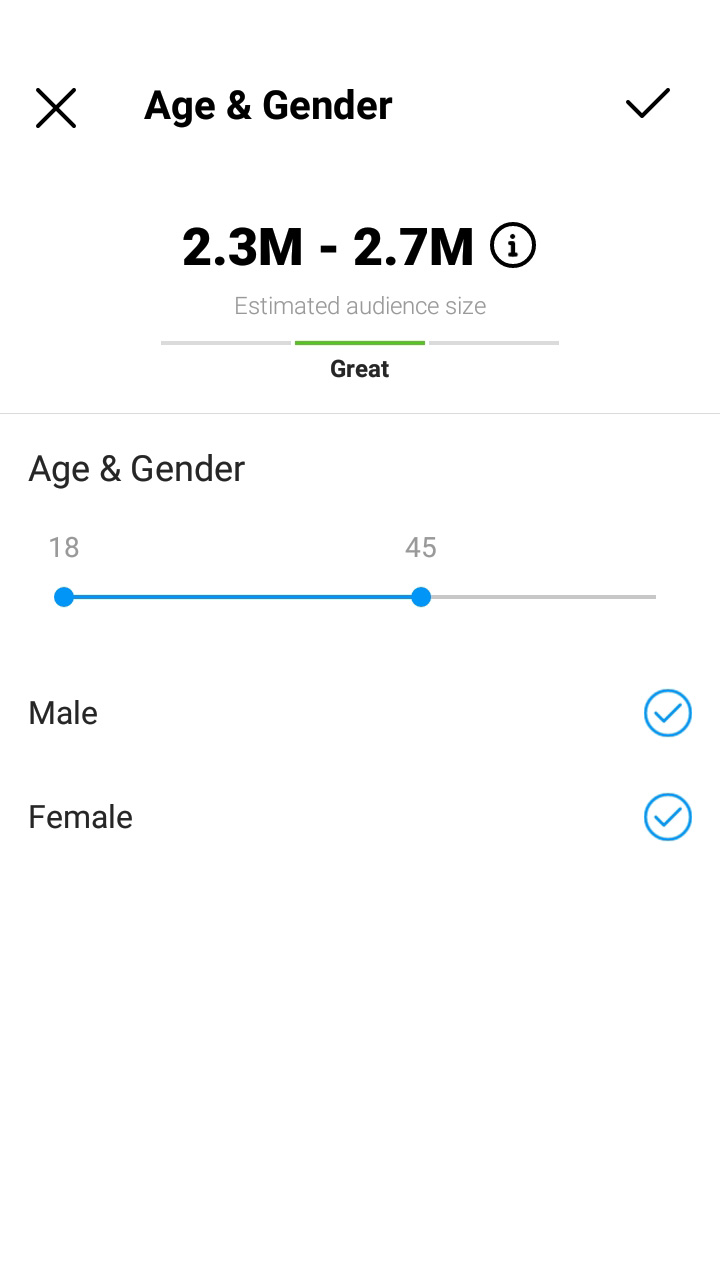 At the top of the audience editing page, you will see the number of people who fit the parameters you set.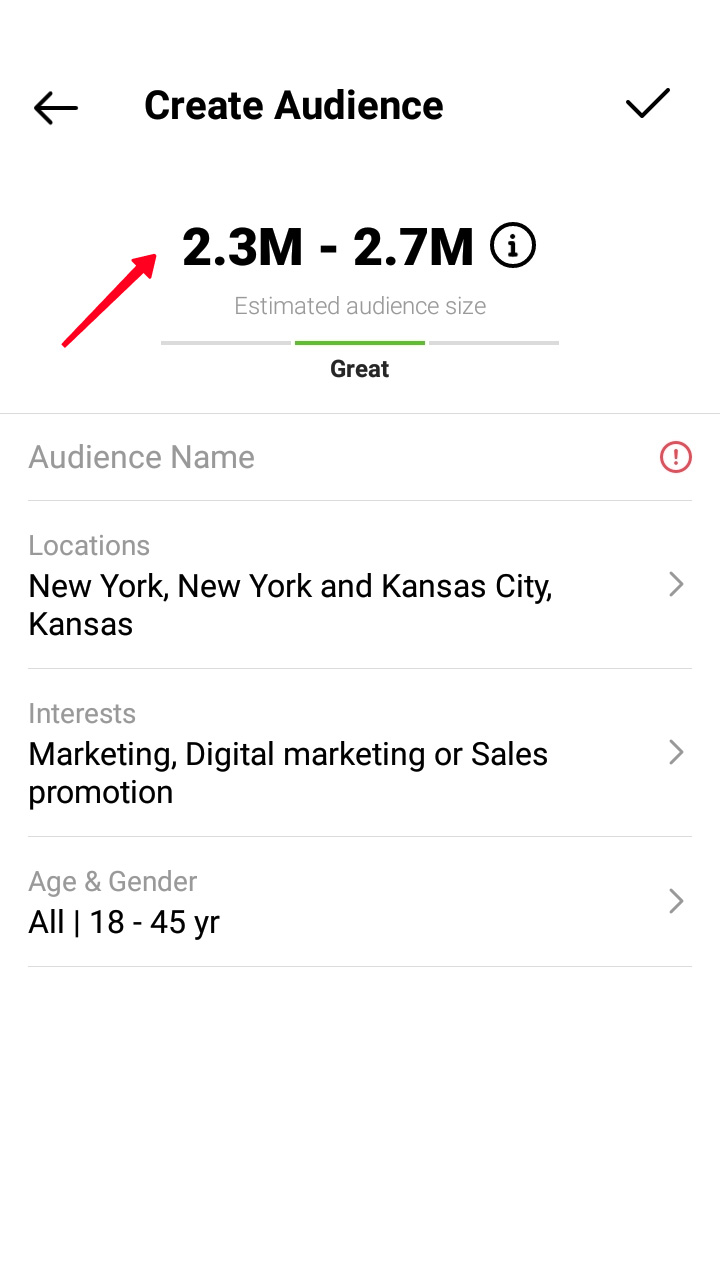 Make sure you opt for your custom audience and tap Next.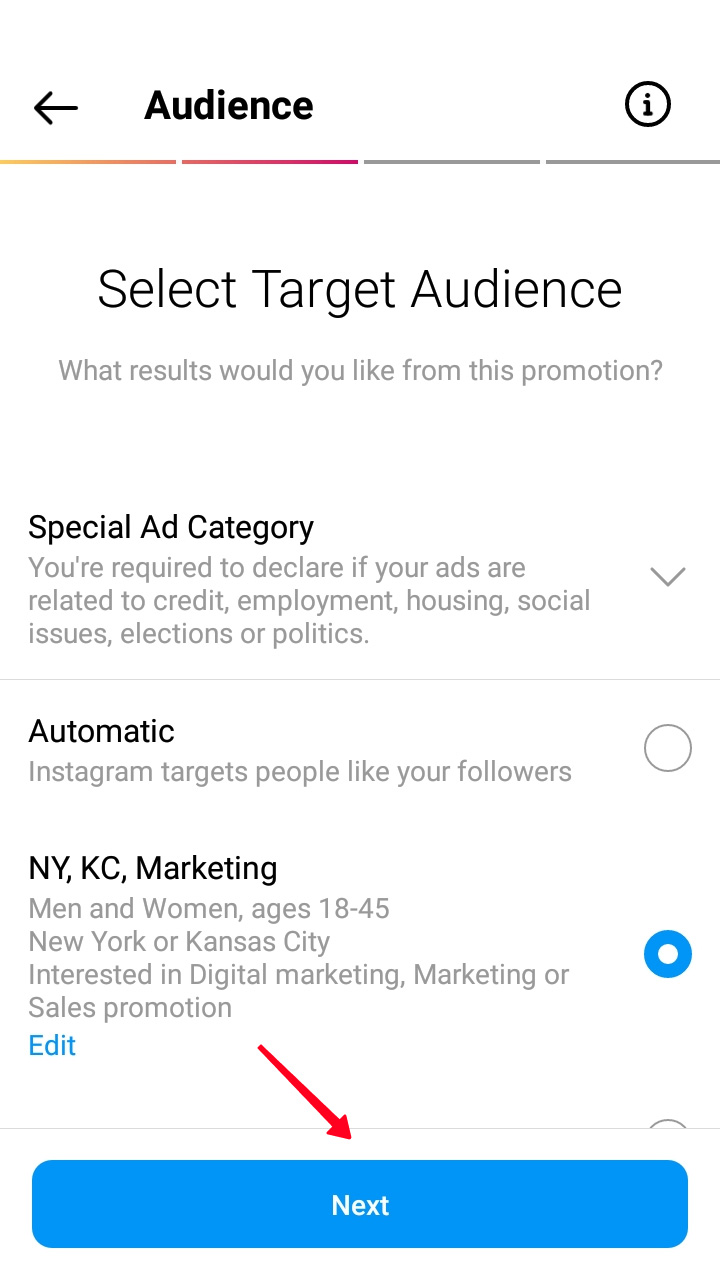 After you decide on the audience, you can go to the finance aspect.
The first setting adjusts the daily budget. The app recommends making it no less than 5 USD. The currency and recommended number may be different depending on your country.
The second setting adjusts how long your posts will be showing. The app recommends setting it no less than 6 days.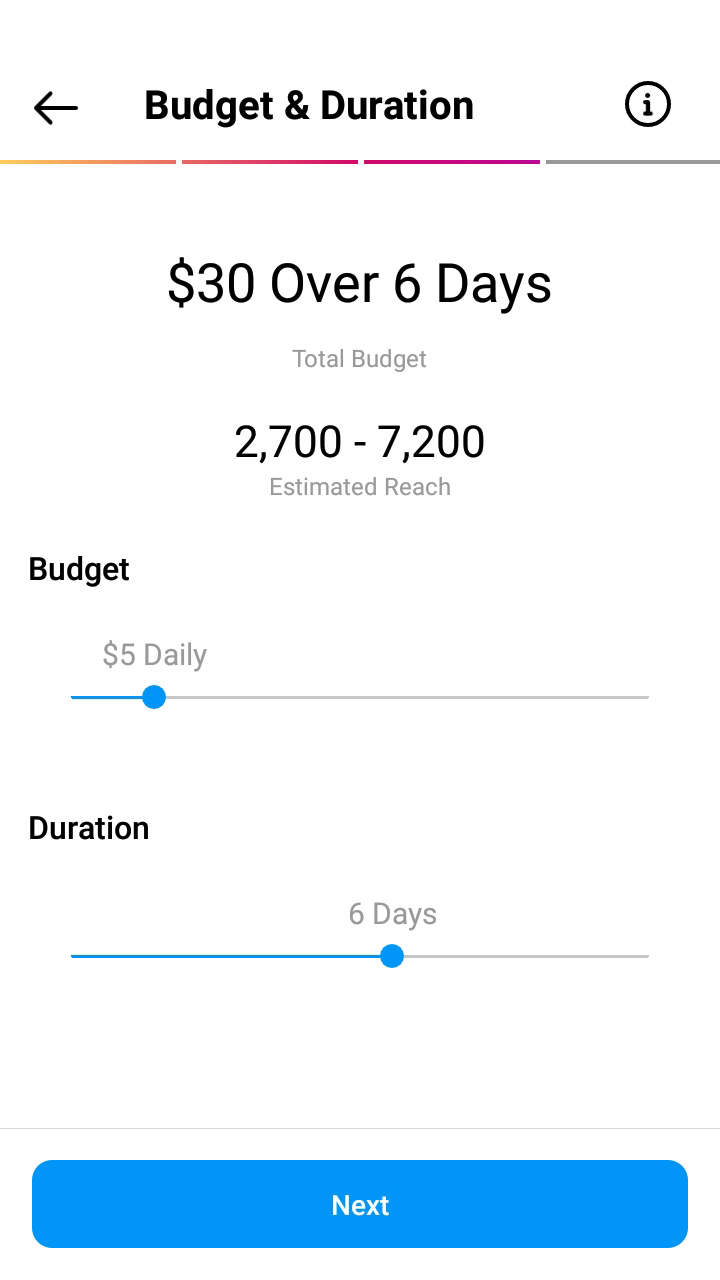 The more the budget and duration are, the more people see your post. Besides, the more Instagram shows your ads, the more accurate it picks the viewers.
Algorithms analyze users who saw the post and their engagement. When a user is interested in your post, the algorithms choose users with the similar interests to show the ad. The user's gender, age, and location are also considered. If a user's engagement is low, less people with the similar parameters will see your post.
It makes sense to start from a low budget. Create audiences with different locations, gender, ages, interests. Show posts with different creatives to them. Afterwards, you will be able to track and analyze the results in statistics, we will tell you about it later. When you figure out the most engaged kind of users for specific posts, you can boost your photos and videos with a bigger budget.
At the top, you can see the number of people your post will be shown to. Bear in mind, even if you set both of the settings at their maximum, the number will be lower than what you saw while creating the custom group.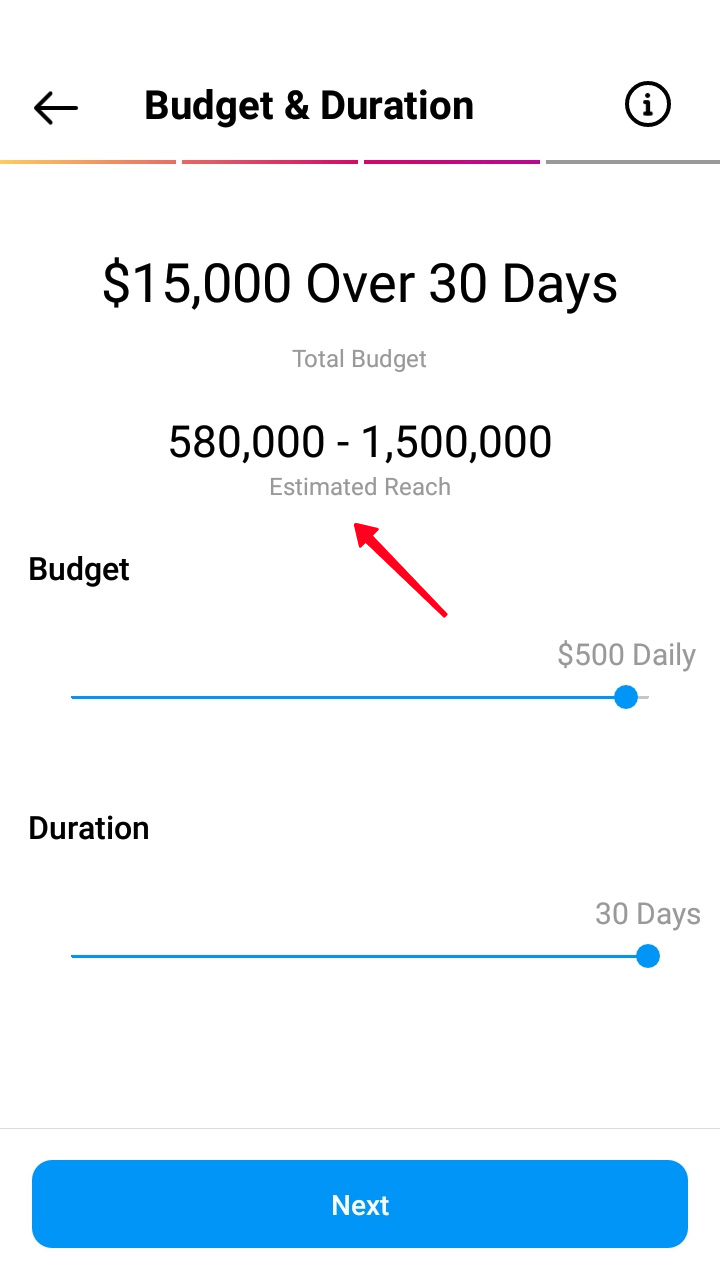 Tap Next to go to the Review page, where you complete the final steps.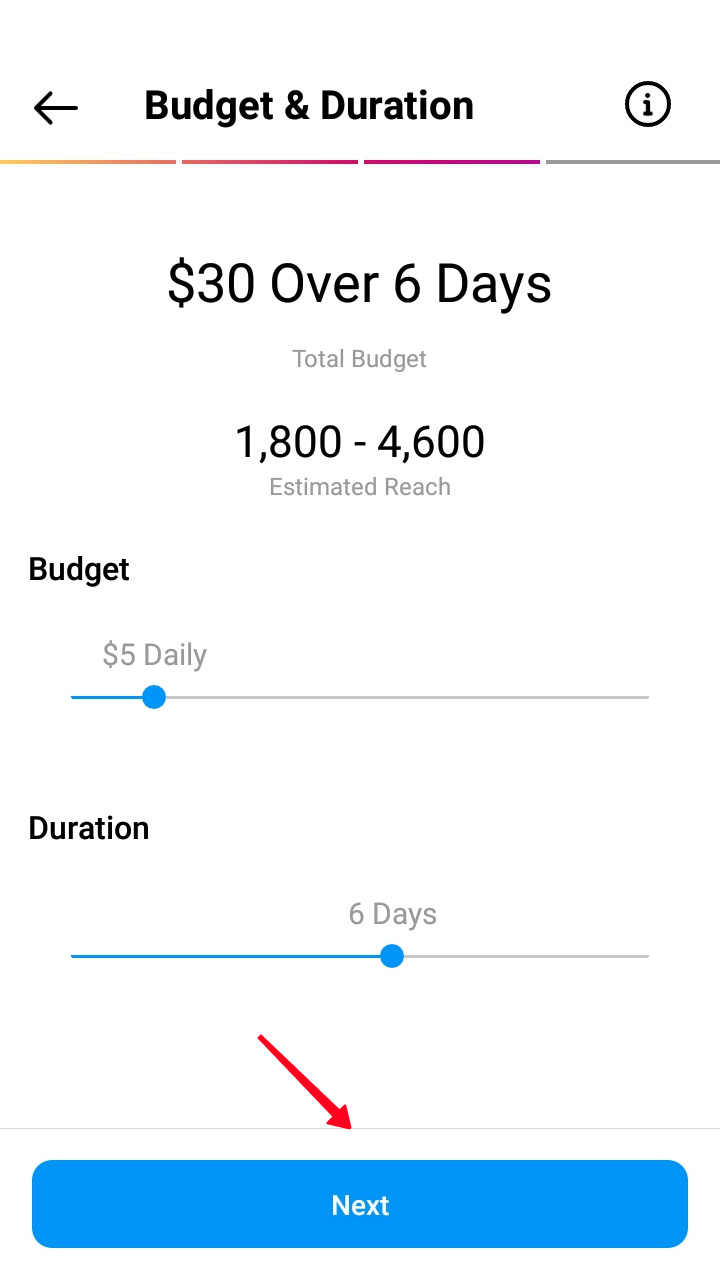 On the Review page you can check all the settings.
Tap Preview Ad to see how users will see your post. You can't change where it will be displayed and where it won't.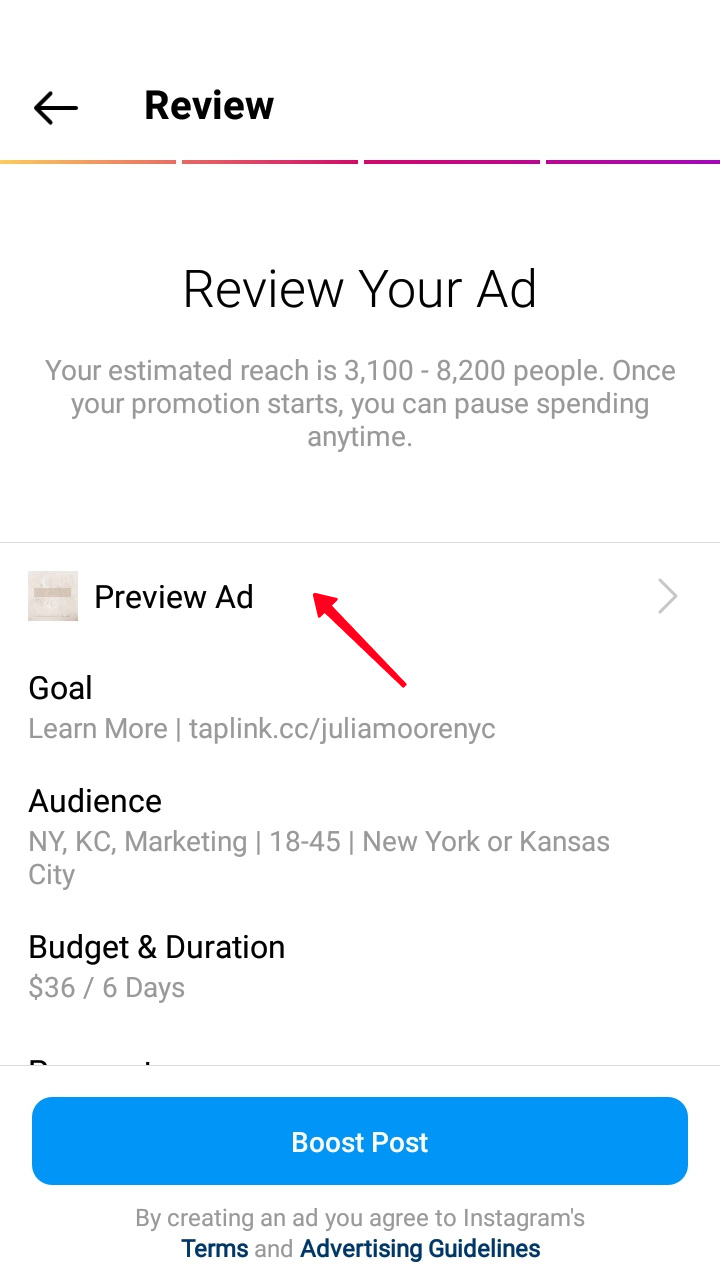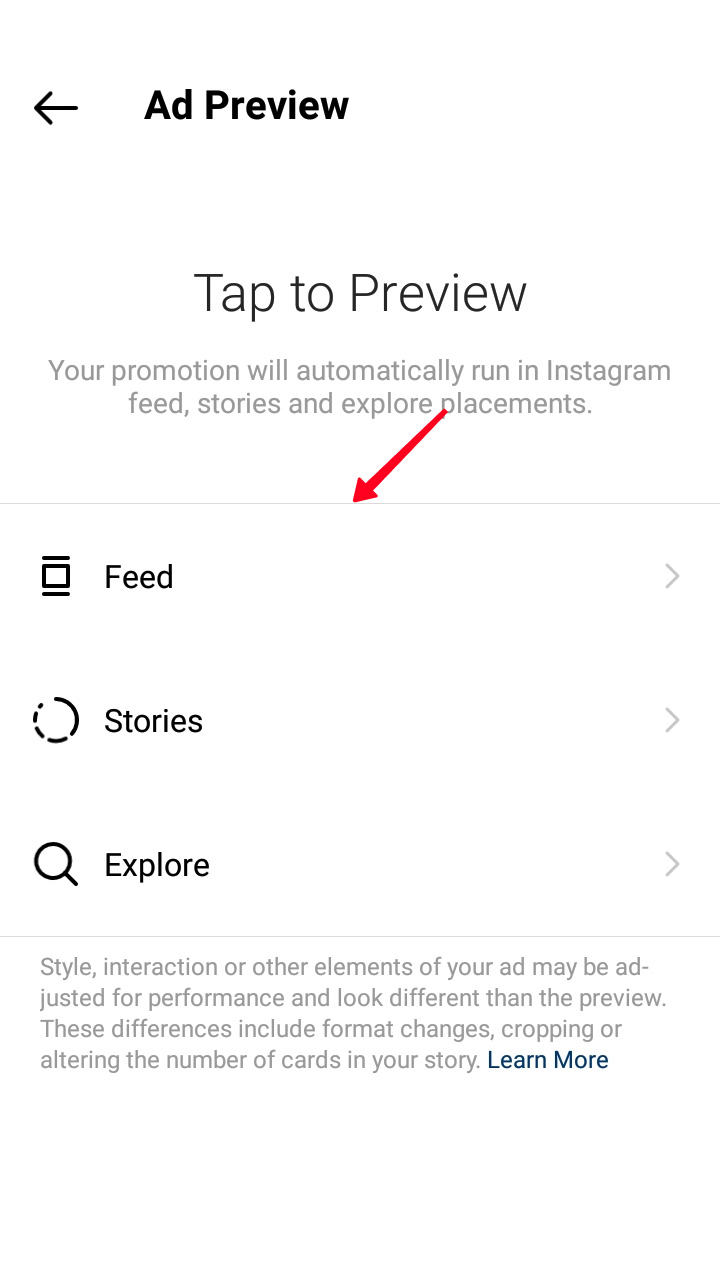 In the feed and on the Explore page, posts will look the same. Be sure to check how it looks in Stories. The size of posts and Stories are different, so a photo and video will be changed there. Make sure they are fully displayed and the content looks ok.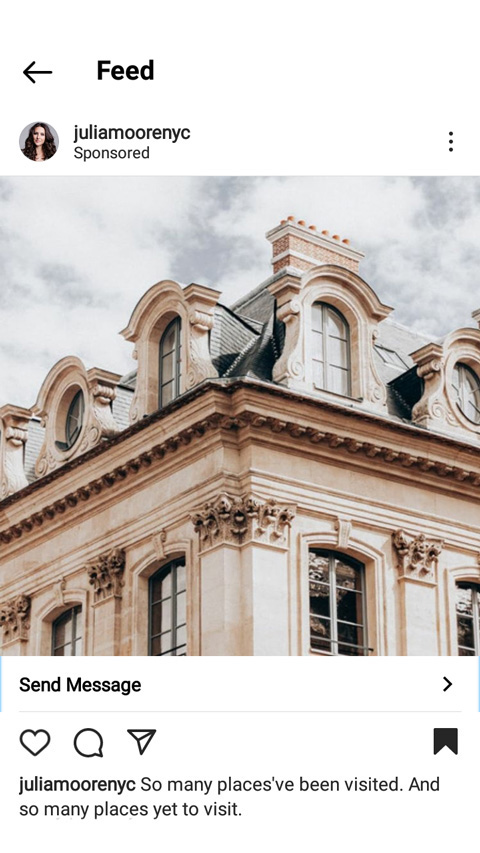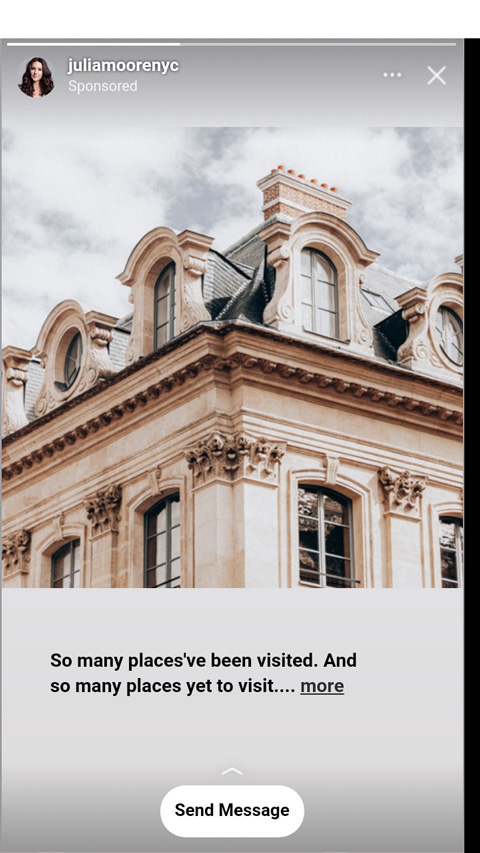 If everything's ok, continue by making payment. Consider, the final sum you have to pay may be higher than what you set in the previous page. Taxes may be added, they depend on your country.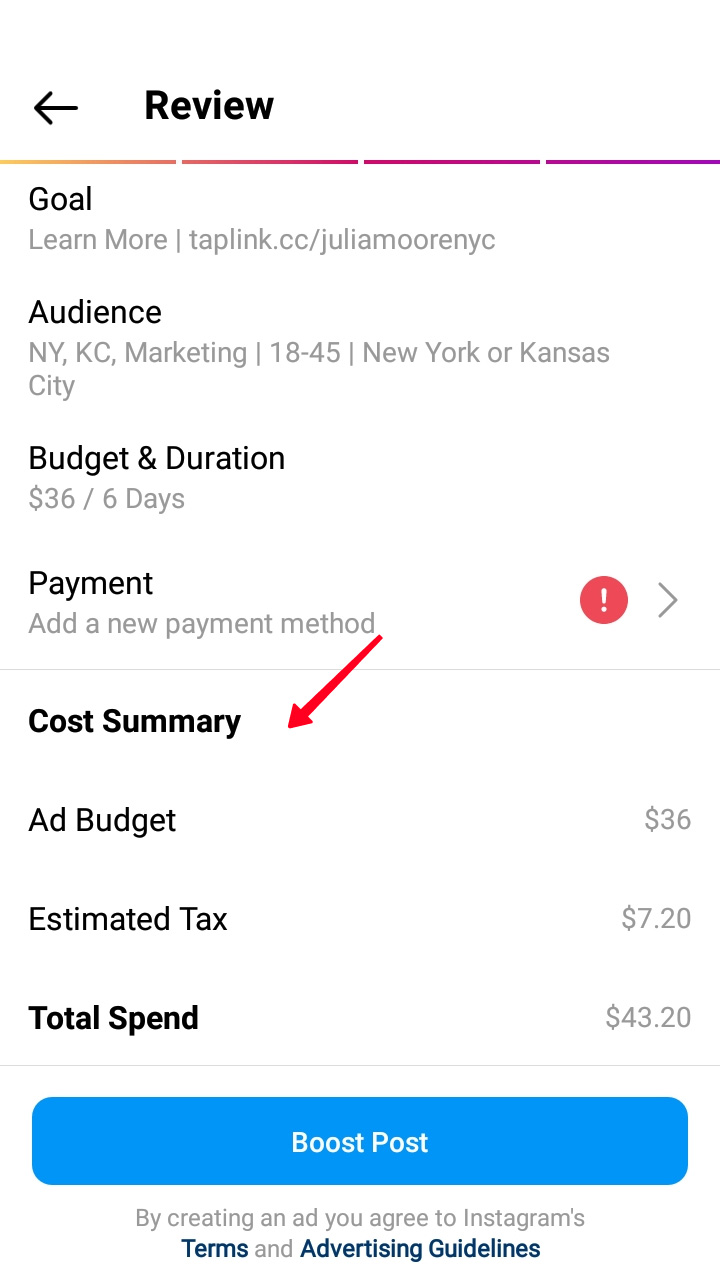 Tap Payment to select or add a payment method. Select a bank card or PayPal account, then tap Next. If the card or PayPal account hasn't been added to your IG account, you will get to a page with the filling forms. If you already paid this way on the social network, you will get back to the Review page.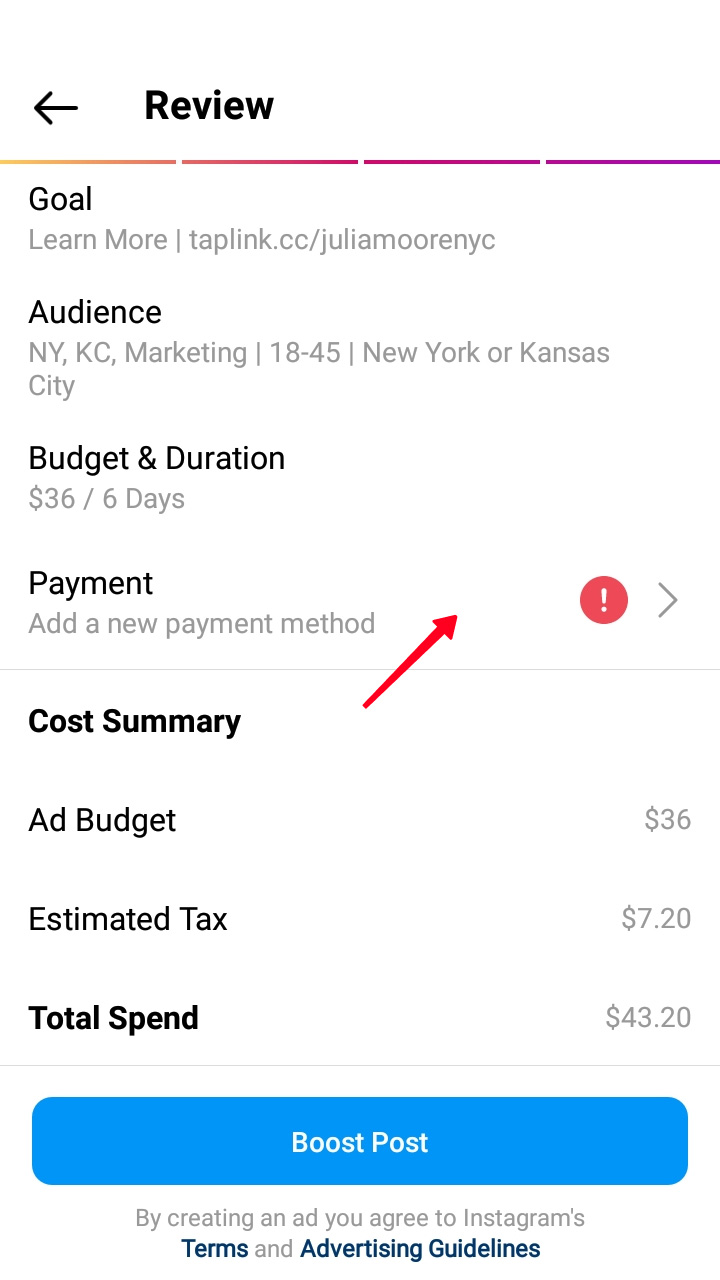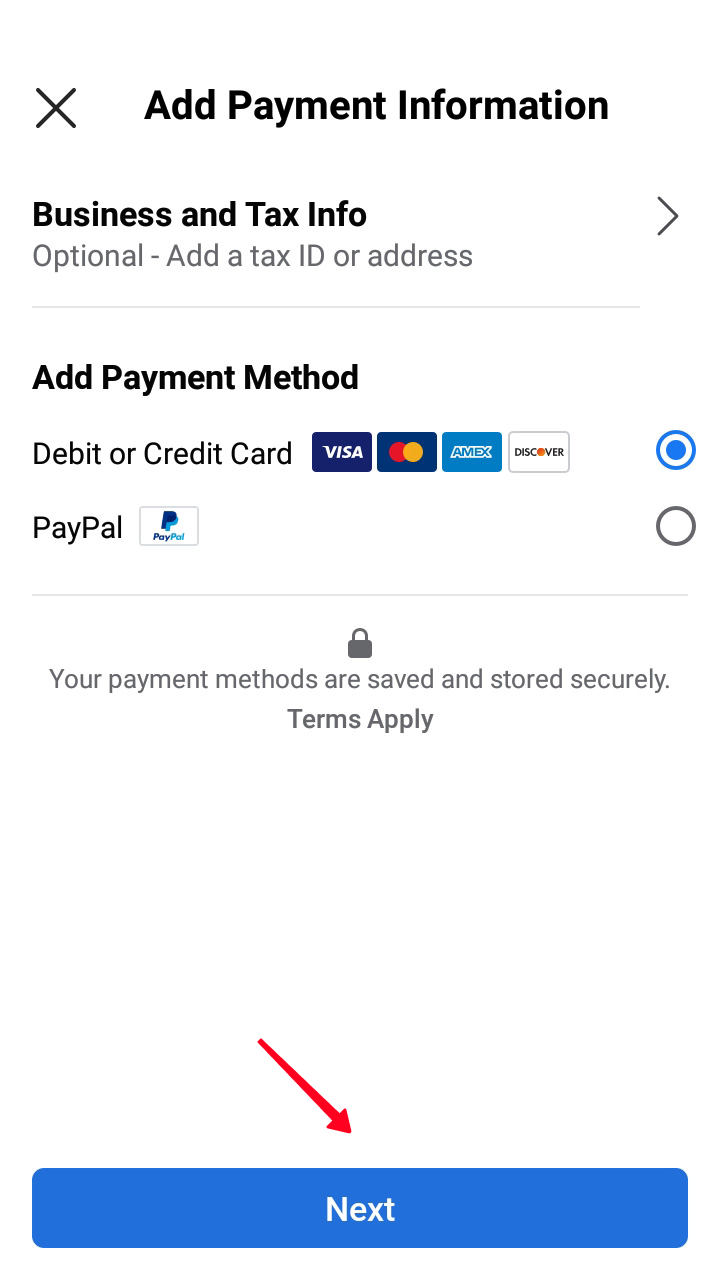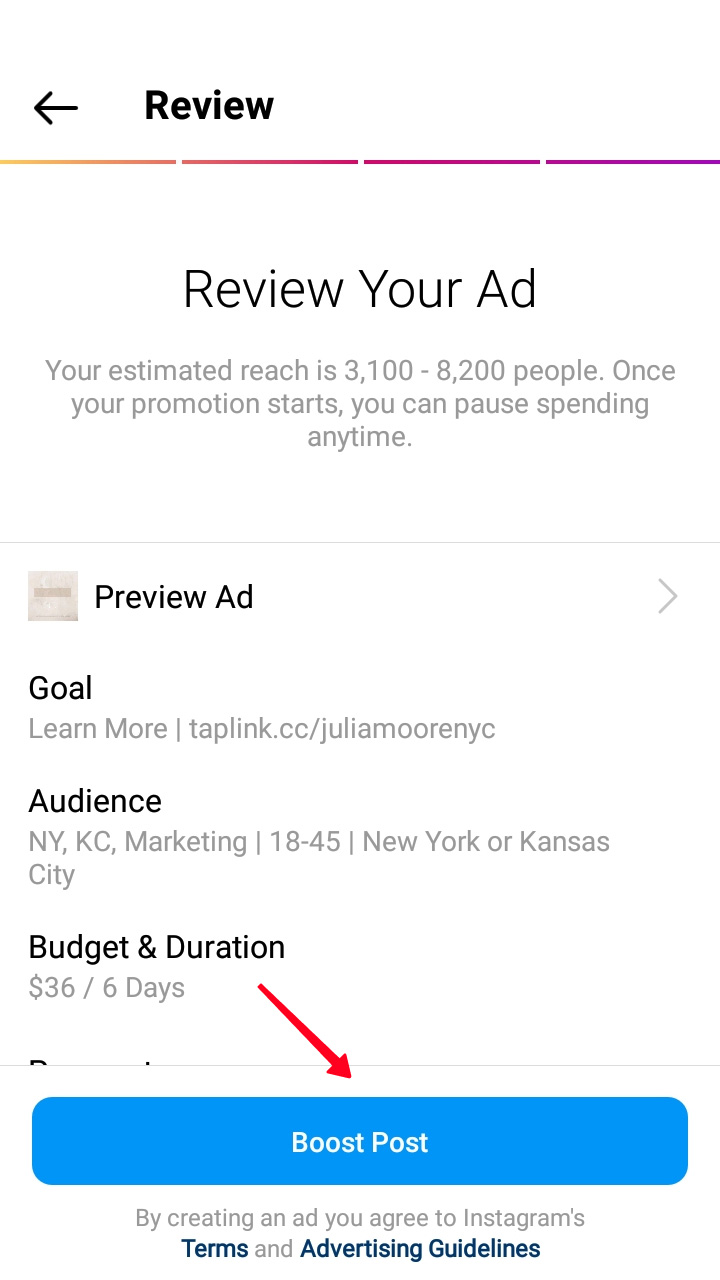 After you tap Boost Post, your publication is sent in review. If you haven't violated the Community Guidelines, you have nothing to worry about, the boosting will start during the day.
You can track the review status and the boosting statistics in the Ad Tools in the Manage section. On the list of the boosting posts you can choose one to see its detailed statistics.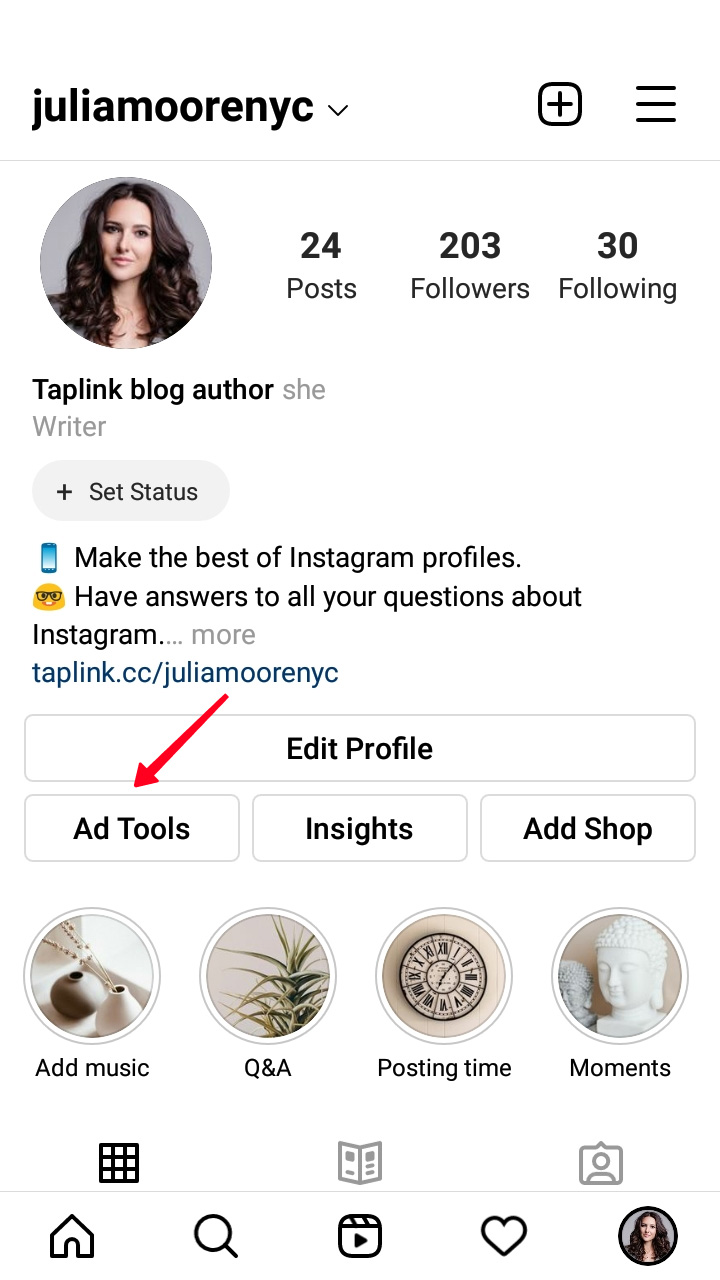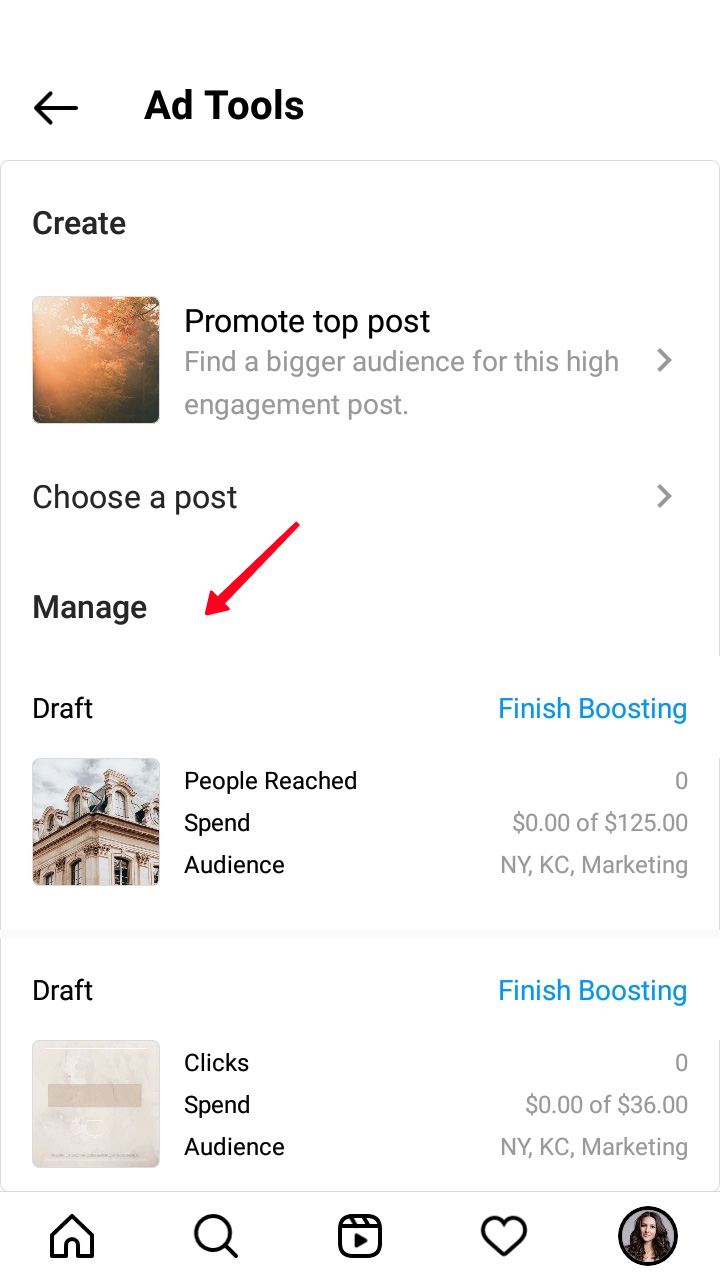 Try promoting posts with different creatives and setting different goals, create audiences with various interests, locations, ages, and select different genders. Analyze the statistics to know what works best for your brand.
Boosting posts has its pros and cons. It's a good way to start ads in a couple of clicks without the necessity to conceive social media marketing. On the other hand, this advertising is not very effective due to the lack of accurate settings in comparison to Facebook Ads Manager, for example.
Try different strategies when you boost an Instagram post to get better results. Create custom audiences and target ads of different types and with various creatives to them.
What is your goal — more visits to your profile or website, or more messages in Direct? Share in the comments!