Looking for the best Linktree alternatives? Here is the option for 2023

Updated July 05, 2023
Julia Moore
Content Marketer and Writer
Linktree was one of the first services to solve the problem of limited links in bio. But time goes by, and there appear better services. If you think the service has become too expensive although its features are still not enough to realize your ideas, then it's prime time to look for a Linktree alternative. We did some research, and now we offer the best option from our point of view.
There are enough Linktree alternatives so that you can choose a service according to your priorities. Some of them have a wider choice of the elements that you can add on a page. Others — more design features. There are also those that offer lower prices.
If you want to get maximum opportunities and don't want to overpay, you should choose Taplink. Yes, our list of Linktree alternatives is that short. Keep reading, below we explain why. But first, compare the pages you get when you realize one and the same landing page design idea on these two services. The pages look different though we tried to make them as similar as possible.
The first screenshot — Linktree, the second — Taplink.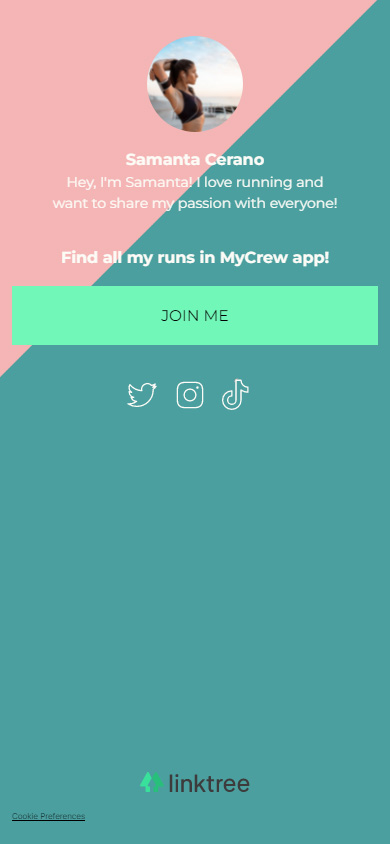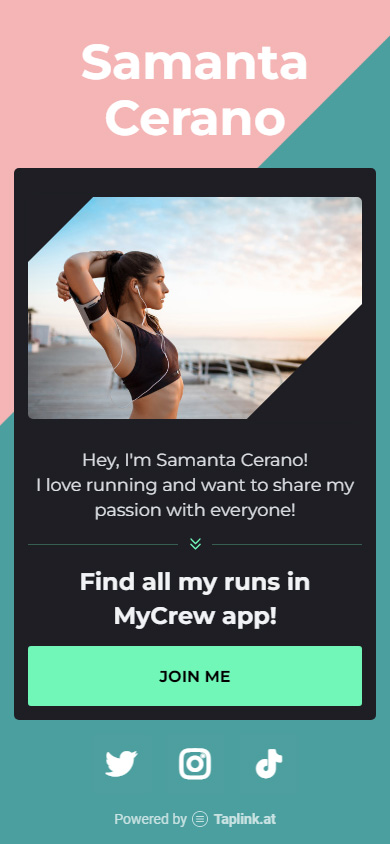 If the screenshots have dispelled your doubts that you should choose Taplink as an alternative to Linktree, then go sign up for free.
If you need more reasons, here are Taplink's advantages:
More features for a lower price. We will tell you about it later. Besides, if you are looking for free Linktree alternatives, the service is also good for you. Its free plan has 100 more pre-built themes than on Linktree.
High rate on Product Hunt. Taplink got to honorable #3 Product of the week and #3 Product of the day. As a comparison, Linktree is only #5 Product of the day.
Localizations for 15 languages. English, French, Dutch, Portuguesa, Japanese are among them, this is more than on Linktree. It has only an English version of the website.
Good users' reviews. In the screenshots below, you can see what users write in AppSumo and Capterra.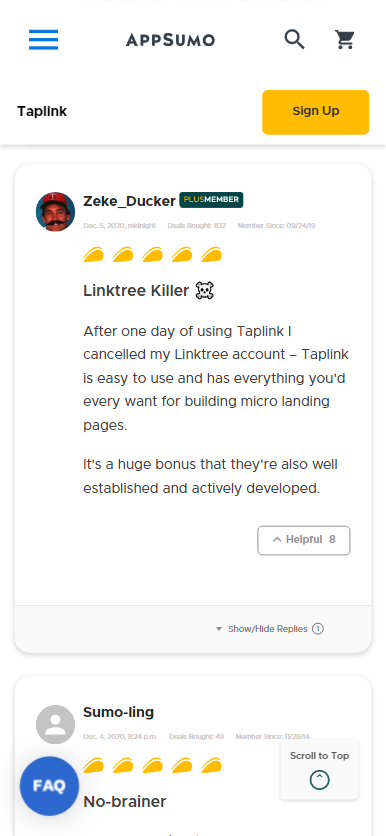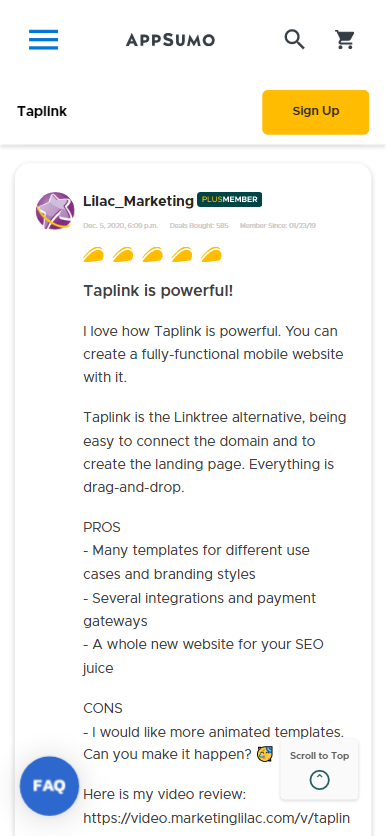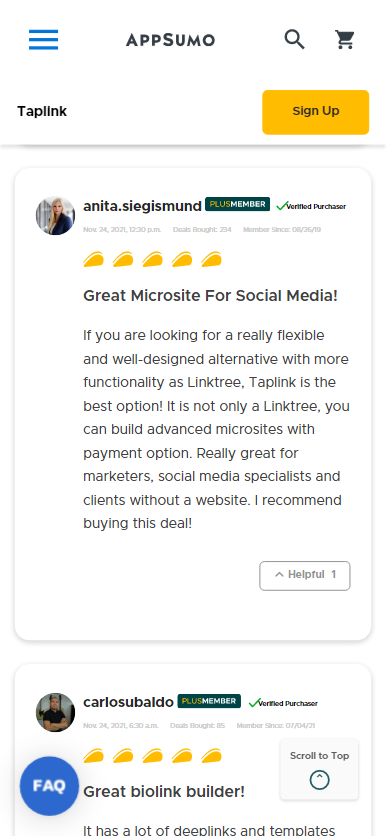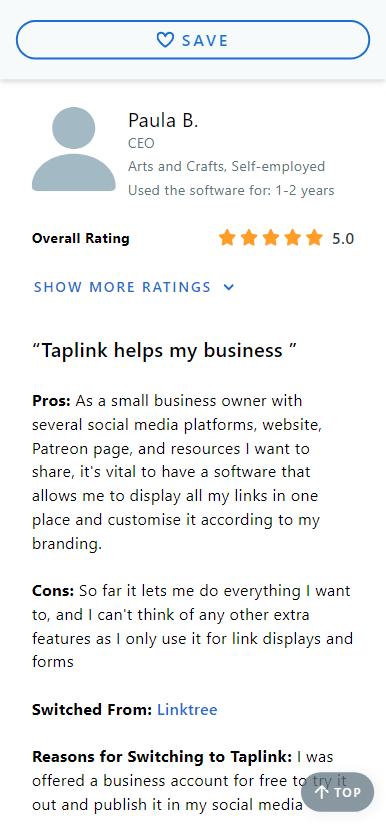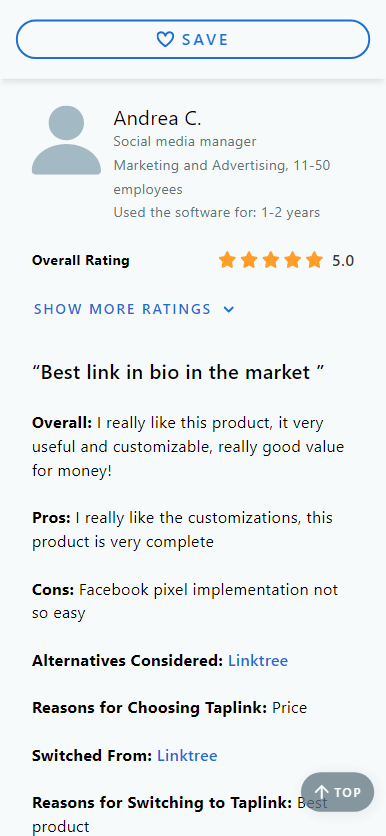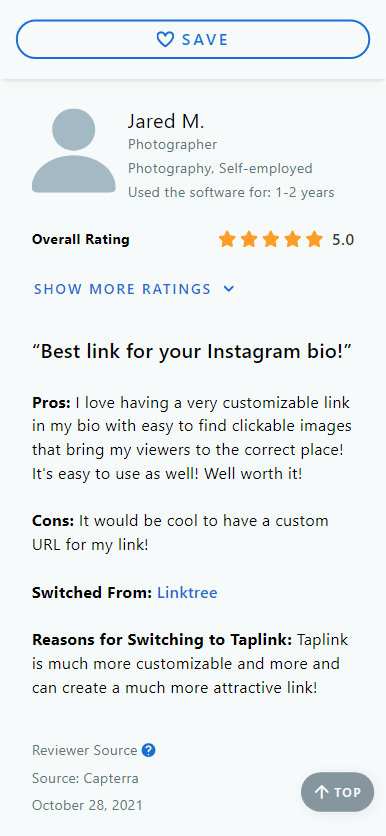 We don't expect you to just take our word as it is about what's the best Linktree alternative. That's why we provide a comparison. There we highlighted the most significant differences.
On Linktree, you can create only one page. If you want to make another one, you have to give up the page you have now.
On Taplink, you can create an unlimited number of pages. All of them will be saved in your account.
If you want to make money on social media, then you certainly need several pages. You need to create landing pages for all your commercial offers or sales. You can put one of these pages in your bio. Choose the one that is the most relevant now or that brings more customers.
For many people, the best Linktree alternatives are the ones that offer a wide choice of pre-built themes. That's why let's start with the page appearance design.
In both services, you can create pages from scratch or choose ready options.
Linktree has 24 pre-built themes. They differ in buttons and the background colors.
Editing is possible only for your custom designs. You can't change anything if you choose a pre-built option, even fonts or colors.
Here are some of the themes.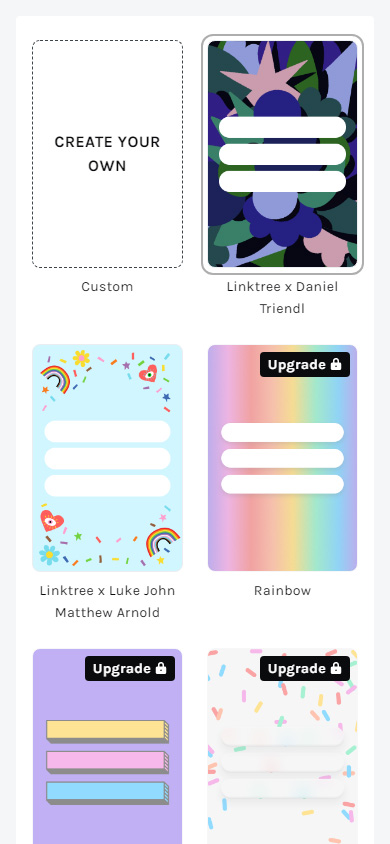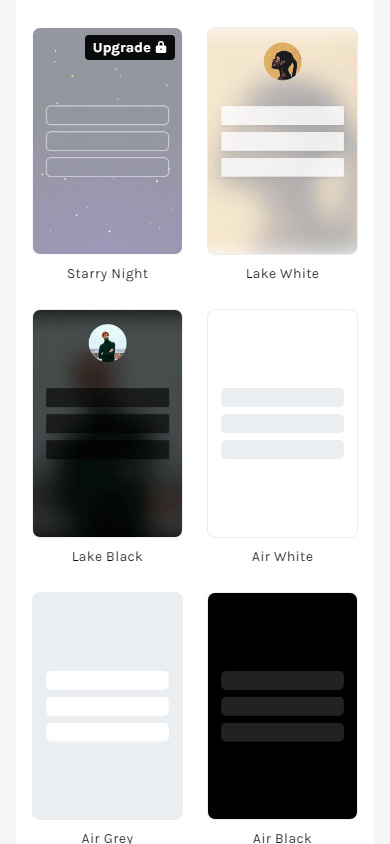 Taplink has more than 300 pre-built themes for pages with multiple links. They differ in buttons and the backgrounds, too.
Editing is possible for all page themes, either your custom or ready-made. You can change colors, fonts, pictures, and upload a photo as the background.
Buttons have accurate settings. If you want, you can choose different colors, fonts, and animations for each button.
Look at the themes that you can find on the Linktree alternative website.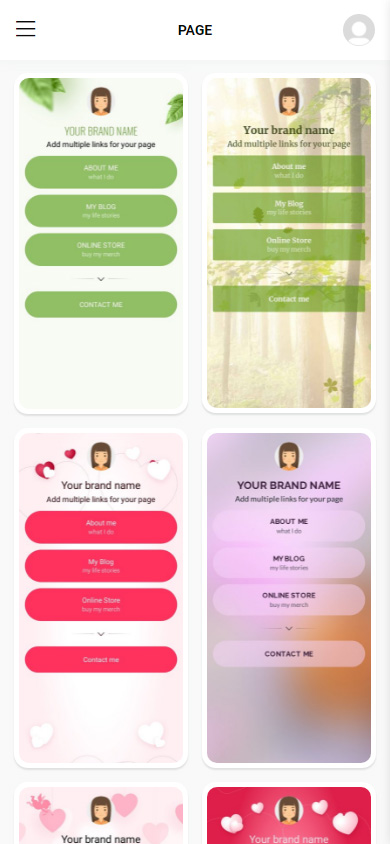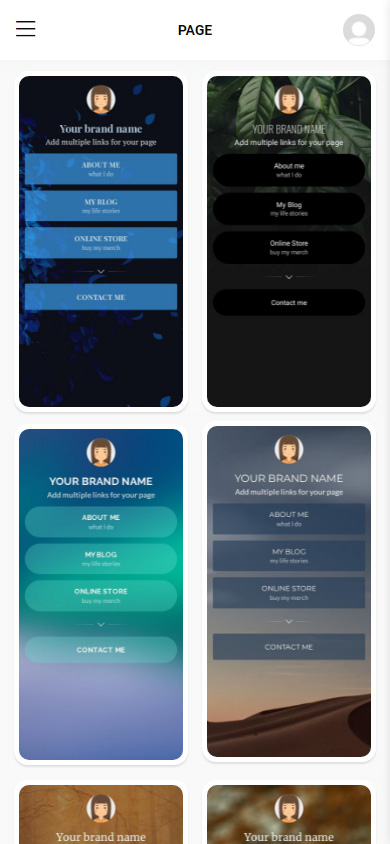 Ready page templates allow you to create a micro landing page or a website quickly. You only need to replace the contacts with yours. Then, you can link to the page in your Instagram and other social network bios.
Linktree doesn't have templates.
Taplink has 60 landing page templates for various industries. They were made by marketers and designers. So you can be sure your landing page or website looks great, and it will help to increase your sales if you make money on social media.
This is one of the biggest Taplink advantages over other Linktree alternatives. No other service has such a big variety of templates.
The pages made with the templates can be edited. You can adjust the elements, add more or delete them.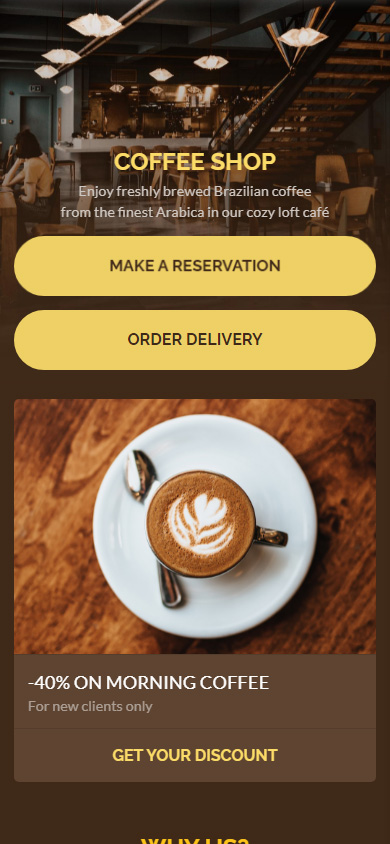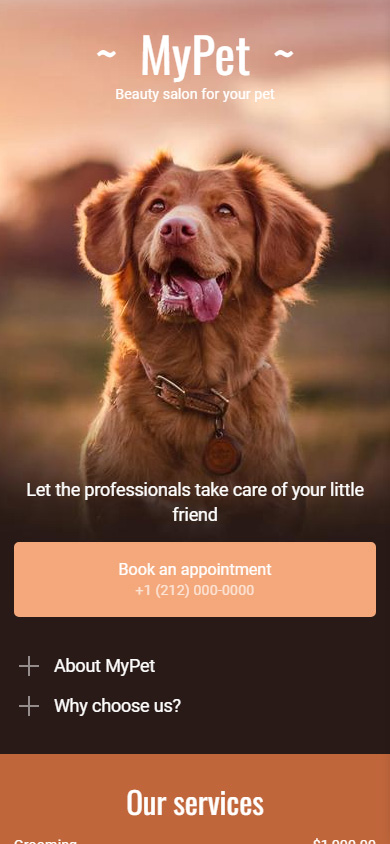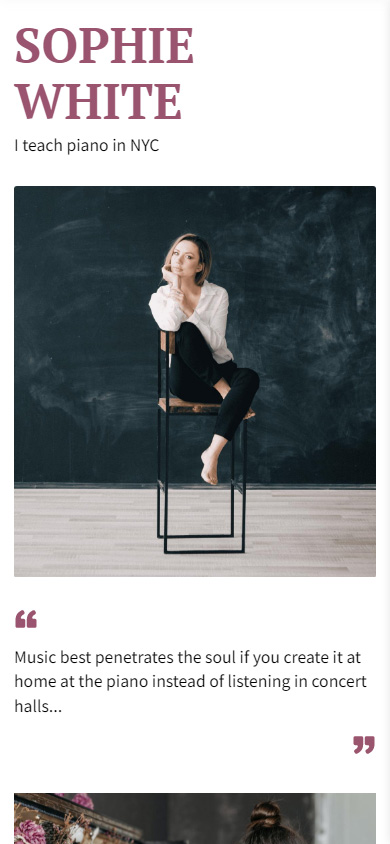 If you like the pages above, follow these links to get the page templates after a quick sign-up:
On Linktree, you can add links to websites, music, video, items from your online shops, social profiles, dialogues in messaging apps, and links for payments and donations. You can also add headings, forms for collecting contact information, your email, and your offline address.
The links have settings. You can set the schedule for their visibility on the page, or hide them. You can also set an icon or image, and animation.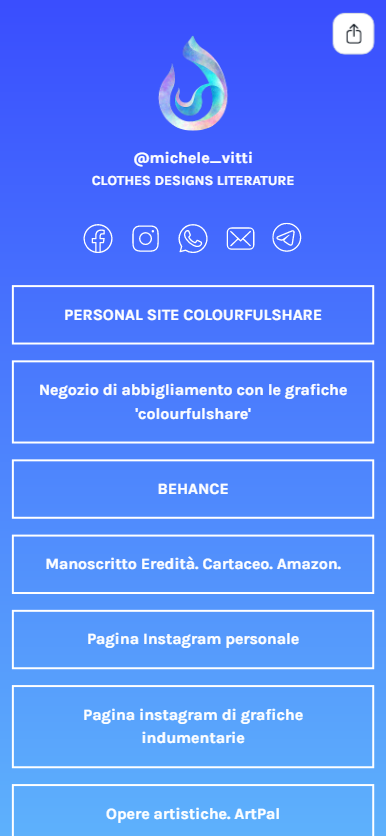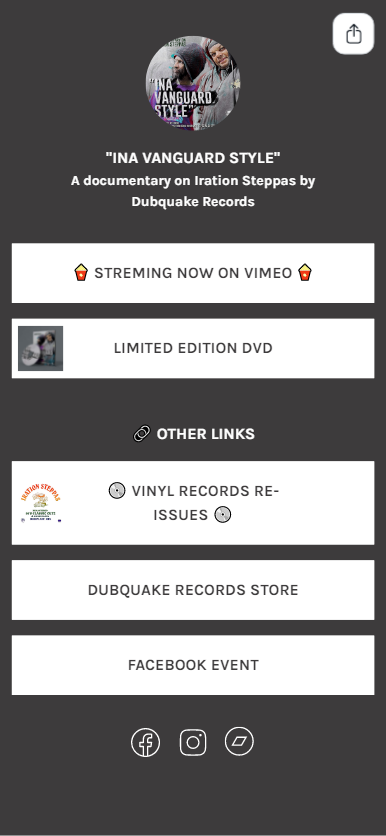 Taplink has 18 kinds of elements that you can add to your page. They are called blocks. Links, video, music, messengers and social networks, the forms and payments are only a part of them.
The alternative service, unlike Linktree, also allows you to add text blocks, single images, photo sliders, FAQ, countdown timer, the Media and text block, maps with tags, HTML code. On the screenshots below, you can see how they look on a landing page.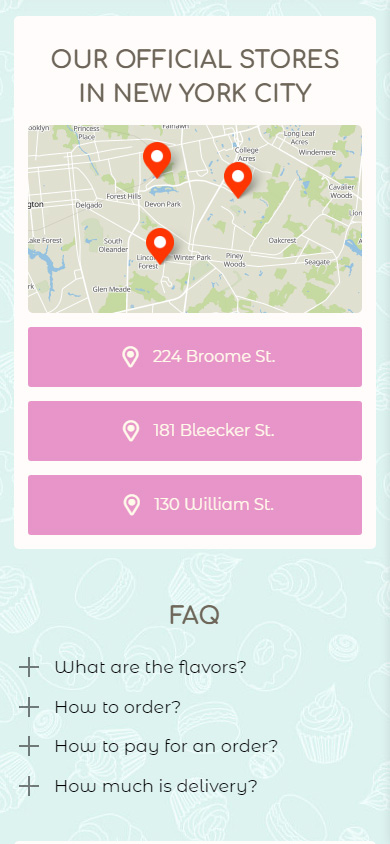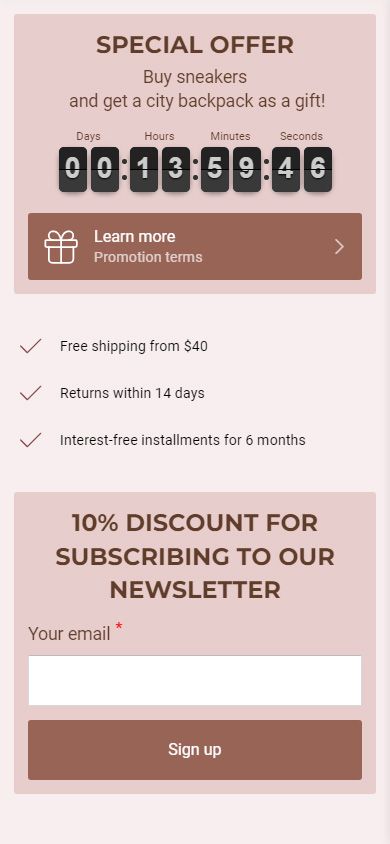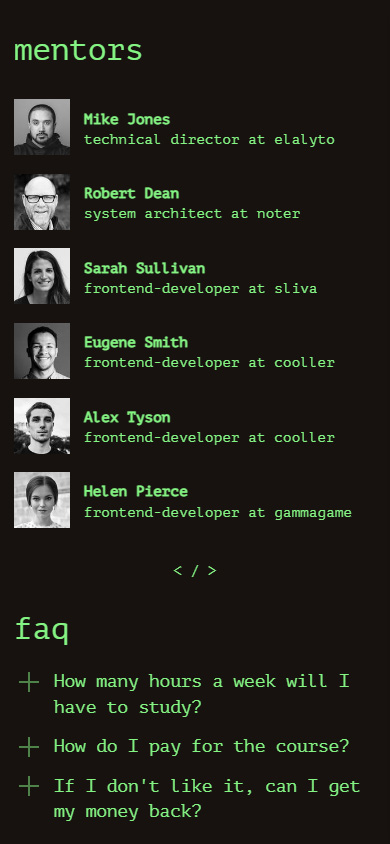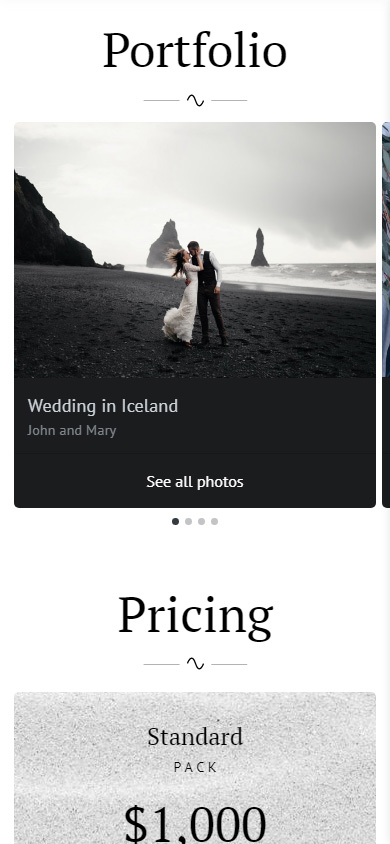 Each of the blocks has its own settings. For example, you can make a photo slider to change the slides automatically. You can even set the time interval between the swiping.
Among the links' settings, there are all that you can find on Linktree. Moreover, you can set additional text. It will be displayed under the main text. It may tell users more about where they get if they follow the link.
If you make money on social media, then you may be interested in business features when searching for Linktree alternatives.
Linktree allows you to add items only from your Shopify or Spring catalog. If you haven't got an online shop on one of these platforms, then you can't show products on your page. Because, as you remember, you can't add pictures.
Taplink has several ways to present your products to potential customers. For example, you can use the slider. You can add one slider for all your products, or add different sliders for each of your products.
Under a photo, you describe a product shortly, write its price and add a button for placing an order. If you have a website, you can set the button to redirect users to one of its pages. If you don't, you can add a button that allows users to contact you by the phone number, email, or a messaging app.
Look at the screenshots. They show that the Linktree alternative makes your offer way more catching.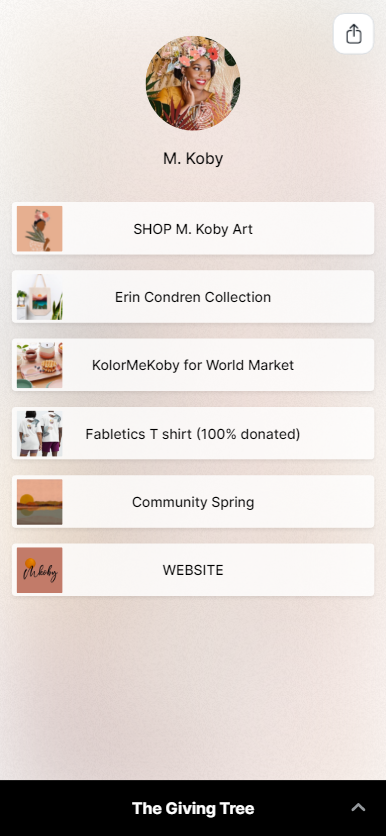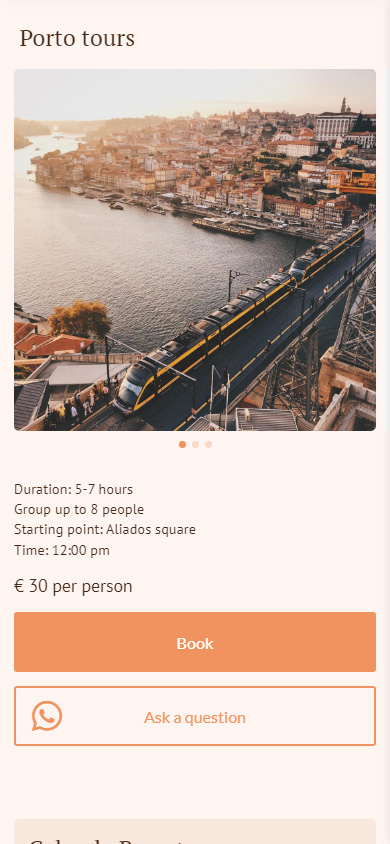 Payment providers can be added in both services. Linktree has two options. They are Square and PayPal. Taplink has more than 50 options. There are Square и PayPal among them, and also Paddle, Stripe, and others.
The more payment providers you add, the more likely a user will find the one that is good for them. It means they pay and you don't lose customers.
In the screenshots below, you can compare the providers lists.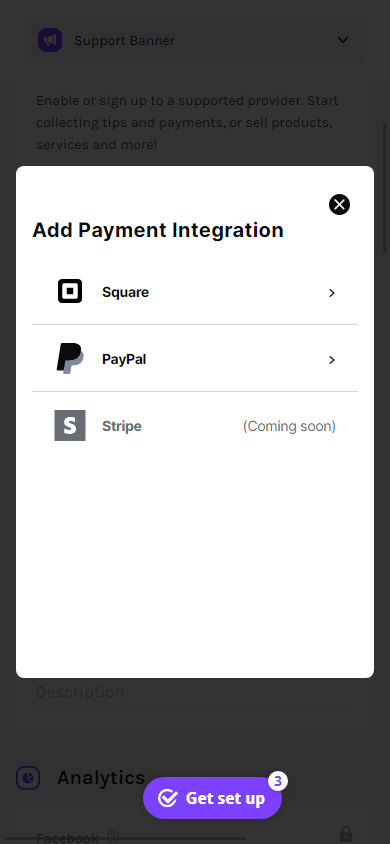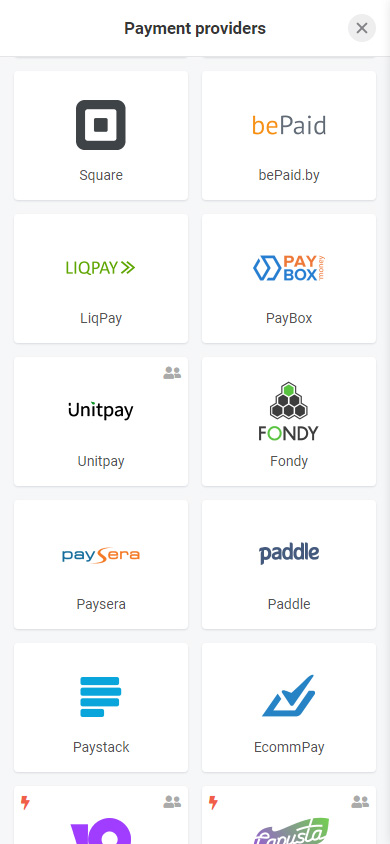 Linktree charges commission on sales. If a user buys a product from your page, you have to give 0.5–10% from the sum to the service. The percentage depends on the plan. The more expensive your plan is, the less commission is.
Taplink doesn't take any commission.
So, we have figured out that Taplink has more features. Now let's look at whether it means higher prices. We need to compare the plans on both services in a table.
Note, both services offer to save money by choosing a subscription for a longer period. It means if you buy a subscription for a year, then the cost per month is less than if you buy the subscription for half a year. We wrote the minimum and maximum prices in the table.
Here is a comparison table Taplink vs Linktree.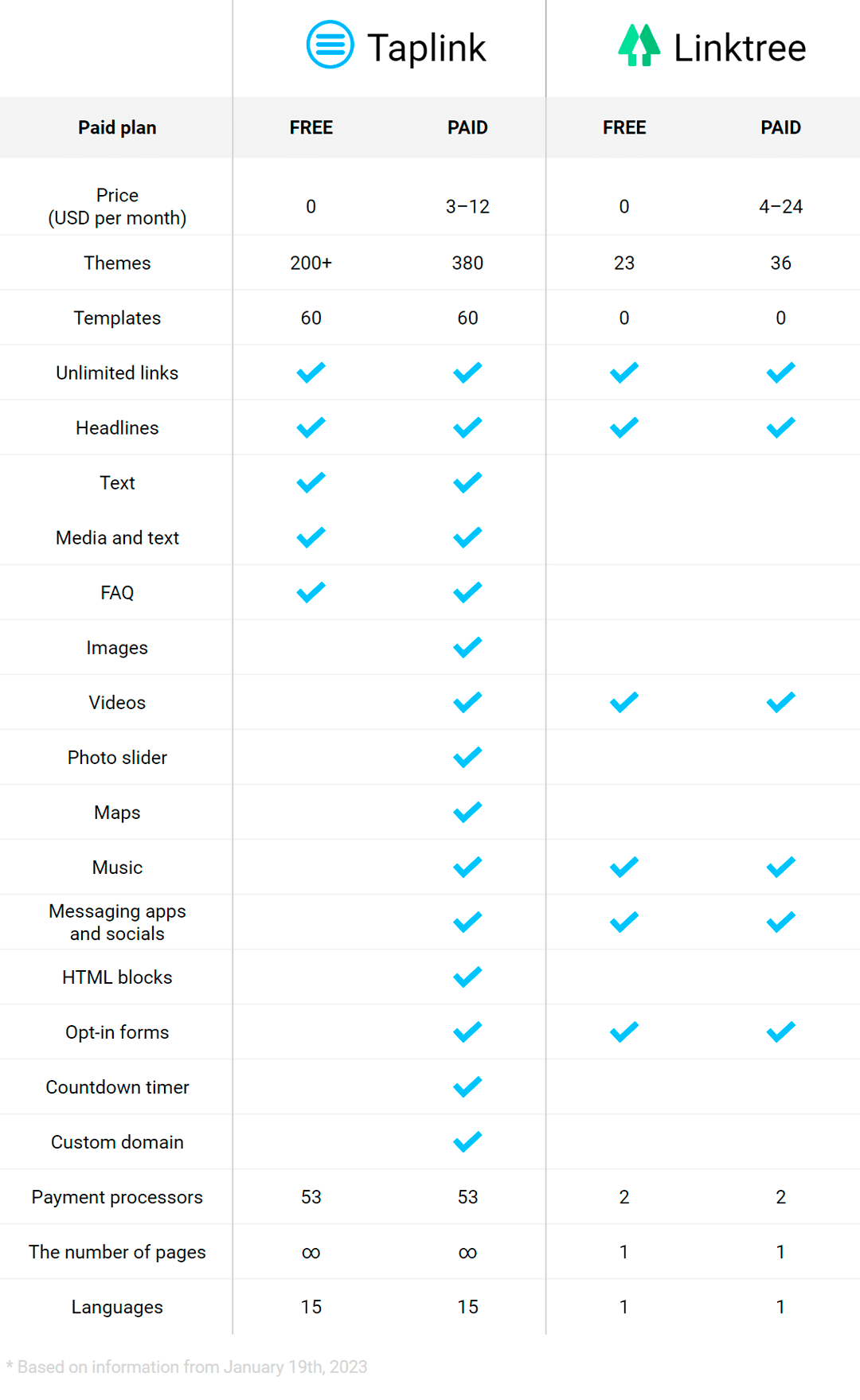 Both services offer a free trial. Linktree gives a free trial for its Pro plan. But you have to provide your bank card details before you use it. Taplink gives you a free trial for its BUSINESS plan, your card information is not required.
Taplink overcomes other link in bio tools in many regards. It has more pre-built themes and templates. Add to that, its subscription prices vary from 2 to 9 USD per month. As a comparison, prices on Linktree are from 3 to 24 USD. All these make the service stand out among Linktree alternatives.
Now you know the best one among sites like Linktree. What's next?