When I receive the link, I see the message "Instagram @*** is being used in another profile." What should I do?
The reason is that previously there was registration in Taplink with this Instagram nickname.
To solve the problem, write to the support chat: your current nickname, your previous nickname (it is important to find this registration), and attach a screenshot of the error message. We'll delete the old registration, and then the binding of the profile will go without errors.
I've changed my Instagram username, so how do I also change it in the link?
If you've changed your Instagram username, then you should press the "Publish" button, scroll down and click "Update information". If you press it, the system will get updated information from Instagram and ask you if you'd like to change the link.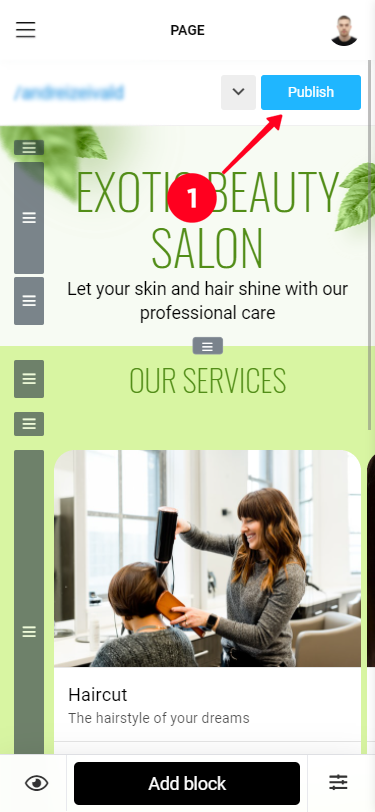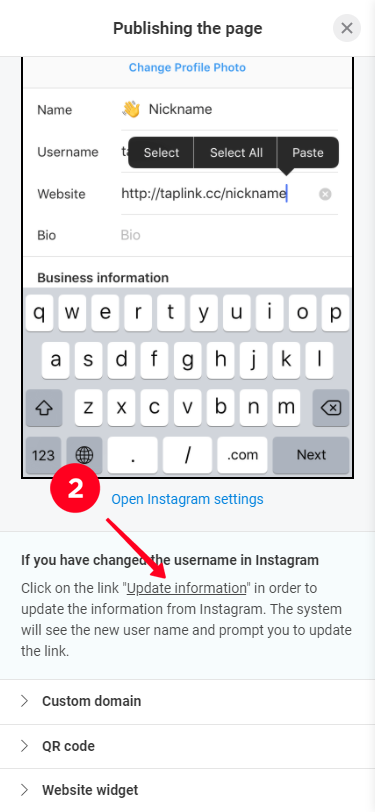 Won't I get banned from Instagram for using Taplink?
We strictly follow all Instagram rules and do not create any activity on your account. The possibility to use authorization is fully agreed with this social network. Therefore, if you do not post content on your Taplink that contradicts Instagram rules, Instagram has no reason to block you.
How do I connect my Instagram profile (get personal link to my Taplink)?
To connect Taplink to Instagram, log in to the desired Instagram profile in your browser, at https://www.instagram.com/, so that the profile is available for editing.
If you have several profiles on the same email when authorizing in Instagram you need to enter the nickname of the profile, not the email to which it is attached. If you enter the mail, it will always authorize in the first of them. Therefore use exactly a name of a necessary profile as a login
1. Log in to the desired Instagram profile in your browser or in the Instagram app (if installed on your device).
2. Connect new profile by tapping the "Connect with Instagram" button
3. Enter your profile name or Instagram link and click OK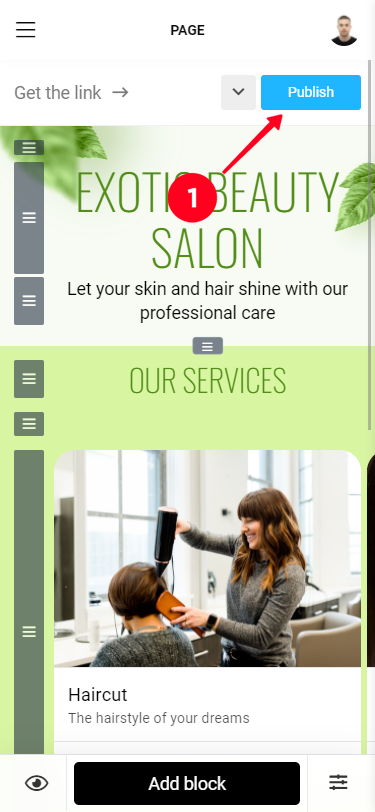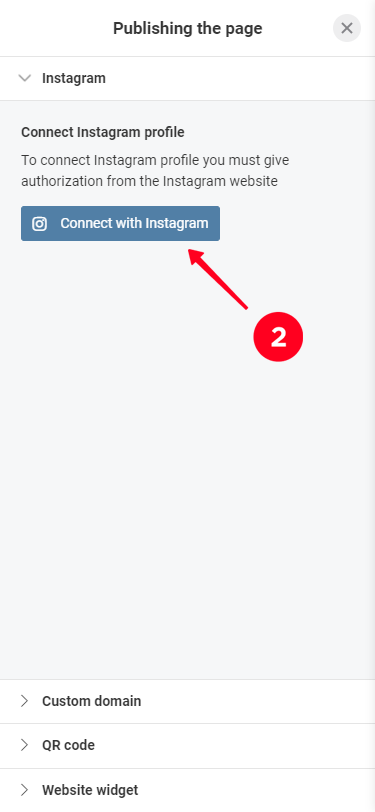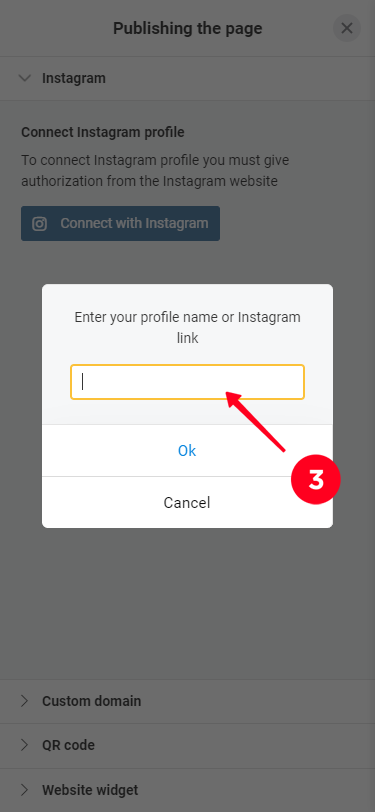 I have a PRO plan, I want to switch to BUSINESS, where does it show my surcharge?
If you go to the Pricing page - https://taplink.at/tariffs/ - the BUSINESS column will automatically show you your surcharge.
Current prices for BUSINESS plan:
3 months = $27
6 months = $37,8
12 months = $54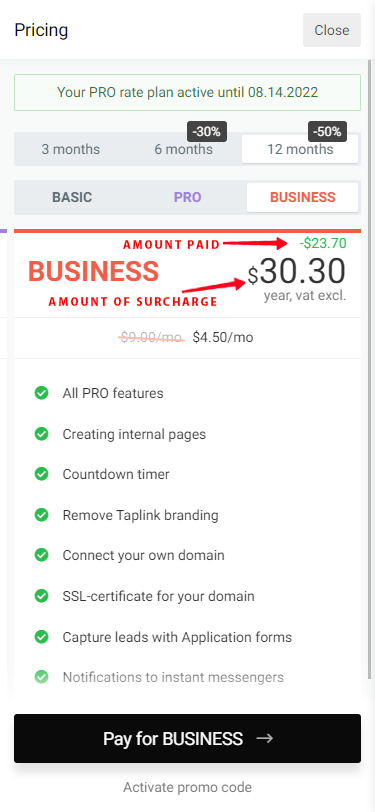 How do I switch Taplink to another language?
The content will be displayed in the language in which you created it. System service messages are displayed in the language that you specify in Settings - General - Language.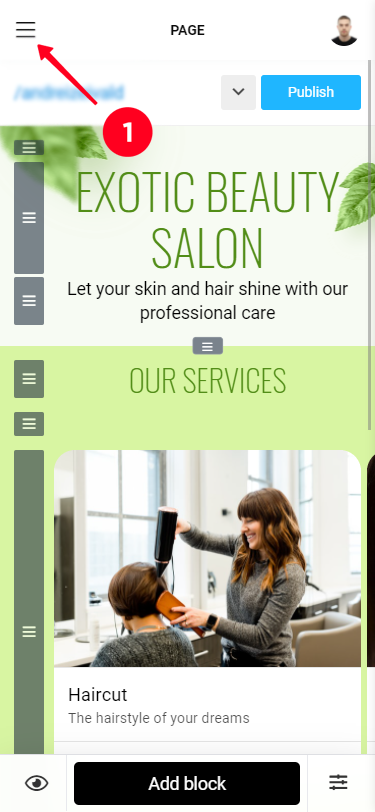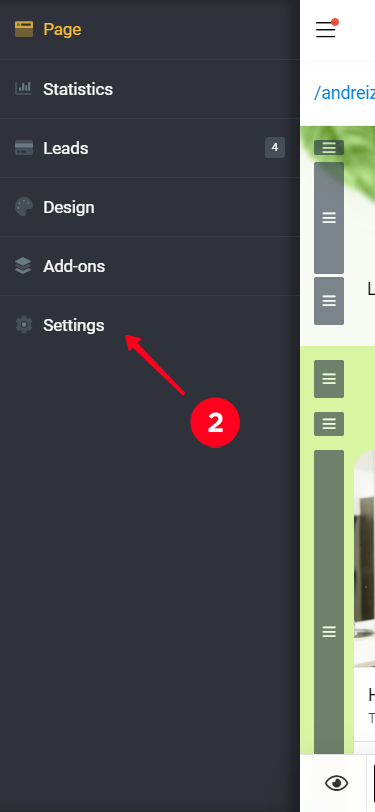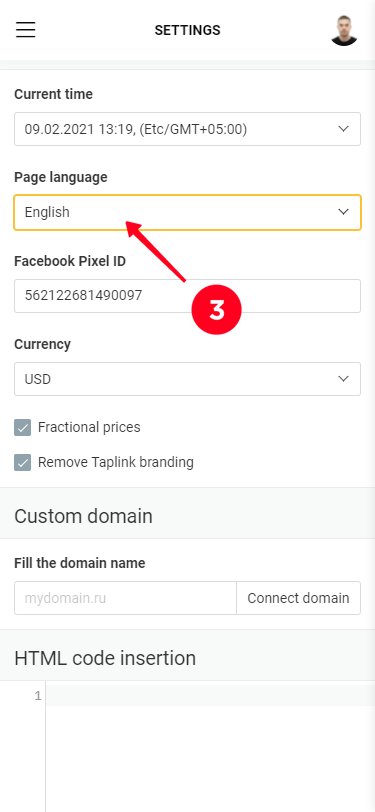 How do I set the background, the rounded buttons and make them different colors?
For all the information on setting up the Taplink layout, see https://taplink.ru/help/faq/settings/design/
Can I put a link to my Taplink in my ads?
Taplink can be advertised in any way you like. Site URL = your link. If necessary, you can add UTM tags to it.
Can I add UTM tags to a Taplink link? Where will they be saved?
In terms of adding UTM tags, Taplink links are no different from other sites. You can use any UTM generator to add UTM tags and put your link (for example, https://taplink.cc/taplink.support) as a site address.
You can place your UTM tagged link anywhere you want. In Taplink itself, you can save the UTM tags only on the "Requests" page (don't forget to enable the appropriate column), so you can see where the customer came from. External analytics systems can handle UTM tags within the functionality provided by that system.
How to transfer a plan from one profile to another?
To transfer a paid plan, see the instructions here - https://taplink.at/help/faq/common/plans/
It is necessary that both profiles should be in one personal profile. The button to transfer the plan is on the page "My profiles", which you can find by clicking on the avatar in the upper right corner of the screen. Click "+New profile" and select "Instagram".
Then finish the sign in process -> go back to the "My profiles" and click transfer profile.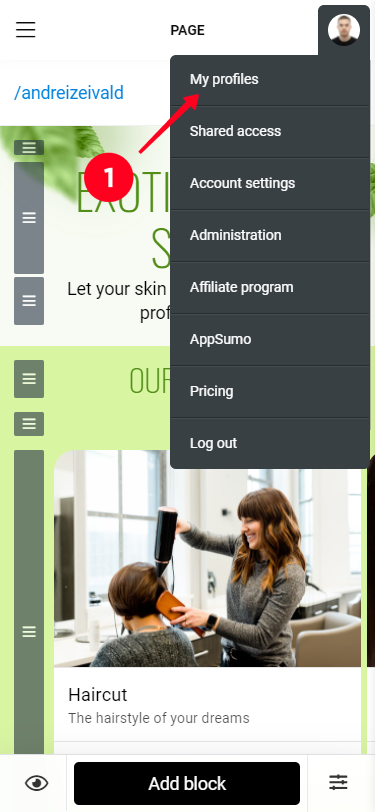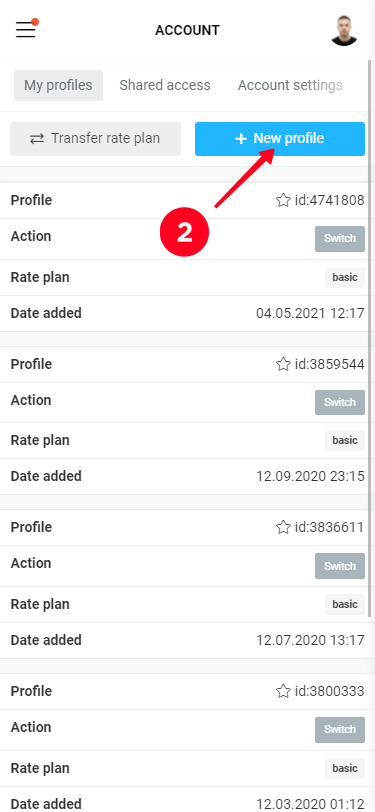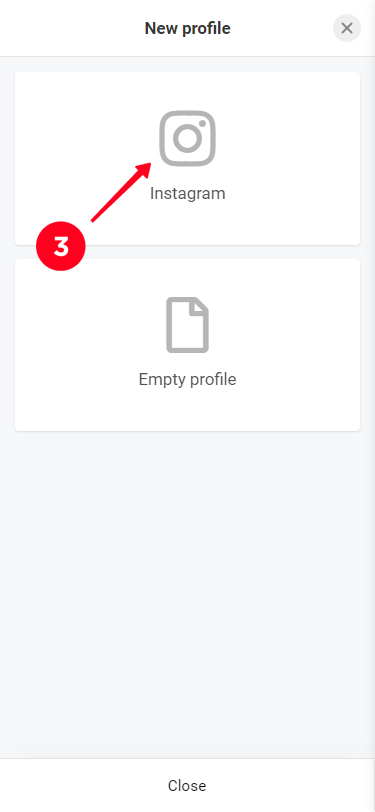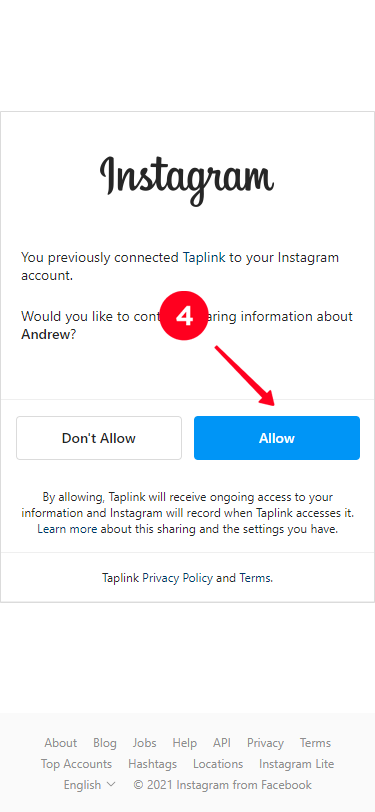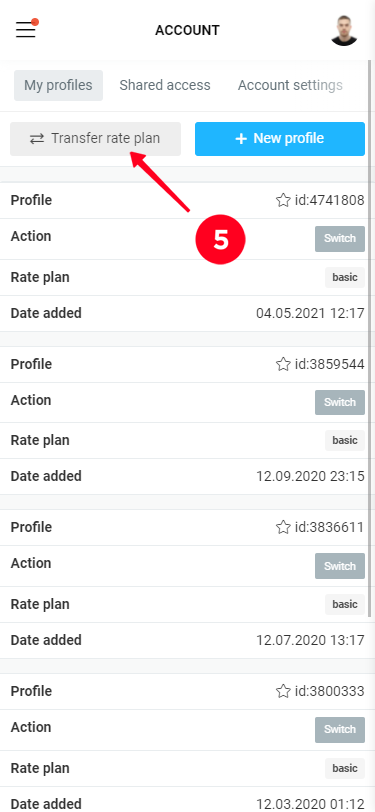 Who has access to my Taplink account?
Your Taplink account can be accessed by people:
1. Who have your Instagram password.
2. Who receive notifications about new submissions where there is a direct link to sign in to your Taplink profile.
3. Who have shared access to your Taplink account.
4. Who have access to the email account to which Taplink is registered.
My Taplink page has someone else's ads on it. Why?
On our part, there are no ads displayed on either the paid or free plan. There are three reasons why unwanted ads appear:
1. Some kind of app/browser extension is installed on your device that is pulling ads.
2. You have installed third-party HTML code on your Taplink page that adds ad traffic.
3. Ads are being shown by your Internet Service Provider. This is the most likely reason. It is their right prescribed in the contract-offer for the provision of communication services. You can try to put a link with https (https://taplink.cc/YOUR_NICKNAME) in your profile; there will be less chance to see ads.
What is the difference between "My Profiles" and "Shared access"?
My Profiles - these are the profiles of your account.
Shared access - the profiles that you have been given access to.
To access the profiles from "My Profiles" you will need to sign in with the desired account. When you sign in with "Shared access" you sign in with your own account (the one you've been given access to) and then switch to the account you want (the one you've been given access to).
To set up other people's accounts, it's preferable to use "Shared Access".
How do I set up shared access?
To open and manage sharing on your account, select "Shared access" from the avatar menu.
The "I shared access" tab displays the Taplink accounts that you've allowed access to your profile. To share, click the "+Open access" button and enter the username of the person you want to share your account with.
IMPORTANT: The nickname is entered without @, and the user must be registered not only on Instagram, but also on Taplink.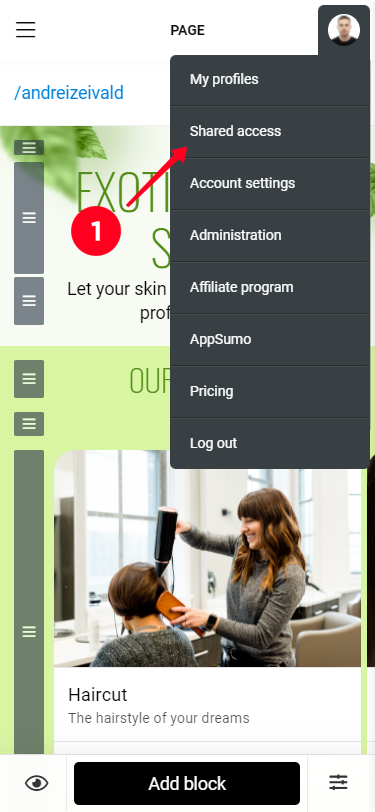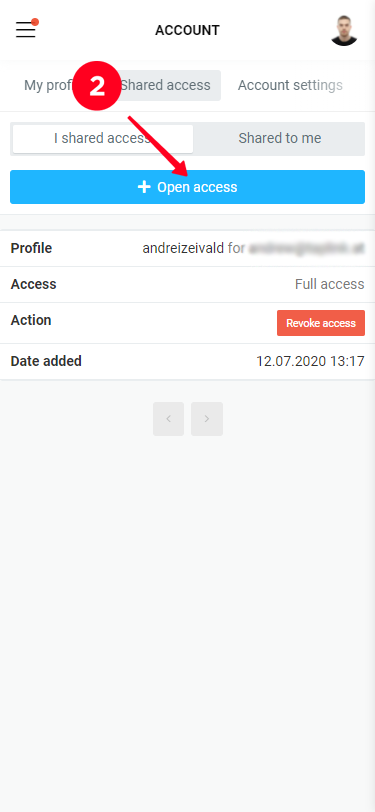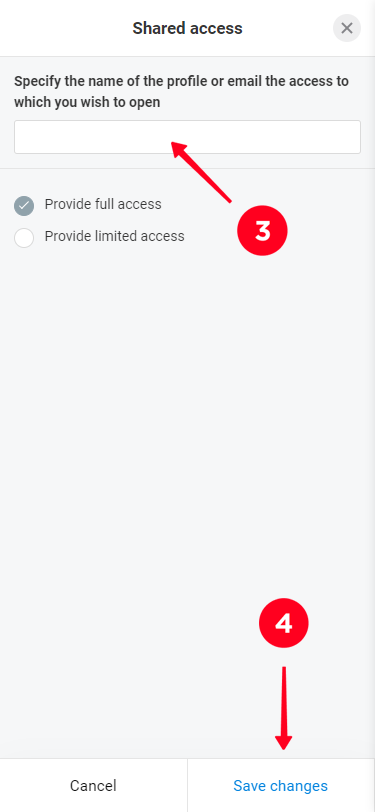 The person you've shared with will have your profile appear on the "Shared access" page under the "Shared to me" tab
To revoke permission: select the user in the "I shared access" list, click "Revoke access" and confirm revoking access.
How do I sign in to my Taplink account?
You can sign in to your Taplink account by entering your username (email address) and password, or by linking to your Facebook or Google account.
If you don't remember your email, you can change it by confirming your identity via Instagram.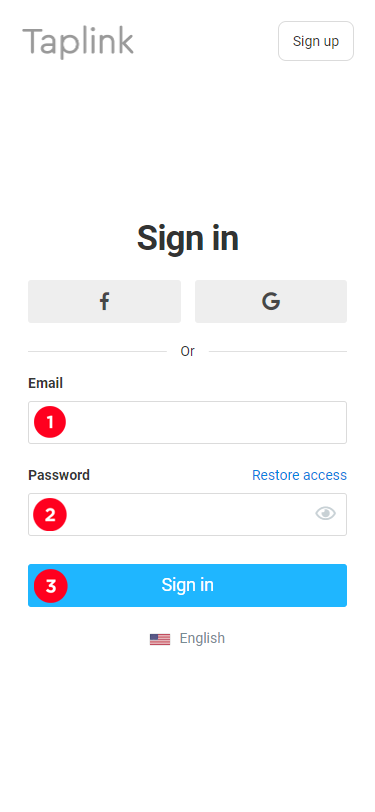 I have a feature of your service that doesn't work! What should I do?
There are several possible causes:
1. Misconfiguration on your part
2. Problems on our side
3. Problem on the side of a third-party service (important for integrations)
To understand what the reason is - write to us (through the "Ask a question" button or blue circle at the right bottom of the screen), describe the situation in detail, and attach screenshots. This information will help you to understand what the problem is and find a solution.
I want to share, but it says profile not found! What should I do?
Two conditions must be met to open sharing:
1. The account you're sharing with must be registered not only on Instagram, but also on Taplink.
2. The user's nickname is entered without @.
How do I install and configure Facebook Pixel?
For all the information on setting up Facebook Pixel, see https://taplink.at/help/faq/settings/pixel/.
I was shared on someone else's page, why can't I see that profile?
The list of profiles that you can share is displayed on the "Shared acess" -> "Shared to me" page.
To switch to the desired profile, click the "Switch" button. Then you can work with this Taplink as with your own, within the permissions granted.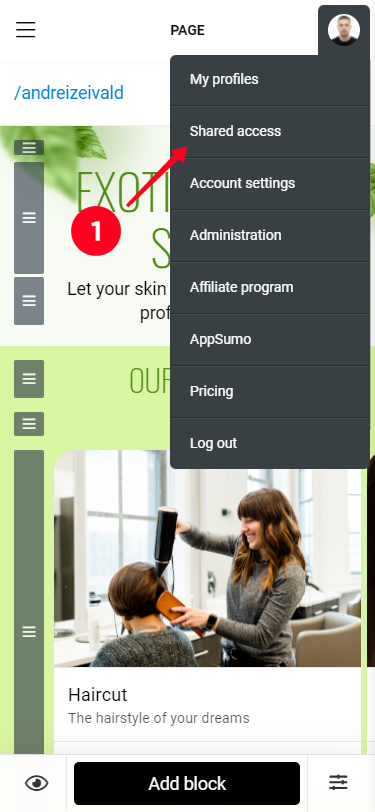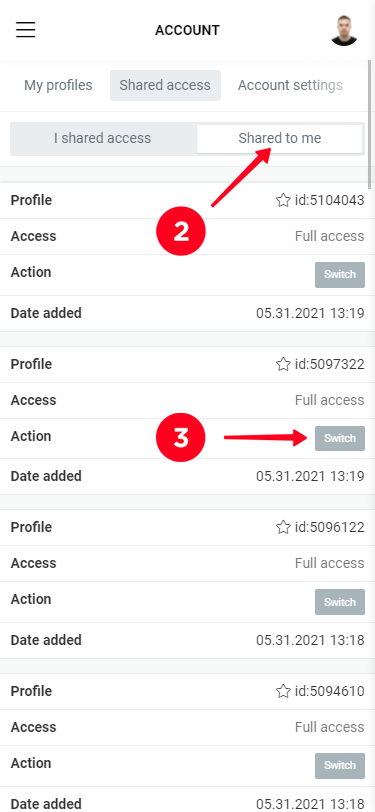 Why is my account blocked?
We prohibit: online casinos and links to them, 18+ content in any form (including sex dating), as well as phishing and other dubious activities. Restricted are links to similar sites, fake news, and any illegal use of trademarks, logos.
Blocking is done automatically.
In addition, we block spam and anything that violates Facebook's rules. You can check the eligibility of your links through the Facebook service:
https://developers.facebook.com/tools/debug/sharing/
If the blocked account had a paid rate, then to make a refund write a request to [email protected] attach to it the receipt from the online cash register (it came after the payment to the post) and within 10 working days according to the contract-offer the rest of your payment will be refunded.